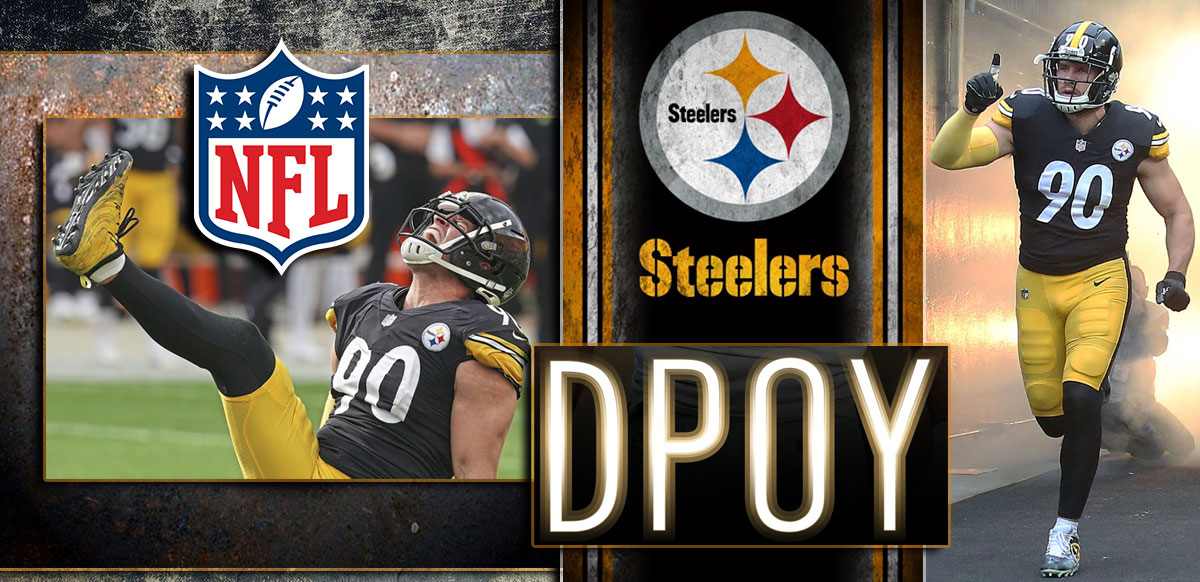 Watts' demonstration vs. Mayfield makes him favorite
Micah Parsons remains in a position to accrue this award
Another excellent season for Donald, but likely no hardware
Pittsburgh Steelers linebacker T.J. Watt danced with glee. No one said that the days of Jets' sack artist Matt Gastineau and his sack dance had to be permanently eradicated.
This guy is unreal pic.twitter.com/ptxOhKI98I

— Pittsburgh Steelers (@steelers) January 4, 2022
Watt sacked Cleveland Browns quarterback Baker Mayfield four times last week and that performance generally pushed him towards the NFL Defensive Player of the Year award. Watt has odds at (-450) with Dallas Cowboys' linebacker Micah Parsons now at (+425).
He's from another planet pic.twitter.com/4BJKrJAkyh

— Pittsburgh Steelers (@steelers) January 4, 2022
Last week, Watt (-165) had a slight lead over Parsons (+200), but his decimation of Mayfield in Sunday's 26-14 win over the Browns caused the oddsmakers to hoist Watt accordingly, although the Browns have allowed 48 sacks on their quarterbacks this season, fifth in the NFL.
The Amazing T.J. Watt #DPOY pic.twitter.com/WWneHwgMuN

— Pittsburgh Steelers (@steelers) January 4, 2022
Watt took advantage of two other porous pass-blocking offensive lines as dropped Baltimore quarterback Lamar Jackson 3.5 times in a 20-19 win over the Ravens in Week 13.
Check back to a 29-27 win over the Bears in Week 9 where he sacked Chicago's Justin Fields 3.0 times.
Watt leads the NFL with 21.5 sacks as he is one off of former New York Giants defensive end Michael Strahan's 22.5 sacks which he posted in 2001.
T.J. Watt has been voted the #Steelers Most Valuable Player by his teammates for the third consecutive year!

?: https://t.co/h437fqPq9G pic.twitter.com/hl9y3ycGxe

— Pittsburgh Steelers (@steelers) January 6, 2022
Once the odds on the NFL Defensive Player of the Year opened, BetOnline.ag had Cleveland defensive end, Myles Garrett, as the favorite at (+550) as Watt and Aaron Donald were posted at (+900). Watt was also listed at (+1300) to begin the season but had moved to (-200) as of last week.
DEFENSE ATE ? pic.twitter.com/Gu2BsIH2SG

— Pittsburgh Steelers (@steelers) January 4, 2022
Oddsmakers created a prop bet listed with odds of (+180) that Watt will break the sack record this week against the Baltimore Ravens and then a (-225) is saying that he will either break or tie the record.
Baltimore's offensive line has given up 54 sacks this season so once the prop bet became a reality with the sportsbooks, 98 percent of the bets and 99 percent of the money was bet with the immediacy that Watt would break Strachan's mark.
Other online sportsbooks are posting (-130) that Watt will rewrite history in Sunday's game.
Parsons Key in the Foundation of the Cowboys' Defense
The versatility of Cowboys linebacker Micah Parsons has him arguably in a place where he could still finish with the award.
Parsons is setting the pace for the Dallas Cowboys with 13 sacks and he has 20 tackles-for-loss with 30 quarterback hits.
He is two sacks away from breaking Jevon Kearse's record of 14.5 sacks in 1999.
Vote now!! #WPMOYChallenge + Prescott https://t.co/NyWMBTh0aZ

— Micah Parsons (@MicahhParsons11) January 4, 2022
He had the second-best odds at (+275) behind Cleveland's Garrett (+200) on Dec. 15.
The reason he has fallen behind Watt is that he only has 1.0 sacks in the last three weeks while Watt made his move against Mayfield.
Parsons started the season with (+10000) odds as he was behind Watt (+825) and the Garrett and the Rams' Aaron Donald were even at (+550)
The Defending Champ
Rams defensive end Aaron Donald has won three out of the last four Defensive Player of the Year awards and he currently has composite (+950) odds to win the award for the fourth time in five years.
Donald has 6.5 sacks in his last five games, but he has fallen back as much as to (+1600).
He is fourth on the team in tackles with 77, but he has 18.5 tackles-for-loss and 12.5 sacks with a team-leading 24 quarterback hits.
WHO'S READY FOR SUNDAY?!

Make sure to rock your royal at the #RamsHouse! ? » https://t.co/nm32uQG2Db pic.twitter.com/DUpFETezft

— x – Los Angeles Rams (@RamsNFL) January 7, 2022
His numbers are not off as the 77 tackles are a career-high and if he gets 1.5 sacks vs. the 49ers, it would be the second-most sacks in his career.
Donald is also spotted at (+800) with Watt at (-400) and Parsons at (+350).
His composite listing is (+950) as he is posted at (+1600) in a couple of spots.
Still in the Mix
Dallas has two of the best young defenders on one team in the NFL with Parsons and also Trevon Diggs, who has been an interception machine this season with an NFL high of 11.
He started the season with seven in the first six games with a pair of pick-sixes. Diggs has odds posted anywhere from (+2500) to (+3300) as his odds stand to ask, "Why leading the NFL in sacks is worth more than leading it in interceptions?"
Diggs was at a composite (+725) last week and fell back to a composite (+4500) after the Cowboys lost, 25-22, at Arizona where he had only three solo tackles and nary another stat.
Myles Away from Defensive POY Accolades
Cleveland's Myles Garrett has 15 sacks this season, but he has spiraled downward of late as he only has two in this Browns' last six games.
The early to mid-season was frontloaded with sacks as he had 4.5 against that paper-thin Bears offensive line in Week 3. He never had over 1.5 in a game since then but had at least 0.5 sacks once as he placed in the first ten contests.
Garrett was tied with Watt at (+300) on December 13 with Parsons at (+400), but has now fallen back as low as (+500) to (+6000) and has composite numbers at (+3750).