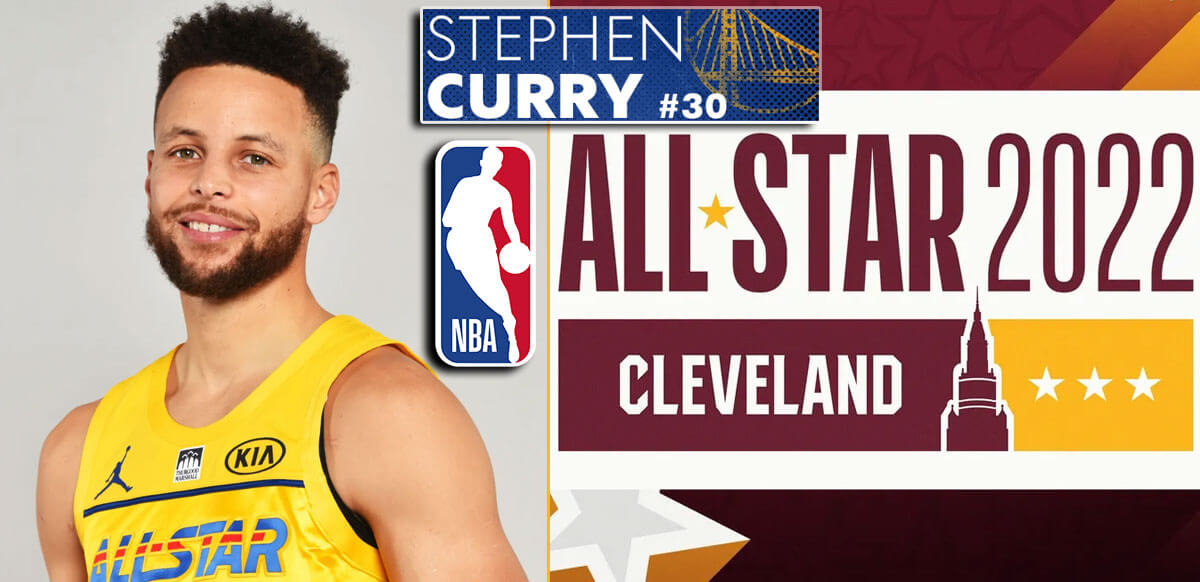 Steph Curry is the -140 betting favorite to be named as Western Conference All-Star team captain.
LeBron James and Nikola Jokic are next at +120 and +350, respectively.
Other Warriors making the Bovada oddsboard are Andrew Wiggins (+1300), Draymond Green (+2200), and even Klay Thompson (+8000).
Golden State Warriors superstar guard Steph Curry has opened as the odds on favorite to be the Western Conference All-Star captain.
According to the recently posted odds board at online sportsbook Bovada, Curry is a -140 to be named as West captain. Meanwhile, Los Angeles Lakers LeBron James is second at +120 and 2021 NBA MVP Jokic is third at +350.
Warriors World
Steph Curry is at the top of the leading vote-getters in the first returns of 2022 NBA All-Star voting, and he was followed close behind by a pair of #Warriors teammates. https://t.co/F1O7v0KwoZ

— NBC Bay Area (@nbcbayarea) January 6, 2022
Curry as betting favorite isn't a surprise as Golden State's two-time MVP led all players with a total of 2,584,623 votes during the first fan returns announced by the NBA last January 7th. With the team captain of the All-Star teams being the top vote-getter for each conference, there's no question Curry is the top dog to be West captain at the best NBA sportsbooks.What is surprising though is that his Golden State teammates Andrew Wiggins, Draymond Green, and Even Klay Thompson are among the top vote-getters in the early Western Conference balloting.
Wiggins has a total of 933,355 votes, making him the 5th highest vote-getter in the West. That's the reason why Wiggins is also 5th in the Bovada odds board at +1300. Green meanwhile, has 691,423 votes or 7th place in the West balloting. Green, who is the current odds on favorite to win Defensive Player of the Year at the top NBA betting sites, has the 7th best odds to be named West captain at +2200.
More shocking than surprising is Klay Thompson who, although just a longshot +8000, is among the favorites. With fans having 50% of the say in who the starters will be, you can't fault Thompson for getting 367,473 votes, 4th among Western Conference guards, despite not playing the majority of the first half of the season. In fact, Thompson has played only a couple of games to date.
LeBron a Captain for the 5th Consecutive Time?
RT to make #LeBronJames a captain in Cleveland once again. https://t.co/PuJVr1Ezsr

— Silver Screen and Roll (@LakersSBN) January 6, 2022
Coming in second behind Curry in the West is LeBron James who had 2,018, 725 votes. James is the early leading vote-getter among Western Conference frontcourt players and league-wise, he ranks third behind Curry and Kevin Durant who has 2,360,435 to lead the East. James has been team captain in the previous four installments of the All-Star game and at +140, he does possess terrific betting value.
Third on the list in 2021 MVP Jokic who is second behind James in West frontcourt players and third overall in the West behind Curry and James with 1,649,809 votes. Clippers' swingman Paul George is 4th in the odds boards at +1000 and he is the only other West player to have at least 1 million votes at 1,072,591.
Dallas Mavericks' star Luka Doncic is the second-highest ranked guard in the Bovada odds board at +2000. Doncic's 787, 690 votes rank second behind Curry among Western Conference guards. Memphis Grizzlies' guard Ja Morant is listed at +2200 along with Draymond Green and he is this among West guards with 669,033 votes. On the other hand, Suns guard Devin Booker is listed at 8000 together with Klay Thompson. Booker garnered 338,526 votes in the first returns.