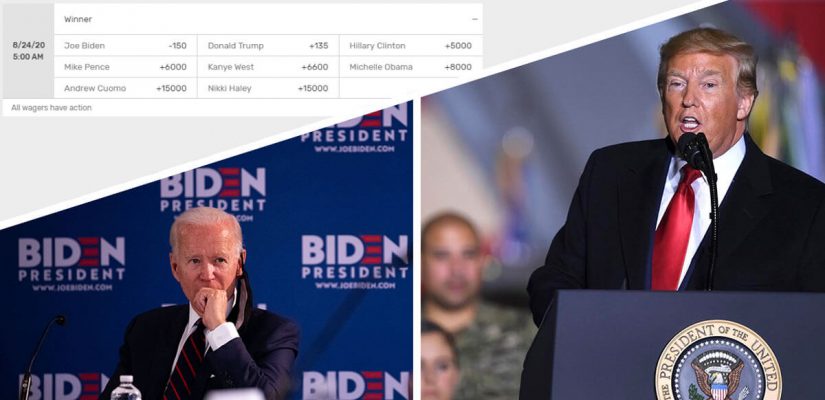 Key Points:
There are currently three presidential debates planned between Donald Trump and Joe Biden – the first of which is scheduled for September 29 in Cleveland, Ohio.
The Trump campaign has been anxious to either add additional meetings or move the schedule forward, since many states will begin mail-in voting well before the first debates.
Biden's Team, which has relied on hiding the Democratic challenger from the public to maintain their polling lead has, thus far, resisted efforts to alter the debate schedule in any way.
As expected, the back-and-forth haggling between the two campaigns over the (presumably) upcoming presidential debate schedule has begun. For Donald Trump, the broadcasts are likely his last opportunity to turn things around publicly, after trailing his Democratic challenger in the polls for the past few months.
For Biden, they're a final hurdle between him the White House — and a chance to prove that he's still mentally fit for the job. Unlike Trump, he doesn't need the debates at all; the 77-year-old former Vice President's strategy of staying in his Delaware basement while coasting to a victory has been working to perfection.
Which is why making any changes to the agreed-upon schedule has been such a challenge – the debates represent very different opportunities and risks for both candidates.
Trump Campaign Wants More Debates
On July 18, Politico was first to report the Trump campaign tapping former NY Mayor Rudy Giuliani to "spearhead a campaign to press for more debates this fall, starting earlier than usual and to have a say in choosing the moderators."
Politico Excerpt:
The changes sought by the Trump campaign amount to a major reversal. Trump last year threatened to boycott the debates; now he wants more one-on-one encounters with presumptive Democratic presidential nominee Joe Biden, which advisers think will sow doubts about the former vice president's stamina for the job.
The article goes on to report the following:
The commission did not immediately respond to a request for comment. It has scheduled three presidential debates: Sept. 29 at the University of Notre Dame in Indiana, Oct. 15 at the University of Michigan, and Oct. 22 at Belmont University in Nashville. A vice presidential debate will be held Oct. 7 at the University of Utah in Salt Lake City.
But the president wants at least one additional showdown. Trump has raised questions about Biden's mental capacity and nicknamed him "Sleepy Joe" to hammer the former vice president. More debates, Trump advisers contend, mean more chances for Biden to embarrass himself.
Biden's campaign dismissed Trump's request.
Biden campaign's @kbeds declines the new Trump request for more debates, after he'd previously threatened not to attend any debates, saying Biden will abide by @debates rules. "We are not going to ride the roller coaster of the ever-changing Trump campaign position on debates." pic.twitter.com/IELNZjajBY

— Jennifer Epstein (@jeneps) June 18, 2020
In addition to Biden's camp shooting down the thought of a fourth debate, the Commission on Presidential debates agreed that nothing was worth changing.
"You state that such a debate is necessary because some states begin sending out mail-in ballots before the first scheduled debate. There is a difference between ballots having been issued by a state and those ballots having been cast by voters, who are under no compulsion to return their ballots before the debates," responded commission co-chairs Dorothy Ridings, Frank Fahrenkopf, and Kenneth Wollack in a letter to Giuliani on Thursday.
"In 2016, when the debate schedule was similar, only .0069% of the electorate had voted at the time of the first debate. While more people will likely vote by mail in 2020, the debate schedule has been and will be highly publicized. Any voter who wishes to watch one or more debates before voting will be well aware of that opportunity," they continued.
That second paragraph brings up another of the Trump campaign's proposals.
…Or At Least to Debate Sooner!
One of the biggest challenges to Donald Trump's reelection effort is how and when voters will cast ballots. Mail-in voting is one of the most hotly contested topics of the 2020 general election – which is only compounded by the fact many states will already start accepting ballots before the initial September 29 debate.
In Giuliani's Wednesday letter to the commission, he raises concerns with the commission that by the time the first debate happens, "as many as eight million Americans in 16 states will have already started voting." If the committee wouldn't agree to add a fourth debate, he asked them to move the final October 22 debate up to early September, before mail-in ballots were sent out in several crucial states.
"For a nation already deprived of a traditional campaign schedule because of the COVID-19 global pandemic, it makes no sense to also deprive so many Americans of the opportunity to see and hear the two competing visions for our country's future before millions of votes have been cast," Giuliani wrote.
As mentioned previously, the commission shot his argument down. This stands to hugely advantage Joe Biden if the rumors (and visible evidence) of his deterioration of cognitive health are correct. It would appear the Democrats are committed to keeping their candidate out of the public eye to the furthest extent possible.
Hidin' Biden
If Donald Trump is frustrated by his inability to get Biden up on stage before a national viewing audience before mail-in voting starts now, wait until the Democratic challenger bails on the three scheduled debates altogether!
I've been saying for months there isn't a chance in hell Joe Biden is showing up on a live in-person debate stage. The liberal machine is already revving up to oppose them, but they're starting subtle. The calls will get louder the closer we get to late September.
On August 3, the New York Times published an op-ed titled, Let's Scrap the Presidential Debates. The piece's author, Elizabeth Drew, argues the debates shouldn't be canceled for health reasons, but because "they reward precisely the opposite of what we want in a president."
Drew reminds readers of the first televised debate – Richard Nixon versus John F. Kennedy in 1960, where "Nixon was considered to have won on substance on the radio, while the cooler and more appealing Kennedy won on television."
She then goes on to compare that edition to what the broadcasts have since become:
NY Times Excerpt:
Over time, the debates came to resemble professional wrestling matches, and more substantive debates were widely panned in the press. Points went to snappy comebacks and one-liners. Witty remarks drew laughs from the audience and got repeated for days and remembered for years.
That's a fair point; the debates have undoubtedly become more about style than substance. It's also only coming up now because Donald Trump excels in the current format, and Joe Biden barely looks capable of staying awake through a one-hour live debate lately.
Before the NY Times, Washington Post columnist Karen Tumulty published her own article suggesting we bail on the debates altogether. Her rationale is based primarily on the health concerns and difficulties booking a venue during a pandemic, though she also contends they're unfairly tilted in favor of Trump's antics.
WaPo Excerpt:
Cutting back or eliminating the live audience would also make it more difficult for candidates to pull stunts like Trump did in 2016, when he brought four women who had accused Bill Clinton of sexual abuse to a debate in St. Louis and attempted to seat them in his family's box.
At the time, Trump himself was reeling from similar accusations, as well as the revelations of his own crude comments about women, which were recorded on a now-famous "Access Hollywood" tape. The plan had been to have the accusers confront the former president, who is also the spouse of the 2016 Democratic nominee, Hillary Clinton, on national television. When debate commission officials got wind of the gambit, they put a stop to it.
The truth is, there are plenty of reasons to change how debates are presented in modern politics. They have become too much like professional wrestling, valuing cute one-liners and witty quips over real substance.
All those very valid points that will be taking up ever-increasing amounts of time and space on your news outlet of choice's front page also have nothing to do with the efforts to move or cancel them. This is 100% about the state of Joe Biden.
Just last week, he made two separate gaffes that went viral.
First, he responded to an African American reporter's question about taking a mental health test by asking the man if he was a junky and whether it'd be appropriate to ask him to be tested for cocaine before the interview.
Then, the Dem nominee told Americans that Hispanics have a diversity of political beliefs and voting preferences, unlike Black voters.
Side Note:
(A comment for which he later apologized, after a Washington Post "fact checker" erroneously tried to misinform readers that Joe was only misheard and was actually saying something else. That should give you some indication of the work these media companies are putting in for their guy.)
What matters for political betting is that Donald Trump needs these debates to demonstrate his opponent's lack of cognitive fitness to do the job of a US President.
As it stands, he won't be getting the opportunity before a significant number of voters have mail-in ballots in their possession.
The Democrats will undoubtedly be making a tremendous push to get as many cast as early as possible;
to account for Trump's sabotage of the US Postal Service delivery speeds, and
to have as many people's choice set in stone as possible before he can be exposed.
Of course, number two only becomes an issue if they don't successfully get the format changed to a virtual debate or some other option that makes it easier to feed Joe Biden his answers and work him like a puppet.
In a country with a partisan divide like the US, any given issue possesses the potential to be the deciding factor.
The number of ballots cast before Joe Biden is forced to perform in public may very well be the variable we look back at as the difference-maker when this election is finally in the books.