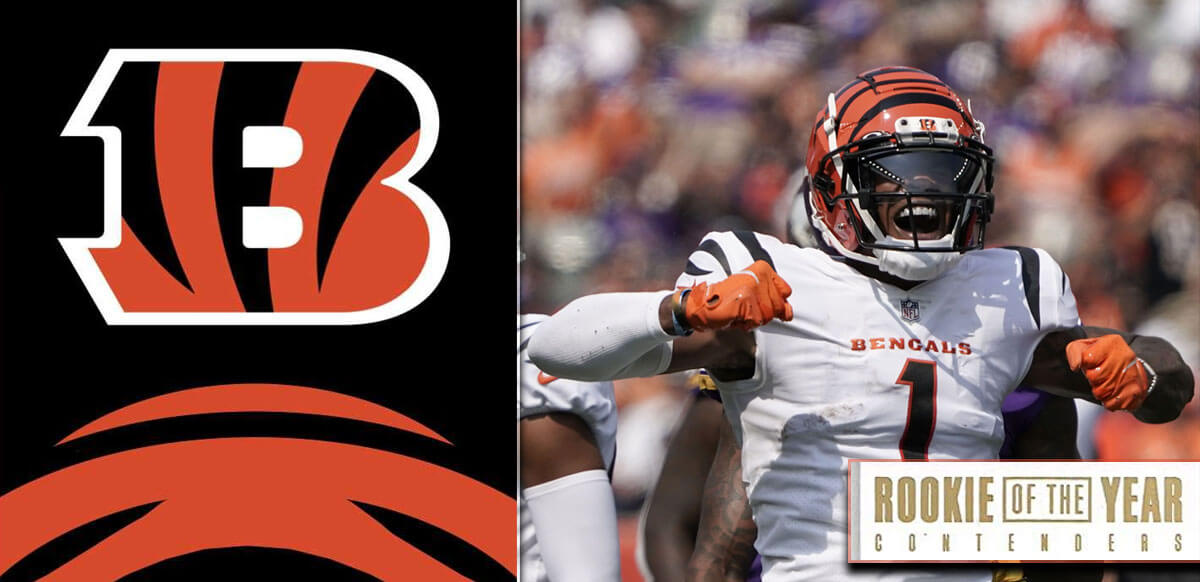 NFL sportsbooks have Chase edging out Patriots' Jones for NFL ROY
Lawrence, Fields, Lance still in the picture
Bengals look like a factor in the AFC North
The Joe Burrow to Ja'Marr Chase connection is the foremost weapon for the Cincinnati Bengals. Chase had the biggest game of his young 5-game career with 159 yards and a touchdown on ten catches, but the Bengals fell to Green Bay, 25-22, in overtime on Sunday.
Fought to the finish. pic.twitter.com/xdSgv0fjFr

— Cincinnati Bengals (@Bengals) October 10, 2021
Chase moved into the lead for NFL Rookie of the Year on most odds boards as he is posting (+350) while New England's Mac Jones (+400) fell to second.
Burrow and Chase connected on a 70-yard touchdown pass with 36 seconds remaining in the first half as the Bengals trailed 16-14 after 30 minutes.
UNO HAS DONE IT AGAIN!

Watch on FOX | #BudLightCelly pic.twitter.com/b3lZK0VX5R

— Cincinnati Bengals (@Bengals) October 10, 2021
Chase is well on his way to breaking the vaunted 1,000-yard barrier as only one rookie in each of the past two seasons accomplished the feat – former LSU teammate and Vikings receiver Justin Jefferson last season and Titans WR A.J. Brown two seasons ago.
Chase has rolled up 456 yards so far on 23 catches with five touchdowns. Oddsmakers gave him an
OVER/UNDER
of 7 touchdowns for the season with odds of (-120) to go OVER and (-110) to hit the UNDER.
Potentially the biggest common denominator for Chase to win the Heisman is that he was one of Burrow's top targets at LSU, where he caught 111 passes for 1540 yards and 18 touchdowns in 2019 when the Tigers won the national championship.
The familiarity is an intangible that goes a long way with the production this duo has had so far this season.
As this 2021 NFL campaign started, Chase was catching (+2000) odds while Jones sat at (+550).
Rising to the Top
Chase had edged Jones last week in some spots as he posted (+333) odds while Jones sat at (+350).
As the season began, Chase was seen at (+1700) while Jones' (+950) was still less than Jacksonville quarterback Trevor Lawrence (+300), Chicago's Justin Fields (+500), and Trey Lance of the 49ers, who was at (+900).
As the season has unfolded, it looks like Chase will have a chance to lengthen his lead as he has turned into Burrow's No. 1 receiver once again in a short period of five games.
Jones drove the Patriots 84 yards in 15 plays as Nick Folk hit the game-winning field goal in New England's 25-22 win over the Houston Texans on Sunday.
Got the W. #ForeverNE pic.twitter.com/YRMTfFprtA

— New England Patriots (@Patriots) October 10, 2021
After the Pats fell behind Houston, 22-9, early in the third quarter, Jones had to steer the ship as he drove New England to three Folk field goals and also a 13-yard TD pass to Hunter Henry.
Fields and Lawrence are posted at (+750) currently as Lance is back to (+900) after pushing up to (+700) last week. Lawrence, who was the favorite as the season started with odds at (+350), had good numbers again on Sunday as he completed 23 of 33 passes for 273 yards with a TD toss and an interception. Lawrence fell back off of last week's (+600) odds.
Fields was at (+700) and faded (+750) even though he helped to engineer the Bears' 20-9 victory over the Las Vegas Raiders on Sunday. He managed the game as he only completed 12 of 20 passes for 111 yards and threw his first TD pass, which gave Chicago a 7-3 lead early in the second quarter.
Lance Performs, but Niners Stymied by Cardinals' Defensive Effort
Arizona held Trey Lance to 192 passing yards as he completed 15 of 29 passes, but he rushed for 89 yards on 16 carries in his first NFL start, in which Arizona posted a 17-10 win. His odds seemed to have faded because of the loss, as he is now at (+900).
Final from #SFvsAZ. pic.twitter.com/IPAeLMCaZo

— San Francisco 49ers (@49ers) October 10, 2021
Lance's odds to win the honor started at (+725) and fell back as far as (+925) before relieving Jimmy Garoppolo when he injured his calf just before halftime in the 49ers' 28-21 loss to Seattle. Lance then improved to (+750) before posting (+675) last Wednesday.
Bengals Can Present a Challenge in the AFC North
Cincinnati started the season 3-1 but couldn't overcome two missed field goals from Evan McPherson that were potential game-winners late in the loss to the Packers on Sunday.
On to the next one. WHO DEY! pic.twitter.com/FnmyrgvQ8u

— Cincinnati Bengals (@Bengals) October 11, 2021
The Bengals' odds to win the AFC North fell to (+`1000) as the Ravens (-115) and Browns (+160) are legitimate Super Bowl contenders, but Cincinnati has not matched up with either team yet, so the opportunity is going to be there for the taking.
The Ravens posted a (-105) number after they defeated Denver in a defensive struggle. They maintain themselves as the favorite to win the division as they go into tonight's Monday Night Football offering as a 7-point favorite over the Indianapolis Colts.
The Browns were at (+120), so they faded a little with the loss to the Chargers in the 47-42 shootout at Sofi Stadium on Sunday,
Pittsburgh was down at (+2000) but picked up the 27-19 home win over Denver and moved back to (+1400)