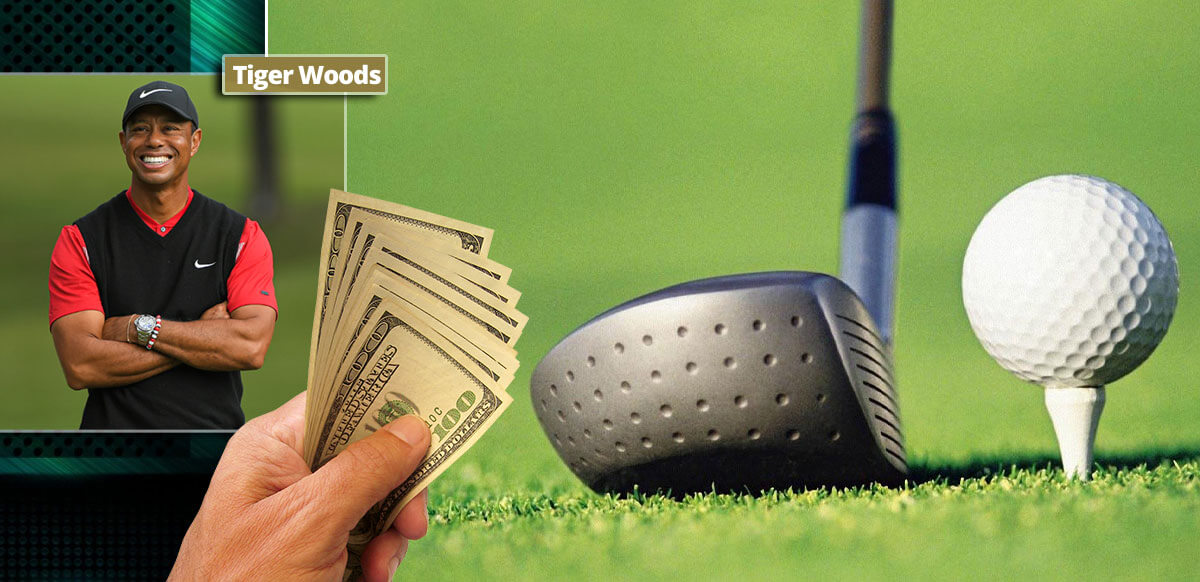 Tiger Woods is one of the most popular bets to win The Open Championship.
Woods leads all golfers with 9.7% of the total betting tickets and is third with 8.1% of the betting handle to win the tournament.
Rory McIlroy is the +900 odds on favorite to win at St. Andrew's.
Tiger Woods is a longshot +4000 to win The Open Championship. Despite that, he is one of the top three most popular bets to win the tournament.
According to the online betting site BetMGM, Woods has the most number of betting tickets written for The Open Championship at St. Andrew's. Woods' 9.7% is the most for any golfer while his 8.1% betting handle ranks third behind Scottie Scheffler's 20.5% and McIlroy's 14.5%.
There is no confirmation yet on whether Tiger will be at St. Andrew's but Woods said last April that he plans to play in the July major.
Woods' Favorite Golf Course in the World
"It's my favorite golf course in the world … I will be there for that one."@TigerWoods plans to play The Open in July.pic.twitter.com/Of3ewgFo1T

— PGA TOUR (@PGATOUR) April 10, 2022
While the golf world was glued to Brookline last weekend for the U.S. Open, Woods was reported to have spent the weekend watching his son Charlie play in a junior golf tournament. In that tournament, Woods was photographed at the event with a young golfer, and in the photo, Tiger was seen wearing black shorts, minus the leg sleeve he's been known to wear since his near-fatal accident.
Look at Tiger Woods' right leg in this recent photo – incredible that he can play at all, much less competitively. @willbardwell @AlanShipnuck @firepitstories pic.twitter.com/oOa7fKZfOY

— (((Leif Skodnick))) (@LeifSkodnick) June 19, 2022
If you look closely, Woods' injured right leg looks significantly different from his normal left leg. The scars from the emergency surgery to save the leg are very much visible while his inner calf looks concave. The whole leg itself doesn't look natural and looks like jutted out.
The new image makes Woods' efforts to make the cut at the Masters and PGA Championship more impressive and makes us wonder: If he made the cut at Augusta with the best golf betting sites giving him a +120 odds to do so, then he can make the cut at St. Andrew's. If Woods can play competitively with that leg just 14 months after nearly losing it, it's not wrong to think he can win again, especially in his "most favorite golf course in the world" where he has won twice before.
Up Next: St. Andrews
Up next: St. Andrew's pic.twitter.com/PHGXVFl9Cp

— BetMGM 🦁 (@BetMGM) June 20, 2022
Rory McIlroy is the current +900 betting favorite to win The Open Championship at St. Andrew's. McIlroy entered the PGA Championship as the odds-on-favorite to win the tournament after winning the Canadian Open and finished 8th in Brookline. He won The Open Championship in 2014 and finished in the Top 5 from 2016 to 2018.
Jon Rahm and Justin Thomas are next at +1200 odds. Rahm is coming off his best finish at The Open with a T3 at St. George's last year. The Spaniard is coming off a T12 at last week's U.S. Open. JT meanwhile, won the 2022 PGA Championship but has not finished better than 19th at The Open. Thomas placed 37th at Brookline last Sunday.
World no. 1 Scottie Scheffler is next at +1400 odds while last year's The Open winner Collin Morikawa is at +1600. 2022 Players Championship winner Cameron Smith follows at +2000 along with U.S. Open and first-time major winner Matt Fitzpatrick. 2017 The Open Championship winner Jordan Spieth is at +2200 along with 2018 runner-up Xander Schauffele.