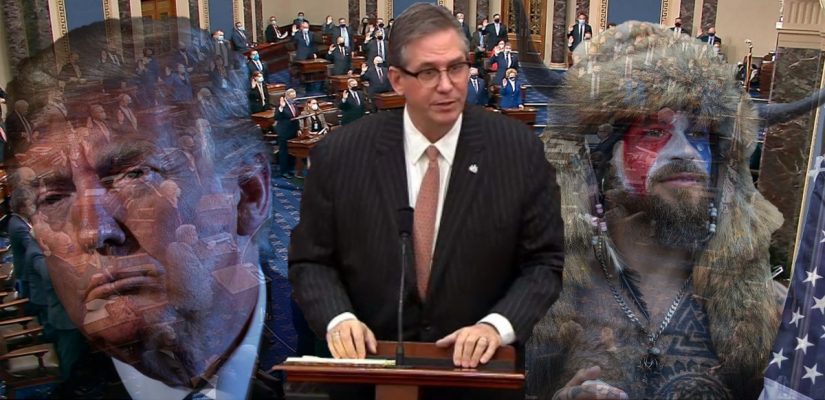 Key Points:
Former President Donald Trump's second impeachment trial began this week.
On Monday, Senator Majority Leader Chuck Schumer said that trial rules had been agreed upon and that impeachment managers and Trump's defense team each have 16 hours to present their cases.
On Tuesday, the House managers and Trump's defense opened the trial by each presenting their arguments concerning the constitutionality of the trial. Senate jurors voted to proceed.
Ready for Round 2?
Donald Trump's second impeachment trial kicked off on Tuesday with House managers and Trump's defense getting two hours apiece to present arguments concerning the constitutionality of the proceedings since the defendant is no longer in power.
Starting on Wednesday at noon, each side will have 16 hours to make their case:
Four hours for Senators' questions,
Four hours to debate witnesses, and
Four hours for closing arguments.
On January 13, the House of Representatives voted to impeach Donald Trump — precisely one week after Trump supporters stormed the Capitol, hoping to disrupt Congress certifying the Electoral College results as part of the "stop the steal" movement. In doing so, Trump became the first president ever to be impeached twice.
The single article of impeachment alleges that the 45th President of the United States "engaged in high Crimes and Misdemeanors by inciting violence against the Government of the United States."
Because Trump has already vacated office, Chief Justice John Roberts, who oversaw Trump's first impeachment, cannot preside over the current trial. Instead, the responsibilities fall upon the Senate's president pro tempore, Patrick Leahy of Vermont – a Democrat and the longest-serving member of the upper chamber.
On Monday, Sen. Leahy vowed to be fair and impartial despite playing both judge and juror. "My intention and solemn obligation is to conduct this trial with fairness to all," wrote the 80-year-old Senator in a letter to colleagues.
Trump's lawyers were not convinced.
"Now, instead of the Chief Justice, the trial will be overseen by a biased and partisan Senator who will purportedly also act as a juror while ruling on issues that arise during trial," Trump's defense team wrote in a legal brief filed Monday.
Fair or not, Democrats have majority-control of the Senate and can thus vote to approve any proposals or rules for the trial they see fit.
Twice now, votes over the impeachment's constitutionality have been raised, based mostly on Trump no longer being the President. On both occasions, the Democrats prevailed, with the help of 5-6 Republicans.
While the early signs don't bold well for Donald Trump's defense team, all signs point to the former President being acquitted. Democrats have a simple majority in the Senate, but preliminary votes show they have nowhere near the 67 required to convict.
Of course, convicting Trump isn't the point of this affair.
He's already been removed from office, which would be the punishment for an impeachment conviction.
Some suggest the plan is to bar him from ever running for public office again. But Trump will be 78 years old in 2024; the prospect of another presidential campaign was already a longshot.
Charges for "Incitement of Insurrection"
The sole impeachment article brought against President Trump includes a couple of different charges rolled up into one. Reading through the official document, the goal of this entire ordeal becomes abundantly clear.
Having missed the opportunity to convict Trump for anything while he was in power, the Democrats hope to disqualify him from running in the future and force Senate Republicans to register an impeachment vote that can be used against them in future campaigns.
Here's how the article of impeachment opens:
"The Constitution provides that the House of Representatives 'shall have the sole Power of Impeachment' and that the President 'shall be removed from Office on Impeachment for, and Conviction of, Treason, Bribery, or other high Crimes and Misdemeanors'. Further, section 3 of the 14th Amendment to the Constitution prohibits any person who has 'engaged in insurrection or rebellion against' the United States from 'hold[ing] any office under the United States'."
That last line gives away the Democrats' plan.
For his incitement charges, the House managers are looking at two separate offenses.
First, they fault Donald Trump for refusing to accept the election results and calling into question their legitimacy:
"In the months preceding the Joint Session, President Trump repeatedly issued false statements asserting that the Presidential election results were the product of widespread fraud and should not be accepted by the American people or certified by State or Federal officials. Shortly before the Joint Session commenced, President Trump, addressed a crowd at the Ellipse in Washington, DC. There, he reiterated false claims that 'we won this election, and we won it by a landslide'."
Second, they point to the speech Trump gave to supporters on January 6 before violence erupted at the Capitol:
"He also willfully made statements that, in context, encouraged—and foreseeably resulted in—lawless action at the Capitol, such as: 'if you don't fight like hell you're not going to have a country anymore'. Thus incited by President Trump, members of the crowd he had addressed, in an attempt to, among other objectives, interfere with the Joint Session's solemn constitutional duty to certify the results of the 2020 Presidential election, unlawfully breached and vandalized the Capitol, injured and killed law enforcement personnel, menaced Members of Congress, the Vice President, and Congressional personnel, and engaged in other violent, deadly, destructive, and seditious acts."
They also signal their intention to make a case against the former President for trying to "subvert and obstruct" the certification process, an effort which they say included a phone call to Georgia's Secretary of State:
"President Trump's conduct on January 6, 2021, followed his prior efforts to subvert and obstruct the certification of the results of the 2020 Presidential election.

"Those prior efforts included a phone call on January 2, 2021, during which President Trump urged the secretary of state of Georgia, Brad Raffensperger, to "find" enough votes to overturn the Georgia Presidential election results and threatened Secretary Raffensperger if he failed to do so."
Democrats in Congress Give Preview of Trial
We've probably gotten an accurate preview of how the trial will play out over the past week.
First, Democrats gave testimonies of their experiences on January 6. Then, on Tuesday, lead House manager Rep. Jamie Raskin set the tone for the impeachment trial with a 13-minute video of the riots and an emotional speech relating the violence to personal tragedies involving his children.
Democrats hope to appeal to Americans' emotions more than they're worried about accomplishing anything tangible during the actual trial.
Trump can't be removed from a position he's already vacated, nor is he in the kind of physical condition that implies he'll be fit to run again in 2024.
Trump only presents a threat to the Democratic Party (and establishment GOP) as someone who wields significant influence over a large percentage of Republican voters.
The impeachment trial won't stop the former President from communicating with his followers; they can only hope to use the proceedings to score political points that will help to fundraise and campaign against GOP opponents in future elections.
#IMPEACHMENT FARCE

I have ZERO interest in the impeachment trial. It's theatrics to keep Trump as the central villain while the establishment pillages from the working class.

Impeaching in the House should have been it. And Dems should have moved on to ACTUALLY helping people.

— Peter Daou (@peterdaou) February 9, 2021
Last Thursday's testimonies hinted at how Democrats will utilize their time during the trial. One member of Congress after another recounted emotional stories of the chaos on January 6.
"Early Wednesday afternoon, Ocasio-Cortez and her legislative director were alone in her office when they heard 'these huge violent bangs on my door … like someone was trying to break the door down,' she said. Her staffer told her to 'run and hide,' so she went into the bathroom and stood behind the door.
"'I start to hear these yells of 'Where is she, where is she?' and I just thought to myself, they got inside,' Ocasio-Cortez recounted. 'This was the moment where I thought everything was over.'
"Through a crack in the door, she saw a white man in a black beanie opening the door to her office and yelling "Where is she?" "I have never been quieter in my entire life," Ocasio-Cortez said.
"It turned out the man was an officer with the Capitol Police who hadn't identified himself. Later, Ocasio-Cortez's legislative director told her that he, too, didn't know if the officer 'was there to help us or hurt us.'"
Rep. Rashida Tlaib of Michigan, who wasn't at the Capitol on January 6, broke into tears as she described the threats and difficulties she's encountered as one of the first Muslim women elected to Congress.
"I didn't even get sworn in yet and someone wanted me dead," Tlaib said. "The trauma from just being here, existing as a Muslim, is so hard." She finished by saying: "I urge my colleagues to please take what happened on Jan. 6 seriously."
Cori Bush used her time on the floor to talk about white supremacy:
"If we cannot stand up to white supremacy in this moment, as representatives, then why did you run for office?" asked the freshman congresswoman. "How can we trust that you will address the suffering that white supremacy causes on a day-to-day basis in the shadows if you can't address the white supremacy that happened right in front of you in your house?"
Rep. Dean Phillips of Minnesota gave an impassioned description of having to evacuate the Capitol:
"We know the sound of the breaking glass, of the screams, of the furniture being moved in front of the doors," Phillips recounted.
"We know what it feels like searching for something, anything to defend ourselves and realizing a pencil is about all we had … thinking that it's a real possibility that we would not see our families and loved ones again."
Phillips, who is white, also got choked up over his white privilege, compared to some of his peers. "I realized blending in was not an option for my colleagues of color," he said. "I'm sorry. For I had never understood, really understood, what privilege really means."
Trump's Defense
If Tuesday's performance is any indication, the former President's legal team will humiliate themselves. Although, in fairness to Bruce Castor – Trump's current defense lawyer – he took the job on relatively short notice.
Two weeks ago, all five of Donald Trump's previous impeachment lawyers resigned due to disagreements over defense strategy.
It's been reported that he wanted his team to argue that there was election fraud. South Carolina lawyer Butch Bowers wished to debate the constitutionality of holding an impeachment trial for a former president.
Trump's current defense team attempted the constitutionality argument, but the Senate shot it down.
"The Senate of the United States lacks jurisdiction over the 45th President because he holds no public office from which he can be removed, and the Constitution limits the authority of the Senate in cases of impeachment to removal from office as the prerequisite active remedy allowed the Senate under our Constitution," Donald Trump's legal team said in a statement released early last week.
Off to a Bad Start
Castor's presentation on Tuesday was a disjointed, meandering performance during which he praised Senators as "extraordinary people," told the House impeachment managers' they gave an "outstanding presentation," and recalled democracy's origins in Ancient Greece.
The defense attorney came across as hilariously out of his depths.
Steve Bannon on Trump defense:

"The strategy is not working…this is asymmetric information warfare: Democrats argue a coherent made-for-TV fantasy that works on an emotional level. Lindsey Graham's team argues the constitution and nobody cares. Changes needed and needed now"

— Jonathan Lemire (@JonLemire) February 10, 2021
First Amendment Rights
Besides questioning the trial's constitutionality, Trump's lawyers reject the premise that the former President is responsible for the violence at the Capitol. Castor suggests his client was merely exercising his First Amendment rights by encouraging his supporters to protest. The same goes for any allegations Trump made about election integrity.
Evidence of Pre-Planning
If Donald Trump's speech to supporters on January 6 was responsible for inciting violence at the Capitol, why is there so much evidence the siege was planned ahead of time?
According to the FBI, the pipe bombs discovered near the Capitol were planted the night before the riots occurred.
From NBC News
"Based on analysis of videos recorded by surveillance cameras in the area, investigators said whoever planted the bombs did so between 7:30 p.m. and 8:30 p.m. on Jan. 5. The bombs were discovered the next day, as Congress was preparing to certify the Electoral College votes for President."
"The bombs were placed outside the headquarters of both the Republican and the Democratic parties a few blocks apart on Capitol Hill. Investigators said both devices appeared to be fully functional, made out of metal pipe with a common windup timer. They were rendered harmless and sent to the FBI crime lab for analysis."
"Although they did not go off, their discovery 90 minutes before rioters stormed the Capitol pulled dozens of police away from their normal posts."
Capitol Police are also looking into allegations that GOP lawmakers provided tours of the Capitol to Trump supporters on January 5. Once again, this would demonstrate premeditation; not a crowd whipped into a frenzy by Donald Trump's words.
From CNBC:
"Rep. Mikie Sherrill, D-N.J. had said Tuesday that on Jan. 5 she saw 'members of Congress who had groups coming through the Capitol … a reconnaissance for the next day.'
"Sherrill vowed to hold accountable 'those members of Congress that incited this violent crowd, those members of Congress that attempted to help our president undermine our democracy.'
"She has said that tours were highly unusual both because of the timing just before the invasion of the halls of Congress, and because of Covid-19 restrictions that have limited public access to congressional buildings.
"On Wednesday, Sherrill and more than 30 other Democrats in Congress in a letter asked Capitol Police and the acting sergeants at arms in both the House and Senate to investigate the 'suspicious behavior and access given to visitors to the Capitol Complex' on Jan. 5."
Protest Language Hypocrisy
Finally, the Trump team can be expected to play video footage of their own showing Democrats using similar language as what's being considered "incitement" by the former President throughout Donald Trump's presidential term.
While I don't endorse the words in the following tweet, the accompanying video provides just a sample of the hypocrisy at play. All summer long Democrats used language equally inflammatory, if not more so, while encouraging the nationwide Black Lives Matter demonstrations:
It's ok for the despicable democrats to advocate violence and rioting, even going as far as to saying that someone should put a bullet in Donald Trump. pic.twitter.com/pDdMswz3yK

— Cageyeff (@cageyeff1) January 8, 2021
Regardless of whatever arguments are made during this week's proceedings, none of them will affect the impeachment trial's outcome.
Every juror already knows how they will vote.
If the early votes over the trial's constitutionality are any indication, the Democrats will find between 55 to 60 conviction votes, falling short of the required two-thirds majority.
Both sides will grandstand and give their most theatrical, emotional performances, but ultimately, the end result remains the same.
The Democrats won't have enough votes to convict Trump, so they'll accuse Republicans of cynically putting politics before right and wrong – despite the fact that's all anyone involved is doing.