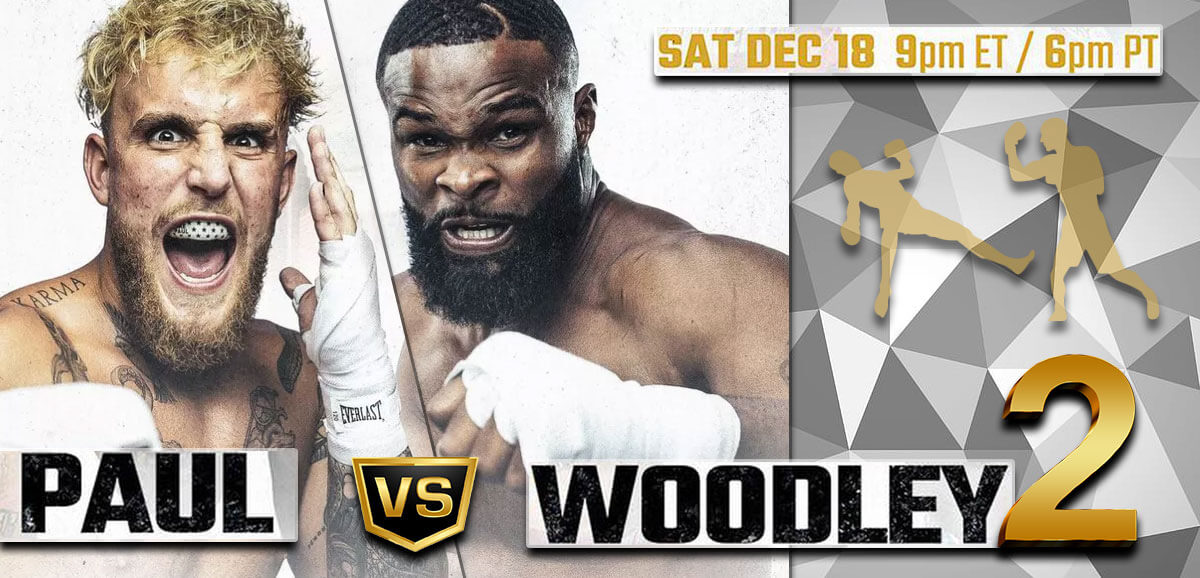 Tyron Woodley to beat Jake Paul via KO,TKO, or DQ is just a +350 or 22.2% implied probability despite the $500K knockout bonus stipulated in the fight.
It can be recalled thas Jake Paul personally insisted on adding a clause in the contract that would give Tyron Woodley an extra $500,000 if he beats Jake Paul via knockout.
Paul to win via decision or technical decision is the favored outcome at +125 via BetOnline.
Jake Paul is giving Tyron Woodley a $500,000 bonus if the former UFC champion will knock him out in Saturday's bout. However, the best boxing betting sites don't think it will matter.
According to online sportsbook BetOnline, Woodley to win the fight via KO, TKO, or DQ is just the third most probable outcome on Saturday night.
BetOnline is favoring Jake Paul to win via decision, or technical decision at +125 or a 44.4% implied probability. Paul to win via KO, TKO, or DQ is second at +190 or 34.5%. Meanwhile, the odds of Woodley knocking out Paul is just at +350 or 22.2%. Woodley winning on points has the lowest implied probability of 11.8% or +750 odds
Woodley Motivated to Get $500K KO Bonus
Tyron Woodley gets an extra $500,000 on one condition, and his response shows just how motivated he is to get it ?

If he wasn't taking fights against Jake Paul seriously before, he definitely is now. The stakes have been raised to another level… ?https://t.co/2kFFPOQleS

— SPORTbible (@sportbible) December 11, 2021
Woodley was more than happy to know that the $500K knockout bonus was added in the Paul vs Woodley 2 fight contract and not just a verbal side bet between the fighters. It can be recalled that when Paul announced that Woodley would be replacing Tommy Fury, the former Disney star said he would give the former UFC welterweight champion a $500,000 bonus if he will knock him out on Saturday night.
According to Woodley, Paul is putting a bounty on his own head with the bonus, which according to The Chosen One, he's all about taking the free money since he intends to knock out Paul anyway. Per Woodley, nobody offers a kid from Ferguson half a bag to go out there and do what he wanted to do anyway.
In that press conference, Woodley sounded like he was motivated to get the $500K bonus which may be more than what he earned during his entire UFC career. Woodley previously revealed that what he earned in the first Jake Paul bout was a multitude compared to what he was paid by the UFC during his stint there.
Jake Paul vs Tyron Woodley Updated Odds
Here are the odds for Jake Paul vs. Tyron Woodley 2:

Jake Paul -260 (5/13)
Tyron Woodley +200 (2/1)

(via @betonline_ag) ? #PaulWoodley pic.twitter.com/hmE2Z3COdr

— Chamatkar Sandhu (@SandhuMMA) December 16, 2021
As of the latest betting odds at BetOnline, Paul is now a -260 favorite in the fight, with Woodley coming back at +200. The odds have tilted a bit, in Woodley's favor as it can be recalled that Jake Paul opened as the -275 betting favorite and Woodley the +225 bottom dog.
But while the top boxing sportsbooks haven't released the latest betting trends, Woodley had 79% of the bets at +220 odds via BetOnline three days before the fight. That said, more bets on Woodley probably came in after that, forcing the sportsbooks to shorten his odds to +200.
In their first bout, Woodley closed at +140 and Paul at -160. Given that the early betting trends were favoring The Chosen One, it won't be a surprise to see the rematch odds close at the same price range. After all, Woodley nearly pulled it off in their first bout. But then again maybe Jake Paul will be better by learning from his mistakes. We'll see.