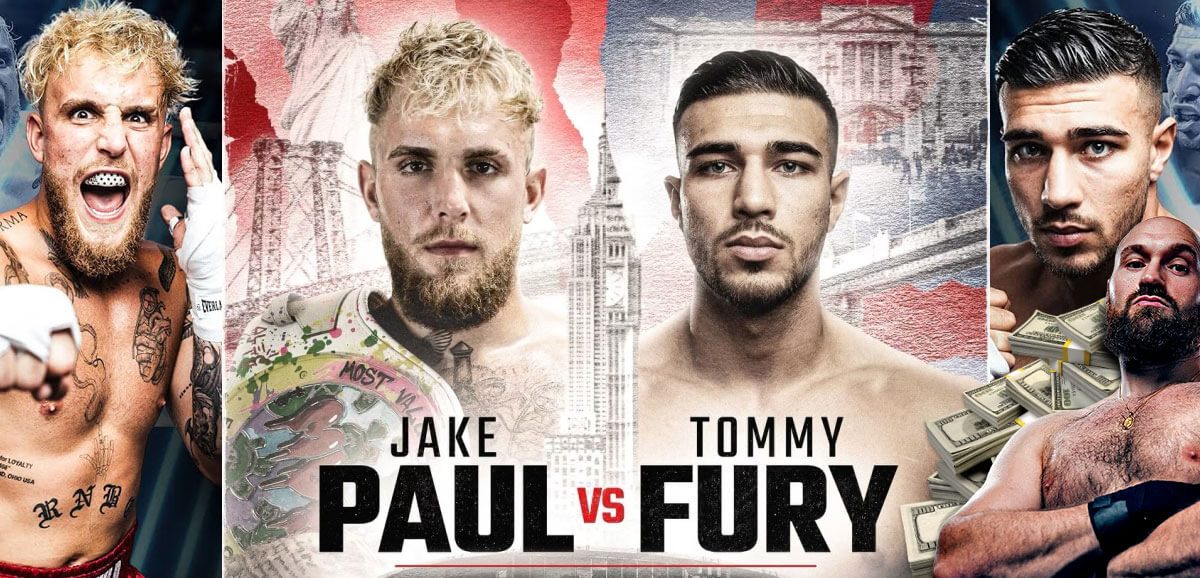 Tyson Fury has accepted Jake Paul's $1 million bet for the latter's fight with Tommy Fury on August 6th.
However, Fury said he will only make the bet if Jake Paul agrees to put their $1 million bet in escrow.
Jake Paul is the -105 betting underdog against Tommy Fury who is listed at -115 odds.
Tyson Fury vs Jake Paul? Yes, but not in a fight.
Lineal heavyweight boxing champion Tyson Fury accepted Jake Paul's dare to bet a million dollars for Jake's boxing bout against Tyson's younger half-brother Tommy on August 6th in New York.
Tyson Fury Agrees to $1 Million Bet
Tyson Fury raising the stakes 😳

He's agreed to bet Jake Paul $1 MILLION that Tommy Fury will beat Jake on August 6 👀

(via @Tyson_Fury) pic.twitter.com/0kroui7Vwp

— Pickswise (@Pickswise) June 26, 2022
The bet began when Fury said he was willing to put $100,000 on his younger half-brother Tommy to beat Jake Paul in their August 6th showdown at the Madison Square Garden. Of course, the brash YouTuber dared Fury to up the ante and increase the bet offer to whatever million dollars Fury wanted to wager on Tommy.
Said Jake Paul:
"Hey Tyson, you f****** p*****, you made $40 million — not as much as me — but lets up the ante," Paul said on Twitter. "Let's bet a million on it, Tyson. Two million, three million, however much you want to f****** bet. Let's do it.
"So f*** your $100K, let's make a better bet and make it worth a couple million. Are you down?"
. @Tyson_Fury wants to bet $100k on his brother… Tyson, grow a pair and let's make it a betr bet pic.twitter.com/sY6PweMzSC

— Jake Paul (@jakepaul) June 25, 2022
No doubt, Jake Paul touched Tyson Fury's ego as it didn't take long for Fury to accept Paul's challenge and put more money where his mouth is. However, Fury did so on one condition: that their $1m bets be held in escrow because he doesn't think that Jake Paul has $1 million in cold cash. Fury said greenbacks, not crypto.
Tyson Fury's doubts may be a result of Jake's brother Logan Paul recently saying in a podcast that Jake is "broke" because he placed all his money in cryptocurrency which continues to crash in value. Based on reports, Jake Paul made over $40 million last year but if Logan is correct in saying that Jake placed all his eggs in the crypto basket, then Tyson Fury has a point.
Jake Paul Opens as Underdog in Tommy Fury Bout
ODDS OPENING ALERT

Tommy Fury -125
Jake Paul -105

Go> https://t.co/hK89smtXxE pic.twitter.com/X1q55S5L0w

— Dave Mason (@DaveMasonBOL) June 23, 2022
The bet between Tyson Fury and Jake Paul is interesting. If Jake Paul placed his $1 million bets via online sportsbook BetOnline where he opened at -105 odds, he would stand to win just $952, 380.95 or a payout of $1,952,380.95. Against Tyson Fury, his $ 1 million would win another $1 million or a payout of twice his bet amount.
Meanwhile, Tyson Fury would win only 869,565.22 for a $1 million bet on little bro Tommy at -115 odds via the BetOnline App. That would yield a payout of just $1,869,565.22 if Tommy beats Jake Paul. But while Tyson Fury would earn lesser if he placed his bet at a top boxing sportsbook, he would be assured that he will be paid since he is betting against a legit sportsbook, not a person.
But then again the $1 million bet between Tyson Fury and Jake Paul isn't about money. It's about two rich sports stars trying to put their money where their mouth is at. More than that, it's about pride. Now we're waiting for Jake Paul's response to Tyson Fury's dare to put the betting money in escrow so the bet can become official.