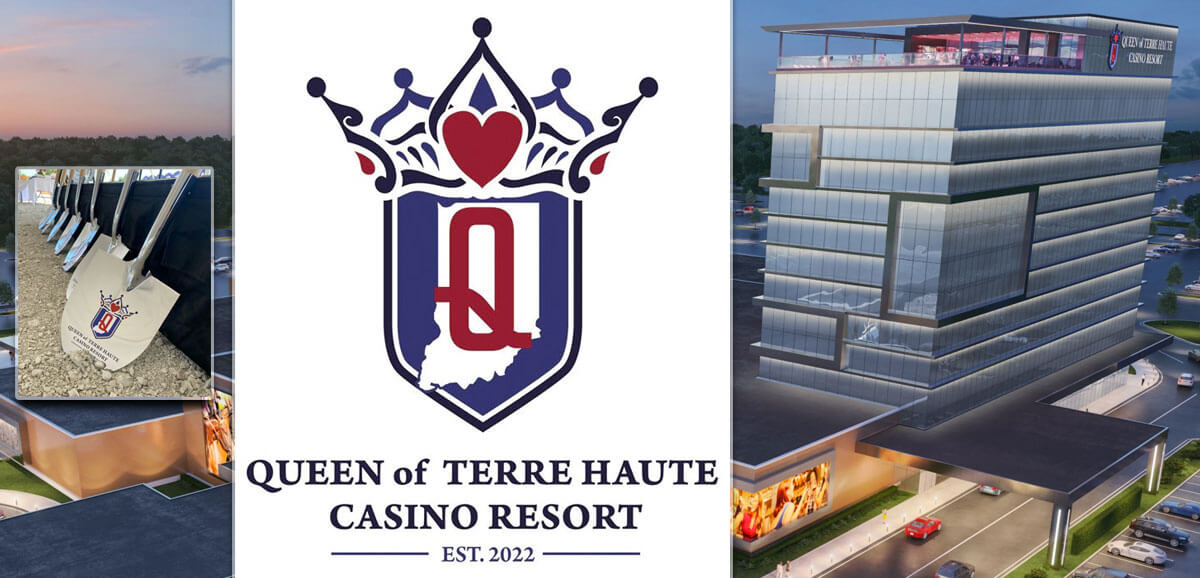 The Queen of Terre Haute Casino in Indiana broke ground last Tuesday.
Construction will be an estimated 18 month with the casino expected to open late next year.
The $260 million project will house 1000 slot machines and 50 table games.
The Queen of Terre Haute Casino Resort project on 50 acres of land at 4442 East Margaret Drive in Terre Haute broke ground last Tuesday, signaling the start of construction for the long-awaited casino.
It's a full tent this morning for the groundbreaking of the Queen of Terre Haute Casino Resort! @wtwonews pic.twitter.com/hkeiLVvfwF

— Nicole Krasean (@NicoleK_WTWO) June 21, 2022
Workers have started drainage works and other site preparation as the 18-month construction period officially began on the latest venture of Kentucky-based Churchill Downs Inc.
In a statement, Churchill Downs CEO William C. Carstanjen said:
"The Queen of Terre Haute is intended to reflect this community, the values, the enthusiasm, and the people that live here. We are very focused as a company on economic development, health, and wellness, tourism, infrastructure and quality of life as well as talent, attracting the best people that we can. "We realize that you have entrusted us with being a member of your community and with this project."
$260 Million Project
$CHDN Churchill Downs Incorporated Announces Proposal to Develop the Queen of Terre Haute Casino Resort in Vigo County, Indianahttps://t.co/VPP5xTEvgh

— Stock Titan (@stock_titan) September 22, 2021
The Queen of Terre Haute Casino will have a 460,000 square foot casino building and 56,000 square feet of gaming area. It will house 1,000 slot machines and 50 table games. The property will also feature a 10-story 125-room hotel, a sportsbook, rooftop pool, restaurants, and bars. It is expected to open late in 2023.
Churchill Downs will put in $260 million to build the casino resort and the construction phase will employ 1,000 temporary jobs. Once it is completed, the Queen of Terre Haute Casino is expected to create 350 full-time and 146 part-time jobs with a payroll amounting to $20.9 million. The casino is projected to bring in an estimated $190 million in economic impact to the local community.
Long Time Coming
The referendum to establish a casino in Vigo County/Terre Haute easily passes, with 68% of the vote. @wtiunews @WFIUNews

— Adam Pinsker (@AdamPinsker) November 6, 2019
The idea of a casino in Terre Haute or Vigo City has been discussed for nearly 40 years with riverboats and tribal casinos suggested. In 2019, the Indiana General Assembly approved a gambling bill that made it possible for a casino in Terre Haute to finally become a reality.
Vigo County voters then approved a casino measure on the November 2019 ballot with a 68% 'yes' vote. The first license in Terre Haute was awarded to a group led by Terre Haute businessman Greg Gibson. But in July 2021, the Indiana Gaming Commission deemed its partner Lucy Luck Gaming Inc. to be ineligible for license renewal. A new selection was then set with Churchill Downs beating three competitors in a process that ended last November.