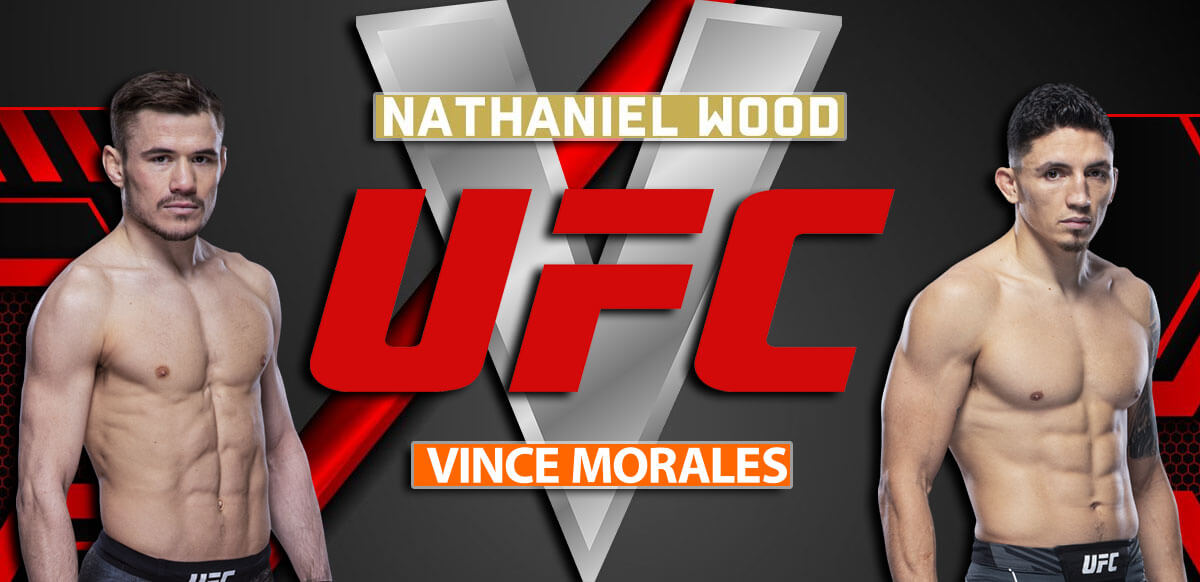 Vince Morales has opened as the +180 betting underdog against Nathaniel Wood (-210).
Morales stepped in on two weeks notice to fight Wood after the latter's original opponent, Liudvik Sholinian, withdrew from the bout.
Morales and Wood are set to meet on March 19th at UFC London at the O2 Arena.
Vince Morales called out Nathaniel Wood after his last win. Now he gets his preferred opponent but will have to win the bout from the underdog position.
According to the best UFC betting sites, Morales is the +180 betting underdog while Wood is the -210 favorite in their three-round bout:
UFC Fight Night 205:
Nathaniel Wood (-210)
Vince Morales (+180)https://t.co/jxozvFVKX9

— BestFightOdds (@BestFightOdds) March 7, 2022
The Morales vs Wood bantamweight bout is scheduled for UFC London on March 19th at the O2 Arena.
Morales Called Out Wood After Last Win
Vince Morales (@vandetta135) wants Nathaniel Wood next ?#UFC (via @ColeShelton91) https://t.co/enr48B9Y1h

— bjpenndotcom (@bjpenndotcom) December 10, 2021
It can be recalled that Morales called out Wood after his impressive win over Louis Smolka at UFC Vegas 44 last December. The win was Morales' second straight since undergoing Achilles injury. Prior to his two-fight winning streak. Morales dropped four out of his previous six bouts and suffered an Achilles injury during his TKO loss to Chris Gutierrez in May 2020.
But despite the callout, matchmakers booked Wood to fight Liudvik Sholinian at UFC London on March 19th. However, Sholinian withdrew from the bout due to unknown reasons. Morales was more than glad to take the fight he originally wanted on two-weeks notice. The former Front Street Fights featherweight champion has a record of 11-5 with six knockouts and two submission victories.
Morales has opened as the betting underdog for the fifth time in his last six bouts. The 31-year old from Caldwell, Idaho was the +150 bottom dog against Smolka in his most recent bout. The only time that Morales had the minus money sign next to his name during this period was when he fought Benito Lopez as the -105 favorite. He lost that fight via unanimous decision.
What a Fight
WHAT A FIGHT! ?

Give it up for Nathaniel Wood and Casey Kenney who never stopped trading for three hard rounds ?#UFC254 pic.twitter.com/OaRfVZWWgU

— UFC on BT Sport (@btsportufc) October 24, 2020
Wood meanwhile, is coming off a unanimous decision loss to Casey Kenney at UFC 254 last October in a bout that won Fight of the Night honors after both fighters never stopped trading for three hard rounds. The loss was Wood's second in his last three bouts after he was knocked out by John Dodson in 2020.
The 28-year old from Morden, England is a former Cage Warriors bantamweight champion who made two successful title defenses before coming over to the UFC in 2018. Wood made a strong impression as he won his first three bouts via submission but has since dropped two out of his last three fights. The Englishman has a record of 17-5 with 9 knockouts and five submission victories.
Wood went from a -400 favorite against Sholinian to a -210 against Morales as he faces a tougher opponent. The Kenney bout was the only bout in his MMA career where Wood entered the cage at plus money odds. He opened at +120 odds for that bout and closed at +135.