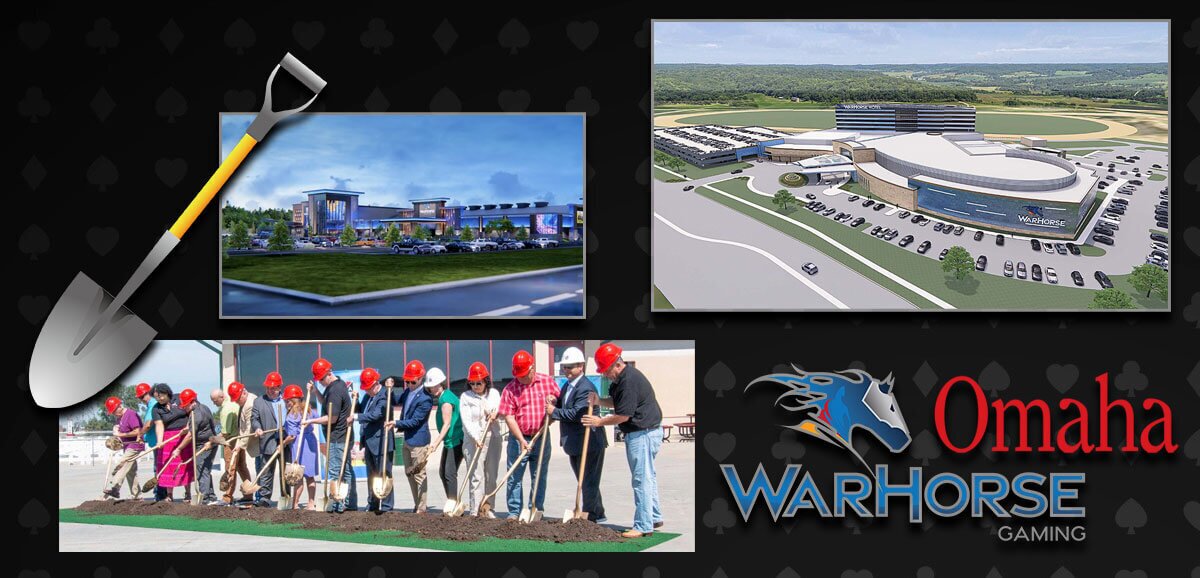 WarHorse Gaming broke ground on the Omaha casino project last Wednesday.
The renovated Horsemen's Park Complex will have more than 1,200 slot machines, 22 table games, and a retail sportsbook.
WarHorse Gaming and the HBPA are partners in the Omaha casein project.
Omaha's WarHorse Casino broke ground last week, marking a significant development for a project that had to wait out the long legislative and regulatory processes to play.
Construction underway on new casino, racing, and entertainment development.https://t.co/ocMgfvvara

— The Lund Company (@TheLundCompany) July 28, 2022
The event was attended by officials from the city, Ho-Chunk Inc., and the Nebraska Horsemen's Benevolent and Protective Association. WarHorse Gaming is a division of Ho-Chunk that will partner with the Nebraska HBPA in the operation of the Omaha casino.
Construction at Existing Horsemen's Park
The project is being built on the site of the existing Horsemen's Park near 63rd and Q Streets. It includes the renovation of the existing Horsemen's Park Complex and the addition of 67,000 square feet in new construction. The new site housing more than 1200 slot machines, 20 table games, a retail sportsbook, and both live and simulcast horse racing.
WarHorse estimates the construction process to take 18 months with the new casino launching next spring. Meanwhile, no date has been given as to when the old facility will shut down but reports say it could occur later this fall. With the building under renovation, simulcasting has been moved to a new location that is already in place on the infield of the track
A Lengthy Process
Since voters in Nebraska passed three ballot measures in November 20202 to expand casino gambling to licensed horse tracks in the state, Ho-Chunk Inc. has been looking to enter the scene as soon as possible. In December 2020, they established WarHorse Gaming to operate and manage the casinos it planned to build at the state's three horse tracks.
However, WarHorse Gaming had to go through a lengthy legislative and regulatory process that played out over the course of many months. Among those that needed plenty of work and time was the Nebraska Racing and Gaming Commission's approval of the rules and regulations for casino gambling. The 67-page document was approved by Gov. Pete Ricketts last May but was only approved by the Commission last December. The state issued WarHorse its Provisional Nebraska Gaming Licenses just last June.