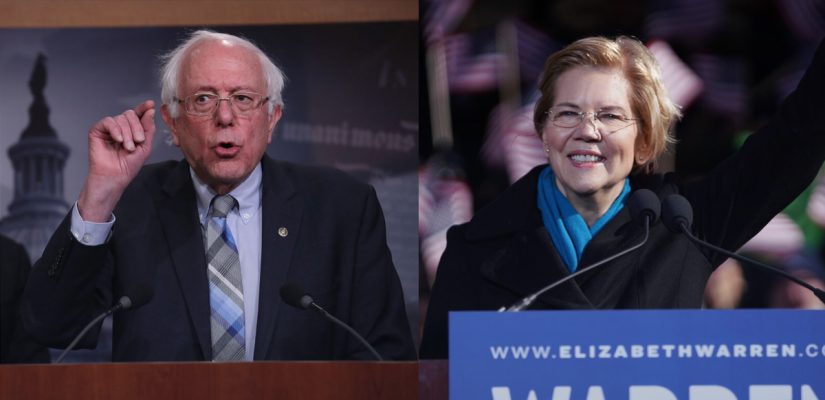 Highlights:
Today, is the Iowa caucus – the first official contest in the Democratic primaries.
After studying the weekend's campaign rallies and leaked Des Moine Register poll numbers, Elizabeth Warren is poised to significantly outperform expectations.
Political bettors should wager on the Massachusetts Senator before the Iowa caucus puts her back on the radar as a serious contender for the nomination.
It's Monday morning, which means it's Iowa caucus day, the official starting line for the Democratic primaries! All weekend long I've been closely watching all of the campaign rallies, latest poll numbers, and craziest DNC rumors — trying to forecast how this first contest plays out, and the domino effect different outcomes will have on the race.
All month long, I've been fairly confident that Bernie Sanders has Iowa in the bag – and he still may – but there have been a few late-breaking updates that have my attention.
Des Moines Register Poll
The Des Moines Register Poll is traditionally the most accurate reflection of how the Iowa caucuses will play out – which is why supporters of nearly every Democratic candidate were outraged to learn that they wouldn't be getting the crucial last-minute figures this weekend. Apparently, the company conducting the poll was alerted by a Pete Buttigieg supporter, that the Mayor of South Bend was omitted from the individual's interview and felt the need to scrap the results.
While it appears that this was a one-time error by a single surveyor, the mistake was used to withhold the results from the public. A representative from Selzer & Co., explained, "There were concerns about what could be an isolated incident. Because of the stellar reputation of the poll, and the wish to always be thought of that way, the heart-wrenching decision was made not to release the poll. The decision was made with the highest integrity in mind."
It seems odd that a singular omission would have such significant consequences, and I can't help but wonder if this is the Buttigieg campaign burying information that bode well for the Mayor, in hopes of limiting the damage. We can't be sure, but that feels like a McKinsey-type move.
Leaked Results
Since the Register chose not to release their data, there have been some rumored leaks. According to Arjav Rawal, — a High School student who went viral for scooping every major media network when he broke the Register's poll results on January 10 — the figures made public by Mike Cernovic, are accurate.
These are the leaked poll results:
Sanders 22% (+2)
Warren 18% (+1)
Buttigieg 16% (=)
Biden 13% (-2)
As you can see, Joe Biden is in a free-fall in Iowa, while Elizabeth Warren's decline has been grossly exaggerated. In fact, these numbers tell me that there's significant value in betting the Massachusetts Senator before the 4 PM deadline – when the odds are pulled from the board.
I'll explain why I'm leaning towards taking Warren over Bernie below.
Insight from Robert Barnes
In a recent posting, I talked about Robert Barnes, a civil rights attorney in Vegas, who earned the title of "most successful political gambler" of all-time in 2016, when he flew to Europe and made numerous bets on Donald Trump to win the election, netting him an estimated $500k in winnings. You can read more of Barnes' story on his website.
Late last week, I sent Robert a few questions via direct message after noticing he seemed higher on Warren than myself – both in Iowa and as a Democratic candidate.
Between the following paraphrased responses that I got from Mr. Barnes and the leaked poll data, I tend to think he's onto something.
Reasons to Like Warren's Chances
1. Variability. In elections featuring a strong opposing incumbent, the rival party tends to obsess over things like "electability" in order to avoid a repeat of the last election cycle. Democrats might be afraid of such an unconventional candidate as Bernie, with President Trump looming large in their minds.2. The polls have shown a tight race in which any of the candidates could potentially finish second. If Warren has a 1-in-3 chance of finishing behind Bernie, her odds/PredictIt price should reflect something closer to a 15% likelihood of winning rather than 5%.
3. Caucuses are decided by two key factors: turnout and persuasive advocates/organizers. Sen. Warren has an advantage in those categories; her typical supporter is educated, affluent, and an active member of their local community. (She's also working with Hillary Clinton behind the scenes, which can only help.)
4. Iowa's straw polls have been relatively reliable at forecasting voter inclinations in Iowa. Last summer, Warren and Biden were tied, and voters often return to their initial choices on election day.
5. Warren has an excellent ground game and strong messaging. She's received several prized endorsements from prominent newspapers, is running the best TV ads in Iowa down the stretch, and is campaigning on her ability to unite the party and beat Trump – the latter being many Democratic voters' biggest issue.
6. Warren's rise and fall in the polls followed voter belief in her electability. Her three main opponents all have significant weaknesses — Bernie's too "radical;" Biden is sundowning, corrupt, and can't hide from his voting record (social security cuts); and Buttigieg is unpopular with African American voters, and has never won a major election, beyond being a Mayor. Warren has also weaponized identity politics and being "woke," to shift the conversation regarding her own electability, into a question of "can a woman win?" This shields her from those criticisms while making her the likeliest compromise candidate of the four.
7. According to Google Trends, Elizabeth Warren is surging over the last two weeks in searches in Iowa and New Hampshire — especially when you consider that a considerable number of Biden's searches are related to impeachment and corruption issues, not the primary contests.
Hillary Clinton's Successor
Back in September, NBC News published a story titled Warren and Clinton talk behind the scenes as 2020 race intensifies, by Jonathan Allen.
In it, the author shares that the "two women have kept a line of communication open since the Massachusetts senator decided to run for president," but that "neither camp wants to reveal much of anything about their interaction."
Looking back over the past couple of months, this relationship might explain a few of the Warren campaign's recent decisions.
If Hillary is supporting the Senator behind the scenes, then we probably know where the leaked conversation between Warren and Sanders – in which Senator Sanders allegedly told Elizabeth that "a woman couldn't be elected President" — came from, and how its release was perfectly orchestrated with CNN.
Remember:
Those attacks were launched only days before the January debate in Iowa – designed for maximum damage to the Sanders campaign. Then, CNN did their part, helping to push the narrative along, in spite of Bernie denying the accusation outright.
In the meantime, Hillary Clinton has continued to periodically take shots at Sen. Sanders, almost as if they were scheduled in advance. Most recently, the former Secretary of State appeared on a podcast to frame Bernie as a "divider," slamming him for "not working to unite Democrats in 2016."
At the same time, Sen. Warren has been hammering the "unity" theme, almost as if in coordination with Clinton. Warren closed her Iowa rally this weekend by saying, "I've been building a campaign from the beginning that's not a campaign that's narrow…Not a campaign that says, 'It's us and nobody else. It's a campaign that says, 'Come on in,' because we are in this fight together."
Bernie's campaign slogan is "Not Me, Us," which is clearly meant to be a message of togetherness and grassroots organizing, but the tandem of Clinton and Warren are both framing it to mean the opposite.
The plan seems to be for Hillary to levy the direct, public attacks, so Warren can lay back and continue playing Bernie's "friend" – all in hopes of retaining as much of his progressive support as possible when the DNC eventually nominates another candidate.
It's an effective system because after Clinton takes her shots, Sanders's supporters always get defensive and return fire – at which point, liberal media steps in to condemn the "Bernie Bros" for being abrasive, overly aggressive, and dividing the party.
However the duo's alliance works; this is vital news to consider in the final hours before the Iowa caucus. The Clinton machine is one of the most formidable in the game – with an army of media figures, strategists, and DNC elite in their pockets.
Second Choice Votes
If the leaked Iowa Register poll numbers are correct, Sanders is in big trouble on Monday. While he is in the lead, those figures only account for respondents' first choices. To win any pledged delegates, a candidate must receive at least 15% of the votes – if they don't, their supporters can cast their vote for one of the other options, who's passed the required threshold.
Remember what Robert Barnes said about Warren's top-tier organizers and ground game? If the Senator's campaign, with the help of the Clinton network, can arrange for other DNC-loyal competitors to send their supporters Warren's way, there's a real possibility of "Liz" scoring an upset here.
And even if she doesn't win outright, a close second-place finish with a large number of pledged delegates is an enormous victory for the Warren campaign. Bernie needs to dominate in these early states – the longer Elizabeth is able to keep things close, the less likely Sen. Sanders is to enter the Democratic National Convention with the majority he'll need to avoid a contested convention.
Biden, Buttigieg, Bloomberg
It would appear that Joe Biden is in the midst of total collapse at the moment. There have been so many campaign gaffes at this point; the electorate is losing faith in the former VP's arguments of "electability." If Cernovic's leaked poll numbers are correct, he's headed for a disastrous fourth-place finish in Iowa, with under 15% support.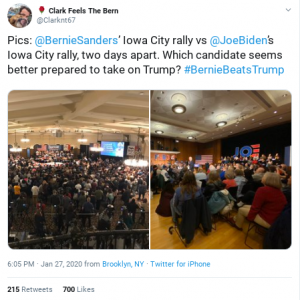 That 13% or so that are voting for Biden will be steered towards Warren by the Democratic organizers in attendance. These are DNC loyalists and people prioritizing themes like "unity" and "electability," the precise messages Clinton and her Senator Warren proxy campaign are highlighting. Those supporters' impact alone could be enough to win the state for Elizabeth.
Looking further ahead, I suspect this is the same role that Michael Bloomberg will be playing in the later states. I predict Joe Biden will drop out after either Iowa or New Hampshire, opening a centrist lane for the billionaire ex-NY Mayor. He'll be Warren's foil – there to make the Senator appear more progressive, by contrast.
Mayor Pete is the only real obstacle for Elizabeth's campaign in these early states. He's been in close competition with her for affluent, college-educated white voters from the beginning. If I'm right about Biden tanking below the 15% mark, some of those supporters will be split between Buttigieg and Warren.
Iowa Caucus Predictions
| | |
| --- | --- |
| Online Sportsbook | Elizabeth Warren's Odds of Winning Iowa Caucus |
| Bovada | +1400 |
| MyBookie | +900 |
| SportsBetting | +1000 |
| BetWay | +800 |
| XBet | +900 |
| BetOnline | +1000 |
Bernie Sanders is going to win the Iowa caucus, but it will be a victory on paper only. Despite winning the largest number of pledged delegates, having Biden drop out of the top three, while Warren surges to second-place – especially if she gets to over 20% — is a nightmare scenario for Bernie's campaign.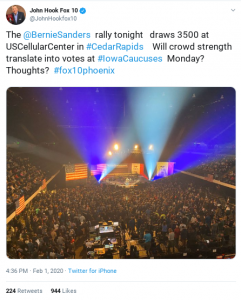 Sen. Sanders has been benefiting from the crowded field of moderates spreading their centrist support thin, while he's dominated on the left. Once Warren overachieves in Iowa and becomes "viable" again, in the eyes of the electorate, there will be a substantial number of voters swung her way.
Throw in the Clintonian magic going on in the background, and there may not be a Democratic candidate who presents more betting value than Elizabeth Warren at the moment.
For wagering purposes, I'd consider staking a small amount on Warren in Iowa – but still, expect Bernie Sanders to win the state.
My Iowa Caucus Prediction:
1st – Bernie Sanders
2nd – Elizabeth Warren
3rd – Pete Buttigieg
To Win Iowa Caucus – Elizabeth Warren (+1400)
Looking Past Iowa
| | |
| --- | --- |
| Online Sportsbook | Elizabeth Warren's Odds of Winning NH Primary |
| Bovada | +1500 |
| MyBookie | +1000 |
| SportsBetting | +1200 |
| XBet | +1000 |
| BetOnline | +1200 |
The real value in predicting a huge surge from Warren Iowa is in getting early bets placed for the following contests. Once she outperforms previous expectations and is rocketed back into the top two, the Senator's odds will be significantly shorter.
I suggest wagering on Sen. Warren to win the Democratic nomination, while she's still being treated as a long-shot.
To Win Democratic Nomination – Elizabeth Warren (+1400)
You should also look at the next several primary/caucus states.
I love Bovada's line for Elizabeth to win New Hampshire at +1500.
Sure, Sanders is still a heavy favorite to take the state, but that's assuming Joe Biden is still in the race. What happens if the sundowning former VP exits in humiliation after Iowa – then Klobuchar sends her supporters to back Warren as their second choice?
Then, you also have to consider Andrew Yang, who I predict will also overachieve in Iowa and New Hampshire. His base has a lot in common with Bernie's. It's been assumed that the Yang Gang would get behind Bernie when the tech entrepreneur falls short of 15%, but what if he finishes with 15% or more of the vote?
That's the worst-case scenario imaginable for Sanders supporters.
To Win New Hampshire Primary – Elizabeth Warren (+1500)
PredictIt Markets
2020 Democratic Nominee Market – Elizabeth Warren's Price: $0.06
Iowa Democratic Caucus Market – Elizabeth Warren's Price: $0.06
New Hampshire Primary Market – Elizabeth Warren's Price: $0.06
In the same spirit of planning ahead – based on the prediction that Elizabeth Warren will finish in the top two in Iowa (she could win!) — I wanted to point out the current PredictIt markets. This site isn't like traditional political betting. You buy shares in different candidates and outcomes, ranging in price from 1 to 99-cents.
I'd suggest loading up on Senator Warren becoming the Democratic nominee before the caucus later today. She's currently trading at just 6-cents, which will make a major jump tomorrow if I'm right about Monday's results. Even if you don't think she'll go all the way, you can still wait and sell the shares at a higher price point for serious profit.
Hurry up! — You've got until 4 PM to bet on the Iowa caucus at most online sportsbooks. You also want to submit your Warren picks to win the DNC nomination and upcoming primaries, before tonight's results shorten her betting odds.