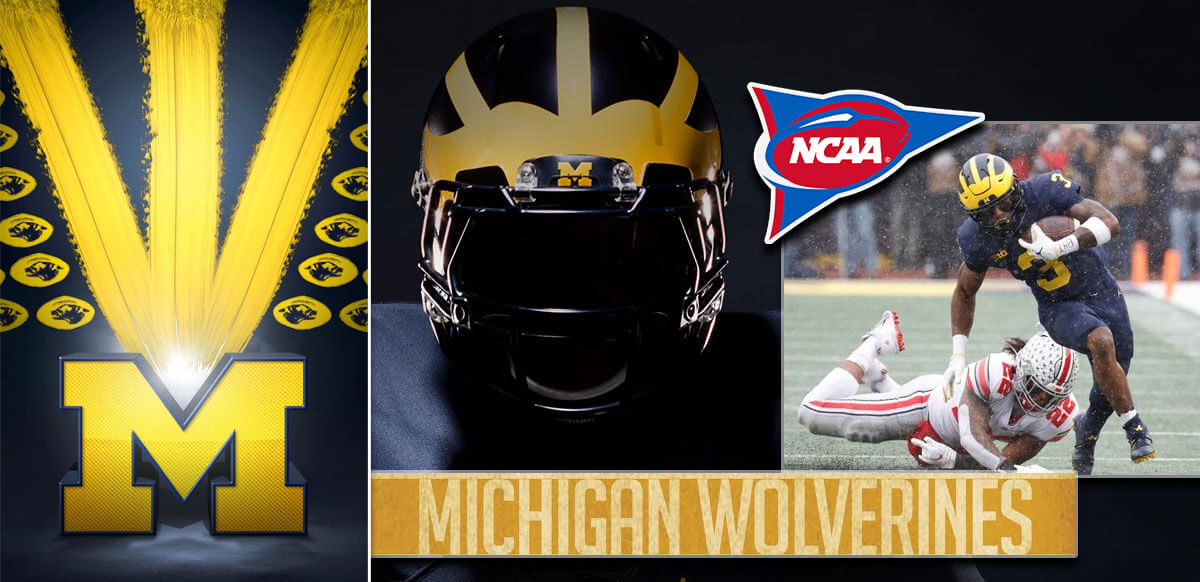 Oddsmakers push Wolverines' Odds
Buckeyes still post but are more than a long shot
Wolverines a double-digit favorite over Iowa in Big Ten Championship game
The Michigan Wolverines used a power ground attack that rolled up 297 yards on 41 carries as running back Hasaan Haskins rushed for five touchdowns in the Wolverines' 42-27 rout of Ohio State on Saturday.
We did what had to be ????.#GoBlue pic.twitter.com/2xMEdOUAG6

— Michigan Football (@UMichFootball) November 27, 2021
Michigan broke an eight-game losing streak to the Buckeyes, and then-coach Jim Harbaugh picked up his first win of his career vs. Ohio State. Buckeyes coach Ryan Day lost his first Big Ten game as OSU's head coach.
Stock in the Wolverines has climbed as Michigan now has the third best odds to win the national championship as it is posting at (+850).
This is only behind SEC front runners Georgia and Alabama, who post (-220) and (+650), respectively.
Stock is going up. ?#GoBlue // @aidanhutch97 https://t.co/A2sZbw9asT

— Michigan Football (@UMichFootball) November 29, 2021
Michigan broke on top of the Buckeyes at 7-0 on a 14-yard run by A.J. Henning and surrendered a brief 10-7 lead before Haskins had three of his rushing touchdowns by the end of the third quarter as the Maize and Blue took a 28-13 lead after three.
Last week the Wolverines were nursing odds at (+3000) and Ohio State moved to (+300) in odds to win the national championship as the Buckeyes moved past Alabama (+400) on some odds boards. Georgia, of course, was the favorite as the Bulldogs listed at (-125), while the Cincinnati Bearcats were fourth with odds at (+2500).
ICYMI: @GoBearcatsFB is one of only TWO teams in America with a spotless regular season record. pic.twitter.com/kFbaWwnfEa

— Cincinnati Bearcats (@GoBEARCATS) November 28, 2021
Now, the Buckeyes face (+10000) odds to win the national championship as they have two losses and are virtually eliminated from postseason contention.
Oklahoma State now has the fourth-best odds to win the national championship as the Cowboys net (+1400) while the undefeated Bearcats move up to (+1600). Notre Dame moved from (+5000) to (+2500) as the Fighting Irish have one loss as well.
Betting Public
One sportsbook took in 95 percent of it's money on Ohio State as other online sportsbooks noted that Michigan's dominating win accounted for the biggest win of the year on a college football game.
Wolverines bettors caused the spread to fall from Ohio State (-9) to Ohio State (-6.5) and there was a $275,000 bet posted on Michigan (+8.5) at another book during the week.
??? ???? ?? ????!#GoBlue pic.twitter.com/zFoE3auFNH

— Michigan Football (@UMichFootball) November 27, 2021
In addition, another Wolverines bettor dropped $200,000 on a straight up moneyline bet at (+250) as it netted the person $500,000.
On the flip side, there was one Ohio State bettor who placed $40,000 on the Buckeyes with the point spread at (-7) and would have won $76,354 if the Buckeyes would have been able to win the game.
What's Next?
Ohio State had been to and won four consecutive Big Ten championship games, so now Michigan plays Iowa, who flew in after the Hawkeyes beat Nebraska, 28-21, on Friday, and Minnesota eclipsed Wisconsin, 23-13.
Michigan goes into the Big Ten title tilt against Iowa on Saturday installed as a (-10.5) favorite with (-110) odds. The over/under on the game is posted more consistently at 43.5, but it is also spotted at 44.
?-?.

? Iowa
? Lucas Oil Stadium
? Saturday, December 4th, 2021
⏰ 8:00 p.m. ET
? FOX #GoBlue pic.twitter.com/atnGcb5qfX

— Michigan Football (@UMichFootball) November 29, 2021
The Hawkeyes are hot as of now as they have won four in a row after losing two games to Wisconsin and Purdue that saw them with a myriad of offensive issues in losing 27-7 to the Badgers and 24-7 to the Boilermakers.
The Wolverines are 10-2 ATS while Iowa checks in at 7-5 ATS while Michigan is an even 6-6 on the over/under as the Hawkeyes are 5-7 as such. The total has gone UNDER in four of the last five games between the Hawkeyes and Wolverines.
Michigan has a 42-15 record lifetime vs. Iowa, but the Hawkeyes have won five of the last seven meetings. Michigan won the last time the two teams played, 10-3, in 2019.
Stroud in Stride
Although Michigan knocked the Buckeyes from their Big Ten pedestal, quarterback C.J. Stroud (-210) passed for 394 yards with two touchdowns and no interceptions and has now a solid lead on Alabama QB Bryce Young (+170) in the Heisman Trophy race.
.@CJ7STROUD ? @GarrettWilson_V #GoBucks https://t.co/ifI6m9avLZ

— Ohio State Football (@OhioStateFB) November 27, 2021
On the season, Stroud has completed 70.9 percent of his passes with 38- touchdowns and five interceptions. He has thrown for 361 or more yards in his last four games with 15 TD passes, and his only two interceptions in these four games came in a 26-7 win over Nebraska on Nov. 6.
Young's numbers are quite similar as he has completed 68.9 percent of his throws with 40 touchdown passes and four interceptions. The pick against Auburn on Saturday was his first interception in six games as you have to go back to the loss to Texas A&M on Oct. 9 to find the last time Young threw into the arms of an opponent.
1:35 left.
12 plays.
97 yards.

Bryce Young. The Drive. @AlabamaFTBL pic.twitter.com/iaTP8ruZB6

— SEC Network (@SECNetwork) November 29, 2021
Composite odds suggest that Stroud took over the lead from Young right around No. 14 as Stroud took a (+183) figure while Young faded to (+215).
Ole Miss QB Matt Corral, who had wrestled the Heisman lead briefly from Young at mid-season, is posted with (+2800) odds while Michigan State running back Kenneth Walker, III, (+2800) and Pitt QB Kenny Pickett (+3300) round out the top three.