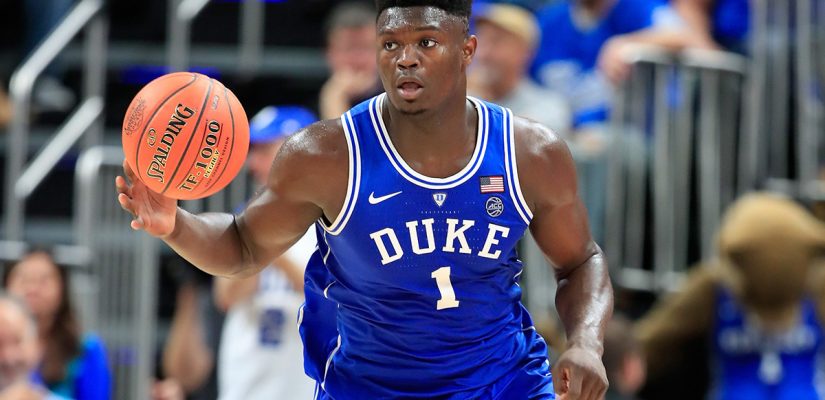 What's going on with Zion? Rhyme not intended, but it totally worked.
It's recently come to light from Zion Williamson's former marketing agent that he should come clean on illegal perks that he took when he was attending Duke.
What seems to be happening is a complicated legal battle between Prime Marketing Sports, his prior marketing company, and CAA.
Apparently, Williamson did complete his contract to full term with Prime Marketing Sports. The contract that was initially signed was for five years, but he signed with CAA before a month had even gone by. However, his team is arguing that his contract was not viable under North Carolina law to begin with.
But, the story doesn't stop there.
Now his former agent is after a request for admission to try and reveal that Zion, and his mother and father had received some type of illegal endorsement. The endorsement would have ensured Zion would attend Duke and wear Adidas brand shoes.
NEW: Zion Williamson's former marketing agent has served requests for admission in their lawsuit asking him to admit that he received "money, benefits, favors or other things of value" to attend Duke University and to wear and/or use Nike and Adidas.

Wow. That escalated quickly. pic.twitter.com/59gWX5bNKX

— Daniel Wallach (@WALLACHLEGAL) May 10, 2020
Any Comments from Zion?
As of now, no official comments have been made from Zion, his parents, or his current marketing agents. The story will continue to develop, as Prime Marketing Sports is seeking a hefty $100 million in damages.
Ouch.
Inevitably though, this case will probably get dragged on for a while. With the NBA shut down, and the world basically is disarray with the COVID-19 outbreak, things are moving at a snail's pace.
But Did He Actually Do It?
Zion Williamson is one of the most promising kids to enter into the NBA in quite some time. There have been many college scandals, students taking endorsements in the past, and a lot more than we probably even realize.
That said, I have no idea, no one really does at this point.
All we can really do for now is to just wait and see what develops arise. It's not fair to make any false claims or accusations against Zion. Remember, he is only 19, he can't even buy beer yet.
Yikes.
It is unlikely that he will ever even see the stand, though. According to Ryan Smith (ESPN Legal analyst):
"Taking the improper benefits is not really getting to the truth, you're really trying to create scandal and embarrass my client. And that could get this (lawsuit) tossed out. If this gets tossed and he doesn't have to answer questions under oath, he may never have to answer questions like these."
The Wrap Up
To summarize, Zion is accused of taking endorsements by his former marketing agency, and they want $100 million from him. Zion has made no comment at this point in time.
We will be sure to keep you guys updated here at TheSportsGeek.com is more information arises.
Stay safe, everyone.