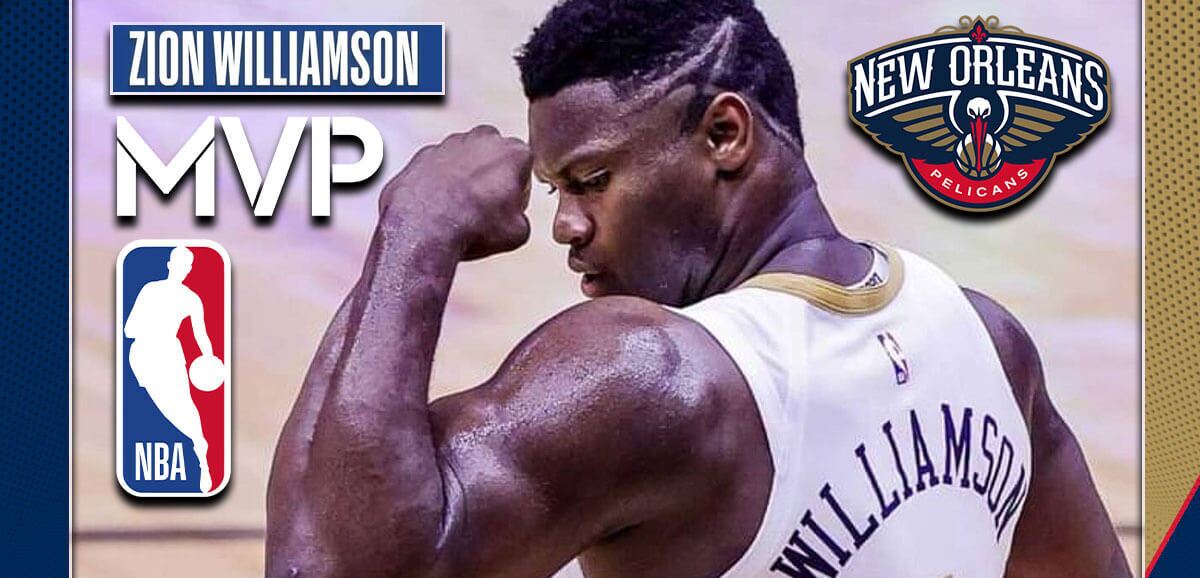 Zion Williamson is the second-most popular bet to win the 2023 NBA MVP Award at online sportsbook BetOnline.
Williamson missed the entire 2021-22 campaign due to injury but is expected to be 100% when the upcoming season opens.
Williamson, Kawhi Leonard (30/1), Jamal Murray (125/1), and John Wall ( 500/1) have more money wagered on them than two-time MVP Nikola Jokic.
The early 2023 NBA MVP betting data at Caesars Sportsbook reveals several interesting results.
It's not really a surprise why Luka Doncic and Joel Embiid are currently listed as +600 co-favorites at the said sportsbook. It's also not a wonder why Doncic has the most betting handle at 29.5% and the second-most tickets at 17.3%. However, it's astonishing to know that the player with the most number of betting tickets in the early betting action at Caesars isn't Embiid or Giannis Antetokounmpo who is next in the odds board at +700. It's not even reigning two-time MVP Nikola Jokic or Kevin Durant who are both listed at +850 behind the Greek Freak.
Comeback SZN for Zion?
Comeback SZN for Zion?

He is 2nd in MVP bets and handle so far, only behind Luka 😳 pic.twitter.com/crjsWcwOId

— Caesars Sportsbook (@CaesarsSports) July 22, 2022
Just over a week ago, Caesars reported that New Orleans Pelicans forward Zion Williamson ranked second behind Luka Doncic in both tickets and betting handle to win the 2023 NBA MVP award. Although Caesars did not say at what percent, it reported that Williamson is still second behind Doncic in total dollars wagered at the end of July. However, Williamson has overtaken Luka as far as betting tickets are concerned entering the last day of the month.
The Pelicans forward opened at 60/1 odds at Caesars but with significant betting action in his favor, Williamson's odds have dropped to 55/1 in the latest betting board at the said online sportsbook. He is the only player on the odds board with odds lower than 100/1 to have a shift in MVP betting odds.
Since the Pelicans drafted him first overall in the 2019 NBA Draft, Williamson has played in only 85 total games and has missed 117 games, including the entire 2021-22 NBA campaign. Despite that, bettors are high on Zion having a bounce-back season, to the point that he has gotten more MVP bets than the likes of Giannis, KD, or even Jokic who has won the award in two consecutive seasons. Zion is not the only surprise.
Kawhi Physically Ready
"Everyone who has been around Kawhi Leonard this offseason has suggested that he is physically ready for next season and is not carrying any mental angst that comes with a return from an ACL surgery."@LawMurrayTheNU shares his expectations for Kawhi: https://t.co/2qmQvngNPW pic.twitter.com/JeYqqoX1dr

— The Athletic NBA (@TheAthleticNBA) July 29, 2022
Aside from Williamson, three other players who did not play during the entire 2021-22 NBA season have more money on them in the early MVP betting action at Caesars Sportsbook than Nikola Jokic. Lead the way is Clippers forward Kawhi Leonard who is currently listed at 30/1. Many believe that a healthy Leonard is still one of the best players in the NBA. With Kawhi reportedly physically ready for next season, the Clippers have opened as one of the early title favorites.
Also getting more betting handle than Jokic at Caesars Sportsbook are Jamal Murray at 125/1 and John Wall at 500/1. Interestingly Murray and Jokic play together in Denver while Wall will be joining Leonard in Los Angeles after agreeing to a buyout with the Houston Rocket.
Meanwhile, Celtis star Jayson Tatum, who came within two games of winning the 2022 NBA Finals, is the third most popular bet behind Doncic and Zion with 6.9% of the tickets and 8.6% of the betting handle at 14/1 odds. 2022 Most Improved Player awardee Ja Morant is the 4th most popular bet with 6.1% of the bets and 6.5% of the handle. 37-year-old LeBron James is 5th with 5.3% of the tickets and 5.6% of the bets at Caesars.