When it comes to poker, you have to start somewhere. Whether this is your first time playing the game altogether or just your first time playing poker online, it can be a lot to process. What are the best online poker sites for beginners? How do I make an account? Am I going to be able to win? All of these are viable questions that you probably are and should be asking! In this guide, we're going to answer these questions and more.
Rank

Poker Site

Bonus
Get Started
1

BoL Poker

100% up to

$1,000

Go to Site

2

Bovada Poker

100% up to

$500

Go to Site

3

SB Poker

100% up to

$1,000

Go to Site

4

Ignition Poker

100% up to

$1,000

Go to Site
Why These Are the Best Online Poker Sites for Beginners
Simple Sign-Up Process
Free Play Options Available
Low Stakes Offered
Not "Shark-Infested"
Juicy Online Poker Bonuses
Low Playthrough Requirements
Trusted and Secure Platform
Fast Cashouts
Trusted and Secure Platform
Whether it's your first time playing online poker or you're a seasoned veteran of the game, you want an online poker site you can trust. All of the best poker sites for first time players we've recommended have passed our rigorous tests for safety, security, encryption, and industry reputation.
When you're new, you may not know how to spot a site you can't fully trust. Our experts know exactly what to look for and how to keep you as protected as possible.
Fast Cashouts
We have faith that you're going to get online and crush the tables and win big! When you do, you're going to want access to the spoils of your victories quickly. All of the best sites to learn online poker offer fast payouts through multiple cashout methods. In other words, you'll be able to get your winnings in your hands fast!
Currently, the average withdrawal time from an online poker site falls between a few hours and about a week. The differences in the range depend on the cashout method you choose, the amount you're withdrawing, and if you've filled out any necessary withdrawal paperwork.
The fastest poker cashouts are by cryptocurrency, and the slowest within this range are usually wire transfers. Checks by courier (sent to your house) is an outlier that may take upwards of two weeks to get to you. If that's too long, just choose a different withdrawal method.
Simple to Understand Sign-Up Process
Since this is your first time playing online poker for real money, it's important you choose the least obstructed path to get started. Many of the best online poker sites for beginners work hard to build a sign-up process that's easy to understand, efficiently set up, and doesn't require a computer science degree to complete.
Not "Shark-Infested"
If you've ever heard the poker term "shark" before, it refers to players that are very good and hunt newer and more inexperienced players. When you select the best poker site to start your career on, you want to stay as far away as possible from sharks. Certain poker rooms attract more professionals. While you may battle the best in the world one day, there's no reason to get in over your head on day one.
Free Play Options Available
Even if you're planning on playing poker online for real money, you're going to want a poker site that offers free play or play money tables. Why? Several reasons.
Free play tables allow you to learn how the game controls work, which can make you more comfortable at the real money tables and prevent mistakes and misclicks.
It's an effective way to make sure online poker is a good fit for you before you put money into it. Yes, people are going to play much wilder with play money, but you can at least get a general feel for what the experience will be like.
Juicy Online Poker Bonuses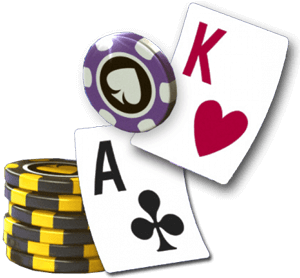 As you're brand new to playing online poker, you may not be aware of the lucrative bonuses available. Online poker rooms compete with other rooms through two predominant methods, offering a superior product and giving out bonuses. Poker sites for newbies will give you free money, free tournament entries, free swag, and more just for giving the site a try.
Additionally, the best poker sites for first time players will offer you continued bonuses as a reward for your loyalty. When you're selecting the best online poker site for you, make sure you're getting a good bonus. Good news! All of the online casinos we've recommended are overloaded with incredibly juicy and lucrative bonuses for playing poker online!
Low Playthrough Requirements
Online poker bonuses are not designed for players that are going to sign up, play for a few hours, then cash out all of their money. The idea behind the bonus is to get you to continue playing at the site. If poker sites allowed people to immediately cash out bonuses, people would take advantage of the situation, and the bonuses would do the site no good.
To combat this, poker sites do require a certain level of play to "clear" a bonus known as the playthrough requirement. In other words, you may not get all the bonus funds right upfront, but you'll get them as you earn them. This is 100% the standard across the industry.
What's not standard, though, is how much play you have to complete to clear your bonus. When we're selecting the best online poker sites for beginners, we look for poker rooms that have the lowest playthrough requirements. You're new, and chances are you aren't planning on opening up 20 tables day one and playing for 12 hours straight. If you are, good on you, but we want to make sure the bonuses we recommend are attainable by everyone.
Low Stakes Offered
A good online poker site for beginners will have the lowest of stakes available. Most likely, your goal is eventually to play higher stakes, but you probably want to start smaller. Poker sites that offer a variety of lower-stakes give beginners a good platform to dip their toes in the water of real money before swimming over to deeper waters.
Tips for New Poker Players to Help Pick out the Right Poker Site
Hopefully, by now, you've picked out a poker site and are halfway through the sign-up process! If not, we're here to help. Here's a thorough list of the best tips for new poker players to remember when choosing a poker site.
Don't Be Fooled by Flashy Images and Animations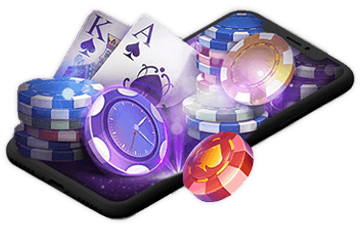 There is absolutely nothing wrong with using an online poker site that has great graphics, smooth animations, and an overall "cool" feel. Make sure, though, that's not the only reason you're choosing a site.
Some of the shady websites in the industry (thankfully only a few of them) will do this to trick newer players into a false sense of security. We can tell you confidently that none of these shady sites make it within 100 miles of our recommended list of the best online poker sites for beginners.
A Bonus From an Untrusted Poker Site Is Worthless
What if we told you there was a poker site giving away $20,000 to each new player that signed up? Your next question better be, "Is it a safe and trusted site?" Newer players have a bad tendency of getting tricked into joining a less-than-great online poker site because of wild bonus promises.
However, the phrase "if it seems too good to be true, it probably is," actually does not work as a safety net in online poker. Many of the best real money online poker sites offer incredible and outrageous bonuses.
So, how do you know which bonuses to trust? The easiest way is to trust the expertise of our team to steer you in the right direction. If you're dead-set on going it alone, though, make sure you look at more than just the number of zeros in the bonus offer when making a selection.
Follow the Best Practices for Security When Creating Your Account
While this does not pertain directly to choosing the right online poker site, it seems like a fitting spot for it.
Use a strong password that you don't use anywhere else.
Don't create your account on a shared or public computer.
Don't store your password on your computer.
Only provide your personal information through the correct secure channels.
If You Don't Like the First Site You Choose, Choose Another One.
You aren't signing any contracts when you join an online poker site. If you pick out an option and find out after a few days, weeks, or months that it's not the right fit, switch sites.
While you should put time and effort into picking out where to play online poker, it's not the end of the world if you change your mind later. If it's not a great fit, cash out your money and deposit it somewhere else. It's that simple.
You Are Allowed to Play at Multiple Online Poker Sites
What happens if you can't decide between two great real money online poker sites? Or, what happens if you want to play two different types of games, and you can only find one at one site and one at another? Join multiple poker sites for newbies! It doesn't cost you anything to open an online poker account.
In fact, most of the professional online poker players have five or more online poker accounts! Don't overwhelm yourself, but don't limit yourself either.
Take the Time to Look at the Available Cashout Methods Before Depositing
Most high-quality online poker rooms have so many great cashout options that you'll be fine. However, there's no reason to take a chance of a future headache. Before you make your deposit at one of these sites for online poker for beginners, look at the different withdrawal options offered. Make sure you find one that works for you. You don't need more than one, but you do need to know you can get paid quickly and in a manner you're comfortable with.
Past Player's Feedback May Be Jaded
You may be tempted to look at reviews and feedback from past players when selecting a site for online poker for beginners. Unfortunately, this may be counterproductive. Most reviews you'll find online are from disgruntled players who lost fair and square at the tables. Instead of admitting they need to improve their games, they blame the sites for wildly absurd things.
Are we saying not to read player reviews? Absolutely not. All we are saying is to make sure you view them with the correct lens.
Safety and Security Should Be the #1 Deciding Factor
Above all else, make sure you choose a poker room you feel safe at. Make sure the room has the right levels of encryption, regularly audits security processes, has quality bank integrations, and cares about the customer experience. How do you check all this? You can do it manually, or take a look at the poker sites we recommend. We've already done the heavy lifting of checking these out.
How to Open an Online Poker Account for Real Money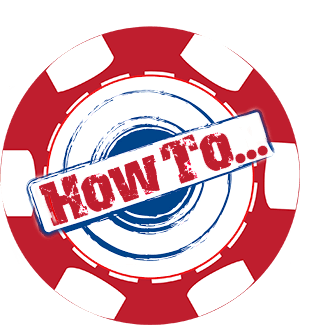 1. Select One of the Best Beginner's Poker Sites
This guide has hopefully shown you exactly what you need in a site with online poker for newbies. Take a few minutes and shop through some of the options we've presented to find the right one for you.
2. Open a Free Account
Once you've decided on where to play online poker, it's time to create your free account. This should take just a few minutes. You'll need to input your state and country of residence, your name, and an active email address.
3. Try out the Free Tables (At Least for a Few Minutes)
Even if you're confident you can figure things out, at least play a few hands at the play money tables. Why? Each of the best sites to learn online poker have slightly different controls that you use to make your bets. When you're not comfortable with the controls, you run the risk of misclicking. At least take a few minutes to know how to bet, fold, raise, and change dollar amounts before moving over to real money.
4. Make Your First Real Money Deposit
The next step is to make your first real money deposit. If you've used one of the links we've provided, you're already all set up to receive a deposit bonus! Just head over to the cashier's page and select the deposit method you want to use. Input your information, select an amount, and submit the request. You should have access to your poker bankroll funds instantly!
5. Start Slow
The last step of the process is to get into the action. We highly recommend starting slow, especially if you're brand new to the game altogether. All of these top real money online poker sites for beginners have the lowest of stakes available. These low stakes tables are a great place to get your feet wet before moving up to higher stakes.
Get Started Playing Online Poker Now!
Online poker is an incredibly convenient way to play your favorite game from anywhere in the world. While you can't see your opponents, the game is still the same, and the potential to make serious money might even be bigger. If you're ready to give it a shot, head back to the top of the page and pick out the site that best fits your needs and get started playing online poker. You can always start with play money if you're not quite ready to pull the trigger on real money play.