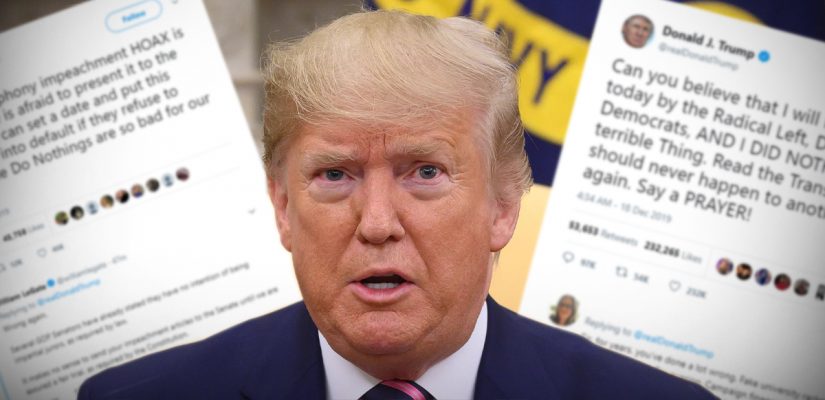 Among their numerous political betting lines, BetOnline's proposition wagers dealing with whether or not Twitter will ban President Trump from their platform before the start of 2021 caught my eye.
It's a one-sided contest– only worth betting if you're taking "Yes" at +700.
To pick "No" would mean risking $2,000 for a paltry $100 payday; so, understand, we're dealing with a long shot.
That said, the way things are progressing towards Election Day in November, Trump being banned from the social media platform on which he's amassed over 82 million followers, is definitely within the realm of possibility.

Trump Bet's "Yes" on Being Banned
In an interview with Ben Domenech, who publishes The Federalist, the President was asked if he expects Twitter to remove his profile in the near future.
"Yes, I do," Trump said. Adding that he believes the ban will come before the election.
Major social media platforms have become increasingly aggressive in their moderation of speech in recent months, responding to pressure from Democrats. They accuse the platforms of standing idly by while foreign governments spread conspiracies that allegedly influenced the 2016 election.
In June, the President tweeted:
"There will never be an 'Autonomous Zone' in Washington, D.C., as long as I'm your President. If they try they will be met with serious force!"
Twitter flagged the tweet with a "public interest notice" that allowed the communication to remain visible but prevented other users from "liking" or "retweeting" it. Similar actions were taken against other tweets pertaining to George Floyd, Seattle's short-lived Capitol Hill Autonomous Zone, and mail-in voting.
….Twitter is completely stifling FREE SPEECH, and I, as President, will not allow it to happen!

— Donald J. Trump (@realDonaldTrump) May 26, 2020
"Some people say I should join Parler," Trump told Domenech, referring to a similar platform presented as "an unbiased social media focused on real user experiences and engagement," and Twitter alternative. "Maybe. We do have over 194 million followers, though, across multiple sites."
Speaking on a potential Twitter ban, the President added: "I expect it will hurt them more than they realize."
Section 230 of the Communications Decency Act
For this wager to pay off, it'll need to happen between November 3 and New Year's Day 2021. And only if Donald Trump loses the election to Joe Biden.
That's because the social media giants are worried about regulation — specifically, reforms to Section 230 of the Communications Decency Act. Right now, Section 230 protects big tech companies from lawsuits over the content posted by their users.
"No provider or user of an interactive computer service shall be treated as the publisher or speaker of any information provided by another information content provider."
The Electronic Frontier Foundation (EFF), an organization dedicated to ensuring "legal protections for Internet intermediaries," explains:
"This legal and policy framework has allowed for YouTube and Vimeo users to upload their own videos, Amazon and Yelp to offer countless user reviews, craigslist to host classified ads, and Facebook and Twitter to offer social networking to hundreds of millions of Internet users.
Given the sheer size of user-generated websites (for example, Facebook alone has more than 1 billion users, and YouTube users upload 100 hours of video every minute), it would be infeasible for online intermediaries to prevent objectionable content from cropping up on their site.
Rather than face potential liability for their users' actions, most would likely not host any user content at all or would need to protect themselves by being actively engaged in censoring what we say, what we see, and what we do online."
The EFF goes on to highlight how Section 230 of the Communications Decency Act also protects bloggers:
"CDA 230 also offers its legal shield to bloggers who act as intermediaries by hosting comments on their" blogs. Under the law, bloggers are not liable for comments left by readers, the work of guest bloggers, tips sent via email, or information received through RSS feeds. This legal protection can still hold even if a blogger is aware of the objectionable content or makes editorial judgments."
Looking at the protections CDA 230 affords, you can only imagine how vulnerable severe reforms might leave corporations like Twitter, Facebook, and Google.
"Section 230 is a double-edged sword," Trump told The Federalist, but "would be a much bigger problem for these companies than even just breaking them up … because you would have to be fighting lawsuits all the time. And believe me, I know a little about that."
"But I want these companies to be successful, and to be based here in America because if you go too far, they end up looking at what is being offered by China instead," Trump continued. "And I don't want that."
What happens if Twitter bans Donald Trump's account in the weeks before Election Day, only to see him win a second term?
That would all-but-guarantee his renewed focus towards regulating social media platforms in retribution for what the President perceives as election interference.
They won't take that chance.
Which means this bet can only win if Donald Trump loses.
Fortunately, if he does lose, it's highly probable that Twitter – and other social media platforms – will move to ban the President from their public forums as quickly as possible.
First of all, Democrats have been calling for stricter censorship of "fringe" opinions and views since Hillary Clinton's 2016 defeat. With a new administration incoming, big tech may want to serve up Trump to appease them.
Plus, Silicon Valley – where these social media companies are headquartered – is much more politically aligned with liberals. They've likely been chomping at the bit to deplatform Donald Trump at the earliest that they can without exposing themselves to potential consequences.
Secondly, if Twitter's handling of the President's other controversial posts is any indication, they may feel obligated to issue a ban. Because if he loses to Joe Biden in November, he's not going to go quietly. And his gripes will be centered mainly around mail-in voting.
That period between Election Day and the new president-elect's inauguration is going to be wild! Our bets are counting on it!
Distrust in 2020 Election Results
As I mentioned previously, President Trump has already had tweets complaining about mail-in voting and a "rigged election" flagged and fact-checked by Twitter. Approaching November's election, both campaigns are doing their part to ensure at least half of the electorate distrusts the result.
If Donald Trump wins, Democrats will accuse the incumbent of intentionally sabotaging the US Postal Service – costing them precious ballots – and continue the conspiracy theories about Russian interference.
If Joe Biden wins, Trump will blame the media, big tech companies, and ballot harvesting. For months now, he's been lashing out against universal mail-in voting, warning supporters that the Democrats plan to use intermediaries to illegally collect, fill out, and deliver massive quantities of ballots to election officials to benefit their preferred candidate.
VOTERS LOSING CONFIDENCE: 45 percent of Americans say they are *not confident* the results of the election will be counted correctly. 45 percent say they *are* confident — a 14-point drop, per latest @NBCNews @WSJ poll

— Kasie Hunt (@kasie) August 17, 2020
Voter confidence in the legitimacy of the US's electoral process is already tanking.
Despite never accepting the 2016 results and spending four years obsessing over Russiagate theories, the minute Joe Biden is announced the winner, the media's focus will turn to the importance of the peaceful transfer of power.
At that moment, questioning or challenging the results will be considered "beyond the pale," if not "the stuff of dictators."
That's when we win our bets!
Because there's no chance in hell that Donald Trump is going to accept defeat quietly.
And if we're being honest…
The Democrats will probably use the influx of mail-in ballots to cheat a little bit. American elections have been dirty for as long as we've had a republic. Both sides do everything within their power to gain an advantage.
In a recent article titled, "Betting on November's Election Being an Absolute Mess," I cited dozens of cases of mail-in ballot fraud and voter disenfranchisement that have occurred since 2012.
Four years ago, liberals themselves argued: "Voter fraud does happen—but it almost never occurs at the polls. Instead, as election law expert and occasional Slate contributor Rick Hasen has explained, voter fraud occurs through absentee ballots."
That same Slate article explained: "And the only voting fraud schemes with the potential to actually swing elections involved mail-in ballots, not impersonation at the polls. (This makes sense: It's much easier to forge a signature, impersonate a voter, or buy a vote in the privacy of one's home than it is in a voting booth at the polls.)"
Regardless, Twitter isn't going to allow Donald Trump to work his followers into a frenzy over the election results.
As soon as Biden is announced the winner, employees at the social media giant will be frothing at the mouth, waiting for their opportunity.
Once he posts something deemed "a threat to the sanctity of our elections and the security of the country," they'll have their excuse to pull the plug on Trump once and for all.