APPROVED
for US Customers

100%
WELCOME BONUS
UP TO
$1500
Bitcoin Accepted
Large Deposit Bonus
1Vice Review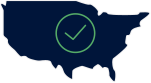 Approved
for US Customers
Pros
Bitcoin Accepted
Large Deposit Bonus
Cons
Large Rollover on Bonuses
Relatively New to the Industry

We've Found That Users Prefer:

The Sportsbook
Our first impression of the sportsbook at 1Vice was that it just looked a bit dated. The overall look and feel of the website felt like it was from a decade ago and was never updated. However, we wanted to make sure that we didn't judge a book by its cover, so we pressed on to see what all 1Vice had to offer in their online sportsbook.monemo
Despite looking a bit dated, the sportsbook page itself is a very clean layout. One of the things that we liked most is that the page didn't have a single advertisement on it. All too often, we see this on other online sportsbook sites. It's very annoying to us as these ads for online casinos and promotions end up cluttering the main sportsbook page. Luckily, 1Vice got the memo and kept their sportsbook page nice and clean!
One of the highlights of the sportsbook at 1Vice is that they offer live betting. If you've never tried out live betting, it's something that you should consider. With this betting format, you're able to place bets on sporting events that are already underway. Instead of betting just on the end result of the game, you can place wagers relating to so much more with in-play action.
It's excellent that 1Vice offers live betting action on their sportsbook as many other online sportsbooks have yet to adopt this betting functionality. If you'd like to place in-play action wagers on their website, just start by selecting the live betting link across the top of any web page. Once you're there, 1Vice will show you all of the live betting options available at that time. Below, we've included a screenshot of what the live betting page looks like so that you'll know what to expect.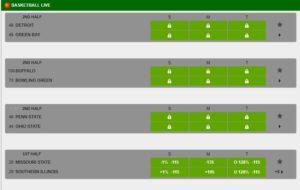 If you're a fan of betting with your mobile phone, 1Vice offers a robust mobile-friendly website that you can use. We tested out their mobile website on many different occasions, and we had a stellar experience each time. They've done a great job developing a site that has an excellent responsive design so that it perfectly fits the screen of your mobile device. You can also use their mobile site if you have a tablet that you like to place your sports wagers with.
Sports You Can Bet On
At 1Vice, you'll find a selection of 13 different sports that you can bet on. Included in that list are major sports such as basketball and hockey. For your convenience, we've gone ahead and listed out the entire lineup below so that you can see if 1Vice offers action on your favorite sports to bet on.
One thing worth noting is that the list below is the list of sports that 1Vice had listed at the time of our complete review. Like many other online sportsbooks, they only list a sport if they have current wagers on it at that time. Therefore, the list below might not be a full view of all sports that you can bet on at their site. If you don't see one of your favorite sports listed below, try checking back on their website once that sport's season has begun.
Basketball
Hockey
Baseball
Auto Racing

Horse Racing
Boxing
Fighting
Soccer
Aussie Rules

Cricket
Darts
Rugby
Volleyball
As a whole, the lineup of sports that you can bet on at 1Vice is pretty average. For the most part, they only have the major sports covered along with a small amount of less popular sports like darts and cricket. Noticeably missing from their list was esports. Currently, esports is one of the most significant emerging trends in the industry. Therefore, we think that 1Vice is missing out by not offering action on esports to their consumers. In the future, we hope that they will consider providing more sports to their clients to bet on.
User Interface
We've gathered up some of our thoughts and insights relating to the user interface on 1Vice. If you don't know what a user interface is, it's what determines how you, the user, interact with the site. A site with a good user interface will be easy for you to navigate and search. In general, the better a site's user interface is, the better overall experience that you'll have using it. Below, we'll highlight some things specific to the user interface on 1Vice.
One of the first things that jumped out at us about 1Vice's user interface is that you can change the format in which your odds are displayed. We like it when sites offer this functionality since it helps folks view the odds in the form they are most comfortable with. On 1Vice, you can choose to see your odds in Eastern (American), decimal, or fractional views. Changing your odds display on the website is nice and smooth. Just click on the settings gear in the top right-hand corner of any page. Then, use the drop-down menu to select the odds display style of your choice.
Something else that we liked about the sportsbook user interface at 1Vice is that you can change your time zone. This is handy for viewing the start times for sporting events in your local time. It's always a hassle if you have to try to convert times on sites that don't let you change the time zone. It's definitely a nice touch that will improve the experience for their users. To change the time zone for 1Vice, just click into the account setting section. Once you get there, you can use a drop-down menu to select the time zone of your choice.
From our experience, it was super easy to move about the website. At no point did we struggle to find what we were looking for. The layout and menus on the site are well done which aid in making navigation on the site seamless.
We also found it very simple to place wagers on the site. On 1Vice, you'll start your search in their sportsbook by selecting which type of wager you want to make. You can choose from options such as straight, parlay, or teaser. Once you've settled on a bet type, 1Vice will then show you all available sports with that type of wager available. You can then continue to drill down into things until you find the perfect wager that you're searching for. It's very nice that you can sort by bet type on their website as many other online sportsbooks don't offer this functionality. Below, we've included an image that showcases the flow of placing wagers on the BetUSA sportsbook.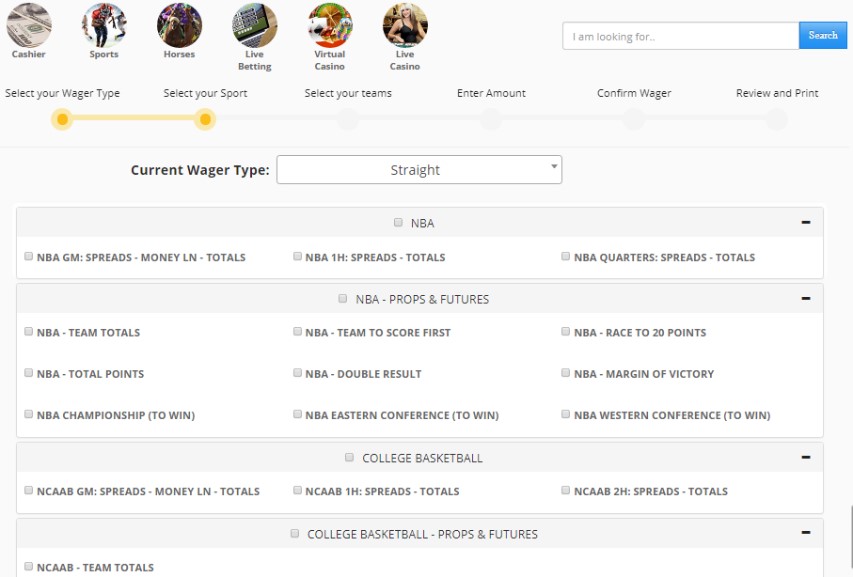 Another nice touch of the user interface on 1Vice is that you can change the language of the website. While the site defaults to English, you also can choose to make it Spanish if you'd like. It's great that they offer a second language for their clients to use, but we'd like to see them also add in some other languages to continue to help more folks have this option available to them. If you'd like to change the language of 1Vice, just click on the settings gear image in the top right-hand corner of any page. From there, you can use a drop-down to select the language that you prefer.
If your eyesight isn't the best, 1Vice also has some functionality that you'll love. In the account setting section, you can actually change the size of the font on the website. This is an excellent touch for those that do have a vision problem. From what we experienced, you can change the font size all the way up to size 20; which is significantly larger than the text on your average website. Be sure to try out this functionality if you're having a hard time comfortably reading things on their site.
We're incredibly pleased with the user interface that 1Vice has on their site. It seems that they have thought of all the right touches to help their clients have a fabulous experience. Thanks to all of the excellent user interface functionality that they have built into the site, we don't have any reason to suspect that using the site won't be an excellent experience for you.
The Casino
If you need a change of pace from your sportsbook betting, then you might be happy to know that 1Vice offers an online casino for their customers. There, you'll find a selection of 42 slots, 25 table games, 18 video poker games, and 4 live dealer games. Compared to other competitor websites, 1Vice's collection is a tad small.
One of the things that we were most excited to see on 1Vice was that they offered live dealer casino games. If you've not tried this casino game format out yet, it's one worth checking out. Currently, this is one of the hottest trends in the online casino space. At 1Vice, you can choose to play live dealer baccarat, roulette, blackjack, and Super6. To access the live dealer games, just click on the live dealer link in the top right-hand corner of the website. We've included a screenshot below from the main lobby of the live dealer casino game section.
One thing that we could not locate in the online casino at 1Vice were any name brand games. We like to see casinos offer some name brand options as those games tend to provide better graphics and an overall improved gaming experience compared to their knockoff and generic counterparts. Most of what we located at 1Vice were generic games with a handful of cheesy knockoff games like DogFather. The good news is that the games 1Vice did have to offer were still quality games, despite not being name branded.
In looking at the game graphics, things seemed pretty average to us. While we were not blown away by what their games had to offer, they were definitely not the worst that we've come across either. Graphics is an area where 1Vice could work to improve things to create a better gaming experience for their clients.
Overall, the online casino at 1Vice is sufficient if you're looking for something different from sports betting. While it's not the best online casino out there due to the small selection and average graphics, it is still an excellent online casino. We're huge fans of the live dealer options that they bring to the table. Take a few moments and check out the casino at 1Vice for yourself and see if it's got what you're looking for.
Banking Options
Deposit Methods
If you're considering betting on 1Vice, then you need to make sure that you can move your funds onto the site to get started. For that reason, you'll have to make sure that they offer a deposit method that works for your banking needs. At 1Vice, they provide five different deposit methods. For your convenience, we've listed each of them out below so that you can scan and see if there is one that works for you.
Person to Person Transaction – Western Union
Minimum Deposit Amount: $100
Maximum Deposit Amount: $600
Bank Wire
Minimum Deposit Amount: $1,000
Maximum Deposit Amount: No maximum
Bank Draft
Minimum Deposit Amount: $500
Maximum Deposit Amount: $2,000
Bitcoin
Minimum Deposit Amount: $300
Maximum Deposit Amount: $5,000
As a whole, the list of deposit methods available on 1Vice is not too shabby. With the five deposit methods that they currently have available, most clients should be able to find a way to get funds onto the website. However, we would like to see them add in some more methods in the future so that clients will have more ways to move money in. Some common deposit methods that we see on other online sportsbooks are PayPal, Neteller, and Skrill. Hopefully, 1Vice will add these options and more in the future.
Withdrawal Methods
After checking out the deposit methods to make sure that you can move your money onto the site, also take a moment to view the withdrawal methods available. These are important to review since these dictate how you can move funds off of 1Vice. If you don't find a withdrawal option that works efficiently for you, then you may struggle to get your funds off of the website.
When it comes to withdrawal methods, 1Vice offers a total of six options. We've gone ahead and listed out each of these below for your review. We've also included some pertinent information for each one.
Person to Person Transaction – Western Union
Minimum Withdrawal Amount: $100
Maximum Withdrawal Amount: $450
Processing Time: 7-15 business days
Fees: $50
Bank Draft via Regular Mail
Minimum Withdrawal Amount: $500
Maximum Withdrawal Amount: $500
Processing Time: Up to 30 days
Fees: Free
Bank Draft via Registered Mail
Minimum Withdrawal Amount: $500
Maximum Withdrawal Amount: $1,000
Processing Time: Up to 10 days
Fees: $45
Bank Draft via Priority Courier
Minimum Withdrawal Amount: $3,500
Maximum Withdrawal Amount: $9,500
Processing Time: Up to 10 days
Fees: $65
Bitcoin
Minimum Withdrawal Amount: $500
Maximum Withdrawal Amount: $2,000
Processing Time: Same day
Fees: 2% of the transaction amount
Overall, we're pretty pleased with the withdrawal banking options that 1Vice has to offer their clients. Using these six options, it provides their clients with different ways to remove their funds from the website. One thing that we really liked about the withdrawal options at 1Vice was that they don't fee people to death. It's nice to see a free choice even with the bank draft via regular mail option.
Bonuses and Promotions
In this section, we'll give you the low down on all of the bonuses and promotions that 1Vice has to offer. If you're new to the online sportsbook and casino world, one of the significant things that you should know is that bonuses and promotions are very common with these websites. Unlike traditional brick and mortar sportsbooks and casinos that don't offer a ton of bonus opportunities, online sites do it all the time. Check out the bonuses and promotions below that we found at the time of our review.
Welcome Bonus
If you're new to 1Vice, they've got a pretty sweet welcome bonus offer just for you. As a part of this promotion, they'll match your initial deposit dollar for dollar up to $1,500. That means if you deposit $1,500 for your first go around, 1Vice will then add an additional $1,500 to your account.
Using this promotion is an excellent way for you to earn some bonus cash. We like making bonus cash as it's a great way to explore different offerings on the website. Not only can you use the bonus cash on their sportsbook, but you can also use it on their online casino.
Reload Bonus
When you've run low on funds at 1Vice, they also want to make sure to help you out when you need to reload your account. Thanks to their reload bonus, you can earn up to a 100% reload deposit match! What's fantastic about their reload bonus is that you get to choose the amount of bonus match.
Here's how it works: When you make a reload deposit on their website, you'll get to select the tradeoff between the amount of match and the number of times that you have to roll over the bonus funds before you can withdrawal them. Check out the chart below that showcases all of your options to select from:
| | |
| --- | --- |
| Percentage | Rollover |
| 90% | 9x |
| 80% | 8x |
| 70% | 7x |
| 60% | 6x |
| 50% | 5x |
| 40% | 4x |
| 30% | 3x |
As you can see, the higher the bonus match is that you want, the higher that your rollover requirement will be. We really like the fact that clients get to choose as it lets risk adverse people take a safer approach than others might. Be sure to take advantage of this offer every time that you need to reload on their website so that you earn your share of bonus funds.
Referral Bonus
If you're enjoying your time betting at 1Vice, you might consider referring your friends to join you there. Luckily, 1Vice offers a referral bonus for your friends that you refer to play there. Not only will your friends get to enjoy all of the benefits of betting at 1Vice, but you'll also earn some extra cash at the same time!
Here's how the referral bonus at 1Vice works: For each friend that you refer to their site, 1Vice will pay you 20% of their initial deposit. That means that if your friend deposits $1,000 for his first deposit that you'll score $200 of bonus cash. That's a nice amount of bonus cash for merely just having your friend join you to wager at 1Vice!
There are a few things that we should point out from the fine print of this offer. First, your friend has to rollover their initial deposit two times before you'll have your bonus deposited in your account. Secondly, once the bonus hits your account, you'll have to roll it over five times before you can withdraw those funds.
For each of these offers discussed above, you can check out the fine print on the 1Vice website. We always suggest that you check out the full terms and conditions of all offers so that you have a complete understanding of what the offer entails. By doing this, you'll make sure that you don't miss out on a critical offer detail that you didn't expect.
As a whole, the bonuses and promotions offered by 1Vice leave us wanting much more. With just three offers, the list is pretty light compared to what we see from the average online sportsbook. While the offers that they have are good ones, we'd just like to see them bring in more offers so that their clients have more chances to earn more bonus cash. Currently, unless a client is new to the site, reloading their funds, or referring a friend, they don't have a way to earn bonus cash.
Customer Service
Finally, we took a dive into the customer service offered at 1Vice. For those of you that are regulars, you know that we're sticklers for excellent customer service. While we hope that you'll never need to use it, it's imperative that you know that you're in good hands if you ever get into a bind with an online sportsbook and casino. That's why we always take the time to investigate the customer service for any site that we're reviewing.
At 1Vice, there are four different ways for you to contact their team. You can use the telephone, email, live chat or a contact form on their website. We'll discuss each of these contact options in more detail below so that you can see which one of them might be best for you.
Up first, let's talk about the phone contact options available at 1Vice. Luckily, we were delighted to see that 1Vice offered 24/7 customer service for folks calling in. This is super handy as it means you'll be able to reach a representative regardless if it's late at night or on the weekend. That's a huge plus in our book. Below, we've listed the phone number so that you have it handy when you need it.
Phone
We called in on two different occasions to see how their call support staff was. Luckily, we were connected quickly to an agent on both times. On each of those two calls, the agents were super helpful and got us all of the information and assistance that we needed in a timely fashion.
If you do not want to call in to get help from 1Vice's staff of customer service agents, you can also email them. Email is an excellent method when you're not in a big rush to get help or answers. Typically, we'd suggest that you call in whenever you have a more pressing issue. At 1Vice, they offer two different email addresses so that you can get your email into the right department's hands faster. We've gone ahead and listed out the emails below for your reference in case you need them later.
General email
Banking Support
One nice touch with their email customer service support is that they guarantee a response within 24 hours. This is cool because some site's that we've tested can take days to get back to clients. When we sent off emails to their customer service team, we found that we received replies in 12 hours or less every time. From an email customer service support side of things, we're pretty pleased with that turnaround time.
The contact option that we were most excited to see was their live chat functionality. For us, this is often our go-to contact method since it's available right on the website and it tends to provide some of the fastest customer service assistance. At 1Vice, you'll always find the live chat functionality waiting for you in the bottom left-hand corner of any page that you're on. Just click there, and you'll be quickly connected with one of their customer service agents.
Throughout our review, we used the live chat functionality on their website numerous times. We were delighted both with the help that we received and how fast we got it. Their support agents on live chat always seemed happy to help with whatever questions we had when we reached out for their assistance.
Finally, there is one other way for you to contact the customer service team at 1Vice. That option is a web contact form on their website. Using this web form, you can contact their team directly from their website. This saves you from having to send an email from your email provider. In some cases, this can be more convenient for folks. To get to this form, just click on the contact link located in the top right-hand corner of any page. Based on our experience using the form, we received replies in the same 12 hours or less timeframe that we experienced with the email support.
Overall, the customer service support at 1Vice is incredible. It's great that they provide their clients with four different methods to reach their team. With the combination of these contact options along with their 24/7 customer service support, 1Vice has created an excellent customer service department. Based on our experience using them, we don't have any reason to expect that you'll receive inadequate support from their team.