APPROVED
for US Customers

20%
WELCOME BONUS
UP TO
$50
Bitcoin Accepted
Low Minimum Bets
Competitive Odds
BetUSA Review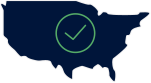 Approved
for US Customers
Pros
Bitcoin Accepted
Low Minimum Bets
Competitive Odds
Wide Variety of Sports Offered
Cons
Only Customer Support is Through Email
Terrible Welcome Bonus

We Don't Recommend
BetUSA
We've Found That Users Prefer:

The Sportsbook
Upon first logging into the sportsbook at BetUSA, our first impression was that the page was very clean and well laid out. However, our eyes were a bit distracted by a couple of casino-related advertisements on the main sportsbook page. There was one at the top of the page and another on the left-hand side. Ideally, we'd like to see BetUSA drop these advertisements as they are annoying to see and they eat up valuable page real estate that instead could be used for more sportsbook related materials. Below, we've included a screenshot of the main sportsbook landing page.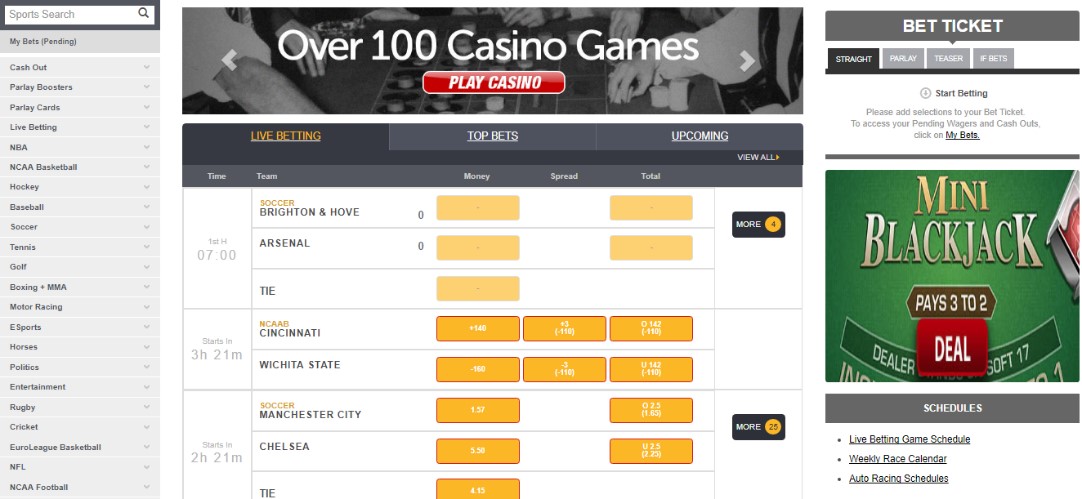 We were ecstatic to see BetUSA offering live betting options on their sportsbook. Using this format, you can bet on games that are currently underway. Now, gambling on –play action is one of the hottest things in the sportsbook world, so it is good to see that BetUSA is in on the action.
If you're looking to bet on live action at BetUSA, you won't have an issue. Luckily, they make it super simple to locate. In fact, the main sportsbook page defaults to showcasing live betting options. Using the main menu on the left-hand side of the page, you can sort by sport to find your perfect in-play wager. For your reference, we've included a snapshot below from available live betting action on an NBA game.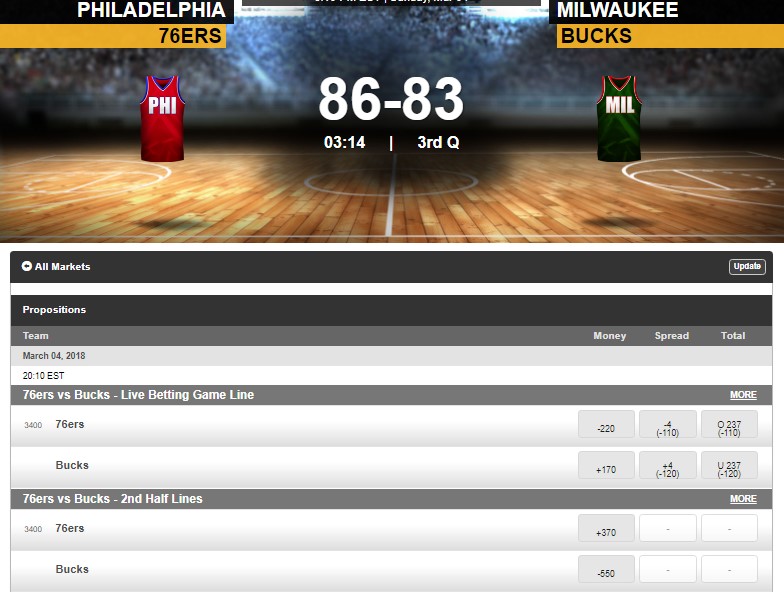 One cool thing we liked about the sportsbook at BetUSA is that they provide a link to top bets. In the screenshot above, you'll see this tab in the middle of the page. Once you click on that tab, BetUSA shows you all of the wagers that are currently trending on their website. This is excellent information to have when you're not sure what bet you want to place. Sometimes, seeing other trending bets can help you decide on what sporting event to wager on.
Another thing that was cool on their main sportsbook page was a tab that showcased upcoming sporting events. Using this tab, it's easy to plan your wagers for the day, especially if you plan to wager on in-play action. You'll find this tab right next to the top bets tab near the center of the main sportsbook page.
Finally, we wanted to make sure to let you know that the sportsbook at BetUSA is mobile friendly. In fact, they've built out a very stellar mobile friendly website design that makes it easy to place all of your sports wagers on your mobile phone or tablet. If you've never wagered with your mobile phone, you might consider trying it out as it doesn't get much more convenient than that.
Sports You Can Bet On
At BetUSA, you can choose from a list of 15 different sports to wager on. In this list of 15, they cover favorite sports like soccer and hockey. Along with the major sports, BetUSA also offers bets on harder to find sports such as cricket. Along with the sports wagers, you can also bet on politics and entertainment related wagers on their website. We've provided the full lineup of sports that you can bet on at BetUSA below for your review.
Before you check out the list below, we should point out one thing. BetUSA only showcases a sport if they currently have a wager on it. This is pretty common among online sportsbooks. Due to this, the list below might not be a complete representation of all of the sports that you can bet on at BetUSA. If a sport that you're searching for isn't on the list below, be sure to check back on their site once that sport is in season.
Basketball
Hockey
Baseball
Soccer
Tennis

Golf
Boxing and MMA
Motor Racing
Esports
Horse Racing

Politics
Entertainment
Rugby
Cricket
Football
The list of sports that you can bet on at BetUSA is pretty good overall. With 15 sports in their current lineup, they are about average with what we see from most other online sportsbooks. In the future, it would be great to see them move into some new harder to find sports like futsal and darts. By doing this, they'll give their clients more options to choose from.
Esports coverage
If you're into betting on esports, you'll be glad to know that BetUSA offers action on esports on their sportsbook. We're super happy to see this ourselves since esports is currently one of the fastest growing trends in the sportsbook realm. All too often, we come across many online sportsbooks that have yet to bring esports action to their clients.
At BetUSA, they offer betting action on three major esports games. There, you can wager on CS:GO, LOL, and Overwatch. Overall, this list of three games is about average from what we see from other online sportsbooks offering action on esports. While this list is a great starting point, we'd like to see them bring in some more games to their lineup to help their esports betting fans have more options in the future.
User Interface
Now, we'll take a look at the user interface of BetUSA. A website's user interface is what determines how you use and move about the site. We always check out the user interface to make sure that it is a good one. This is important because a good user interface can make your experience on a site much smoother. With an excellent user interface, you'll be able to find what you're looking for and move around more quickly.
We noticed right away that BetUSA allowed us to change the format of the odds display on their website. We're big fans of this as it will enable people to view their odds in the form that is best for them. At BetUSA, you can decide between American, fractional or decimal odds display. Just select the one you prefer in your account settings section to change it.
Another cool feature on BetUSA is they allow you to change the time zone on the website. This is an excellent functionality as it will enable clients to see sporting event starting times in their time zone. It's much easier this way as opposed to trying to sort out the starting time when it is displayed in another time zone format. If you'd like to change your time zone on their website, just click on the account settings section. From there, you can use a drop-down menu to select the time zone you prefer.
As we utilized BetUSA over the course of our complete review, we always found it easy to navigate. The layout of their website and their menus system made it a breeze always to find what we were looking for. Based on our experience, we imagine that you too will have an easy time moving around on BetUSA's website.
BetUSA makes it very easy to place wagers on their site. You'll start by selecting a sport from the left-hand side menu. Next, you'll decide which type of bet that you're looking to place. You can choose from options like game lines, props, or futures. After you decide on that, BetUSA will show you all wagers that fit your requested settings. Then, you'll just pick the right bet for you and determine the amount that you want to risk.
Below, we've included a sample of the main menu relating to NBA wagers. You can see that you can pick from different types of bets like game lines, live betting, and props. As well, you can also see the associated subcategories. Using this system, it's super-fast and easy to find the exact wager that you're looking for.



It's clear that BetUSA has worked hard to make sure that they bring their clients a robust user interface. With touches like the ability to change the odds display and time zone, BetUSA makes it easier for clients to use their website. We're delighted with what they've accomplished thus far with their user interface, and we look forward to seeing what else they add to it in the future.
The Casino
Luckily, BetUSA is more than just an online sportsbook. You'll also find an online casino on their website that you can utilize to place all of your favorite casino game wagers. At BetUSA, you'll find an excellent selection of casino games that includes 95 slot games, 22 types of video poker, 14 table games, and much more. We've added a screenshot below of the main landing page for their online casino.
We immediately noticed that BetUSA didn't provide their casino clients with live dealer gaming options. We were disappointed to see this as we enjoy live dealer games and they are one of the hottest trends in the online casino space at the moment. With many of their competitors offering live dealer casino games, BetUSA should strongly consider adding them to their casino selection as soon as possible.
We were also a bit bummed not to find any name brand casino games in their selection. For the most part, we saw tons of generic game names like Sugar Pop and Safari Sam. We also located a handful of cheesy knock-off games such as Slotfather and Boomangi. We'd like to see BetUSA add some name brand games for their clients since these versions tend to provide an overall improved gaming experience.
We were glad to see that BetUSA had some jackpot slot machines in their mix of games. The average jackpot at the time of our review was around $10,000. However, there were a handful of jackpots in excess of $300,000 too. In total, BetUSA offers 17 different versions of jackpot slot machines.
The quality of the game graphics at BetUSA was above average compared to what we usually see from other online casinos. Based on what we saw, their games had high-quality HD like graphics combined with very vibrant colors. We've included a snap below from one of their top slot games, Mr. Vegas.
As a whole, BetUSA has an okay online casino. What they have currently isn't terrible; however, it's more about what they don't have. This is especially true when it comes to live casino options. Since live casino games are currently all the rage, BetUSA is missing out big time by not offering these for their clients. That being said, they do have a quality lineup of games outside of the live dealer space. For most folks, we suspect that the online casino will be more than sufficient for their casino betting needs.
Deposit and Withdrawal Options
Deposit Methods
For you to get started wagering with real money on BetUSA, you'll need to be able to move your funds onto their website. To make this happen, you'll want to make sure that they offer a deposit method that works for your banking needs. Below, we've listed out the deposit options available on BetUSA along with their associated minimum and maximum deposit amounts.
Bitcoin
Minimum Deposit Amount: $5
Maximum Deposit Amount: $10,000
VISA
Minimum Deposit Amount: $5
Maximum Deposit Amount: $2,000
With just two deposit methods available, BetUSA offers significantly less than most other online sportsbooks and casinos out there. With this small number of options, it doesn't give their clients a whole ton of options to choose from. Typically, we see an average of at least five or six deposit methods. To help make themselves more competitive with other online sites, BetUSA should add in some other deposit methods such as bank transfer, PayPal, and Neteller.
Withdrawal Methods 
Hopefully, you'll win some cash and need to withdraw some of your funds from BetUSA. However, before you get too deeply involved betting there, be sure to make sure that their withdrawal methods are ones that you can work with. Otherwise, you could have a difficult time moving your money off of their website. Below, we've listed out the sole withdrawal method that they have to offer.
Bitcoin
Minimum Deposit Amount: $50
Maximum Deposit Amount: $5,000
With just the single withdrawal method available, BetUSA is severely limiting things for their clients. While Bitcoin cryptocurrency is an up and coming form of currency, many folks have yet to adopt. It is by no means mainstream yet. Due to this, BetUSA is probably losing out on some potential clients that don't wish to bank in Bitcoin. We'd strongly urge BetUSA to add more withdrawal methods such as bank draft and Skrill to their lineup.
Bonuses and Promotions
If you're still on the fence about betting at BetUSA, take a look at the bonuses and promotions below. As is typical with most online sportsbooks and casinos, BetUSA offers these deals as a way to help them attract new clients and to retain current ones. Using the bonuses below, you can add lots of bonus cash to your betting account on their site. Below, we've included information on the promotions that were live at the time of our complete site review.
Welcome Bonus
For those of you that are new at BetUSA, you can score a 20% deposit match on your initial deposit. With this match, you can earn $200 of bonus funds if you deposit $1,000. Compared to other sites, this offer is pretty average. Using this bonus can be a great way to pad your account with some extra cash from the get-go. With this bonus cash, you can explore more of their online sportsbook or casino.
Reload Bonus
Unfortunately, we all need to reload our betting accounts from time to time. Regardless if your big bet on the sportsbook didn't pan out, or if your bet on red for roulette didn't go in your favor, sometimes, you run out of cash. Luckily, BetUSA is there to help when you need to reload your account. They'll do this by tacking on an additional 5% bonus to your reloads. What's nice about this deal is that it works on every reload. Luckily, there are no date or time restrictions.
While the reload bonus is a good starting point, the reload amount is pretty small compared to what we're used to seeing on other online sportsbooks. Ideally, it would be great if BetUSA would offer something more along the lines of 10-15% to really entice their clients to stick around and continue wagering on their site.
Racebook Bonus
If you're a fan of betting on horse racing, don't miss this offer from BetUSA. For their racebook bonus, they offer an 8% cash back bonus on all racebook losses. That means that for every $100 you lose when betting on horse racing, BetUSA will refund you $8. While this promotion doesn't make you whole by any means, something is still better than nothing. Compared to other sites, this deal is pretty average which helps make BetUSA competitive with other sites.
Casino Bonuses
While we won't go into too much detail on these in our review, it's worth pointing out that BetUSA has a number of promotions available for their online casino. If you think that you'll be playing in the BetUSA casino section, don't forget to check out the promos page of their website to see what the current offers are. Whenever possible, always take advantage of casino promotions so that you can add extra bonus funds to your BetUSA account.
For all of the promotions discussed above, we'd suggest that you take a few moments to check out the fine print on the BetUSA website. As with any promotional offer, it's always a good idea to inspect the fine print and make sure that there's nothing fishy in there. By doing this, it will help you keep yourself from being surprised later if the fine print included something you didn't expect.
As a whole, the bonuses and promotions currently available on BetUSA are just okay. While it's fantastic that they have some promotions, the overall number of their promotions is relatively small in relation to most other online sportsbooks. In many cases, we'll see ten or more offers. While BetUSA has the basics covered with a welcome, reload, and casino bonuses, they don't provide any special offers for specific sports or sporting events. Moving forward, we'd like to see BetUSA add in more promotional offers so that their clients have even more chances to earn bonus cash.
Customer Service
To wrap up our complete review of BetUSA, we investigated the customer service they offer their clients. It's imperative to us that a site provides top-notch customer service so that their clients can quickly get help when they need it. With that in mind, we dug deep to see what we find out for BetUSA.
We were pretty disappointed right off the bat when checking into their customer service. Unfortunately, BetUSA only offers support through email. This puts them way behind the vast majority of other sites out there. In general, we're used to seeing sites provide at least two or three ways to contact their team. With just one, BetUSA is living a bit in the old days. That said, we pressed on to test out their email support.
During the course of our review, we reached out to their team via email on several occasions. Despite their site claiming that they reply to all emails within one business day, we were pleasantly surprised to see that we often received replies in 12 hours or less. From an email support perspective, this isn't too bad of a turn time in our opinion. We were also happy with the quality of the assistance we received from their team over the email support.
At BetUSA, they provide clients with different email addresses for various internal departments. We like this approach as it helps your message get in the right hands much faster than just sending it to a generic email address. For your convenience, we've listed out the different customer service email addresses for BetUSA below.
Customer Service Support: support@betusa.ag
Cashier Support: cashier@betusa.ag
Website Support: webmaster@betusa.ag
While we're happy with the level of support and turn times that we got from their email support team, we're still unhappy with the overall picture of their customer service. For starters, BetUSA needs to get telephone support up and running as soon as possible. In this day and age, providing telephone support is pretty much a standard for online sportsbooks and casinos. There are times when it is pertinent to speak to someone immediately.
In addition to adding telephone support, BetUSA should also aim to include live chat functionality on their site. We're big fans of using live chat as it lets us get help quickly while we're on the website. It's becoming more and more common to see live chat support from online sportsbooks and casinos which means that BetUSA is really missing the boat here too.