A Complete Review of ComeOn! in 2022
The world of online betting is vast in both the industry size on a monetary basis but also with the number of companies involved.
In other words, when you have made the decision to do some online sports betting, you are certainly going to have your choice in sportsbooks. While sportsbooks have their limitations in terms of the geographical location of their users, there is still going to be a wide variety of sportsbooks that would accept your business.
With that, there are many factors at play.
Which sportsbook offers the best bonuses and promotions?
Is the site user-friendly?
Do they offer helpful customer service?
What are the deposit and withdrawal methods?
These are just some of the questions you need to ask yourself before you go ahead and decide where you are best to sign up.
That said, don't sweat it. We are here to answer some of those very questions and accomplish some of the leg work for you so that you don't have to spend the time researching. In this case, we will take a look inside the ComeOn! sportsbook and break down the various factors at play for you.
With that in mind, let's get started. By the end of this review, it's our goal to have you fully informed on what this site offers, what it doesn't offer, and whether or not the ComeOn! sportsbook is a good fit for you!
Pros
Wide Variety of Sports Available for Betting
In-house Statistics and Results Provided
User-friendly Interface
Adequate Customer Service
Cons
Does Not Accept Cryptocurrency for Deposit
Fees Mostly Associated With Deposits

Does Not Accept
US Customers

Important Info
Website:

ComeOn.com

US Customers:

Not Accepted

Welcome Bonus:

100% up to €25

Compatibility:

Mac, Windows, Android, iOS

Sportsbook:

Yes

Casino Games:

Yes

License:

UK Gambling Commission, Malta Gaming Authority

Online Since:

2010
---
Users Interface:

4

/5
Mobile Compatibility:

3.5

/5
Customer Support:

4

/5
Payout Speed:

4

/5
Banking:

3

/5
---









Payout: 24 Hours
Screenshots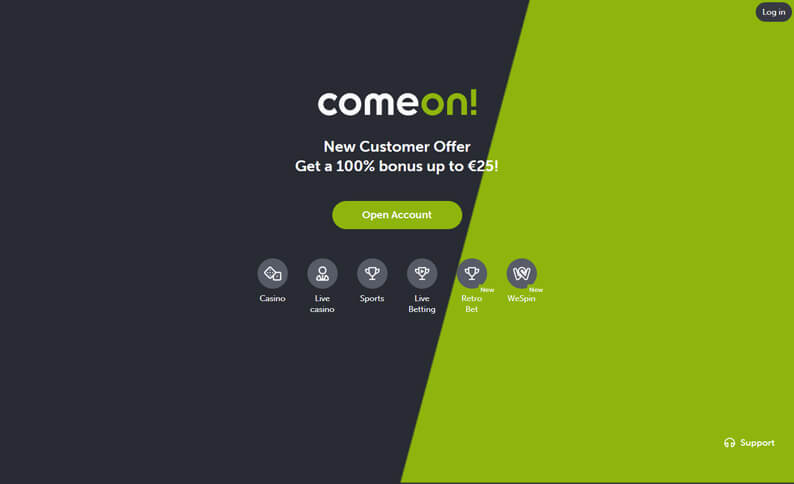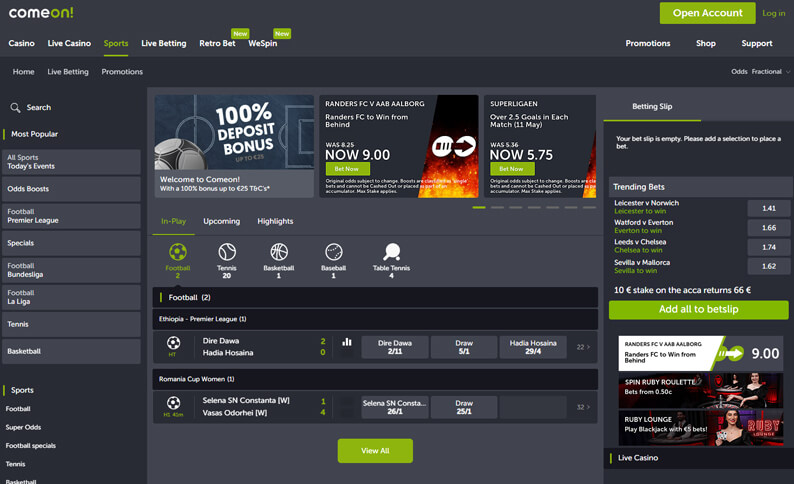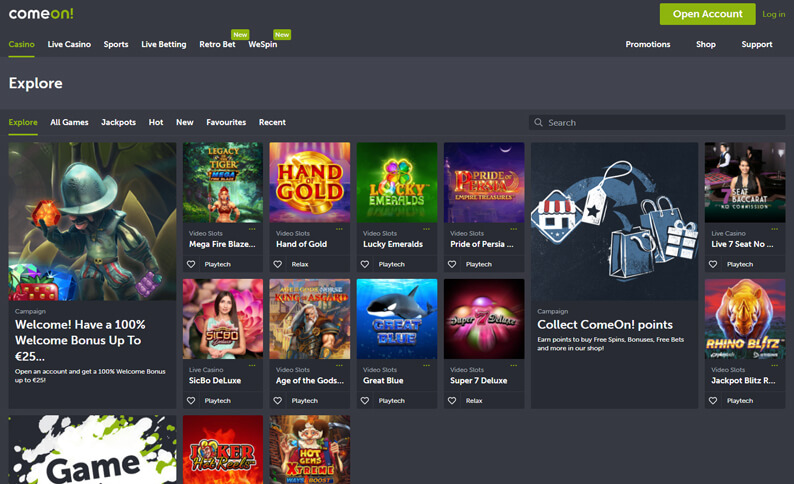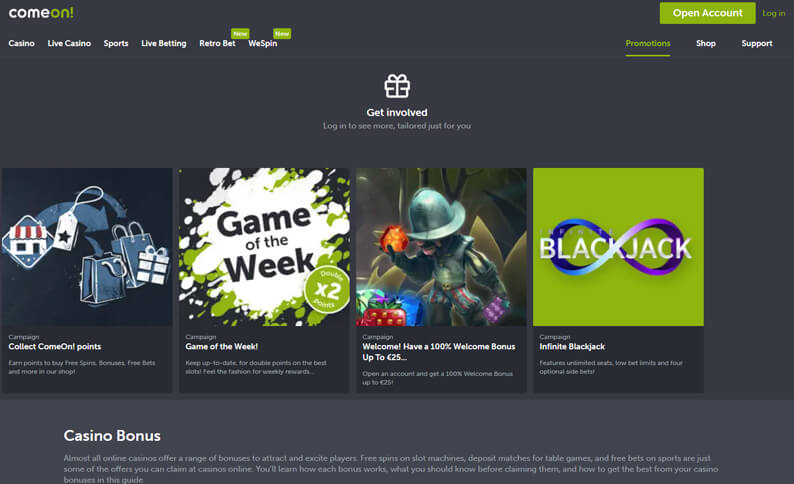 Our Staff Review
ComeOn! is a rather weird name for a bookie, isn't it? Unfortunately, it doesn't support US bettors but makes up for it in other areas. If you're living outside of the US, you'll be happy with ComeOn's customer service, in-depth stats and results provided on the platform, and all sorts of sports betting markets to choose from. It's a solid choice for people living outside the US, no doubt about it!

– Zaid Greer

With a user-friendly interface, a great live betting platform, and 24/7 customer support, Comeon.com is a terrific online sportsbook and casino where bettors and players in get in on some of the best real money gambling action! Create a new account today and enjoy more than 1,500 games and over 30 sports betting markets.

– Nadine Parker
The Sportsbook
As per most European-targeted sportsbooks, the ComeOn! site is most certainly targeted to soccer bettors.
We can quite easily tell this given that "football", or soccer, is the first sport listed on the main user interface while the main currency on the site is Euros. Another way to tell is the default odds format which is decimal, although it's nice that you can hit a dropdown and select American or fractional odds as well.
A read into the "Why ComeOn?" section reveals that ComeOn! was founded in 2010 with main offices in Stockholm, Sweden, but they are now based in London, England. That said, their exact location is of course offshore in St. Julians, Malta in the Mediterranean closest to Italy.
Just because the site is aimed at soccer does not mean it is a one-dimensional site whatsoever. There appears to be a wide range of sports to bet on at ComeOn! while the amount of bets that are eligible on each sport is noted beside the sport of choice.
I also like the fact that there are statistics and results available at ComeOn!. Whether you prefer to do your own research on the side or you prefer to use the in-house stats that the sportsbook provides, it's certainly a nice feature that shows ComeOn!'s desire to deliver information to their users.
The sportsbook is also comprised of betting previews and tips, another customer engagement tactic that can be appreciated.
Of course, there are multiple betting types available at ComeOn! as you can bet on pre-events, live events, and future events as well.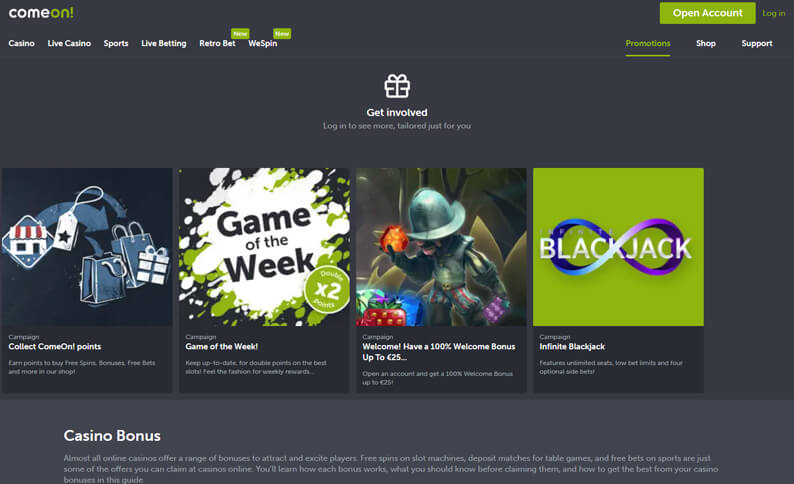 There are also some solid promotions offered at ComeOn! and they are very similar to most of the other European-based sportsbooks that we have seen and reviewed in the past.
The sportsbook here certainly appears to be all-encompassing and should have just about everything you would want betting-wise, especially if you are a soccer bettor.
Sports You Can Bet On
There is a wide range of sports you can bet on at ComeOn! And we would consider this level at least adequate when we compare it to industry standards.
We have already gone over the mass soccer market that resides on this site. In terms of that market, we would consider ComeOn! above industry standards with a huge range of betting opportunities available.
Let's quickly rattle off the remainder of sports available for betting at ComeOn!
Tennis
Basketball
Ice Hockey
Handball
Volleyball
American Football
MMA
Aussie Rules
Badminton
Baseball
Boxing
Cricket
Cycling
Darts
Futsal
Horse Racing
Gaelic Hurling
Golf
Greyhounds
Floorball
Motor Sports
Rugby League
Rugby Union
Snooker & Pool
Surfing
Table Tennis
Trotting
Winter Sports
View the full list of sports
Aside from the athletically-inclined sports, there are some other areas that are available for betting here as well. Such categories include virtual sports which is a big part of the sportsbook at ComeOn!. Aside from that category, you also bet on items such as eSports which in itself is a growing sub-industry of the online betting industry.
The depth of bets available is also there at ComeOn! The most popular sports on the site clearly vary given the season, but for example, there appear to be roughly 650 soccer bets available at the moment. Of course, these numbers fluctuate, but that can give you an idea of just how deep this sportsbook can run.
Other popular sports at ComeOn! range anywhere from 50-200 bets apiece and provide the casual bettor more than enough opportunities. Keep in mind these numbers are just to give you an idea while the seasonality of sports is the true dictator of the wealth of options here.
Esports Coverage
As mentioned, ComeOn! is dabbling into the growing esports industry.
In fact, this coverage is particularly impressive when we compare it to industry standards. Again, a vague number at the time of this writing for the number of bets that can be placed on esports here is about 87. This includes esports betting from Malaysia, China, Malta (where ComeOn! resides), the Netherlands, and South Korea. Furthermore, there is plenty of international League of Legends and Counter-strike leagues to wager on.

Again, we would consider this above average as it relates to industry standards. The pre-event and futures (or "Outrights") betting options are deep and will satisfy the betting needs of any users who include esports in their betting profile.
User Interface
We feel that the user interface is one of the most important pieces to the online sportsbook pie and ComeOn! passes the test in this department.
The first thing we like to see is the cleanliness of the site. Is it crowded? Are the bets easy to see and understand in a time-efficient manner? Is there any unnecessary font or numbers involved? Let's just say that ComeOn! is on the right side of the spectrum when it comes to the cleanliness of the site. It's not messy and the information on the pages is easy to see, read and understand. There is no unnecessary crowding of information.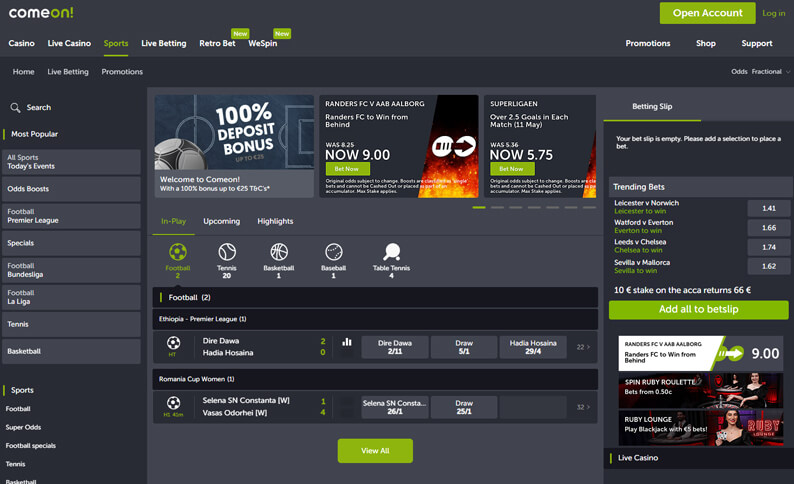 The next thing we take into consideration when it comes to the user interface is the color scheme/graphics involved.
The color scheme is nothing special with no flashy or standout graphics, but it works. The simple dark gray/black color scheme works just fine with the white font. We don't need an eye-popping scheme when it comes to the sportsbooks, just something that allows for a visually appealing experience for the user. The flashy graphics and colors are best reserved for the casino section.
It's very easy to find the sports you are looking for, and we like the fact that the betting slip mostly has its own spot on the right-hand side of the page. This is also a spot where Come On! advertises their promotions, but in no way does it take away from the clear and legible betting slip above.
Navigation-wise, ComeOn! is bang on. Time-efficient maneuvering of the pages is extremely handy when it comes to an online sportsbook, and that's the case at this site. Whether it be navigating the various areas of a certain sport you are betting on or looking to change the odds format, most things on this site can be identified immediately and efficiently.
It's not flashy, it's simple. Sometimes less is more when it comes to an interface and we certainly believe that is the case here at ComeOn!
The Casino
As is the case at many sportsbooks, there is both a casino and live casino section here at ComeOn!
We wouldn't say that there is an overwhelmingly wide variety of games to bet on as there appear to be 46 casino games in this casino.
In the live casino, there is plenty of live roulette and live blackjack games with a big selection of dealers and stake levels.
The interface of the casino is certainly adequate as you can filter by category which provides a more efficient experience.
We would consider these casino sections adequate, but nothing out of the ordinary in relation to industry standards.
Banking Options at ComeOn!
Deposit Methods
The methods for depositing are a factor you need to consider as there are some different characteristics to each method.
We need to keep in mind things such as fees and wait times as well as possible minimum and maximum deposit amounts.
The first thing to note for ComeOn! deposit methods are that all methods are instantly available in your user account. In other words, no wait times for deposits. There can, however, be fees depending on your deposit amount.
Let's go ahead and briefly look at the deposit methods at ComeOn!
Debit/Credit Card**
Accepted Cards: Visa, Visa Electron, Mastercard, Visa Debit, Maestro and Entropay
Process Time: Instantly
Minimum: €10
Maximum: €3,000
Diners Club International by Skrill
Process Time: Instantly
Minimum: €10
Maximum: €2,000
Fees: 5%
Neteller / Skrill by Moneybookers / Skrill 1-Tap
Process Time: Instantly
Minimum: €10
Maximum: €10,000
Fees: 5%
Paysafecard
Process Time: Instantly
Minimum: €10
Maximum: €1,000
Fees: 5%
**Debit/Credit Card Fees:
If you deposit €10-€250, you incur a fee of 2.5% plus whatever your credit card may charge, especially for a foreign exchange.
If you deposit anywhere from €251-€3,000, the ComeOn! fee is waived. They are willing to eat the processing costs if you are willing to deposit a more substantial amount.
Withdrawal Methods
Similar to the deposit methods, we want to make sure we consider all withdrawal options as some can more efficient than others.
At ComeOn!, keep in mind that withdrawals can be free of charge. More specifically, you can withdraw a maximum of two times in a 30-day cycle for free. Any further withdrawals in that time period will cost you €5.
Let's go ahead and take a look at the withdrawal methods offered at ComeOn!
Debit/Credit Card
Accepted Cards: Visa, Mastercard, Maestro and Entropay
Process Time: 2-7 bus. days
Minimum: €20
Maximum: €4,000
Trustly
Process Time: 2-7 bus. days
Minimum: €20
Maximum: €10,000
Neteller
Process Time: 24-hours
Minimum: €20
Maximum: €1,500
Skrill by Moneybookers
Process Time: 24-hours
Minimum: €20
Maximum: €10,000
Bonuses and Promotions
Another factor to consider when looking into online sports betting sites is to see what kind of bonuses and promotions they offer.
Sportsbooks that are cut from a similar cloth to ComeOn! don't necessarily have industry-leading bonuses and promotions, but there are certainly some to keep in mind when it comes to this site.
Let's take a look at some of the bonuses and promotions offered at ComeOn!.
There is a welcome bonus at ComeOn! that is a 100% bonus up to a maximum amount of €25. There are betting requirements, however.
The wagering requirement is 6x (deposit + bonus) with combo bets (min. two selections) at a minimum of 2.0 odds or greater.
As per the Terms & Conditions, deposits using Skrill, Moneybookers, Neteller, and Paysafecard are excluded from being eligible from this bonus.
This bonus is only available until December 31st, however, a new welcome bonus will likely appear in January of 2022.
Monthly Virtual Sports Free Bet
If you are interested in betting on any virtual sports, you can take advantage of a free monthly bet courtesy of ComeOn!
If you bet at least €10 once a month on virtual sports, you will be eligible to receive a €10 free bet the first Monday of every month.
This free bet is valid for three days after it has been credited to your account.
Free Bet Club
You can get into the free bet club at ComeOn if you place combo bets, or parlay bets, with minimum odds of at least 3.0 or greater and you can rise up through the ranks and enjoy various levels of free bets every week.
If you parlay your bets often, this could be a handy promotion for you,
Combo Boost
Betting parlays can net you a boost in your winnings at ComeOn!
If you make a combo bet with at least two picks from the qualified leagues as described in the "Combo Boost" tab on the left-hand side of the main sportsbook interface, you can increase your winnings on a percentage scale as follows:
2 bets: 2% increase
3 bets: 3% increase
4 bets: 4% increase
5 bets: 5% increase
6-10 bets: 10% increase
11+ bets: 15% increase.
Hey, it all adds up!
Your Bet
As is the case elsewhere in the industry, you can create your own bet by activating the "your bet" on when you select a pre-match soccer event.
At this point, you can customize your bet by adding the selections of your choice within that same match and watch your odds increase. You can repeat this and choose up to six betting types.
Pulse Bet
If you like to bet on live soccer, you can place a pulse bet if you feel a goal coming.
You simply select a time period and watch your potential winnings increase as the ticket moves along. The ticker starts as soon as your bet has been placed.
Cash Out
We've seen this one a lot across the industry, but it can be a helpful promotion to take advantage of.
If your bet is winning early and you want to secure a profit, hit the cash out button.
If your bet is losing and you want to at least salvage some of your stake, you can also cash out.
Of course, the value of your potential winnings is always changing, so make sure to keep an eye on that value if using this promotion.
Customer Service
The help center is certainly a handy place to go with any questions or concerns you have with ComeOn!.
The first screen that pops up is the FAQ section where many of your questions can be answered in a few clicks of the mouse. If that route doesn't work, there is also a live chat area in the help center where ComeOn! agents are ready to answer your questions or concerns.
Lastly, there is an email form that you can use with the promise to get back to you ASAP.
When we look at this level of customer service, we feel it is accurate. More and more sites are moving towards the live chat option with the telephone option becoming less of an avenue for users to contact the site itself.
There is also a @ComeOnPulse Twitter account that is very active. This could be another source of communicating with the site and is also a growing way for betting sites to engage with their users.
Overall, a real solid customer service department here at ComeOn! as there are more than enough avenues at your disposal.