100%
WELCOME BONUS
UP TO
$100
Dedicated Customer Support team
Wide Variety of sports betting opportunities
Wide range of deposit and withdrawal options
Guts Review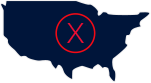 Not Approved
for US Customers
Pros
Dedicated Customer Support team
Wide Variety of sports betting opportunities
Wide range of deposit and withdrawal options
Offers eSports betting opportunities.
Cons
Does not accept US players
Fees are associated with some deposit methods
Limited sportsbook bonuses
When it comes to sportsbooks, you certainly have your choice of which one to give your business to.
There's a wide variety of factors to consider when deciding on your sportsbook. Sports to bet on, interface, deposit/withdrawal options, competitiveness of odds, customer service and more. The goal of this review is to give you a full grasp of all of what Guts can do for you. While we cover the positives that Guts bring to the table, we also want to ensure we make mention of the cons so you can make a fully informed decision on whether or not Guts Sportsbook is the one for you.
Make sure to check out the review in full as you want to ensure that you can get a grasp of Guts from a big picture point of view.
Buckle up and enjoy the Guts Sportsbook review while we break down what it can do for you!
The Sportsbook
The sportsbook at Guts is quality in terms of the number of sports you can bet on, but we have seen more across the industry. That said, we would consider the variety of sportsbook options adequate compared to industry standards.
However, the betting options within these sports are rather vast, and that is indicated next to each sport on the main sportsbook interface.
What we really like about this sportsbook is the fact that there are stats available for just about every sport that Guts has to offer. This is fairly unique in the industry as independent research is almost exclusively required prior to placing a bet, but at Guts, you can utilize their research tools, even as a complement to your own, as a means of collecting all the information you need heading into your bet. This gives the sportsbook a real thumbs up in our opinion as this is a differentiation tactic that separates Guts from a big chunk of the industry.
The live betting being readily available is a nice feature once you hit the sportsbook, however, this is very much in line with industry standards and certainly nothing extraordinary.
We would consider the sportsbook at Guts adequate for sure, however, aside from the statistics section, the vast majority of the sportsbook is essentially up to par with industry standards.
Sports You Can Bet On
There is a wide variety of sports available for betting at Guts, and of course, the most popular sports in the world are up for grabs.
American football, soccer (referred to as football), baseball and basketball are available for betting with plenty of sub-leagues available under these heading. At the time of this writing, there are roughly 62,000 bets available for soccer, 629 for American football, 2779 for basketball and 129 for baseball. Of course, sports are seasonal, so these numbers are subject to change, however, it gives you an idea of the depth of sports betting options that Guts presents its users.
Some of the second-tier type sports are available as well including MMA, ice hockey, tennis, golf, boxing, and rugby. Being a UK-based sportsbook, Guts has a large number of rugby bets available while handball is also a big option here considering the target audience.
There are other betting options available. In alphabetical order, these include alpine skiing, badminton, biathlon, cricket, cross country, cycling, darts, eSports, floorball, futsal, motorsports and ski jumping.
This list isn't quite as wide-ranging as others we have seen throughout the industry, however, it is almost certain to satisfy your betting interests as these are indeed the most popular sports in the world.
Esports Coverage
Yes, esports are part of Guts sportsbook offering.
Guts appear to be one of the leaders in the eSports betting area as they present the main esports leagues in the form of Counter-Strike, Dota, League of Legends and Starcraft.
Of course, there are sub-leagues within each of those leagues, but we aren't going to go into detail here.
It's nice that Guts offers esports as this is a rapidly going sub-industry, and it gives the Guts sportsbook a notch in the right direction in our books. It's also nice to see that there is both variety and depth within their esports coverage as World Championships are covered as well as the many playoffs going on in each sub-league.
While simply offering esports is one thing, we haven't seen too many other sportsbooks that offer as much variety and quantity of esports betting options as Guts. If you are an esports bettor, you are going to like this sportsbook.
User Interface
The user interface when it comes to Guts is hit and miss.
The hit portion is the fact that everything is laid out in a clean manner. The live betting is clearly laid out at the top and is the first thing your eyes will see, which works well in terms of efficiency considering how time-sensitive live betting is.
The sports are very simply laid out on the left-hand side of the page, and we like the fact that the quantity of bets is numbered right next to each sport. The popular events, which can be broken down my sport thanks to easy-to-use tabs at the top of this section, is laid out just under the live betting. This also works well from an efficiency standpoint.
Lastly, the bet slip is easily visible on the right side of the sportsbook's main user interface.
There are few things we like more in a sportsbook interface than to have everything laid out in a simple. Clean manner. A sportsbook that crowds their main interface is sure to overwhelm the user, especially if that user is a beginner or even a recreational bettor. The clean and simple manner of the sportsbook interface gives Guts an uptick in our view.
The missing part of the user interface is it lacks graphics and is simply bland. The blank-canvas white background doesn't do much to please aesthetically. While this isn't a huge deal for us and doesn't give the sportsbook or the interface a big downgrade in our opinion, it's certainly reasonable to opine that the sportsbook could use a little bit of jazz and color to brighten up the user experience.
All told, the interface is very user-friendly and the layout is clean. Too many sportsbooks are crowded and messy, which hurts the user experience. This is not the case at Guts.
The Casino
If you visit the "About Us" section at Guts, they inform you that you will find a truckload of casino games. Well, they aren't lying.
Like most casinos, the interface here is attractive and lit up with graphics that catch your attention.
In terms of the games available, well, the truckload description is a fairly accurate one.
There are dozens upon dozens of slots, table games, and jackpots. As soon as the new game comes aboard, it is listed in the "New Games" section near the top of the interface.
The most popular games or games with the largest prizes reside at the top of the interface with the largest graphics, which makes sense as you want to attract a user's eyes to at least something in this section.
t the end of the day, the Guts casino is a very good one with many betting options. We would consider this an above-average casino.
Deposit Methods
There are many deposit methods at Guts, and we like how they are displayed at the bottom of the sportsbook in graphic form. This is a very good way of going about it as the user can immediately discover that there is a wide variety of deposit methods at this site.
There are a couple downsides here as there is a fee to deposit for a couple methods while some methods are a 1-3 day wait time for the funds to be active in your user account.
Keep in mind that minimum/maximum amounts are in Euros.
Visa/Mastercard
Process Time: 1-3 days
Minimum: €20
Maximum: €5,000
Fee: 2.5%
Neteller
Process Time: within 24 hours
Minimum: €10
Maximum: €5,000
Fee: No Fee
Skrill
Process Time: within 24 hours
Minimum: €10
Maximum: €5,000
Fee: No Fee
These are the most popular methods available, but there are also others that are listed on the site, such as:
Interac Online
Sofort Uberweisung
Withdrawal Methods
The methods for withdrawing are very similar to the deposit methods.
However, you can't withdraw to a credit card, which we have seen before. The best methods to withdraw at Guts are as follows:
Neteller and Skrill
Process Time: 24 hours
Minimum: €20
Maximum: €5,000
Fee: €2.50
Bank Transfer
Process Time: 1-3 days
Minimum: €20
Maximum: €5,000
Fee: €2.50
Visa Debit
Process Time: 1-3 days
Minimum: €10
Maximum: €5,000
Fee: 2.5%
It appears the eWallet (Neteller, Skrill) method is the best way to go for withdrawing in terms of efficiency. The Visa Debit method gets costly the more you draw as the fee here is a percentage whereas the other three methods are a fixed 2.50 fee. Make sure to consider all factors when withdrawing at Guts.
Bonuses and Promotions
Guts is a casino by trade, and therefore the bonuses and promotions available lean heavily towards casino betting. We have seen this in the industry with other betting sites that have their sportsbooks playing second or even third fiddle to the casino and poker departments.
There is still a welcome bonus available for residents of Canada and New Zealand, however, there doesn't appear to be any bonuses available for residents of other countries within the sportsbook. This is a thumbs down in our opinion and it's something to keep in mind when making the decision on what sportsbook you decide to give your business to.
JOIN TODAY!
This welcome bonus is for residents of Canada and New Zealand only. It is a 100% welcome bonus on the sportsbook, up to a maximum of $100 CAD. In other words, if you deposit $100 into the sportsbook, Guts gives you an additional $100 to play with. There is a 5x rollover here, which means you would need to bet $500 (5 x $100) in order to have those bonus funds available to withdraw.
The 5x rollover here is well below industry standards, which is about 20x rollover, so this is a thumbs up if you reside in a location where you can take advantage of this bonus.
Like we have seen on other sites, there is a "cash out" promotion inside the live betting section of the sportsbook.
If you make a live bet wager, and you possibly don't like how the bet is going during the event in question, you can head to the cash out tab to see if you have a profit on that live bet as it stands, and cash the bet out if you wish before the event if completed.
The cash out promotion is only available for football, basketball, tennis and ice hockey in the LiveBet section. It is also only available for single bets and not parlays.
As per the terms and conditions, you the cash-out option is not available when using bonus funds and is not available in the Draw No Bet market.
Customer Service
The customer service at Guts is top-notch.
The FAQ section of the site is extremely wide-ranging and helps answer the vast majority of questions and concerns before additional steps need to be taken.
A downside to some would be the fact there is no telephone help at Guts. That said, there is a 24/7 live chat that is quite likely more efficient and user-friendly than a long distance phone conversation would be. If you have a question or concern, you can email the site directly and they will get back to you.
The 24/7 live chat at Guts has an excellent reputation with agents that go above and beyond to satisfy your concerns.
Guts also has a Twitter account, although it doesn't appear to be too active given their last Tweet came in 2016. That said, a direct message on Twitter would be another avenue to get in touch, however, the live chat options dwarfs the social media aspect in terms of helpfulness.
At the end of the day, the Guts customer service aspect gives this site a boost in the right direction in our books.