100%
WELCOME BONUS
UP TO
$500
Wide variety of banking options
Excellent customer support
Party Poker Sports Review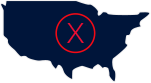 Not Approved
for US Customers
Pros
Wide variety of banking options
Excellent customer support

We Don't Recommend
Partybets
We've Found That Users Prefer:

The Sportsbook
As you already know, we're not mega impressed with what we initially saw when looking at the PartyBets Sportsbook. We were hoping as we dug deeper that we would uncover some hidden gems but unfortunately the "ok" trend continued. Let's talk about what we liked and what we didn't like.
First, the layout wasn't really user-friendly. There are two types of layouts we run into in regards to how bets are displayed. There are the layouts that are very technical looking and lend themselves only to those extremely experienced bettors, and then there are the user-friendly layouts that lend themselves to all types of bettors. Unfortunately, PartyBets has the more technical and less user-friendly version. Even as someone who is experienced in using sports betting software, we had to click a few bets to make sure we knew what bet went with what.
Frankly, that's a bit off-putting. Once we clicked a few bets, we had the hang of it, but it could definitely be improved. Also, the list of sports categories on the left is a bit weird. They have what they've deemed the more popular categories on the top and then a drop down you can click to show the additional sports they think are less important. The problem is that there are some pretty popular categories like rugby, cricket, and combat sports tucked away down there. The initial popular list is also not alphabetized, so you're now looking at two lists, one of which isn't alphabetized.
The problem too is that if you click on one of the secondary list sports and then click the back button to go to the main list, the secondary sports have collapsed and you have to reopen that list before you can click anything else on there. Is this still manageable? Yes, but it has a lot of room for improvement in the user-friendliness area.
The site also does not give you the ability to chance the odds into your preferred format (American, Decimal, Fractional) which is a big bust. They don't even have an option for each individual bet. If it does exist somewhere on the site, we couldn't find it, and we looked for a while.
Game selection is pretty great, and the types of bet options seem to be good as well. Turning a bet into a parlay is also fairly easy and only takes one additional click. Overall, the layout is usable and would probably be a site we would use for line shopping but not one that we would use to do the main bulk of our betting. We can definitely overlook some of this due to the trust factor of the site, but we were expecting a lot more out of Party.
Sports You Can Bet On
The options of sports you could bet on were numerous, and they did have a lot of different leagues listed for some of the more popular sports. As with most sites, only the current leagues with bets were shown, and the rest were removed from the list.
At the time we last checked this review, here was the list of active sports categories and the leagues and organizations underneath them. Some of the categories with no leagues underneath them had bets active but just had them all classified together under one list as there weren't that many. A couple of the categories seemed a little strange to us as to how they were separating them. For example, boxing being separated by weight class seems a bit odd as it should probably be separated by promotion or league or fight card. Nothing major, but something to point out.
Alpine Skiing
Football
Athletics
Bandy
Baseball
Basketball
Beach Volleyball
Biathlon
Boxing
Chess
Combat sports

Cricket
Cross Country Skiing
Cycling
Darts
Entertainment
Football
Formula 1
Futsal
Golf
Handball
Ice Hockey

Motorbikes
Politics
Pool
Rally
Rugby League
Rugby Union
Ski Jumping
Snooker
Speedway
Tennis
Volleyball
Types of Bets Offered
The bet types offered at PartyBets looked at first glance to be similar to what we are used to, but at a deeper look, they offered quite a few that we frankly have never heard of. Now, it's possible that these are just different names for the same common bets, but it definitely threw us for a loop.
Single Bet
Multi Bets
System Bets
Multi (Parlay)
Handicap Bets
Head-to-head Bets
3way
2way
Banker
2/3 (3 Bets)
2/4 (6 Bets)
2/5 (10 Bets)
2/6 (15 Bets)

2/7 (21 Bets)
2/8 (28 Bets)
3/4 (4 Bets)
3/5 (10 Bets)
3/6 (20 Bets)
3/7 (35 Bets)
3/8 (56 Bets)
4/5 (5 Bets)
4/6 (15 Bets)
4/7 (35 Bets)
4/8 (70 Bets)
5/6 (6 Bets)
5/7 (21 Bets)

5/8 (56 Bets)
6/7 (7 Bets)
6/8 (28 Bets)
7/8 (8 Bets)
Canadian System
Goliath System
Heinz System
Lucky 15 System
Lucky 63 System
Lucky 31 System
Patent System
Super Heinz System
Trixie System
Yankee System
The site also offered the extremely common types of bets that you would expect to see, though, they didn't list them in their FAQ under bet types. We've heard of some of these bet types, but most of them were new to us or were in the category of way too complex for us to ever bother with. Remember, the complexity of the bet does NOT change the odds or give you better odds. Frankly, it just gives you a chance to make a mistake if you ask us. Some advanced bettors, though, who love the complexity might enjoy some of these options.
User Interface
We feel like we've been harping on the site pretty hard without a lot of positive feedback and unfortunately, they're not going to be seeing much at all in the user interface section. The best word to describe the sports betting interface is a little overwhelming. It's definitely geared towards very advanced sports bettors who want to see the numbers and really nothing else.
The format of the page follows the same as most other sites with the sports categories on the left, odds in the middle, and betting slips you've selected on the right-hand side. Starting on the left, the sports categories look to have the more popular options pulled out and arranged in order of popularity and then an additional drop down tab for the other 19 sports. The problem with this is that you have to look through the entire list to find the sport you want and can't just scan your eyes alphabetically or anything like that. There are also some pretty popular sports that happen to be in the additional, "B-Team" list.
If you do look at a sport in the secondary list and then click back to see more sports in that list, you have to reopen it every time. This might sound like something small, but after a few minutes on the site, it got really annoying fast. We'd prefer to just see the full list in alphabetical order or at least with the ability to alphabetize.
While they had a lot of betting options in the odds section, it was equally messy to find what we were looking for. Frankly, it looks like they originally planned the site without taking into account just how many bet options there are. It reminds us of a kid who has outgrown their favorite clothes but is still trying to make it work somehow. PartyBets, it's time to buy some new clothes that fit a bit better.
At the bottom of the page, they have a few additional bet services that two of the three are surprisingly well organized when you click on them. The Live Score and Statistics portals are great and very well laid out. The Results tab, on the other hand, is still a bit messy. Upon further research, the Live Score and Statistics tabs are managed by Bet Radar, an outside company, and the Results tab is managed by PartyBets. This is not surprising. Maybe they should look at letting Bet Radar come in and help them get things organized on the sports betting front.
Look, we're not trying to be so harsh on PartyBets here, but unfortunately, the above-stated information is the case. Does this mean you shouldn't bet here? No. Honestly, we would use them for line shopping, or it's also possible that you're a fan of the straightforward interface or the bet types that were somewhat new to us. The best advice is to take a peek at it for yourself and see what you think. We weren't huge fans, but that's just our preferences. It's hard to knock the no-fee withdrawals and the trust factor you're going to get from such a major player in the market.
The Casino
Surprisingly, the casino at PartyBets is significantly better than the sports betting section in regards to layout and overall feel. Everything is laid out much clearer, and the quality of the games is extremely high. Game selections are broken down into the following categories (with our notes and thoughts attached):
Roulette
PartyBets has 14 roulette options which include 3 live roulette options. The three different live options are standard roulette, immersive roulette, and auto-roulette. They also have a few "normal" versions of the game without live dealers as well as a few 3D versions which is something we haven't seen much of that looks pretty cool.
Blackjack
The site had 10 different blackjack options to play including one version of live blackjack and one version of 3D blackjack. Overall, plenty of choices and the quality looks high on these games.
Slots
TONS of choices were available in the slots department. The site had 223 different options available including a mix of branded slot games and then non-branded, yet still popular options. The majority of the slots, though, were not branded options but still looked to be higher quality. They conveniently put the 24 slot first (branded after the hit TV show) followed by almost all non-branded slots. Maybe we were too liberal with the term "mix."
Table Games
PartyBets had 27 options for table games with the majority of them being pulled from the roulette and blackjack areas. We were surprised not to see craps or a few other popular table games in the listings.
Video Poker
There were 5 options under this tag. We wish we could tell you more, but they got the job done and were nothing to write home about. What was a little interesting was that the popular versions listed were pink and purple themed. This could be awesome or annoying to you depending on your personal preference.
Jackpot Slots
23 options here with the jackpots ranging from a few thousand up into the low seven figures. $1.7 million was the highest we saw, and it looked to be connected to a lot of the games as the same jackpot.
Variety Games
PartyBets had 11 games here that looked to be their random selection of games that didn't fit anywhere else. A few of these were lotto based, and a few were scratch-off style cards.
All of the games listed are able to be sorted alphabetically or by popularity and are able to be searched as well. You can also view the games via a list or grid function which gives a lot of flexibility to find the ideal game you're looking for. These are options we would have LOVED to see in the sports betting section.
Deposit and Withdrawal Options
The deposit section was set up pretty nicely with the ability to sort options based on your country and then checkbox the types of options you'd like to see. As we can't list the options for every country listed, we're going to give you the options for the UK, and you can assume that a lot of these are going to carry over to the other countries they service.
Deposit Options 
Visa
Min: £10
Max: £50,000
Fee: None
Instant Banking
Min: £10
Max: £500
Fee: None
Mastercard
Min: £10
Max: £50,000
Fee: None
Fast Bank Transfer
Min: £15
Max: £60,000
Fee: None
Bank Wire Transfer
Min: £10
Max: £60,000
Fee: None
Maestro
Min: £10
Max: £3,000
Fee: None
GoPlay Mastercard
Min: £10
Max: £5,000
Fee: None
EntroPay
Min: £10
Max: £50,000
Fee: None
PayPal
Min: £10
Max: £10,000
Fee: None
Neteller
Min: £7.51
Max: £37569.23
Fee: None
Skrill
Min: £10
Max: £50,000
Fee: None
PaySafe Card
Min: £10
Max: £750
Fee: None
Diners Club International
Min: £7.51
Max: £75138.46
Fee: None
Withdrawal Options
Entropay
Time Frame: 3-5 Days
Fee: Free!
Maestro
Time Frame: 3-5 Days
Fee: Free!
Mastercard
Time Frame: 3-5 Days
Fee: Free!
Bank Wire Transfer
Time Frame: 1 Day
Fee: Free!
Fast Bank Transfer
Time Frame: 2-4 Days
Fee: Free!
Skrill
Time Frame: 24 hours
Fee: Free!
Visa
Time Frame: 3-5 Days
Fee: Free!
PayPal
Time Frame: 24 hours
Fee: Free!
Neteller
Time Frame: 24 hours
Fee: Free!
PaySafe Card
Time Frame: 24 hours
Fee: Free!
Dusk Till Dawn Casino
Time Frame: Instant
Fee: Free!
There were no maximums or minimums listed for each option so we're assuming they might not have any. There were also no fees on any of their withdrawals which was AWESOME.
Bonuses and Promotions
Regarding the sportsbook, we didn't see any promotions at all. The casino did have a few promotions that we will go ahead and detail here. We're hoping there are some sportsbook promotions they just don't have listed well, but based on the rest of the stuff we've seen in the sportsbook section, we won't hold our breath.
Cashback On the Go
5% cashback on all casino games played from mobile
Game of the Week
$5 bonus when you opt-in to the promotion and earn one player point on the game of the week
Table Top-Up Bonus
You can earn up to $150 in bonus money when you deposit and play on Sundays
Bonus Babylon
You can earn up to $2,000 in Palladium casino bonuses when you deposit and play on Tuesdays. We aren't really sure what the heck this means but 2,000 of something means it has to be good, right? Maybe?
Customer Service
Customer service options were great for the site and definitely one of the high points. They had 24/7 live chat support, dedicated phone numbers for each country that they serviced, and email support also available 24/7. PartyBets also had an extensive FAQ section with a lot of questions and answers. There was no search function on the FAQ, but the organization looked to be pretty good for you to find what you're looking for.
24/7 Customer Service Department
info@partypoker.com
Cashier Team
transactions@partypoker.com