100%
WELCOME BONUS
UP TO
£260
Online casino games offered
Easy to use interface
Esports betting coverage
Sky Bet Review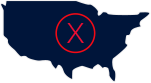 Not Approved
for US Customers
Pros
Online casino games offered
Easy to use interface
Esports betting coverage
Cons
US Players are NOT accepted
Limited deposit and withdrawal options

We Don't Recommend
Sky Bet
We've Found That Users Prefer:

There can be a lot of moving parts when deciding on what online sportsbook deserves your business. Most folks don't consider all factors before making their decision, and that's okay too. If a sportsbook has a single feature that blows you away, it's reasonable to settle on that company and roll with the punches.
Others look at the bigger picture of what a sportsbook can do. Do they provide advantageous bonuses and promotions? Is the site user-friendly and easy to use? What sports are featured prominently on the site? How many different deposit and withdrawal methods are there and are there any fees involved? Is the customer service helpful or am I on my own? There are just some of the questions you could ask yourself before settling in on the first sportsbook that you come across.
However, don't sweat. This is exactly why we do these reviews. We tackle the legwork for you! Rather than searching for answers to these questions yourself, you can simply comb through this review.
By the end of this particular review, our goal is to have you understand the various dimensions of the Sky Bet sportsbook so that you can make a decision on whether or not this a sportsbook that you want to consider.
Without any more hesitation, let's get into the Sky Bet sportsbook and see what they can do for you!
The Sportsbook
The sportsbook at Sky Bet is a similar one to the other UK or European-based sportsbooks that we have reviewed in the past. In other words, they own much of the same characteristics.
The Sky Betting and Gaming company is a British-based gambling company that is actually owned by The Stars Group, the same company that owns PokerStars, which you may be more familiar with than you are Sky Bet.
There are plenty of betting opportunities here at Sky Bet, but the most prominently featured sport on the site is soccer (or football, as they use) by a landslide. That said, there is no shortage of other betting opportunities on this site, so don't worry if you aren't a soccer bettor. As long as your jurisdiction allows your participation at Sky Bet, you can benefit from other sports wagering on this site.
It should also be noted that horse racing is also prominently featured, as is the case with many other British-based sportsbooks.
The user interface is laid out in a fairly clean manner while the basic color scheme seems to work for this site.
They don't offer a ton of deposit and withdrawal options, however, they do include the most popular forms of depositing and withdrawing, so there shouldn't be too much of an issue in finding a method that works for you.
The promotions aren't of great quality. The sheer quantity is disappointing while there isn't an attractive welcome bonus or promotions that carry any sort of considerable value. If bonuses are important to you, this may not be the sportsbook for you.
We certainly aren't going to simply cover the sportsbook as a whole, so let's dive in a little deeper and take a look at some individual aspects of the Sky Bet sportsbook on their own.
Sports You Can Bet On
There is a wide variety of sports that are available at Sky Bet, so many that it would be quite shocking if you didn't find the sport that you were looking for.
Let's go ahead and rattle off the sports that Sky Bet offers and we will do so in alphabetical order:
American Football
Athletics
Aussie Rules
Badminton
Baseball
Basketball
Bowling
Boxing
Cricket
Curling
Cycling

Darts
Football
Formula 1
Gaelic Games
Golf
Greyhound Racing
Handball
Hockey
Horse Racing
Ice Hockey
Netball

Pool
Rugby League
Rugby Union
Snooker
Speedway
Tennis
UFC/MMA
Volleyball
Winter Sports
WWE
The action doesn't stop there as there are several areas where you can make bets on non-athletic events as well. These types of events include eSports, lotto, music specials, politics, specialty bets, TV and film specials, and virtual sports. Virtual sports are a big part of the UK and European-based sportsbooks.
Of course, there are various sub-leagues within many of these sports, however, we won't go into great detail in this area given the overwhelming amount of sub-leagues there would be in such a long list of sports to bet on.
This is indeed a lengthy list, however, it sits right about average in terms of industry standards, especially when we compare it to other UK and European-based sportsbooks.
Esports Coverage
As noted above, esports is indeed offered here at Sky Bet. esports is a growing industry and we are glad to see Sky Bet participating in this area.
Sky Bet offers in-play esports betting as well as a large variety of sub-leagues within the esports community.
The coverage here is actually vast. A quick count of the sub-leagues currently being covered at the time of this writing reveals 17 sub-leagues, which is certainly above industry standards from our standpoint.
We would label this esports coverage as extraordinary and give Sky Bet a big thumbs up in this department.
User Interface
A big factor when deciding on a sportsbook is the user interface. Is the main sportsbook interface clean? Is it confusing? Is it easy to navigate? These are questions that surely need to be looked into.
In terms of the color scheme and graphics utilized, we believe they are appropriate and not over-the-top in the least. A simple blue and white scheme works perfectly and the simple nature of the scheme doesn't take away from the overall layout of the site whatsoever.
In terms of navigation and layout, we are on board here. The sports are listed down the left-hand column which is consistent of other sportsbooks that are cut from the same cloth as Sky Bet. A simple white font on a blue background is effective and the navigation is seamless.
Go ahead and test it out. A simple click on any of the links down the left-hand column and a simple list of the sub-leagues appears right beneath the in-play matches. Rather than listing all the matches in every sub-league on what seems to be a never-ending page (as per other sites), Sky Bet simply lists a sub-league as a drop-down menu. This is extremely effective and it keeps the interface very clean as opposed to loading a single page with every wager from every sub-league. We really appreciate the dropdown's effectiveness.
We also like the clean layout of the bet slip on the right-hand side of the page as it sits by itself and does not encounter any confusion or unnecessary searching on the homepage.
Overall we would say a very clean interface. We would also call this a user-friendly interface as it speaks to the seamless navigation that it entails. Add in the simple, yet appropriate color scheme and you have yourself a very nice user interface when it comes to Sky Bet.
The Casino
The casino portion of the Sky Bet site is cleverly referred to as "Sky Vegas".
In Sky Vegas, you will find your typical online casino games including roulette, blackjack, and poker. There are also a plethora of slot games available, but nothing too far out of the ordinary when compared to industry standards.
Unlike a great deal other of sportsbooks and betting sites, Sky Bet doesn't promote their casino too heavily as there isn't even a "Casino" tab at the top of the sportsbook page like we see at almost every other UK or European-based sportsbook. There is simply a "Roulette" tab on the far right of the sportsbook interface.
All told, the casino here is quite adequate and in line with industry standards.
Deposit Methods
Another key factor when it comes to online sportsbooks is how you can efficiently deposit funds into your user account.
Unfortunately, at Sky Bet, there isn't a great deal of ways to deposit funds into our account outside of the typical credit and debit card methods. A lot of sites these days are accepting eWallet methods such as Neteller and Skrill, but Sky Bet is not one of those sites.
One bonus when it comes to Sky Bet is the fact that they do not charge a fee for any of their deposit methods. We appreciate this fact.
Let's go ahead and lay out the deposit method information for Sky Bet. You will notice they all share very similar characteristics.
Visa / Visa Electron / Mastercard / Maestro / Solo
Type: Debit and Credit Cards
Minimum: £5
Process Time: Instant
PayPal*
Type: eWallet
Minimum: £10
Process Time: Instant
Is now ONLY available for existing users as of May 24th, 2017. If you had a PayPal account registered at Sky Bet prior to this date, you can continue to use this method for depositing.
A nice feature at Sky Bet is the deposit limit. When you register, you can set a deposit limit on a daily, weekly or monthly basis. This is a decent strategy to follow to ensure that you are playing within your means.
Withdrawal Methods
The same thing goes for withdrawals. You need to make sure the withdrawal methods at Sky Bet work for you. Odds are if the deposit methods were satisfactory, the withdrawal methods will follow suit.
Unfortunately, the withdrawal methods at Sky Bet are not all that efficient. If you don't mind some wait time, however, you should be okay.
Keep in mind that all withdrawals are also free of charge, and you will also notice a lot of similar characteristics between the credit card and debit card methods.
Let's take a look at the withdrawal methods available at Sky Bet.
Visa / Visa Electron / Mastercard / Maestro / Solo
Type: Debit and Credit Cards
Minimum: £10
Process Time: 2-5 Business Days
PayPal*
Type: eWallet
Minimum: £10
Process Time: Instant**
*As noted in the deposits section, PayPal can only be used as a withdrawal method if your account was registered prior to May 24th, 2017.
**Additional security checks could cause a 24-hour wait time with a PayPal withdrawal.
Bonuses and Promotions
Bonuses and promotions are near the top of the list when it comes to important items As noted in the pros and cons section at the top, there aren't a whole lot of bonuses and promotions to get excited about at Sky Bet. Certainly, the number of bonuses and promotions that they do offer are below industry standards, even when we compare them to other UK and European-based sportsbooks.
That said, let's run through the promotions that are offered here at Sky Bet.
You can earn up to £260 of free bets in a year with the Sky Bet Club.
If you opt-in and bet at least £25 or more in cash stakes before midnight on Sunday at odds of 1/1 or greater, you can get a £5 free bet every week!
These bets can be on any sport, however cashed out bets do not qualify.
Price Boosts
These are offered on a daily basis. Simply put, a price boost is increased odds on an accumulation play (or parlay bet). Sky Bet issues these daily and the bets are at their discretion. They can cover soccer, horse racing, NBA for example, or a combination of any two of these events.
Virtual Rewards
As we've seen elsewhere, Sky Bet is rewarding their virtual sports players with a free bet possibility.
If you stake a total of at least £50 on virtual sports at a minimum odds of 1/2, you will be instantly credited with a £10 free bet courtesy of Sky Bet. There is a promotional period here, however, they will be coming out with these often throughout the year.
As per the Terms and Conditions, the free bet expires after seven days once credited to the user account.
Group Bets
You can bet with your friends by creating a group and inviting friends to join. At that point, you can build an accumulator (parlay) with each friend adding a selection.
A fun way to bet with your buddies!
Cash Out
An extremely popular promotion, the cash out option allows you to essentially cash your bet out during a live event. If your bet is losing, you can save some money and cash it out at a price determined by Sky Bet. If your bet is winning but you don't feel good about how it might turn out in the end, you can cash out and essentially take your money and run!
Customer Service
In total, there are five ways that Sky Bet provides customer service to its users:
The "Help" link at the bottom of the main sportsbook interface provides articles and FAQ responses on a variety of different topics.
The telephone is still an option to contact the customer service team at Sky Bet.
The email option is here as well, however, this could be the least efficient avenue for help from a time standpoint.
The live chat is an extremely popular option, although it's nothing extraordinary at this point. Still, we're certainly not going to hold this against Sky Bet as this is definitely something we want to see offered from a customer service standpoint.
Sky Bet has the Twitter account @SkyBet where you could tweet at them if you need assistance. The social media angle is a nice one considering the enormous popularity of Twitter. It's also a nice way to engage with their customer whether they need assistance or not.