100%
WELCOME BONUS
UP TO
$200
Wide range of betting opportunities
Adequate interface
Sufficient deposit/withdrawal options
Spin Palace Review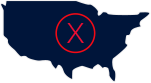 Not Approved
for US Customers
Pros
Wide range of betting opportunities
Adequate interface
Sufficient deposit/withdrawal options
Offers eSports bets
Cons
No US Players allowed
An extremely short list of bonuses/promotions
Does not accept cryptocurrency

We Don't Recommend
Spin Palace
We've Found That Users Prefer:

Simply put, the online betting landscape is a vast and wide spread industry. There are a ton of players when it comes to online betting sites, and we need to be selective in which site we choose to give our business to.
In this review, we hammer on some of the main questions and subjects that you need to consider when deciding on which sportsbook is going to work best for you. Are bonuses and promotions important? What sports does a certain site specialize in and are these the sports you are going to be betting on? Is there a clean and attractive interface? What deposit and withdrawal options does the site have and are there any fees attached?
These are just some of the issues at hand, but that isn't an all-inclusive list. This is precisely why we do these reviews – to give you a look at these sportsbooks from top to bottom so that you are able to make a decision by the end of this piece.
We've done the research, we've done the leg work, now it's your turn to dive in and check out our complete review of the Spin Palace sportsbook!
The Sportsbook
While the companies that own Spin Palace are located in Malta, the operator is licenced by the Canadian Kahnawake Gaming Commission, so I suppose you could call this site a Canadian gambling site, although it still does not allow US players and looks more like one of the many European betting sites we have reviewed in the past.
This means that soccer (or football) will be heavily featured on the site, but that's not to say that they don't offer a wide variety of sports.
In fact, looking at all of the sports available for betting, there seems to be a wide range of betting opportunities and the sports available for betting would align quite similarly to European sportsbooks that we have reviewed in the past.
The interface isn't the prettiest one we have seen, however it doesn't appear to be overloaded with information and therefore isn't messy to the point where it should turn you away from Spin Palace.
Spin Palace doesn't offer the most attractive bonuses and promotions that we have seen. It seems that the North American sportsbooks lead the way when it comes to this department, but Spin Palace is a lot like European sportsbooks in the sense that they certainly don't stand out in terms of their bonuses and promotions.
The deposit and withdrawal options are certainly sufficient. With eight different deposit and withdrawal methods, Spin Palace is sure to satisfy when it comes to getting funds in and out of the sportsbook.
Let's go ahead and take a look at some of the individual aspects of the Spin Palace sportsbook!
Sports You Can Bet On
When it comes to Spin Palace, there is no shortage of sports that are available for betting.
The site claims to have more than 70 different sports to bet on with a multitude of markets open for every event. There are the simple sports as well as the exotic or novelty sports that are available, giving customer a wide-range of options when it comes to their betting interests.
Lets go ahead and rattle off the sports that are up for grabs at Spin Palace, in alphabetical order:
Archery
Athletics
Australian Football League
Bandy
Beach handball
Beach soccer
Beach volleyball
Bowls
Boxing
Cricket
Curling
Cycling
Darts
Diving
Equestrian
Fencing
Floorball

Futsal
Gaelic Football
Gaelic Hurling
Greyhounds
Gymnastics
Handball
Hockey
Hurling
Judo
Kayak
MMA
Modern Pentathlon
Motor Racing
Olympic Games
Racketlon
Rowing
Sailing

Shooting
Snooker and Pool, Soccer
Speedway
Surfing
Swimming
Table Tennis
Taekwondo
Triathlon
Trotting
Volleyball
Water Polo
Weightlifting
Winter Olympics
Winter Sports
Wrestling
In case that isn't enough, Spin Palace also offers some other non-athletic events to bet on such as e-Sports, virtual sports and virtual sports inspired.
It's a lengthy list to be sure, and this list virtually guarantees that you are going to find the sport(s) you are looking to bet on while it also offers the opportunity to venture out and perhaps try some new events that you may find some success at in the form of winning bets.
Esports Coverage
The world of esports is a vastly growing one as we are seeing more and more sportsbooks adding this option to their betting offering to the point where it has become rare not to see esports at an online betting site.
There are many subleagues within the esports offering at Spin Palace. You can bet on esports events from Romania, China, Brazil, South Korea, and Taiwan. International esports bets are also up for grabs at Spin Palace.
What is extraordinary here at Spin Palace is the shear size of the esports offering. There are dozens and dozens of esports events listed and one is sure to find what they are looking for inside of the Spin Palace esports offering.
User Interface
One of the aspects to a sportsbook that we put a heavy weighting on is the user interface.
If a site has a messy interface with so much information jammed in that it becomes almost impossible to separate one aspect from another, it makes complete sense to leave and go somewhere else. After all, the interface is the first thing people are going to see on the site before they dive into other aspects such as bonuses, deposit/withdrawal options, etc.
In other words, the interface is the first chance the betting site has at obtaining your business.
When we look at the Spin Palace user interface, we get a little bit of both.
The graphics at the top of the screen are attractive and I like the fact that they change based on what sport you select. There isn't anything wrong here.
Also, the green/grey/black color scheme seems to work fine and run in sync with one another.
When it comes to Spin Palace's interface would be the crowding of the events and odds down the middle of the screen. They would benefit from some more separation and/or perhaps a drop down that could lessen the amount of odds and events listed on the main interface of each sport.
That said, the interface doesn't become overly messy to the point where information, odds, and events become unidentifiable.
Another positive at Spin Palace is the user's ability to toggle between odds formats. This gives us the option to use American (-120), Decimal (2.2) or fractional (5/7).
The bet slip is laid out in a fairly clean manner on the left-hand side, although I'm not a big fan of the plus and minus buttons to pick your stake. A simple area where you can type in your stake amount would work best.
As a whole, the interface works just fine here at Spin Palace, and although we have seen better in the industry, the interface should not be a reason why a potential customer should turn away from this betting site.
The Casino
As per the name of the site itself, Spin Palace has a very rich and attractive casino offering.
The graphics on the casino interface are extremely attractive and it's one of the more inspiring casino interfaces that we have seen in the industry. This will certainly draw potential customers towards using this casino among the many others in the industry.
There is both a casino and live casino here and they entail large amounts of slots, blackjack, roulette, video pokers and progressive slots.
If you like to play some casino games on top of your sports betting, Spin Palace certainly delivers on the casino side as well.
Deposit Methods
An important aspect to an online sportsbook is the deposit methods we can utilize to get our funds from us to our user account.
Fortunately, Spin Palace offers plenty of methods that are sure to satisfy. These methods include:
Web Wallet
Skrill by moneybookers
Neteller
Right here we have eight different deposit methods at Spin Palace.
Before depositing using any of these methods, be sure to check to verify if there are any fees attached to the deposits and possible wait times before the funds hit your user account.
Withdrawal Methods
Just as important as the deposit methods are the withdrawal methods so we know how we can get our winnings from our user account back into our possession.
Again, Spin Palace has several options when it comes to withdrawing funds, including:
Web Wallet
Skrill by moneybookers
Neteller
We have eight different withdrawal methods at Spin Palace. Unfortunately, Maestro and Trustly cannot be used as withdrawal methods despite being available as a deposit method.
Important Withdrawal Notes:
According to the Terms & Conditions are Spin Palace, here are some items to keep in mind when it comes to withdrawing funds.
Any withdrawals that are made by bank wire or cheque will only be payable to the name used when registering with the site.
If a credit or debit card has been used to deposit funds, the name must correspond to the name registered on the card.
Charges may be incurred on withdrawals.
Funds must be withdrawn with the same method used for depositing, up to the amount of deposit.
Spin Palace is required to verify a player's identify upon a withdrawal of 2,330 Euros or more, or the equivalent value of the player's chosen currency
The maximum withdrawal amount per 24-hour period is 10,000 Euros, or currency equivalent.
Bonus and Promotions
Keep in mind we are only going to be focusing on the sportsbook promotions at Spin Palace. Additionally, it needs to be said that sportsbooks similar to Spin Palace have more attractive bonuses at their online casinos than they do their sportsbooks. Many times, this leaves the sportsbook bonuses looking rather weak and below many of their peers.
Unfortunately, the promotions offered at Spin Palace are few and far between, but let's go ahead and check them out nonetheless.
Like a lot of betting sites out there, Spin Palace offers a welcome bonus of 100% of your first deposit amount up to $200. This is a first-time sports user promotion only and has some notes in the terms & conditions that you should be aware of.
Deposit must be 10 currency units as per this table:
(Currency – Currency Value of 1 Currency Unit)

EUR – 1
CAD – 1
GBP – 1
CHF – 1
NZD – 1

ARS – 35
BRL – 5
MXN – 20
INR – 100
JP Yen – 150

NOK – 10
PLN – 4
RUB – 70
SEK – 10
TRY – 4

Single bets must be placed at 1.3 odds or over
Each-way bets – the place part of the bet must be placed at odds of 1.3 or over
System bet – each selection must be placed at odds of 1.3 or over
Cash-Outs – bets cashed out do not count towards wagering
Withdrawal of free bet will be allowed upon settlement of a qualifying bet(s) that reach the required turnover of 5x
Free bet expires seven days after the first deposit
The free bet must be used in its entirety as a single bet
Other promotions are available at Spin Palace, however, they are delivered to you via email, so make sure to check your promotions folder if you decide to roll with Spin Palace as your online betting site.
Customer Service
The spin palace customer service level is certainly adequate as they offer many ways of helping their customers.
They have a 24/7 live chat option which has become the norm among online betting sites.
They also have a dedicated email support address which is support@spinpalacecasino.com
Spin Palace also has a toll-free telephone support line as well as an FAQ page that can help users answer their own questions before having to reach out to the Spin Palace customer service team.
Finally, Spin Palace does have a Twitter account that you could Tweet at, however the account doesn't see all that active considering their last Tweet came back on March of 2018. Still, this could be an alternative method of reaching our if you are on Twitter.
This is a solid level of customer service. Nothing out of the ordinary, but certainly good enough to the point where your questions/concerns can be handled in many different forms.