APPROVED
for US Customers

50%
WELCOME BONUS
UP TO
$520
Wide variety of payment methods
Excellent customer support
Bitcoin accepted
SportBet Review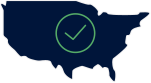 Approved
for US Customers
Pros
Wide variety of payment methods
Excellent customer support
Bitcoin accepted
Cons
Complicated registration process
Not anonymous
Their user interface is outdated

We Don't Recommend
SportBet
We've Found That Users Prefer:

Unlike the majority of online sportsbooks and casinos, SportBet.com has been around for over 20 years. Anytime that we see an online sportsbook or casino that has been around for this long, we immediately take notice as that means they are probably doing something right. We're happy to report that SportBet.com is definitely onto some good things which is why they've lasted 20+ years in this business.
SportBet.com was initially launched in Puerto Rico in 1996. Having over 20 years of experience makes SportBet.com one of the more experienced options out there today. SportBet.com has built themselves into a highly respected online sportsbook and casino by utilizing best practices over the past 20+ years.
The Sportsbook
Our first impression of the sportsbook at SportBet.com is that it was pretty tough to get to the action. From the homepage of SportBet.com, you have to make several clicks to get yourself into the actual sportsbook. When you click on the sportsbook link from the homepage of SportBet.com, it takes you to a page full of news and articles.
We found this very odd and confusing. We feel that this is likely to cause players to look elsewhere due to the confusion. We'd highly suggest that SportBet.com make it easier for clients to get to the sportsbook with a single click.
Once you get yourself into the sportsbook at SportBet.com, navigation becomes much easier. On the left side of the page, you can quickly sort by sport to see what event options that you can bet on at that time. Simply select a sport, and then you drill deeper into seeing events and odds. We found the site to be very easy to navigate in this format.
Something that we wish SportBet.com will add in the future is a quick link to in-play action. Many other online sportsbooks offer an easy link to sporting events that are in action at that time. Quick links to in-play action allow bettors the opportunity to get in on the action quickly without having to search through many different sports. Hopefully, SportBet.com will add this functionality in the future.
Sports You Can Bet On
SportBet.com has a great lineup of sports that you can bet on. At the time of this review, SportBet.com offered wagers on ten different major types of sports and events. While SportBet.com offers all of the major sporting stuff, we also liked that they had some more unique betting options. We found betting options for things such as competitive eating and politics. It's nice when a site mixes things up to give you more options than just sports. If you're interested in the full list of sports that you can bet on, we've provided it below for your convenience.
Note: Our list below showcases all of the sports and events that were live for betting at the time of our review. Sportbet.com only shows sporting events that are in season or that have active bets available. If you find that your sport or event of choice is not currently listed on SportBet.com, be sure to check out their website when that sport or event is back in season. We'll be sure to update this list occasionally in an effort to keep it as current as possible.
Soccer
Golf
Football
Fighting
Tennis

Baseball
Basketball
Motor Racing
Hockey
Other Sports
User Interface
Alright, so we've been doing our best to stay positive throughout this SportBet review. Our moms would be proud. Mom, please plug your ears and walk out of the room. If there was one area of SportBet that struggled the most it would be their user interface. It was extremely outdated, hard to navigate, and the definition of clutter.
Here's what we want to point out from our review of the user interface. Finding the sportsbook was a challenge. We think we honestly clicked 8-10 times before we actually saw our first set of lines. Once we finally got to the actual book, we breathed a little sigh of relief because things looked somewhat close to what we see at other online sportsbooks.
But, there were some issues. First, they squished the spreads and the associated payouts into the same block on their odds screen. For example, a spread of -3 paying out at (-110) looked like this: -3+110. Not a very good design if you ask us.
Additionally, you only had the option to switch between American and Decimal odds. If you're a fan of fraction odds, you aren't going to be able to get that here. It's also important to note that it takes several seconds for the conversions to happen after you click the option which might not sound like a lot, but we found it pretty upsetting since we know that is not the case at most sites where things happen quickly.
Look, we don't want to sit here and bash SportBet all day. Let's give you the bottom line and call it a day. The user interface was not well done. It felt extremely archaic, was not well organized, and gave us a headache to use. If you find a lot of value in the lines they offer or the promos that give you reduced juice, it might be worth stomaching to earn that value. We could tell you a lot of stories about betting at sportsbooks with bad interfaces or poker sites that would make your eyes bleed just because the odds were great and the players were bad. It's completely up to you how you choose to proceed.
The Casino
The casino at SportBet is a download only option which is something that we thought was a thing of the past in the industry. But, they're keeping it old school over at SportBet. Their casino is split up into several different "casinos" that all have a variety of games for you to choose from. We don't really understand why they all aren't under the same umbrella, but maybe they have their reason.
The five casinos that they have are the following:
The Grand Casino – This casino offers over 200 different games to choose from including 90 different slot machines, 14 types of video poker, 7 variations of blackjack, and variations of Baccarat and Roulette.
The Jackpot Casino – This sounds like the casino they spent their upgrading budget on! They have cinematic 3d games that are loaded up with the most up to date graphics and some fancy audio to accompany it. This might be a section of SportBet worth checking out if you are looking for some casino action.
The HitReels Casino – This is boasted as their newest addition to the mix. It's all slot machines as you might have guessed from the name of the casino.
The Bonus Casino – This is a casino that claims to have "better odds than most online casinos." This is apparently backed by fair gaming audits, so we guess it is truth. If you're looking for higher payouts on your favorite casino games, this is where you're going to start.
The MatchPlay Casino – They advertise that the highlights of this casino are their progressive slots and single-deck blackjack games. Single deck has limits from $1-$500 per hand.
While we aren't fans of download only casinos, if you are you might be a fan of the offerings at SportBet. They did have a lot of games to choose from which means you surely can find something to your liking.
Deposit Options
SportBet.com offers clients six different deposit method options as of the time of this review. They offer many of the basics such as credit card and money order and they also offer Bitcoin which is currently trending in the industry. Below, we've provided you a breakdown of each of their deposit options along with any associated fees and processing times.
Credit Cards
When Processed: 24/7
Fee: None
Person to Person (P2P)
When Processed: 9 am – 10 pm EST Monday through Saturday. 9 am – 8 pm EST on Sundays.
Fee: Varies. Please contact customer support for rates.
Money Order
When Processed: Immediately upon receipt.
Fee: Varies. Please contact customer support for rates.
Bitcoin
When Processed: 9 am – 11 pm EST 7 days a week.
Fee: None
Sportsbook Transfer
When Processed: 24/7
Fee: None
Account to Account Transfer
When Processed: 24/7
Fee: None
In general, we feel that SportBet.com offers an ok lineup of deposit options. While they offer most of the basics, we did notice that bank wires were not on the list. We'd like to see SportBet.com offer bank wires in the future and we think that it would also be good for them to offer a few others including Paypal, Skrill, and Neteller. Adding these additional options could help them attract and keep more players.
Withdrawal Options
In total, SportBet.com offers their clients nine different withdrawal options at the time of this review. SportBet.com offers basic options such as bank wire and money order, and they also offer Bitcoin. We've put together a full list of their withdrawal options below along with the Associated processing times and fees for each one.
Person to Person (P2P)
When Processed: 9 am – 1 pm EST Monday through Thursday.
Fee: Varies. Please contact customer support for rates.
Cashier Check
When Processed: 9 am – 1 pm EST Monday through Thursday.
Fee: $40-$80
Money Order
When Processed: 9 am – 1 pm EST Monday through Thursday.
Fee: $80
DCFA
When Processed: 9 am – 1 pm EST Monday through Thursday.
Fee: $15-$40
CCFA
When Processed: 9 am – 1 pm EST Monday through Thursday.
Fee: $15-$40
Bitcoin
When Processed: 9 am – 11 pm EST 7 days a week.
Fee: None
Bank Wires
When Processed: 9 am – 1 pm EST Monday through Thursday.
Fee: $80
Sportsbook Transfer
When Processed: 9 am – 11 pm EST 7 days a week.
Fee: None
Account to Account Transfer
When Processed: 9 am – 10:30 pm EST 7 days a week.
Fee: None
Overall, SportBet.com has a pretty good lineup of withdrawal options for their customers. We'd like to see them add a handful more options so that they can appeal to more clients. We'd suggest that SportBet.com allow withdrawals through Paypal, credit card, Skrill, and Neteller.
Bonuses and Promotions
Many online casinos and sportsbooks use offers to help attract new players and keep current ones around. SportBet.com is no different. In the case of SportBet.com, they offer bonuses and promotions for both their sportsbook and online casino. Below, we've broken down the major bonuses and promotions that were available at the time of our site review. Be sure to check out SportBet.com for the latest offers.
30% Super Saver Bonus Program
Literally, no idea what the name of this bonus has to do with what it is, but it is a pretty cool promotion. On a whole handful of popular bets that usually pay out at (-110), you can get them at (-107). Basically, the sportsbook is taking less juice on a lot of popular bets including parlays.
This is one of SportBet's new player bonuses. You're only able to select one of the new player bonuses. If this isn't to your liking, you can contact support and get switched over to one of their other three options – FreePlay, Lotto, Loyalty Deposit, Reduced Juice, Cash Back, Casino Rebate, Point Mover Special, or Free Payout programs.
It wasn't initially clear if these were one-time use promotions or if they were things that would be connected to your account for lifetime. It does appear, though, that this is going to be connected to your account for life which is pretty neat.
20% Refer a Friend Bonus
The sportsbook also has a referral program where you'll get a free play equal to 20% of your friend's deposit. So, if you friend deposits $100, you'll get a free bet for $20. The maximum bonus on this is $200, and you must claim it within 24 hours of your friend making their deposit. We guess your friend has to let you know when they deposit so you can contact support and let them know about it. You might want to offer your friend a piece of your bonus to ensure they let you know when they deposit.
Additionally, they have a lot of promotions for their casino games that you can check out. Some of these are free spins, game coupons, jackpot promos, and poker promos (bad beat, no fee guarantees, and poker reward points).
Customer Service
One of the shining moments of the SportBet review was their customer service. They have phone support, live chat support, email support, social media support, and an extensive FAQ section. It also clearly states that they are available 24 hours a day to help with any of your needs. This is clearly way more than an adequate number of options for you to get help. We always get happy when we find a site that has the option to talk to a real person to get help with your issues.
For your convenience, we've listed the customer support phone numbers for SportBet.com below.
The United States and Canada SportBet.com Customer Support Phone Numbers:
Sports Wagering: 1 -866 WAGER SB (866-924-3772)
Horse Wagering: 1-800-243-7071 / 1-800-304-6773
Customer Service: 1-800-430-5896
New Accounts: 1-877-332-7501
If email is your preferred method of contact, SportBet.com has you covered as well. Email support is provided 24/7 by SportBet.com. To reach their customer service department by email, simply send an email to help@sportbet.com.
Additionally, it's nice to see that they not only have phone support but live chat as well. Some of us don't like talking to people when we're having issues, so this is a nice way to do it with our fingers instead of over the phone.
It's hard to knock anything with the customer service at SportBet. They did a great job giving plenty of options, resources, and it was all easy to find.