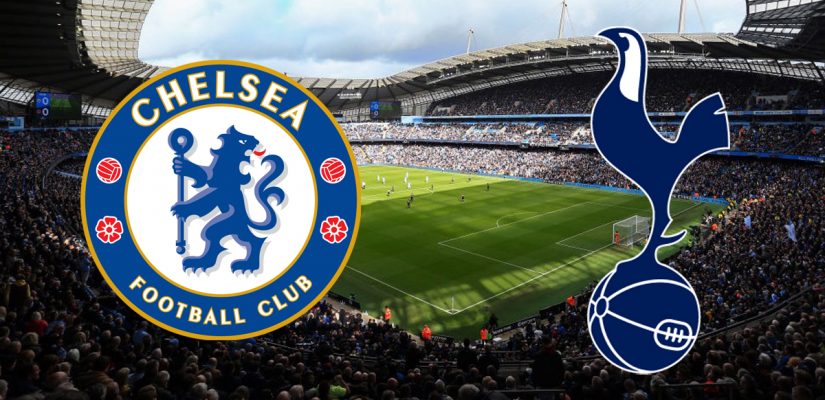 The Premier League title race is all over. Chelsea lost to Manchester City last weekend and practically handed over the title to Pep's City. As things stand now, City are first with unbelievable eleven points difference to second-place Liverpool. Chelsea are third with thirteen points to go, which means they're practically out of the title race. As for Tottenham, they have two matches in hand, first of which is this London derby vs. Chelsea. Our Chelsea vs. Tottenham betting predictions ought to be interesting, so let's head right into the fun stuff and see what this match will be all about!
Chelsea vs. Tottenham Betting Odds
Here are the odds for this Premier League matchup:
Both teams to score:
-115
Odds are subject to change!

Even though Chelsea are coming off a tough loss to Manchester City, soccer bookies still label them as the heavy favorites in this one. Both teams have a match to play prior to this one; Chelsea is going up against Brighton, Tottenham are going up against Leicester. Two tough matches for both sides, matches whose results are bound to affect Chelsea vs. Tottenham betting odds in the coming days.
Chelsea vs. Tottenham Betting Predictions
The never-ending London rivalry is back! Tottenham vs. Chelsea betting predictions are never easy! They are never straightforward, no matter how the two teams are performing and no matter how many points differentiate them on the ePL table.
At the moment, Spurs are eleven points behind Chelsea, but do have five matches to play. Yep, you've read that correctly, five whole matches. That's maximum of fifteen points to be won. If everything goes according to Conte's plans, Tottenham can be several points ahead of Chelsea… Realistically, it is possible, especially with Antonio Conte dictating the tempo in North London.
Chelsea Betting Preview: Title Race is All Over?
Let's start off our Chelsea vs. Tottenham betting picks with a preview of Chelsea! As you probably know, Chelsea are officially out of the title race. I said officially even though they do have theoretical chances… they're just that, though, theoretical.
Tuchel's men took just three points in their last four outings. They're in poor form at the moment and could continue to lose points in the following matches. Tottenham will be a true test for them, one I doubt they'll pass unscathed.
What's wrong with Chelsea, though? What made them drop from legit title contenders and ePL leaders to a mere top-four contender in a matter of a couple of months? Well, they're struggling with scoring goals, plain and simple.
Lukaku's social media escapades coupled with his poor form resulted in the attacking weight switching solely to Mount, Jorginho, Reece James, and Timo Werner. The latter is pretty poor, though, and Reece James isn't even supposed to score goals at will.
True, the Belgian striker does have five goals to his tally, but he's supposed to have at least double that for Chelsea to remain in the title race.

As for Chelsea vs. Tottenham betting options, there's a lot of interesting stuff. But, we need to take a good hard look at the other side of the pitch before we can come to any concrete conclusions.
Tottenham Betting Preview: Spurs Chasing Games in Hand
I've said earlier how Chelsea have issues with scoring goals. But, Tuchel's men have scored double the number of Tottenham's goals – 46 to 23. What does that tell us about Tottenham? Well, we have to take into account the fact Tottenham have five matches in hand. But still, given their current goalscoring record, these extra matches would theoretically yield just seven goals which would put them at 30. Still miles below Chelsea…
Back-to-back. ?

Coco and Sonny, Puskas Award winners. ? pic.twitter.com/EywlXSxK2c

— Tottenham Hotspur (@SpursOfficial) January 17, 2022

Another noteworthy stat is Tottenham's conceded goals – 20. Even though they've played five fewer matches than Chelsea thus far, they've conceded more goals. Chelsea are the clear winners stats-wise, no doubt about it.
But, Conte's making big waves with Tottenham, having won eleven points in the last five matches. Chelsea, on the other hand, are struggling. The form is always important in soccer, and it looks like it could be of crucial importance for our Chelsea vs. Tottenham betting picks too!

If Chelsea are to win this one, they need to stop Heung-min Son. That's an outright must for them! The South Korean winger has scored eight and assisted four in the Premier League this season. He's absolutely clinical, outscoring Harry Kane (by double) and showing off impressive skills both inside and outside of the box.
Chelsea vs. Tottenham Betting Picks
If you ask soccer bookmakers, they'll tell you Chelsea should win this one comfortably… but the statistics aren't really that dominantly on their side. You see, despite sitting in sixth place at the moment, Tottenham have five matches to play to catch up to Chelsea's 23 played games. True, they are struggling a bit on the offensive end, but that can change in one single match so Tuchel's men will have to be extra careful here.
Yep, we're going with a draw here! It's not a typical bet by our standards, because draws are usually very tough to predict. But, considering the stakes at play here and considering the fact this is a good old London derby, it's the only logical option.
Even though both teams to score seems plausible too, we've been forcing that bet lately so it's time to do something else. Plus, you can't deny the value of betting on the draw here…

That's it from our Chelsea vs. Tottenham betting predictions. Hope you agree with us and fingers crossed our pick goes through!
Until next time,
May the odds be in your favor!