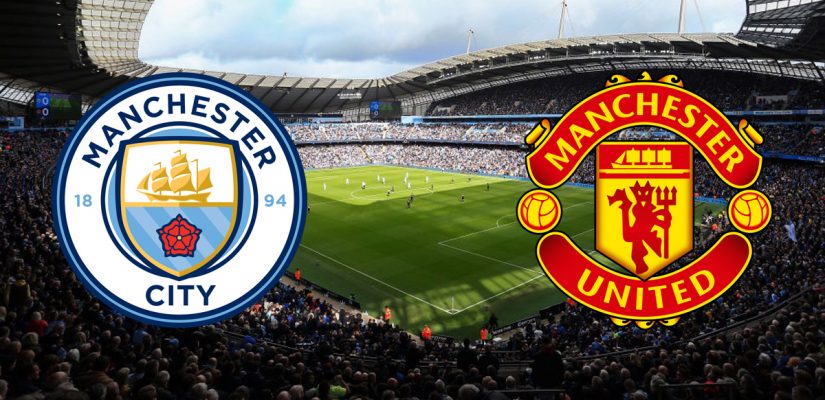 One of the biggest Premier League rivalries is about to get a whole new chapter. As the title implies, we're here for Man City vs. Man Utd betting predictions. It's a match that's going to be under the spotlight across the globe, nothing surprising considering it always packs quite the punch in the entertainment department.
Our interim boss will experience a Manchester derby for the first time this weekend ??#MUFC | #MCIMUN

— Manchester United (@ManUtd) March 4, 2022

And while United and City are miles apart on the table, both have their goals coming into this one. The primary goal for the Reds would be to keep their city red and get three more points in their pursuit for Champions League football next season. On the other end, City are looking for three points that would practically cement their spot at the top. Of course, theoretical chances would still exist… but they'd be nothing more but pure theoretical chances…
That said, let's take a closer look at this clash and see if there are any lines worth investing in!
Man City vs. Man Utd Betting Odds
Here are the odds for this Champions League matchup:
Both teams to score:
-118
Odds are subject to change!

As you can see, Manchester United are the heavy underdog in this one. They weren't considered as such a massive underdog in a long time. It really speaks a lot about the differences between the two, not just in terms of roster quality but morale, form, and overall standing too.
Pep's City is a formidable team. Not only are they by far the best Premier League side this season, but they're also cruising towards the Champions League finals too. Everything seems to be going in their favor, which leads us to think the highly-anticipated Manchester derby will go in their favor as well.
But, will that really be the case? Well, let's find out!
Man City vs. Man Utd Betting Predictions
City and United have met twice in the Premier League last season. Both exited with a win, with the goal difference being a level 2:2. Over the past few years, despite City's exponential development, the two Manchester teams are still level-headed. Since 2018, both have five h2h wins and just one draw. Just something to think about coming into our Man City vs. Man Utd betting predictions!
Manchester City Betting Preview: Winning This Guarantees Superiority in Manchester
Is the Premier League title race over or is Liverpool, following City's defeat to Spurs recently, back on track and ready to pounce for the top spot? Well, much of this narrative depends on the outcome of the Manchester derby.
As mentioned in the intro, City has to win to assert their dominance and cut the talks of Premier League title race not going in their favor. But, their form isn't as brilliant as it once was. In the last five, City have lost one and drawn one. Not good, but not exactly terrible either.

Neither team will have major absentees for this one. We can expect both to enter the match with their primary eleven and showcase all of their might. Arguably, the Blues will have the advantage coming into this one. We're not just talking about home turf advantage but manpower advantage too. Despite not being in the best of forms, they'll have the crowd as their twelfth man and that will surely bring them right up to speed. In matches like these, it could even turn out to be the deciding factor.
One thing is certain – the Etihad will be on fire and I'm sure both teams will deliver an exceptional contest and awe the fans.
Manchester United Betting Preview: Is Manchester Really Red?
Moving on with these Man City vs. Man Utd betting picks, let's talk a bit about the red side of the city! Yep, the Red Devils! As you probably know, they're not exactly in the greatest form. Ole was sacked a long time ago and Rangnick is now serving as the interim manager. However, he's failed to get things going properly.
True, United are holding onto a Champions League spot ahead of this one. They're still alive in the ongoing season of the Champions League too, though the return fixture vs. Atletico Madrid will be all but straightforward. However, they're holding onto the Champions League spot because their direct challengers have played two and even three fewer matches. Once they catch up, it will be game over for the Red Devils.
Should they lose all three points against their sworn rivals from the other side of town, the Red Devils can bid their farewells to Champions League next season. That's a cold hard fact, right there!

Pep ought to expect a defensive-minded Manchester United, opting for possession instead of hard-pressure (which is Rangnick's forte). But, I wouldn't be surprised if Rangnick sticks with his typical gameplay and pushes straight into City right off the first whistle. True, United's players won't be able to hold onto the high-pressure tempo all game long… but if they pressure the opponents enough in the first half, they might get the goal they need early on.
Man City vs. Man Utd Betting Picks
It's time to wrap this puppy up so let's get right to it!
This match won't end as a draw, that's for sure! City is likely to win it, so betting on them at -250 does make perfect sense. However, we have to aim for the value in this one, and let's just say that +700 for Man Utd to win in the eternal Manchester derby is absolutely ridiculous.
Rangnick's men have the ability to accomplish this. They can take all three points; they have the quality to do so, no doubt about it. If they do, you'll be sorry for not placing at least a low-stake wager on their moneyline…