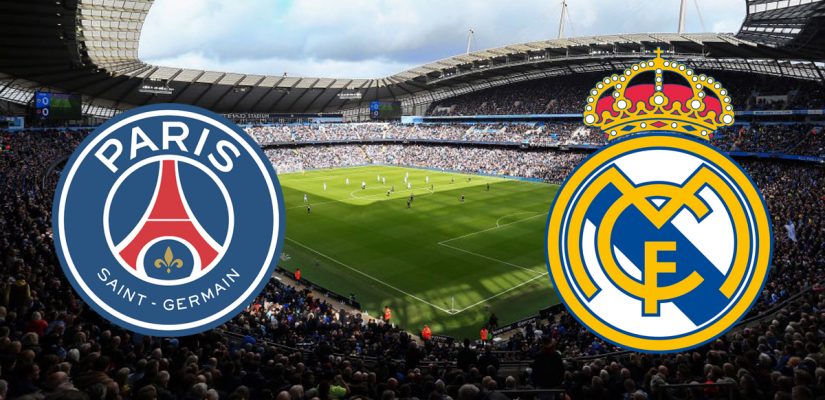 The return fixtures of Champions League first playoff round are scheduled for the upcoming two weeks. The first week, we'll get to enjoy a couple of classics, but the biggest clash is surely Real Madrid vs. PSG. The two heavyweights had a tough contest in the first leg, with PSG earning a minimal 1:0 lead ahead of the return fixture at Santiago Bernabeu.
If you're interested in Real Madrid vs. PSG betting lines, you've come to the right place. We're continuing our soccer betting coverage with this Champions League treat, so buckle up and enjoy the ride!
Real Madrid vs. PSG Betting Odds
Here are the odds for this Champions League matchup:
Both teams to score:
-134
Odds are subject to change!

As you can see, the odds are almost completely level here. Real Madrid have the slightest of advantages according to soccer bookmakers, but don't get it twisted – it's only because of the home turf advantage they'll have on Santiago Bernabeu.
Remember, though, away goal rule is no more meaning we're going to see a chaotic match no matter who scores the first goal here.
Real Madrid vs. PSG Betting Predictions
Real Madrid and PSG played a fine first leg in France. PSG had been labeled as the heavy favorites and while they did snatch the win, the one-goal advantage won't really mean that much in the second leg. Don't get me wrong – having that advantage will give them a bit of breathing space and could even open the door for possessive gameplay in the first half. However, one stray bullet behind Donnarumma and we're back on level terms!
So yeah, Real Madrid vs. PSG betting lines are nicely poised. On one end we have Real Madrid who are a goal behind but playing at home.
Real Madrid Betting Preview: Can Madrid Stay Live in the CL?
With La Liga basically in the bag, the question now is – Can Real Madrid survive the first round of CL playoffs and continue battling on two fronts? Well, there's a big battle ahead of them, that's for sure. Even though they played well away from home, Modric and the company lost 1:0 with Mbappe's late winner. Now, they find themselves against the ropes, but should feel comfortable and pounce right back at the Frenchmen.
Pick your free-kick taker ?#TBT | #UCL pic.twitter.com/IdKpwlW7YL

— UEFA Champions League (@ChampionsLeague) March 3, 2022

Real Madrid now eight points off Sevilla on top of La Liga standings. They're enjoying themselves out there, despite having one of the oldest starting rosters in the league. But, their age reflects experience and nothing short of that. Folks like Benzema, Modrić and Kroos might be well over 30, but they're still more than capable of dictating the tempo and scoring/assisting when their team needs it the most.
That said, Real Madrid's aging squad isn't necessarily bad for them. It's a double-edged sword, at the very least, one PSG will have to learn how to deal with if they are to travel back to Paris with a positive result.
PSG Betting Preview: The Parisians Looking as Strong as Ever
Despite losing to Nice earlier today, PSG are still considered as one of the strongest teams in Europe… perhaps the strongest after Pep's City and Klopp's Liverpool. Not only do the Parisians have a formidable starting roster packed with talented youngsters and experienced veterans, but they also have plenty of world-class individuals among their substitutes too.
I mean, we're talking about the team that has Neymar, Messi, and Mbappe… alongside at least fifteen more elite athletes that belong to the topmost echelons of international soccer. There's just no other way to introduce them, really.

As far as Ligue one goes, PSG might as well be crowned as the champions already. After 27 matches, PSG Has 62 points and are still thirteen points away from second-placed Nice… despite losing the h2h earlier today.
Mbappe and the company are a well-oiled machine and only a miracle can stop them from venturing in to the next round of 2022 Champions League playoffs… But let's not forget they're up against Real Madrid, a team well-known for effortlessly creating such miracles!
Real Madrid vs. PSG Betting Picks
We're almost done here! There's just one more thing we need to go through and that'd be concrete Real Madrid vs. PSG betting predictions. Here they come:
This match can go either way, really. There's no clear method of determining who will have the upper hand here. That said, we're much better off with both teams to score at -182 than any of the seemingly high-value moneylines.
That about wraps up our work for today, boy and girls.
Make sure you stay tuned to our sports predictions as we'll continue with our coverage early next week.
Stay safe!