In this Guide, we'll go over how to read form when betting on horse races, what factors you should look at to identify patterns in a horse's form, and how those patterns should impact your wagers. Without further ado, let's get into the guide!
---
Form provides one of the most accurate ways for a horse racing bettor to assess the horses in the field of a Thoroughbred race. The basic idea is that a horse that has been performing well heading into a race will be ready for another good effort.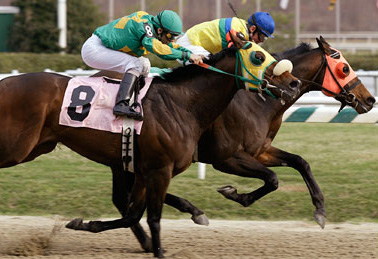 You can use it in many different ways and with other different factors to project how a race is going to turn out for your betting purposes.
If you're a horse racing fan, chances are you're a horse racing bettor.
Because most jurisdictions have long allowed legalized betting on horse racing, an intricate system of horse racing wagering has been honed through the years.
Those who bet on horse racing for real money have developed their own systems of handicapping the races. The term "handicapping" is just a fancy of way of describing the method for picking the horses they think will do well.
One of the best methods of determining who will do well in a horse race is one of the most obvious as well. If a horse has been racing well in recent starts, it stands to reason that it will perform well in its next ones.
By contrast, a horse that has been performing poorly isn't likely to do well in the next race coming up. The horse racing term for how a horse has been racing is form.
While form might sound simple, there is a lot that goes into figuring it out. You can keep it basic and look at the results that the horse has recently put up. But there are other factors beyond simple order of finish that making finding out form a little bit more complex.
The idea is to look beyond the results and try to be as accurate as possible about form. If you can roughly estimate the form of every horse in a particular race, you can perhaps use that to figure out just how the race will go. And you can then make your horse racing bets with a lot of confidence.
In the following article, we'll tell you all you need to know about using form to make horse racing bets. We'll explain the different ways of determining form. And we'll show you how to use it to your advantage to find horses that make for great value bets.
Apply What You've Learned
Below you'll find 4 of the best online racebooks anywhere online in 2022. These are safe environments to bet some real money on horse races.
What Is Horse Racing Form?
You'll hear the word "form" often whenever you hear horse racing commentators talking about a particular race. They might say that the horse was "in fine form." Or they'll talk about a horse needing a "return to form" to compete, or perhaps they'll even imply that the horse's "recent form" suggests that it won't be able to compete.
In all of these cases, form is just shorthand for a description of how well or poorly a horse has been racing. Form might be referring to the most recent races a horse has run, but it can also be traced throughout all the races in a horse's career. It's something that can be assessed from race to race or it can be a cumulative thing summing up all a horse's races from the past.
No matter how you assess it, it comes down to:
The horses with the best form generally have the best chance of winning a race or performing well.
The horses with the weakest form will be hard-pressed to figure anywhere in the outcome.
Obviously, determining form has very important betting applications. But it is an inexact science at best. You can survey a dozen bettors at the track, or from a top horse racing betting site, and they might all give you a different method for determining form.
The key for you as a horse racing bettor is to find a method that works for you. Let's talk about some of the ways to determine form so you can decide which style best fits your own handicapping.
Using Results to Determine Horse Racing Form

When you talk about a sports team or someone from an individual sport like boxing, wins and losses are usually the way to determine who is good and who is not so good.
In horse racing, results are also utilized by bettors who are trying to pinpoint a horse's form. And the good news is that the results of a horse are easily located in the applicable racing form or daily program.
First of all, you can go back through all of the horse's most recent races and see how it did in the official order of finish. These stats can be found at the end of the race lines that comprise the entry for that horse. The most recent lines are on the top (the date for each race can be found at the far left of each line).
For each particular race, you might see something like this:
4-3-3 (1 ½)-2 (1/2)-2 (hd)-4 (2)
The main numbers are the positions that the horse held throughout the race. In this particular race, the horse in question started from post position #4, was third early in the race, then made it to second in the middle portions of the race and at the top of the stretch, before eventually fading to fourth.
As for the smaller numbers to the top and right of the main number, these show how far the horse was behind the leader, in terms of lengths or smaller fractions.
"hd" means the horse was behind by a head
If the horse was ever ahead at any point during the race, those numbers on the top right would show how horse was in front of the horse closest to him.
If you want to look the most recent finishes for a horse to really put a fine point on the form, simply go to the last column of these numbers on the right and follow it down. That way, you could see if a horse is on a streak one way or another or has trouble maintaining consistency from race to race.
As for a bigger picture for a horse's results, you'll usually see something like this at the top right of its entry in the program page:
| | | | | | |
| --- | --- | --- | --- | --- | --- |
| Year | Starts | Wins | Places | Shows | Purse |
| 2020 | 9 | 3 | 1 | 2 | $24,650 |
| 2019 | 17 | 5 | 3 | 2 | $52,197 |
| Life | 42 | 11 | 8 | 6 | $183,295 |
For those who don't know, a place is a second-place finish, and a show is a third-place finish. The "Life" row reflects lifetime totals.
Using this chart, you can then determine what a horse's overall record is. And you could use it to compare to other horses in the field.
Looking Beyond Record to Find Horse Racing Form
A horse's record is a good way to start looking at form for horse racing betting. But it can be skewed a bit, in which case you might not be getting the full picture. That's why you should consider looking at a larger overview of a horse's past performances.
A horse might have won against weaker competition compared to others in the race. It could have had some sort of issues during the race that compromised its performance. Maybe the track condition was less than ideal of one of the days that it raced.
There are a million things that can either help of hurt a horse on its way to certain finish. Some of the other methods of finding form help to identify some of these factors and take them into account. Take a look at some of the most popular of these methods.
Watching the Races
Looking at a program to find out how a horse has done recently is fine if you don't have much else to go on when making your horse racing bet. But there is no real substitute for watching the races.
You can pick up little signs that might not be indicated on the program. And these signs can indicate form maybe even better than any amount of statistical information. As you watch more races, you'll not what to look for to help with your bets.
Did a horse finish a race strong, with its ears raised and finishing well? Or was its tongue dangling at the end of it, indicating fatigue? Was it blocked in any way or did it have to deal with interference, or did everything break right for the horse in terms of its trip?
Watching the races can help you identify value plays. Horse racing oddsmakers and those casual fans who bet on the races focus mainly on what can be found on the program page. But those who watch the races as much as possible get a much broader view of a horse's form, and can therefore tell who is underrated and overrated by the odds.
Race Notes
Let's say that you don't have the time to sit around watching hundreds of horse races to get a feel for the form of every horse in every race you want to bet. You can use race notes, which are included most programs and daily racing forms, to help you get the same kind of information without having to watch.
Race notes are extremely brief because they have to fit into a tiny space at the end of a program line. But these notes can tell you how a horse's race went beyond the actual result that it managed.
Once you learn how to use these notes, you might find some good value plays.
Here is one example of some typical race notes:
"Bumped at start, forced five-wide, came on at end willingly."
Chances are, the horse's results for this race weren't great. Yet you can tell from the notes that it faced circumstances that certainly made it difficult. It was bumped by another horse and got pushed wide around a turn, yet it still was fighting at the end of the race.
The next time that this horse races, there's a good chance that its racing luck won't be quite so bad. In other words, this horse could be primed for better results if things go its way a bit more. Using race notes can help you find these important pieces of information that the actual results might not show.
Speed Figures
To help bettors a bit, most tracks different sets of statistics that try to quantify the performance of a horse in a given race. The most common of these is the speed figure. Basically, the speed figure puts a number on the horse's effort on a given day regardless of where it finished in the race.
Speed figures take a lot of different factors into consideration. Obviously, there are the actual times that the horse puts up as it races. But the figures also take into account how the track was racing that day, in terms of being particularly fast or slow.
The distance of the race is an important part of the equation. Finally, the overall speed within that particular race factors into the speed figure as well.
When you're looking at form in horse racing betting, you should have everything as part of the picture, including every possible variable that affects performance. Speed figures attempt to give that to you in bite-size, easily-understandable form.
Once you have them, you can compare them. For example, you might say, "This horse has an average speed figure of 90 over its last three starts. Nobody else in this field has figures that high, so I think the horse will win."
Like everything else, speed figures are not accurate 100% of the time. But they are another tool in your horse racing betting toolbox to determine form.
FAQs About Form in Horse Racing Betting
Determining the form of a particular horse in past performances is one thing. But projecting its form in the race you're betting is the tricky part. It's a matter of trying to pinpoint what direction a horse is headed and estimating what it might do in a given race.
You'll find horses who move in a kind of linear fashion from race to race, especially young horses who are improving each time. But then there are horses that are more inconsistent. You can actually use that to your advantage as well, since other bettors might be scared away from an inconsistent horse, whereas you might be able to time when it's ready for a good outing as well.
Figuring out when improvement is coming or when a horse is going in the wrong direction form-wise is something you'll learn as you do more horse racing betting online. It's all a matter of gaining experience.
When a horse is racing steadily at regular intervals, you can usually estimate its form based on an average of its recent performances. But it gets a bit trickier when horses are laid off for a while. That's when it's a good idea to apply some handicapping strategies that have long been utilized by smart bettors.
Many horses need a start just to shake off the rust from a long layoff. As a result, it can be difficult to expect them to come out in top form in such a scenario. You might want to look elsewhere instead of relying on a horse coming back off a hiatus, especially if most of the rest of the field has been racing regularly.
Once that horse gets that start to "freshen up," as horse racing bettors say, it could be ready for a much better race the next time out. That's why you'll hear many bettors focusing on the second time off the layoff. Many times, a horse will be ready for a peak performance in that race.
As we said above, some horses are able to stay relatively consistent from race to race. But many other horses are more volatile from one start to the next. That's where the concept of a "bounce" comes into play.
A bounce can often occur after one start that is uncharacteristically good or bad with relation to a horse's form. The idea is that the next start will see the horse "bounce" back to previous form. Yet oddsmakers who judge the horses might use the most recent start as their basis, which could lead to bettors following suit.
With a bounce in play, you might be able to spot an undervalued horse. And doing that in horse racing betting means that you could conceivably win more on a relatively small wager.