The Olympic Games are widely considered to be the most important international sporting events that take place. Millions of individuals around the world tune in to cheer on their home country's athletes competing on the biggest stage. Recently, many of these viewers have grown interested in betting on the Olympics online. Today, our experts will provide an in-depth Olympics betting guide.
Both the Summer and Winter Olympic Games have massive fan bases. The Tokyo Summer Games have just wrapped up and the Winter Games in Beijing are just around the corner.
Here's what you need to know about betting on the world's biggest sporting competitions.
Contents of Our Olympics Betting Guide: Jump Ahead!
2022 Winter Olympics: What You Need to Know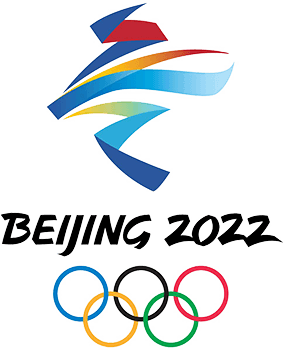 The Winter Olympics features a huge number of popular sporting events. The next Winter Games are slated to begin on February 4th of 2022. They are taking place in Beijing, China and will conclude on February 20th.
A huge amount of controversy has surrounded this upcoming event. Much of it has to do with the alleged human rights abuses by China toward the Uyghur minority in Western China. This has led many countries to announce diplomatic boycotts of this event.
The Covid-19 pandemic is showing no real signs of slowing down, yet officials in Beijing claim it will not have an impact on the Winter Olympic Games. That is fantastic news for the huge number of athletes ready to compete.
Below are some things that anyone interested in betting on the Winter Olympics online should know about. Also check out our blog section to keep up with everything you need to know about betting on the 2022 winter olympics.
---
Current 2022 Winter Olympics Odds Available Online
The upcoming Winter Olympic Games will draw in millions of viewers from around the world. A fairly sizable portion of these viewers will choose to bet on the events taking place in Beijing. Odds on these various events are already starting to be offered.
Below is a look at some online Beijing 2022 odds being offered at BetUS right now.
Odds to Win on the Men's Ice Hockey
Russian Olympic Committee
+160
Finland
+400
Sweden
+450
Canada
+600
Czech Republic
+800
USA
+1500
Switzerland
+2500
Germany
+2500
Slovakia
+5000
Latvia
+6500
Denmark
+8000
Ice Hockey is without a doubt one of the most popular Winter Olympic sports. Fans have some real opportunities to make early bets on which country's hockey team will take home gold. Keep in mind that these odds could change as the Games draw closer.
Odds on Which Country Will Win the Most Gold Medals
Norway
-500
Germany
+500
Russia
+1000
USA
+1500
Canada
+1600
Netherlands
+3300
China
+5000
Sweden
+8000
Switzerland
+12000
Norway has a history of major success at the Winter Olympic Games. The country has captured a total of 132 Winter Olympic gold medals and the oddsmakers clearly feel this nation's athletes will win the most gold medals in Beijing this year. Germany, Russia, and the United States are all solid picks to end up taking home to most gold, too.
Odds on Which Country Will Win the Most Medals
Norway
-700
Russian Olympic Committee
+900
Germany
+900
USA
+1200
Canada
+1200
Sweden
+6500
Switzerland
+10000
China
+10000
The odds here are very similar to the odds on which country will take home to most gold medals. This wager is just slightly more difficult to predict correctly. As a result, these odds are more lucrative for bettors. A few differences are apparent, notably, the USA's odds here bring dropped down to +1200.
More online Winter Olympic betting odds will become available as the Games approach. That includes odds on each event taking place and on individual athletes' performances.
Now, let's take a quick look at some of the athletes expected to do big things in Beijing.
2022 Winter Olympics Athletes to Watch
The Winter Olympic Games still do not generate as many viewers as the Summer Games. With that being said, the popularity of the Winter Games has increased every four years since it has been held. A huge number of global superstars have been created as a result of their performances in this global event.
Every athlete competing in Beijing is elite. Some are already generating a huge amount of hype leading into the Games.
Below are a few olympic athletes to watch right now.
Dusty Henricksen – Slopestyle Snowboarding
The United States is known for producing some of the best snowboarders in the world. Names such as Shaun White and Peter Line come to mind. 18-year-old Dusty Henricksen has been looking incredibly lately, most recently winning the slopestyle events at the X Games.
As most fans are aware, the US dominates the slopestyle event at the Winter Olympics every four years. There is reason to believe that Dusty Henricksen will accomplish exactly that this year. He seems to be constantly improving and this may just be the beginning for one of the country's most promising gold medal-hopefuls.
Alexandra Trusova – Figure Skating
Ice skating is one of the most competitive events held at the Winter Games. Every country that competes has elite skaters. Russia's Alexandra Trusova has been drawing major attention since winning bronze at the 2021 World Championships. She is also hugely accomplished as an amateur, being the first female skater to land the quad toe loop and to land two ratified quads during a free-style skating event.
Trusova is just 17 years old and is showing all of the potential in the world. It's unclear if she will enter the Games as one of the favorites to win gold. She is getting better every day and any fans of ice skating should make sure to keep an eye on how one of Russia's top athletes performs in Beijing.
Chris Lillis – Aerials
There may be no more dangerous Olympic events than aerials. Incredibly, no American has won an Olympic gold medal in this event since 1998. There is reason to believe that Chris Lillis will be the man to end the losing streak and anyone looking to bet on the 2022 Olympic Games may want to consider betting on him to do so.
Lillis missed his opportunity in 2018 due to an injury. He will likely enter this event with a chip on his shoulder and that could be what helps him to produce fireworks. It won't be easy, yet he could be the man to earn the US a gold medal in aerials.
Ireen Wuest – Speed Skating
The Netherlands tends to produce elite Winter Olympic athletes every four years. Ireen Wuest is considered one of the best speed skaters of all time and is looking to add to her legacy at the 2022 Games. She is now 35, however, and some question how long she can continue competing at the highest level.
The speed skating competition will be fiercer than ever in Beijing. It will be interesting to see the Winter Olympic betting odds on Wuest to win gold once again. If she does, it will be one of the most impressive feats in sports history.
These are just a few of the athletes that fans need to keep an eye on. Expect to see some superstars emerge once the Games begin to unfold!
[ Back to Top ↑ ]
Most Popular Sports to Bet On in the Olympics
With over 35 different events taking place between the winter and summer Olympics, the olympic betting options abound. If you're looking for the most popular events for Olympic bettors, you've come to the right place.
Betting on the Winter Olympics

The Winter Olympics features a huge number of popular sporting events. Many of the top online sportsbooks are already beginning to offer odds on the upcoming Winter Games. Certain sports seem to be drawing in more wagers than others.
Here is a look at the most popular Winter Olympic betting options.
Olympic Ice Hockey Betting
Olympic ice hockey has produced some of the most historic moments in all sports. The United States' 1980 gold medal win comes to mind. Hockey fans love watching the best national teams compete and many are now choosing to bet on this sport on a regular basis.
Betting on Olympic ice hockey works in the same way as betting on professional hockey. A variety of moneyline, over/under, and prop bets are available for different games. Many sites also allow their members to place future bets on which teams will end up winning the gold medal.
Olympic Ice Skating Betting
Ice skating is another sport with a very small fan base. Every four years, however, millions of people around the world tune in to watch the best skaters compete on the biggest stage. It might come as a surprise for some to hear that a huge number of people love to bet on Olympic ice skating, too.
There are always betting favorites and underdogs leading into Olympic skating events. Most of the time, online sportsbooks only allow members to make bets on which skaters will win the gold medal. Anyone that loves ice skating will love the betting options available for this sport.
Olympic Snowboard Betting
Betting fans love a good race. Every four years, the Winter Olympics features the best snowboarders on the planet competing for a gold medal. Many fans believe that Olympic snowboard betting is the most exciting option for betting on the Olympic Games.
Fans are treated to a huge number of snowboard races during the Games. Odds are provided for each of them. It takes a knowledge of the sport to make accurate wagers, yet these odds can offer some major payouts.
Winter sports fans are gearing up for an exciting event in February. There are a huge variety of unique sports betting odds available for these games. Below is a quick look at some of the other popular Winter Olympic sports you can bet on.
Olympic bobsleigh
Olympic freestyle skiing
Olympic luge
Olympic speed skating
Betting on the Summer Olympics

The Summer Olympic Games tend to draw in more viewers than the Winter Games. This is likely due to the fact that the Games during the summer are more traditionally found around the world.
And for the past several years, the most anticipated and talked about Olympic games have been competitions in swimming, gymnastics, and track and field. And now, there is even more action for avid fans to enjoy as the International Olympics Committee has added five new sports including skateboarding, sports climbing, surfing, baseball/softball, and karate to the 2021 program.
Here is a quick look at some popular Summer Olympic betting options.
Olympic Track and Field Betting
Olympic track and field have produced a huge number of global superstars over the years. Names such as Usain Bolt, Michael Johnson, and Carl Lewis come to mind. Track and field tends to be one of the most-viewed Olympic sports and many love to bet on different races' outcomes.
Betting on track and field is easy!
Many online sportsbooks provide great moneyline odds for individual races. They will often provide odds on which athlete will win a gold medal in their respective racing events. Expect to find some unique prop bets for these races, too.
Olympic Gymnastics Betting
Every four years, the Olympic Games puts gymnastics in the spotlight. Like track and field, Olympic gymnastics has produced a huge number of true sports stars over the past few decades. Betting on Olympic gymnastics is easier and more popular now than ever before in history.
There are many different gymnastic events that take place during the Olympics. That includes the balance beam, parallel bars, and various floor exercises. Expect to find great odds being provided for all of these events.
Olympic Swimming Betting
Swimming is arguably the most exciting Summer Olympic event. This sport has produced big names such as Michael Phelps and Caeleb Dressel over the years. People love to bet on Olympic swimming online.
Betting on Olympic swimming is often similar to horse race betting. Viewers are hoping to see the athlete they pick reach the finish line first and the results often come down to just inches. There is perhaps no more exciting Olympic sport to bet on than swimming and nearly all online sports betting sites offer odds on the big races.
These are far from the only popular Summer Olympic sports you can bet on. Below are just a few of the other sports that fans around the world enjoy placing bets on every four years.
Olympic boxing
Olympic basketball
Olympic soccer
Olympic water polo
[ Back to Top ↑ ]
How to Bet on the Olympics
For one reason or another, the Olympic Games have not been drawing in the level of viewership that they did just a couple of decades ago. That doesn't mean these events fly under the radar. Hundreds of millions of people still tune in to watch the Summer and Winter Games unfold.
As online sports betting grows more popular around the world, so does Olympic betting. Many are now choosing to make their Olympic bets online. This is easier now than ever before. In fact, a huge number of fantastic Olympic betting sites are currently available.
Several steps need to be taken in order for fans to bet on the Olympic Games. Check them out below.

Find the Right Online Sportsbook
The first, and likely most obvious, step to begin betting on the Olympic Games online is to find a site that offers Olympic betting odds on it. A huge number of online sportsbooks now provide Olympic betting odds. The important thing is finding one that is safe and provides a variety of great wagering options.
We'll highlight some of the best Olympic betting sites further down this page. Each of them is fantastic. Spend some time looking at these sites and feel free to take a look at the unique promotions they are offering.
Deposit Money Into Your Sports Betting Account
After joining a site, you'll need to deposit money into your account. Most sites make this extremely easy to do. Some of the most common deposit options include bank transfers, crypto payments, and E-wallet transfers.
Choose the amount of money your first deposit wisely. Those new to real money sports betting may want to start with a small transfer while they learn the ropes. After getting some money into your account, you will be ready to start placing wagers.
Look for Olympic Betting Options Online
Betting on the Olympic Games can be very lucrative. Of course, these wagering options are only available when the Games are taking place. Assuming there is an Olympic event taking place, it should be easy to find odds on the Games through the online sportsbook you have joined.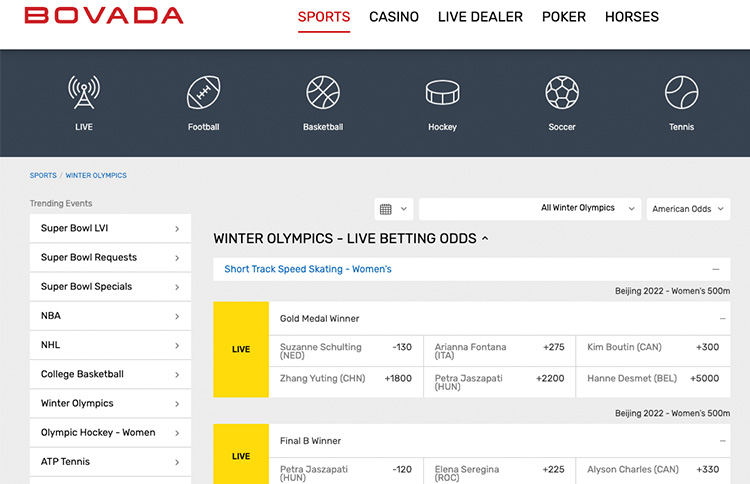 Most of the top Olympic betting sites operating today provide a huge range of unique wagering options. That includes moneyline odds, prop bets, and more. Find the odds you are looking for and come up with your official prediction.
Make Your Bets
Lastly, you will need to place your wagers. Choose the bet you want to make and enter in the amount of money you want to wager. Most online sportsbooks will clearly list the amount of return you will earn with any given bet.
After making your bet, sit back and enjoy the action!
There is nothing more exciting than watching the best athletes from around the world competing against each other, especially when there is money on the line.
The process is really that simple. Perhaps the most difficult part is finding the perfect online sportsbook for Olympics betting. Allow us to help.
Below are a couple of online sportsbooks known for providing fantastic real money Olympic betting options.
[ Back to Top ↑ ]
Top Olympic Betting Sites
The online sports betting industry has grown tremendously over the past decade. Nowadays, it's easy to find betting websites that provide odds on just about every single major sporting event taking place around the world. That includes odds on the Summer and Winter Games.
Our experts have taken a close look at just about all of the different Olympic betting sites that are operating today. We've come up with a unique system to review each of these sites. Below is a quick look at some of the most popular sites for real money Olympic betting we have come across.
Bovada

Bovada is a hugely popular online sports betting site that is highly regarded as one of the top online sportsbooks for bettors. This online sportsbook has captured a huge share of the US sports betting market. It's sleek, easy to use, and has some fantastic promotions available to new and existing members.
Bovada always offers great Olympic betting odds on the Summer and Winter Games. Finding these odds is very easy thanks to the site's fantastic user interface. A great customer support system is set in place here that will be available to answer questions, 24/7.
What Makes Bovada Stand Out?
Sleek, sophisticated website layout.
Helpful customer support system.
Fantastic promotions for new and existing members.
Live betting options.
BetUS

Longtime sports betting fans in the US are likely well aware of BetUS. This site has been around for many years and is known for its major sponsorships with high-profile athletes. There is no doubt that BetUS is one of the top Olympic betting websites operating today.
The design of this online sportsbook is fantastic. It's modern without being too complicated. It provides a huge variety of betting options for the Summer and Winter Games and offers its members a variety of secure payment options.
What Makes BetUS Stand Out?
Modern, simple design and user interface.
Wide variety of Olympic betting odds.
Last-minute betting options.
Unique prop bets.
[ Back to Top ↑ ]
Olympic Bets Available Online
Sports betting is just slowly beginning to gain popularity in many parts of the world. Many are completely unaware that it is possible to bet on the Olympic Games at all. Thanks to sites such as Bovada and BetUS, Olympic online sports betting is quickly gaining more popularity.
There are now a huge variety of unique Olympic betting options available. The specific types of Olympic betting options vary from site to site. Below are three of the most common types of Olympic Bets you are likely to come across.
Olympic Moneyline Betting
Moneyline betting is the most common form of sports betting. It's also the easiest, making it a popular option for beginners. Essentially, this is just a bet on which team, or player, or fighter, will win any given match.
Betting ODDS
Country

Odds

US

-110

France

+110
In this example, the US is the favorite to win.
The number -110 indicates the amount of money a bettor would need to wager in order to win $100. Therefore, a bet of $110 would need to be placed. If the US wins (and chances are they will because they are the favorite), the bettor would keep their bet and gain $100.
France is the underdog in the example, being the least likely of the two to win. +110 represents the amount of money a bettor would win when they bet $100 on the dog. Those looking to take a chance on France in this scenario would gain $110 on a $100 bet should there be an upset!
Olympic moneyline betting is very easy to do. Most online sportsbooks provide moneyline odds for almost every single sport. Bettors simply choose which athletes or teams they believe will win a certain event and enter the amount of money they are willing to risk.
Point Spreads Betting
This form of betting on the Olympics for real money involves an artificial handicap placed on the favorite to win. The points are spread out and each individual or team must cover a spread in order to be considered a win. The entire goal is to increase betting on the underdog team.
Let's look to another example to illustrate our point:
Betting ODDS
Country

Odds

US

-5.5 (-110)

France

+5.5 (-110)
In this case, the US is the 5.5-point favorite over France. France is the 5.5 underdog. Betting on the US will only result in a win if they can beat France by 6 or more points. Betting on France (the underdog) will result in a win if they can outright win or lose by 5 points or less.
Olympic Over/Under Betting
Some believe that the best Olympic bets are actually over/under wagers. These types of wagers are extremely popular on professional sporting events. Over/under betting is essentially a prediction on the statistics of a certain game or match. More often than not, this is a bet on whether or not a game will go above or below a certain number of points.
Here is an example involving an over/under bet for total UK gold medals. The two betting scenarios are if the UK will gain more than 25 gold medals or gain fewer than 25 gold medals, with respective odds.
Betting ODDS
Total

Odds

OVER

25.5 (-110)

UNDER

25.5 (+110)
Olympic boxing is a popular event for sports betting fans. For this sport, over/under odds are on whether or not individual boxing matches will go above or below a certain number of rounds. Nearly all of the top Olympics betting sites operating today provide Olympic over/under odds.
Olympic Prop Betting
Prop bets come in all shapes and sizes. These are wagers on individual aspects of various sporting events. They can be extremely unique and even non-sporting related, with wagers such as whether or not two players shake hands often being available.
Olympic prop bets are offered by many of the best online sportsbooks in the world. The odds for these unique wagers usually offer far more lucrative payouts than traditional bets. They are riskier, too.
The Olympics have struggled to generate viewers in recent years. There are many theories as to why exactly that is. Some claim the Games need a mega-star capable of drawing in interest from around the world.
Some Olympic sports are known to be more popular than others. Our experts have also noticed that some of these sports are far more popular to bet on, too.
Olympic Futures Betting
Just as the name implies, these are bets on the Olympics that can be placed well in advance before its commencement. One of the most common types of Olympics future bets is which country will bring home the most gold medals. It is a basic moneyline bet, but the key difference is that it can be placed long before the Olympics even begin.
Olympic Live Betting
If you're looking for betting lines and odds that are continually updated in real-time according to action, Olympic live betting is sure to be up your alley! Each site we recommend for betting on the Olympics has live betting options for your convenience.
[ Back to Top ↑ ]
Olympic Betting for Mobile
As we mentioned earlier, it's easier to bet on the Olympics now than ever before in history. In fact, fans of the Games are now able to bet on the Games at any time, from anywhere using just a phone. Mobile Olympic betting is easy, and many prefer this form of wagering over betting using a desktop computer.
Mobile Olympic real money betting sites are easy to find. The online sportsbooks our experts listed higher up this page are known for providing fantastic mobile platforms.
This form of Olympics betting is very easy. It works in the same way as Olympic betting using a computer. Simply join a site, find the sports you want to wager on, and enter in the amount of money you want to wager.
Our team has looked at and reviewed many of the best mobile sports betting sites operating today. Many of these sites offer real money Olympic betting options. Feel free to check out our mobile betting sites review page here!
[ Back to Top ↑ ]
Olympic Betting FAQ
Sports betting is growing more popular around the world every single year. Much of this is due to various countries and states embracing this form of gambling. Regulations toward sports betting vary depending on where you are. We highly recommend reading up on the specific regulations toward sports betting in your location before deciding to make any Olympic bets.
Promotions have helped many online sports betting sites gain exposure over the past decade. Most of the ones operating today offer welcome bonuses, reload bonuses and crypto-specific bonuses.
Olympic betting has grown considerably more popular over the past decade. The most popular Olympic sports to bet on are Olympic track and field, swimming, ice hockey, and snowboarding. Each of these sports has massive fan bases around the country.
Real money sports betting can offer major payouts to those who win. Of course, consistently winning sports bets requires a huge amount of knowledge and skill. There is no real limit to the amount of money that can be won on Olympic betting, yet it's always smart to start out betting small amounts of money while you learn the best ways to win.
The Summer and Winter Olympic Games are both hugely popular around the world. The Summer Games feature sports more commonly found around the world, making it the more popular option for bettors. The Winter Olympics are very exciting, however, and some of the winter events offer very lucrative online betting opportunities.
[ Back to Top ↑ ]