On Sunday, February 13, the 56th annual Super Bowl will be taking place at the SoFi Stadium in Inglewood, California. This championship game is still some time away, yet many football fans are already looking forward to betting on its outcome. Today, our experts will offer the ultimate guide to Super Bowl prop betting.
Prop betting has grown considerably more popular over the past few years. There is perhaps a no better time to make prop bets than on the annual NFL Championship game.
Here's what you need to know.
Best Super Bowl Prop Bets
Some readers may now be ready to start making bets. Others, however, may still be completely unaware of what NFL prop betting even is. The truth is these wagers can vary greatly, yet all share a common characteristic.
To put it simply, prop bets are wagers not tied directly to the final score or ultimate outcome of a match. That means these bets can be on virtually any other aspect of a game. The Super Bowl is the biggest sporting event in the US and there are understandably a huge number of unique prop bets for the Super Bowl being offered every year.
Below are a few of the most common super bowl prop bets you will likely come across.
Bet on the 2022 Super Bowl MVP Winner
| | |
| --- | --- |
| | |
| Matthew Stafford | +120 |
| Joe Burrow | +225 |
| Cooper Kupp | +550 |
| Aaron Donald | +900 |
| Ja'Marr Chase | +1600 |
| Odell Beckham Jr. | +2800 |
| Joe Mixon | +3300 |
| Cam Akers | +3300 |
| Von Miller | +3300 |
| Evan McPherson | +3300 |
| Jalen Ramsey | +4000 |
| Tee Higgens | +5000 |
| Sony Michel | +5000 |
| Tyler Boyd | +6600 |
| Trey Hendrickson | +8000 |
| Eric Weddle | +10000 |
| Matt Gay | +10000 |
| Kendall Blanton | +10000 |
| Van Jefferson | +10000 |
| Tyler Higbee | +10000 |
| CJ Uzomah | +10000 |
| Sam Hubbard | +15000 |
| B.J. Hill | +15000 |
| Eli Apple | +20000 |
| Vonn Bell | +20000 |
| Samaje Perine | +20000 |
| Drew Sample | +20000 |
*Odds courtesy of BetOnline
One of the best Super Bowl prop bets is on which player is named the game's MVP. Many will be surprised to find these odds are available long before the Super Bowl game even takes place. The odds for this wager can offer some massive payouts to bettors.
More often than not, the most successful quarterback of a Super Bowl game wins the MVP award. Look at history and you will find that the vast majority of MVP winners were quarterbacks. Below is a quick chart that details the past winners.
Super Bowl MVP Winners by Position
Position
# of Winners
% of Winners
QB
30
55%
WR
7
13%
Safety
2
4%
RB*
7
13%
Linebacker
4
7%
Kick Returner
1
2%
Defensive Tackle
1
2%
Defensive End
2
4%
Cornerback
1
2%
Super Bowl MVP Winners History
Year
Super Bowl
Winner
Team
Position
Off/Def
2020
54
Patrick Mahomes
Chiefs
QB
Offense
2019
53
Julian Edelman
Patriots
WR
Offense
2018
52
Nick Foles
Eagles
QB
Offense
2017
51
Tom Brady
Patriots
QB
Offense
2016
50
Von Miller
Broncos
Linebacker
Defense
2015
49
Tom Brady
Patriots
QB
Offense
2014
48
Malcolm Smith
Seahawks
Linebacker
Defense
2013
47
Joe Flacco
Ravens
QB
Offense
2012
46
Eli Manning
Giants
QB
Offense
2011
45
Aaron Rodgers
Packers
QB
Offense
2010
44
Drew Brees
Saints
QB
Offense
2009
43
Santonio Holmes
Steelers
WR
Offense
2008
42
Eli Manning
Giants
QB
Offense
2007
41
Peyton Manning
Colts
QB
Offense
2006
40
Hines Ward
Steelers
WR
Offense
2005
39
Deion Branch
Patriots
WR
Offense
2004
38
Tom Brady
Patriots
QB
Offense
2003
37
Dexter Jackson
Buccaneers
Safety
Defense
2002
36
Tom Brady
Patriots
QB
Offense
2001
35
Ray Lewis
Ravens
Linebacker
Defense
2000
34
Kurt Warner
Rams
QB
Offense
1999
33
John Elway
Broncos
QB
Offense
1998
32
Terrell Davis
Broncos
RB
Offense
1997
31
Desmond Howard
Packers
Kick returner
Special
1996
30
Larry Brown
Cowboys
Cornerback
Defense
1995
29
Steve Young
49ers
QB
Offense
1994
28
Emmitt Smith
Cowboys
RB
Offense
1993
27
Troy Aikman
Cowboys
QB
Offense
1992
26
Mark Rypien
Redskins
QB
Offense
1991
25
Ottis Anderson
Giants
RB
Offense
1990
24
Joe Montana
49ers
QB
Offense
1989
23
Jerry Rice
49ers
WR
Offense
1988
22
Doug Williams
Redskins
QB
Offense
1987
21
Phil Simms
Giants
QB
Offense
1986
20
Richard Dent
Bears
Defensive End
Defense
1985
19
Joe Montana
49ers
QB
Offense
1984
18
Marcus Allen
Raiders
RB
Offense
1983
17
John Riggins
Redskins
RB
Offense
1982
16
Joe Montana
49ers
QB
Offense
1981
15
Jim Plunkett
Raiders
QB
Offense
1980
14
Terry Bradshaw
Steelers
QB
Offense
1979
13
Terry Bradshaw
Steelers
QB
Offense
1978
12
Harvey Martin
Cowboys
Defensive End
Defense
1978
12
Randy White
Cowboys
Defensive Tackle
Defense
1977
11
Fred Biletnikoff
Raiders
WR
Offense
1976
10
Lynn Swann
Steelers
WR
Offense
1975
9
Franco Harris
Steelers
RB
Offense
1974
8
Larry Csonka
Dolphins
RB
Offense
1973
7
Jake Scott
Dolphins
Safety
Defense
1972
6
Roger Staubach
Cowboys
QB
Offense
1971
5
Chuck Howley
Cowboys
Linebacker
Defense
1970
4
Len Dawson
Chiefs
QB
Offense
1969
3
Joe Namath
Jets
QB
Offense
1968
2
Bart Starr
Packers
QB
Offense
1967
1
Bart Starr
Packers
QB
Offense
Bet on the First Team to Score
A very popular Super Bowl prop betting option is on which team will manage to score first. This is often a very difficult bet to choose correctly. The Super Bowl is featuring the best teams in the league and oftentimes, the first team to score first is simply which one wins a coin toss.
Which Team Will Score First?
Team:

Odds

Rams

-143

Bengals

+109
The odds here will not exactly offer major payouts. Unless one team is a massive favorite, it's common for these odds to be dead even. Still, it's a fun way to get involved in the earliest portion of the game.
Bet on Which Player Scores the First Touchdown
According to some reports, this is the most popular prop bet for the Super Bowl placed every year. It allows bettors to make a wager on which player on either team will score a touchdown first. Much like betting on the first team to score, this is a very difficult one to predict. Wide receivers are often at the top of the odds here.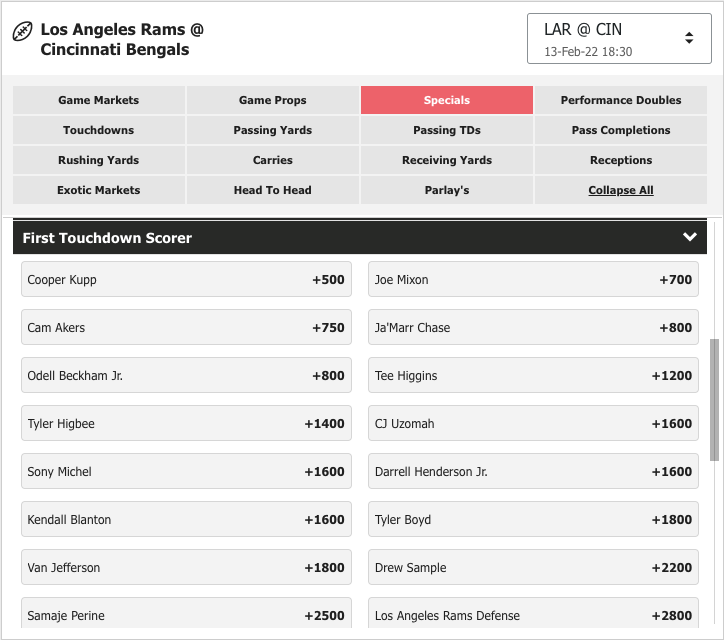 Runningbacks and fullbacks might come next. There is often time incredibly lucrative odds available for players in other positions to score the first touchdown of a Super Bowl game.
Bet on the Color of Gatorade Thrown on a Winning Coach
One of the most beloved Super Bowl traditions is the winning team of a Super Bowl throwing a bucket of Gatorade on their coach. It happens every single year. Lately, nearly all online sports betting sites have started offering their members odds on the color of the Gatorade thrown on the winning coach.
What Color Gatorade Will Be Poured on the Winning Coach?
Color:

Odds

Lime/Green/Yellow

+250

Orange

+350

Red

+750

Clear/Water

+160

Blue

+400

Purple

+1200
Certain colors are more popular than others. Lime/yellow/green, for example, is the most popular color thrown on a coach. Orange comes next. Anything is possible here, however, and this bet can offer some massive payouts to those that choose correctly.
Bet on the National Anthem and Super Bowl Halftime Show
Every year people watch with anticipation because you never know what's going to happen during the Super Bowl Halftime show (insert "wardrobe malfunction" joke here) and this year is no exception.
So it's always fun to see the list of prop bets available for this category.
Below are just some of the most interesting halftime and National Anthem Prop bets available for Super Bowl 56.
Artist To Perform First.
Will Any Part Of Eminem's Performance Be Censored?
Will Eminem Make A Political Statement During The Super Bowl 56 Halftime Show?
Will A Brand New Song Feature During The Super Bowl 56 Halftime Show?
Will All Five Artists Collaborate Together For A Song?
What Will Eminem's First Song Be?
How Many Songs Will Be Played During The Super Bowl 56 Halftime Show?
Will Snoop Dogg Smoke On Stage?
Color of Mickey Guyton's outfit when she sings the anthem.
Will a scoring drive during the game be shorter than the anthem?
Will Mickey Guyton forget or omit a word?
---
These are just a few examples of the available 2022 Super Bowl prop bets. There are a huge number of fantastic prop betting options available right now. Spend some time looking over these bets to find the odds that are best for you!
Top Super Bowl Prop Betting Sites Right Now
Sports betting is easier and more popular around the US now than ever before. More than half the country has chosen to regulate sports gambling. A huge number of fantastic online sportsbooks are already up and running in every single state.
Just about every single sports betting website will be offering odds on the upcoming Super Bowl. Not all will provide a huge number of unique Super Bowl LVI prop betting options, though.
Our team has looked through nearly every single online sportsbook operating today. Below are three of the best online sportsbooks offering prop bets for the 2022 Super Bowl.
BetOnline: 50% Welcome Bonus

BetOnline has gained a reputation as one of the best online sportsbooks in the world over the past few years. It has everything that a bettor could want in an online sportsbook. That includes a fantastic design, a huge variety of odds, and solid customer support options.
The welcome bonus here won't blow anyone away. It's a modest 50% welcome bonus of up to $1,000. Our experts still believe this site is one of the best offering Super Bowl LVI prop betting options and highly recommend our readers to check it out.
BetUS: 150% Welcome Bonus

BetUS is a popular US online sportsbook, yet it has never generated the same name recognition as some of the other betting websites operating today. It seems to be gaining more users every month lately thanks to its great odds and solid promotions.
Our team loves the unique Super Bowl prop betting options available at BetUS. We also feel that the 150% welcome bonus offered here is one of the best available online. This is a great site for anyone looking to bet on football online and, in particular, the 2022 Super Bowl.
Bovada: 75% Welcome Bonus

Bovada is perhaps the most well-known online sportsbook operating in the United States right now. It has gained a huge user base over the past few years for several reasons. That includes is sleek, modern design and fantastic betting options across both major and smaller fringe sports.
The 75% welcome bonus here is fantastic. Interestingly, this is a crypto-only bonus and is good for up to $750. Bovada is showing no signs of going away and is set to begin offering a huge variety of the best Super Bowl prop bets as the big game approaches.
These are just a few of the fantastic online sportsbooks offering fantastic 2022 Super Bowl prop betting options. Feel free to head over to our full reviews page here to learn more about many of the top online sportsbooks operating around the world right now.
How to Place a Prop Bet on the 2022 Super Bowl
It's easier to bet on sports today than ever before in history. As we just pointed out, a huge number of incredible NFL betting websites are operating today. There are still a few steps that everyone will need to take to begin making Super Bowl prop bets online.
That is not to say this process is difficult in any way. Below are three basic steps everyone can take to begin making prop bets on Super Bowl LVI.
Find the Right Online Sportsbook
The first and likely most obvious step is to find an online sports betting site. In this case, that means finding a top online sportsbook offering 2022 Super Bowl prop betting options! That should be easy, as nearly all sports betting sites operating today provide these wagering odds.
The trick is also finding a safe sports betting site that provides other key features like a safe payment system and a great design. There are plenty of them out there right now. That includes the three listed higher up on this page.
Make a Deposit into Your Sportsbook Account
The next step will be to make a deposit into your online sports betting account. Every site will offer a unique variety of deposit options. Most will allow these deposits to be made using traditional bank cards and cryptocurrencies. Fees should be low and these payments should be processed instantly.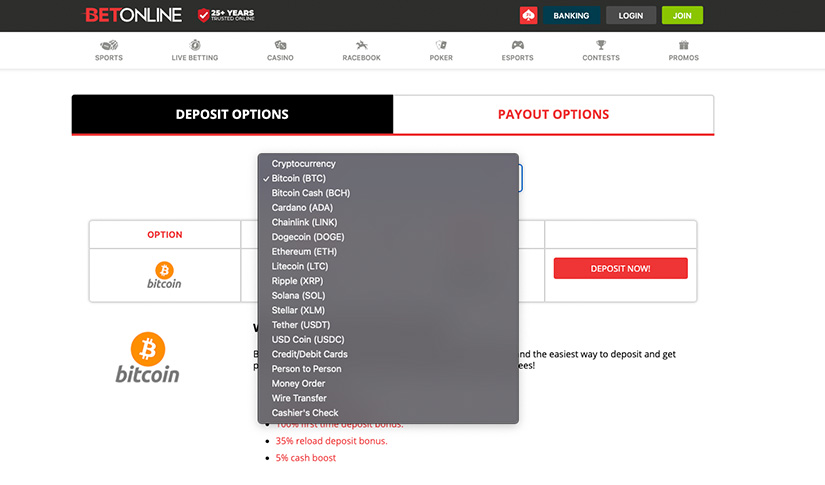 It's at this point that you can choose to utilize a unique welcome bonus, too. This will add a certain amount of money on top of whatever you first deposit into your account. Make sure to read the terms and conditions of every single promotion you are interested in using.
Locate the Super Bowl LVI Prop Betting Odds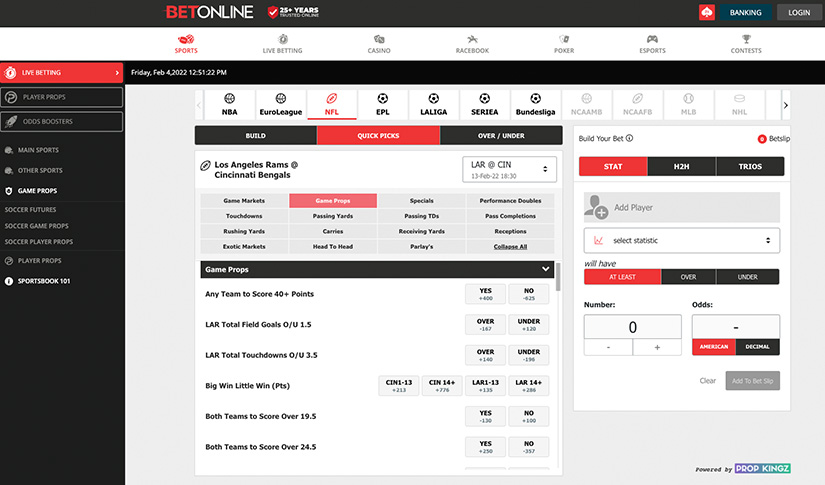 It should be easy to find the list of Super Bowl prop betting options available by different online sports betting sites. Some of these sites are known to offer more of these options than others. Some will even allow their members to make completely random wagers, such as what color of Gatorade is thrown on the winning team's coach.
Spend a little time narrowing down the specific prop betting options you are looking for. You may notice that some of these prop bets for the 2022 Super Bowl are offering incredibly lucrative odds.
Keep in mind that these types of bets are generally very difficult to pick correctly.
Make Your Wagers
At this point, you will be ready to start making your bets. Great! This process works almost exactly the same way across all major online sports betting sites. You simply pick the odds you want to bet on and enter in the amount of money you want to risk.
From here, simply cross your fingers and hope for the best. Super Bowl prop betting makes the biggest day in sports even more exciting. Enjoy watching the best teams compete and seeing if your bets are correct.
Super Bowl 56 Prop Betting Tips and Strategies
Football betting is not an exact science. Even the best analysts will have a fairly difficult time finding consistent success-making bets on the NFL. There are still some valuable Super Bowl betting strategies that will help everyone find success.
Keep Track of Injury Reports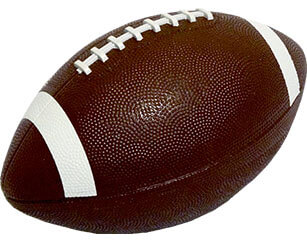 Many of the Super Bowl bets available right now center around players. That includes the aforementioned wager on which player will score the first touchdown. Staying on top of injury reports can often help bettors make the correct picks.
If an injury is serious enough, a player will likely not end up competing. Sometimes, however, these reports can be extremely helpful. Always keep an eye out for injured players and make sure to weigh the pros and cons of betting on them.
Look Back at History
It's incredible how often history repeats itself in the NFL. Looking back at previous results can often help to make winning bets in future games. Our experts often recommend taking a close look at previous Super Bowl prop betting results before making these wagers of your own.
That is not to say that past performances will guarantee winning bets in the future. Anything is possible in professional football. Most experts will recommend taking a look at these past winning bets before making your own, though.
Understand How Different Odds Work
Not all football odds are the same. Oftentimes, bettors will see hugely lucrative odds and imagine the possibilities of winning big. It's important to understand all the different odds before putting any money down.
Prop bets come in a variety of forms. Some can provide truly massive payouts. Know what you are risking and always do research into why the odds you have come across are set in the way that they are.
Always Look for the Best Odds
Many bettors may have already signed up at an online sportsbook. It can be a great idea to shop around for different odds before making any bets, though. All Super Bowl betting sites are different and some sites are known for providing better odds than others.
Each of the NFL betting sites we listed above are fantastic. The specific number of 2022 Super Bowl prop odds are different for them. We always recommend shopping for the best odds and being willing to join new sites if it makes sense.
Online Super Bowl Prop Betting FAQ
Finding great Super Bowl betting odds is easier today than ever before. A huge number of online sportsbooks are operating today that provide fantastic Super Bowl prop wagering options. Make sure to
check out the top online betting sites
listed at the top of this page
.
The Super Bowl is the most-bet-on sporting event every year. Super Bowl 56 prop bets offer fans some massive opportunities to win big. These types of bets can vary greatly, yet most agree that prop bets are more difficult to predict than traditional football wagers.
The specific number of prop bets for the Super Bowl varies from site to site. You can expect to find odds on things like the game's MVP winner, first player to score, and halftime total score being offered.
Sports betting has become more widely accepted over the past few years. There are now fantastic online sportsbooks available throughout the entire United States. We always recommend our readers to read about the specific rules toward sports betting in their location before deciding to join an online sportsbook, though.
There is no limit to the amount that can be won making Super Bowl 56 prop bets. The most successful bettors are the ones that do research and bet within their means. It's unlikely that you will find any betting site limiting the amount of money you can win.
Football is the country's most popular sport and the Super Bowl is the most popular game of the year to bet on. For that reason, nearly all betting sites provide unique Super Bowl prop betting options. Some are known to offer more of these types of bets than others.