I've had an account at SportsInsights.com for about 4 months now, so I think I know the ins and outs of it enough to write a review of the product/service.
What is Sports Insights?
Just to give a general introduction to the product, SportsInsights.com offers a live odds feed for a number of sportsbooks and sports, with exclusive information that can help you beat the sports betting markets. Included in the live odds feed is information on % of bets being placed on either side, line movement, key injuries, weather and more. They also provide information on square plays, steam moves, smart money, and their own best bets using the data they have.
An In-depth Look at SportsInsights
First of all I highly recommend you sign up for the "Sportsbook Insider Pro" membership, instead of the lower priced premium or standard addition. The difference between the premium and pro is that with the pro account you will get steam and sharp money alerts, along with the Sports Insights best bets (which have made me a lot of money). You will also receive betting trends, access to the smart phone app, and more.
After signing up and logging into your account you will be able to launch the live odds feed which can be seen below:
I'm not sure if you can make everything out in the image above, but you will I have my settings set to view MLB, NCAAF, and NFL football currently. It lists each game on the betting board, followed by the number of bets placed on the game that they have information on, the percentage of bets on each side (moneyline, spread, o/u), and then the odds at the different sportsbooks.
One of the great things about SportsInsights is that you can customize everything. I have it set for the sports that I wager on, and the sportsbooks that I have money deposited at. This way when I want to make a wager on a team I can login and see exactly where I will find the best odds, login to that betting site and place my bet.
Along the left hand side you will see their betting system results for each sport, and it allows you to click on any of the systems to get more in-depth information (more on that in a minute). Under that you will see a live alerts feed that updates with system plays, along with major injuries and updates.
The SportsInsights Betting Systems: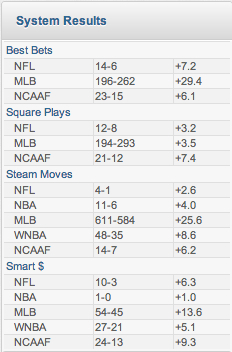 Within the odds platform you will get access to their four betting systems I touched on in the introduction.
The smart money system alerts you on movements in the opposite direction of public betting trends (as this shows you signs of a pro betting syndicate placing money on the other side).
The steam moves system alerts you when a number of books change a line in one direction, which is called "steam" on a team or a side of a total.
The square system notifies you on the day's most lopsided plays. If a side is getting a high % of bets (think 70%), but there is little to no line movement this is often a public or square play.
The best bets are hand picked by the Sports Insights staff and are chosen looking at the information from the above systems.
So how do these betting systems perform?
Probably the best I've seen for any system/handicapper to be honest. Using analytics and watching line movements they've created systems that all seem to profit in the long term. Check out the snapshot to the right of each system to date right now.
In the backend you can view each system and look at past results for any sport you'd like to see. Below is a snap shot of their NFL picks from the last three weeks from their "best bets" system (which is the one I recommend following). As you can see they are 11-2 against the spread over the last three weeks.

Line Watcher
Another one of the many great features when signing up for a pro membership is the "Line Watcher". If you are looking at betting a game but don't like where the line is at right now (or you think it will improve) you can set up an alert for line movement. For example, this week I am looking to wager on Carolina Panthers +3 if the line moves up to +3 from +2.5. I logged into the Line Watcher and set an email alert for the Panthers +3 at -125 or better. If the line moves at any of the sportsbooks I've set my alerts for it will send me an email so I can quickly login and place the bet if I still chose to.
BetLabs
This is an upgrade to the pro membership, but is something that every bettor who enjoys making their own picks will want to have. BetLabs is a software that allows you to create your own betting systems.  Basically what you do is pick your sport and choose filters to see if you can find profitable systems.
For example, below I logged into the software and looked at NFL underdogs that were visitings teams and were coming off a losing streak between 1-4 games.  The record of teams that fit that system from data dating back to 2006 is 262-217 or 54.7% for +3,315 for a $100 bettor.  This also produced an ROI of 6.9%.  This one was system that I thought would be profitable because no one likes to bet on an underdog on the road that has been playing poorly lately.
Do you have your own idea for betting systems?  You can find out if MLB games are profitable betting the OVER in weather over 70 degrees.  Or if it is profitable betting on NBA teams that have lost 2-5 games in a row but are favorites.  You can also get crazy with BetLabs and look at almost everything imaginable from days between games, wind speed, referee/official information, time zones of games, etc.

I hope this review of SportsIngishts was informative and helped you made up your mind on whether or not you think the product and service is for you. I would almost say it is foolish for anyone betting $100+ per game NOT to have a membership with them. Click here if you want to signup.
Check out my SportsInsights Video Review on YouTube!
Here is an example of an email they send out when you subscribe to one of their systems. In my case I am subscribed to their "NCAAB Best Bets" and I got this today for the NCAA tournament: