Watching some of the fastest pups in the world compete and show off their athletic talents is exciting. But what's more exciting than that? Betting on those dog races online. Greyhound dog racing is one of the most exciting and entertaining ways to get into real money gambling action.
What's even better is it's fairly standard to bet just a few dollars on each race, which can make it an affordable hobby for many. It's also not uncommon to turn a $2 wager into a healthy win with a lot more zeros attached.
If you don't live near a track, though, you're not in the doghouse. Some of the best online dog racing sites offer the ability to make real money bets and watch races around the world without ever leaving your house.
What Makes These the Top Dog Racing Betting Sites?
Extensive Access to Tracks
Simulcasting Capabilities – Streamed Races
Fast Payouts
Seamless Betting Interface
Greyhound History and Research Resources
Extensive Access to Tracks
The design of the best sites with odds on dog races gives bettors the ability to wager around the clock. The way these online dog racing sportsbooks do this is by offering action on races around the globe. For us to give a dog racing site the golden fire hydrant of approval, it needs to do just that. If you can only get action a few times a day, we're not interested.
Simulcasting Capabilities – Streamed Races
Betting on a dog race halfway around the globe is a great opportunity. However, most of the fun of betting on dogs is watching the race and rooting for your pooches. The top dog racing betting sites not only give you the chance to bet on a race, but they'll also simulcast the races so you can watch the results unfold live. Instead of searching the internet for a bootleg feed of the track, you can watch the race in high definition right from the betting platform.
Fast Payouts
All of the greyhound betting sites we recommend offer fast cashouts of your bankroll or winnings. The dog racing sportsbooks online offer safe, efficient, and flexible banking options that get you your money, usually in less than a few business days max.
Seamless Betting Interface
With access to so many different racetracks and types of bets, the real money dog racing betting sites must offer wagers in a streamlined and efficient manner. Finding the track you want, picking out a race, and placing bets should be simple and straightforward. Remember, online betting is supposed to be all about convenience.
Greyhound History and Research Resources
When you go to a live track, you usually get a program with information about the dogs competing. For more experienced bettors, this can be a great tool to pick winners. For recreational bettors, the information can help to add another layer of fun to the experience.
When you transition to betting online, you shouldn't have to miss out on this resource. All of the top dog racing betting sites have a ton of information on the dogs racing. In fact, most great online betting sites with dog racing odds should be leveraging technology to give you access to even more up-to-date information on the competitors, results, and track conditions.
Benefits of Betting on Dogs Online vs. at the Track
A trip to the track to watch the dogs run is always a good time. Whether it's the atmosphere, the $2 hot dogs, or just the camaraderie with friends, it's a great night out. That being said, betting on dog races online does bring a lot of perks that are unavailable when betting live. Here are a few of those benefits (certainly not all of them).
More Time If You're New
The first time you make a bet on a dog race in person can be nerve-racking. Unless there is no line and you have an agent willing to help, you may feel rushed to make your wagers. When you bet online, though, there is no line. There are no bettors behind you trying to rush you through the process so they can make their bets. If you're brand new to betting on dogs or you just like to take your time, online wagering is right up your alley.
Races Around the Clock
Live dog races are only available when the track is in session. At busier tracks, this may be a few times a week. At less popular tracks, this might be once a week or only a few times a month. With online dog racing betting sites, you have access to races not just most days of the week but at all hours of the day. While it might not be track time where you live, it might be on the other side of the country or on the other side of the world.
Keep Your Own Stats
If you take your betting seriously, you may be keeping your stats on race wins and how certain dogs at your favorite tracks have been doing. When you bet from home, you don't have to write those stats down on a hotdog napkin anymore. You can have Excel or whatever tracking program you like to use open and ready to go.
Types of Dog Racing Bets You Can Make Online
A lot of newer bettors at online dog racing sportsbooks can get turned off by all the lingo that gets thrown around 100 mph at the track. While it might sound like its something that would take years to learn, it's actually all quite simple. Below, we've broken down the nine different types of dog wagers you can make online or live at the track.
Common Types of Dog Racing Bets
Win Bets – A win bet is a wager on which dog will win the race. If you have a good feeling on which pup is going to be the top dog, place a win bet. Compared to place and show bets, this wager pays the most.
Place Bets – Place bets are won by selecting a dog that finishes in first or second place. There's no difference in payout whether the dog gets first place or second place. A place bet pays less than a win bet and more than a show bet when placed on the same dog.
Show Bets – One of the easiest greyhound bets to win at the track is a show bet. As long as the dog you select finishes first, second, or third, you win your bet. Because these bets are easier to win, the payouts will be lower than those on place and win bets.
Win-Place Bets – Win-place bets are similar to place bets in that you win if your dog finishes in first or second place. The difference, though, is that instead of being a single bet, it is two bets places separately. Because of this, if the dog wins, you get paid more because you'll collect on the win and the place bet.
Across the Board Bets – An across the board bet is a greyhound wager similar to a win-place bet, except that it also includes an additional show bet. The bet is more expensive as it is three separate bets. For example, a $2 across the board bet would actually be $6, as it would include a $2 win bet, a $2 place bet, and a $2 show bet. If your dog gets first place, you'll win more, as you'll collect on all three wagers.
Exotic Dog Racing Bets
Exacta Bets – An exacta bet is classified as an exotic bet and is sometimes referred to as a perfecta. With this wager, you pick two dogs—one to come in first place and one to come in second. The only way you win this bet is when that exact scenario plays out. It's a challenging bet to win, but it pays nicely.
Quinella Bets – A quinella bet also falls under the heading of exotics and is a slightly easier wager to win than an exacta bet. You still pick two dogs to finish in first and second, but it doesn't matter which dog gets first and which gets second. Because it's a bit easier to win, the payouts will be smaller.
Trifecta Bets – Feeling lucky or got a hot tip? The trifecta bet in dog racing is an exotic wager that's hard to hit but pays great when you do. In order to cash a ticket, you need to pick three dogs to finish first, second, and third. The catch, though, is that you have to select which dog will get each position, and you only get paid if you get all three right.
Superfecta Bets – One of the most challenging bets to hit at the tracks is the superfecta bet. With a regular trifecta bet, you have to pick the top three finishers in order. With a superfecta, you have to pick the top four dogs in the correct order. To collect on the bet, you have to get all four right.
What Tracks With Dog Races Can I Bet Online?
The answer to this question all depends on the quality of the real money dog racing betting sites you are using. If it's one of the lower quality options, expect access only to the major tracks in the same country. As you step up the quality ladder, you start to get access to the major tracks around the world and minor tracks within the same country. And as you reach the pinnacle of the best greyhound dog racing betting sites, you'll see access to all the major and minor tracks locally, nationally, and around the globe.
Live Dog Racing vs. Simulcast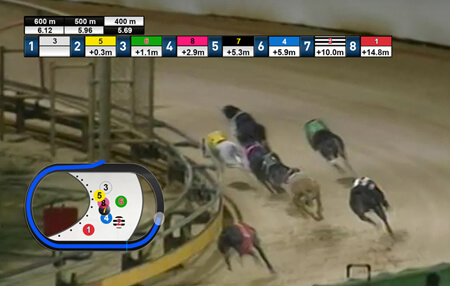 Live dog racing is the term used to describe watching the dogs run in person. Simulcasting is when you're watching the race live but on TV or over the internet. Top online dog racing sportsbooks will give you the ability to simulcast all of the races you are betting on for free.
The main differences between the two experience-wise are obvious. It's the same differences as watching any live sport on TV versus seeing it in person.
You may see action close a few seconds earlier online to account for any small-time delays in the simulcast programming. Other than that, your ability to wager on the races at that track should be, for all intents and purposes, identical.
How to Pick out the Best Online Dog Racing Betting Sites
So, you've decided you're ready to cash in on convenience and bet the dogs from home. Great! The next step is picking out the best online dog racing sites for you. Here are a few quick tips to help you make the right selection.
Look for the Tracks You Want to Bet
If you have a favorite track or an upcoming race series in mind, look for an online sportsbook that covers that race. You may not see action for that specific series up if it's a ways out, but you should see action at the track for earlier or past races. If you don't see the track you're looking for, you can always reach out to customer service to see if the site has plans to offer action anytime soon.
Find Action at the Times You Want to Bet
Even if you don't have a favorite track, you may have a particular time of the day that you want to bet. Maybe you're someone who likes to start your day with dog racing? If so (and you live in the US), you may want to find a dog racing betting site that offers action on European tracks.
If you're a bettor that wants to bet dogs in the afternoon or early evening, look for real money dog racing betting sites that offer action on east cost tracks. And, of course, if you're looking for late action, look for a site that runs action on west coast dog tracks.
Take a Quick Tour of the Betting Interface
Generally, dog racing bettors spend a lot of time making wagers on each and every race during a series. If you fit that common mold, you will want a betting site that is easy to use. Take some time and see what the process is for finding races, picking dogs, doing research, and placing bets. There may be a slight learning curve with each dog racing betting site, but if it's too steep, find a better option.
Check out the Deposit and Cashout Options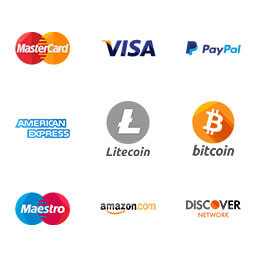 Make sure the banking options and integrations link up with the way you want to move your money around. Deposit options should be plentiful and give you instant access to your funds. For withdrawals, make sure there's a method you can use to get your winnings fast. There are zero reasons to wait any longer than a few days to get your online gambling winnings.
Join Multiple Dog Racing Betting Sites
Do you know how much it costs to join dog racing online sportsbooks? $0. Do you know how much it costs to join more than one dog racing betting site? Still $0! There is no cost, penalty, or bad reason not to join multiple sites if you need to get a little something from each site.
What are some common reasons to join multiple betting sites? Maybe you want action from different tracks that are only offered through two different dog racing online betting sites? Or maybe you're getting bonuses from two different betting sites at once? Whatever the reason, go for it. Many of the biggest bettors on the block use multiple sites simultaneously.
Online Greyhound Racing Tips and Strategies
Now that you know how and where to bet on dog racing online, it's time to talk about winning. While greyhound betting strategy can run deep, we wanted to give you a quick list of our expert's top tips and strategies to get you started.
Bet Outside Dogs When It Rains
Much like any racetrack, most greyhound tracks are slightly angled inward with banking around the turns. What this does when it rains is cause the water to run down to the inside of the track. Dogs running this inside line are going to be pushing through mushier terrain, which will slow them down.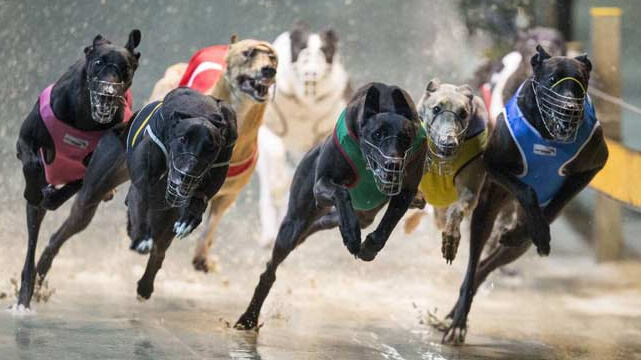 Even if it's not actively raining but has been in the past few days, this may have an effect. Don't automatically count out dogs starting on the inside in these conditions, but it is something you need to consider. You may be able to watch earlier races to gauge the effects and put the information into play going into later races.
Look at Past Race History
Our last tip nicely segues into a very important tip. Look at past race history both on the same day and over the past few weeks. Find the dogs that are performing well and trending upwards. The longer the history you can find, the better the information you will have. If you only base your information on the last race, you may get fooled by a dog that had an abnormally good day vs. a steady winner.
Make sure you're also looking at times and not just finishes. If a dog gets first but is running against the five slowest dogs in the stable, it doesn't mean as much as a dog that finished second with a great time against some of the fastest dogs.
Stats are extremely helpful, but only if you assess them properly.
Understand the Tracks and Conditions
Not all tracks are created equally. The sooner you understand that, the better off your dog racing betting career is going to go. Now, unlike horses, you probably aren't going to see dogs traveling a circuit and going to different tracks during the same season. If that's the case, then what are we talking about? The factors you weigh to pick winners will carry more or less weight at different tracks.
Take our tip on betting outside dogs after it rains. Some tracks may have better drainage making this less important. Other tracks may be in hot and sunny areas where the water evaporates quicker, meaning rains from the past days will have less of an effect.
Look for Value Bets
In boxing, smart boxers know that you shouldn't always headhunt and look for the knockout finish. The same advice can be applied to betting on dogs. You don't always have to choose the race winner every time. Additionally, there may be times when you want to wager on a dog to win that you don't really think is going to win.
Why would you do something crazy like that? Value. If you find a dog that you don't think will win but is paying way higher than it should for a win, it may be worth a gamble. Remember, winning at gambling is all about consistently making wagers that carry value.
Make Sure You're Making the Right Type of Wager
Congrats if you are brand new to betting on dogs! The biggest tip you need to focus on is making sure you're using the right type of bet. All the lingo and types of bets may seem overwhelming at first. Take your time and stick to the simple bets. As you gain a bit more experience, you can consider branching out into more complex dog racing bets.
Remember, though, your odds don't increase based on the complexity of the wager you make. Pick winners, find value, and you are going to win.
Getting Started Real Money Dog Racing Betting Now!
If you're ready to open the chute and get the hounds a hustlin', you're in luck. Navigate back to the top of this page and check out some of the top greyhound racing betting sites. Find an option that works for you, create your free account, and make your first real money deposit. From there, you're ready to start betting!
Dog Racing Betting Online FAQ
Yes! The top sites allow you to bet on dog races online for tracks in your area as well as around the country. The best sites with dog racing betting odds even offer action to races around the globe. This means you can get live action at any time of the day.
Depositing money into an online dog racing betting site is fast and easy. Each site will have different options, but generally, you'll have several banking methods to choose from. The popular options include credit card, debit card, e-wallet (like PayPal), direct ACH bank transfer, online checks, and cryptocurrency.
Nope! You receive your race winnings in your online account instantly. Transferring those winnings to your bank account or e-wallet usually takes about a week max. Some options, like cryptocurrency, are available in as fast as a few hours from some sites!