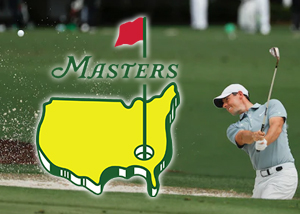 The Masters is the most prestigious tournament in golf and it can often set the tone for the remainder of the season.
Of course, with Tiger Woods back in the fold and playing some of the best golf he has played in years, the intrigue of the event gets ramped up several notches. That said, Woods will be just one player in an extremely competitive field that has more than its fair share of contenders, whether they come from the top of the odds list or the bottom.
The race to the Green Jacket is getting closer, and we couldn't be more excited. Therefore, we have put together a guide that will break down this year's tournament, tell you what sites are the best Masters betting sites while providing some help on where and how to put on golf's most prestigious event on the calendar.
Buckle up and explore our Masters betting sites guide!
Best Masters Betting Sites
One thing that seasoned and experience sports bettors do is line shop. In other words, they do their research and search various sportsbooks and compare their odds. This is something you are going to want to do when it comes to your Masters betting.
For instance, if you think that Tiger Woods is going to win the Masters, don't just lay the bet at your current sportsbook. It is wise to search around and get the best possible price on the golfer you think will win, in this case Tiger Woods. Furthermore, this gives you an opportunity to take advantage of new customer welcome bonuses that you can possibly use as leverage if you believe in your pick(s)
Almost every betting site in the free world will have Masters odds, so don't rush it. Take your time and make sure you are doing your best to get the best bang for your buck.
Here are our suggestions for the best Masters betting sites.
How to Choose a Masters Betting Site
The Masters is the most prestigious golf tournament in the world, and the event will draw millions of eyeballs over the course of the 4-day weekend. While most catching the action will be doing so as casual fans, a large contingent of viewers will be watching with an interest in betting on the Masters.
If you're new to golf betting, there are a few things to know before getting started. Obviously, finding the right Masters betting site is the first and most important step of all. You don't want to be risking your hard-earned cash at some sketchy website. There is no shortage of sites offering odds on the Masters, but choosing a safe site is key.
Reading the fine print may be tedious, but finding a betting site's "About Us" section and finding out about their background is a good way to get started. All viable Masters betting sites are also required to display their licenses, so if a site doesn't have any visible licenses, you're probably somewhere you don't want to be.
The web is littered with sites that let you bet on the Masters online, but getting started with some of the more recognizable providers like Bovada, BetOnline or MyBookie is the way to go, especially if you're new to the golf betting scene.
These sites are safe, reliable, and they all have excellent reputations in the industry.
What Should You Look for in a Golf Betting Site?
Obviously, if you place a winning bet on the Masters, you want that money! Rather than just walking up to the window at a casino and exchanging your winning ticket for cash, though, betting online means you will have to wait before receiving your winnings.
Fortunately, just about every reputable site that offers betting odds on the Masters also prides itself on fast payouts. The days of having to wait several days or weeks for your winnings are over. Nowadays, most sites offer same-day payouts, and those that don't offer same-day payouts will usually get your money to you within 24 hours.
Not everyone that wants to bet on the Masters is doing so using the same type of currency. Unlike at a land-based sportsbook where you literally bet using dollar bills, betting online means you're likely doing so via credit/debit card or cryptocurrency.
Fortunately, the best betting sites out there have adapted to the times. Now, sites like Bovada will let you bet on the Masters using cryptocurrency like Bitcoin, if you so choose. Depositing is easy, and withdrawing is even easier. You may choose to withdraw your winnings via your original method of deposit, but the sites will also let you cash out any way you want. Receiving a check in the mail or wiring money directly to your bank account are popular options.
The best golf betting sites on the web want to keep you coming back for more. Think of these sites like any other business, like a restaurant or a hotel. The customer is always right, and they want to sweeten the pot for bettors in order to keep their business.
So, choosing a Masters betting site that offers beneficial bonuses is a must. The best sites all offer first-time deposit bonuses up to a certain percentage on your initial deposit. Returning customers will see that some golf betting sites offer customers a "reload" bonus on additional deposits, as well as other special bonuses for major events, such as the Masters.
US Masters Golf Tournament
The US Masters golf tournament annually takes place at Augusta National Golf Club from Augusta, Georgia and is held on the first or second weekend of April.
How can you watch the Masters? ESPN and CBS Sports will be airing this year's Masters. ESPN usually gets the primetime coverage from 3:30 PM ET through 7:30 PM Eastern time on Thursday, Friday and Saturday while Jim Nantz and crew take over for final round coverage on Sunday. Check out the official Masters website for live streams of the event.
In 2018, Patrick Reed won the Masters and took home just shy of $2M as a result. Runner up Rickie Fowler was the only other player in the field to take home more than $1M in earnings as he landed just short of $1.2M. The top three was rounded out by Jordan Spieth, an annual contender at the event, as he took home $748K.
Overall, it was a massive $11M purse and the ensuing purses should come in around the mark.
Reed's victory was a major surprise, as he was nowhere near the group of pre-tournament betting favorites. In fact, most legitimate Masters betting sites had Reed listed somewhere in the neighborhood of 50/1 to win the tournament before teeing off in round one.
In a slight change of pace and a piece of evidence that the times are rightfully changing, there will be an Augusta National Women's Amateur Championship held one week before the 2022 Masters.
The Masters did not allow women to obtain membership at the course until August of 2012.
Types of Bets for the Masters
There is a huge variety in terms of the types of bets that can be placed for the Masters including the most common bet: futures.
A futures bet for the Masters would be picking one or more golfers to win the tournament outright. Futures bets can pay quite heavily, especially if an underdog comes from the bottom half of the odds list to win the Masters.
Other types of bets for betting on the Masters are individual round bets, bets on who will make or miss the cut after the second round, top 10 and top 20 finishes as well as head-to-head bets (who finishes with a better tournament score: Golfer A or Golfer B).
If you are a golf fan, especially a golf betting fan, you are hard-pressed to find a more entertaining and exciting event to bet on than the Masters.
Augusta National Golf Club
Founded by Bobby Jones and Clifford Roberts and formally opened in 1933, Augusta National Golf Club one of the most prestigious golf courses on the planet.
The front nine is currently measuring at 3,725 yards while the back nine checks in just a hair shorter at 3,710, although these yardages can vary.
Here is a full breakdown of the yardages with the name of each hole in parentheses:
For a full course breakdown, check out the official Masters website!
The Masters has only been played at Augusta National, and as mentioned, this will be the 83rd edition of the Masters, which began in 1934.
If that math doesn't add up, it's because the Masters was canceled for three years from 1943-45 due to World War II.
Of course, the golf course itself has endured many changes over the years. The length of the golf course, as well as the structure of the greens and bunkers, have all undergone change, as is the case with many golf courses across the world that rival Augusta in terms of its longevity.
Past Champions
No one has won more at the masters than The Golden Bear Jack Nicklaus who has donned the Green Jacket on six occasions (1963, '65, '66, '72, '75, '86). There are two four-time Masters champions, one of which will be in the field for the 2022 Masters: Tiger Woods. Woods last won the event back in 2005 on top of his wins from 1997, 2001 and 2002. The other four-time champion is none other than the late great Arnold Palmer.
In total, there are 17 multiple champions in Masters history, 10 of which hail from the United States.
Patrick Reed got the United States back on top with his 2018 Masters victory, following wins from Spain's Sergio Garcia in 2017 and England's Danny Willett with his underdog victory in 2016. American Bubba Watson won the event twice in a three-year span from 2012-14.
In sum, 60 of the 82 winners of the Masters have come from the United States. Behind the US, Spain and South Africa have five wins apiece while England (4) and Germany (2) are the final countries that have produced multiple Masters champions.
Conclusion
It doesn't get any more prestigious than this, so what better way to start your golf betting experience than by getting some action on the happenings at the 2020 Masters? The field is set, but there is still plenty of time to throw some money down and make your viewing experience a little more interesting.
Finding the right Masters betting site can be difficult if you are inexperienced when it comes to wagering on the sport, which is where we come in. The number of sites offering odds on the Masters is plentiful, so we know it can be difficult to find the very best option.
Every bettor has different preferences, and there are plenty of options out there for you to find your optimal Masters betting site. Good luck!