Even though soccer isn't nearly as developed as Major League sports such as NBA, MLB, or NFL; MLS (short for Major League Soccer) has been showing signs of rapid development throughout the last several years. With an influx of experienced European prospects and both domestic and South American young talents, the overall quality of the league has improved drastically.
In fact, signs of that are visible at virtually every corner. The teams are looking more like their European counterparts, the quality of matches is top notch, the average attendance is booming (ranks better than NBA and NHL) and the fans are finally starting to think of soccer as a proper sport. In other words, the future finally looks bright for MLS after many issues in the not-so-recent past.
With all that in mind, it's not surprising to see MLS betting becoming a real trend too. And not just in the USA but worldwide as well. With the rise of proper MLS betting sites, fans are starting to dwell deeper into the stats and analysis in order to improve their chances of winning.
While we don't want to get in too deep as far as MLS betting tips go, we do want to tell you more about the top real money MLS online betting sites out there!
Best MLS Betting Sites
Since betting on MLS is still a pretty new thing, there is a lot of beginners trying to grasp on any information they can find online. Whether we're talking about informational sites, tutorials, betting guides or tips and predictions, the internet really is an information-packed place.
However, not all info you see on the internet is to be trusted. Not all info is worth your time, to begin with. The same goes for online MLS sportsbooks – not all of them can provide you with equally good MLS betting online experiences. Some are simple to use, have plenty of MLS betting options, and won't screw you over if you happen to win a hefty amount of money. Others… well, others will do the exact opposite.
That said, if you want the best (read safest) MLS online betting experience, check out the following soccer betting sites:
As you can see, this list features both US and non-US soccer betting sites, all of which rank very high in the industry. They've earned their rank and reputation through years of hard work, dedication, and by catering to the needs of their clients.
So, if you're looking for MLS online sportsbooks that will spoil you and provide you with the optimal online soccer betting experience, this bunch right here should suffice for sure!
What Makes Great MLS Betting Sites?
Now that we've seen the main reasons why the above-listed real money MLS online sportsbooks are the best ones out there, let's go through them one by one and see what they're all about!
Payment Methods
Nowadays, many people are afraid of sharing their personal or banking information on random websites. However, if you're keen on registering for an account at one of Major League Soccer betting sites, you'll have to upload a proof of identity and share your preferred online payment method for deposit purposes. Now, now, there's no need to worry since all the best online MLS sportsbooks are as safe and reliable as they can be.
Unfortunately, the same cannot be said for tier B MLS online sportsbooks. They often lack security protocols which can lead to potential hackers' attacks and leaks. That said, if you want to stay on the safe side of the deal, don't settle with anything but the best MLS betting sites out there. If you're not sure where to find such bookies, scroll a bit up and you'll see our short list of the best bunch.
Best MLS Betting Sites Bonuses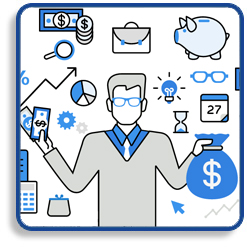 A decade ago, only a handful of bookies featured generous bonuses for their returning customers. Nowadays, virtually all of them feature bonuses, one way or another. There's a wide variety of bonuses available out there, but the main principles are pretty straightforward. You, as the user, get an XX percentage bonus on top of your initial deposit. These are the most common online soccer betting bonuses you'll see, most commonly dubbed as welcome bonuses.
Additionally, there are sports-specific and league-specific bonuses which go by a different set of rules. Every bookie has their own ruleset so make sure you read through the fine print for more information. In most cases, there will be an xx number of times you need to roll over the bonuses before you can withdraw the money into your account.
That said, it's pretty difficult to transform your bonus bankroll into real money. It requires a lot of knowledge, betting experience, and at the end of it all – luck. On the bright side, soccer betting online bonuses can pose as great ways of spicing up your weekend since you'll technically be betting for free….
Fast Payout MLS Betting Sites
After you get the hang of how MLS online sportsbooks work, your first winning tickets are bound to come sooner than you'd come to expect. That said, make sure you don't reinvest all of your winnings straight back into your bankroll. It's okay to spoil yourself from time to time and cash out some of that hard-earned money.
If you decide to do exactly that, chances are you'll want to get your money into your wallet as soon as possible. Well, believe it or not, sometimes you will have to wait a bit before that actually happens. It all depends on your bookie and payment method of choice. While you can't affect the latter (well, technically you can but it's too big of a hassle to dwell into the world of cryptocurrencies), the former is all up to you.
If you want to minimize the payout waiting game, choose only the most popular online MLS sportsbooks out there.
Customer Service
Even though some of you will sway your hands in disbelief, customer service is of crucial importance for one's satisfaction levels at a given Major League Soccer betting site. It goes without saying that highly skilled customer support professionals can make or break users' experience in a blink of an eye.
It's not enough that online sportsbooks with MLS odds have proper customer service channels, these channels also have to be trained to deal with all sorts of problems users can stumble upon. After all, what good is customer service if it can't resolve people's issues quickly and efficiently?
With all that in mind, if you want only the best real money MLS betting online experience, don't settle with any other bookies except the ones featured in the list above. They're not only known for being reliable, easy to use, and generous (in terms of both betting odds and bonuses), but they also go out of their way to ensure customers' satisfaction is at constantly high levels through professional and friendly customer service teams.
System Compatibility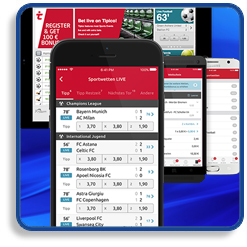 This might sound like a silly trait, but you really should ensure your online soccer betting site of choice works fluently across all your devices. Believe it or not, only the best MLS betting sites feature fluent optimization, even at this day and age. So, before you go ahead and register for an account at a given online soccer betting website, first ensure it supports your laptop, smartphone (soccer betting app), and personal computer. That's the only way you'll get to fully enjoy the charms of MLS betting!
Other Betting Options
If you'd like to test your luck with other soccer leagues, then, by all means, go ahead! However, you'll first have to make sure your online soccer betting site of choice supports them. While this is the case for the majority of soccer betting sites with MLS odds these days, it's still good to check them out beforehand.
While you're at it, ensure your bookie offers bets on other sports as well. Basketball, baseball, football, heck, even esports – they're all fun to bet on and can lead to hefty profits if done correctly. That said, arm yourself with knowledge and do a fair share of research before putting a ring on the first MLS betting site that you stumble upon.
What to Avoid When Placing MLS Bets Online
If you've already found your next go-to MLS betting site, then the next thing you should worry about is online soccer betting the right way! And what better way to learn that than by looking at the things you should avoid?
That said, here are three rather common mistakes both beginners and seasoned soccer betting veterans tend to make:
Not Enough Knowledge
First and foremost, the most common mistake done by virtually all real money online soccer betting beginners is betting without proper knowledge surrounding the match. In many cases, not just surrounding the match (read head to head teams) but surrounding betting or even the sport itself.
If you're in it just for the money, you should ask yourself this, "Do I really think I can get rich via soccer betting when there are numerous betting experts who can't do it?". In other words, if you're in it just for the money you should run and never come back!
If you're starting out your Major League Soccer betting career for the thrills (money is important too, but it comes second), then the first advice we got for you is this – arm yourself with knowledge. The only way to succeed in this harsh online soccer betting environment is to be knowledgeable.
Don't trust your hunches, your guts or whichever else magical betting recipe you think you possess. It all falls down in favor of knowledge. And we're not just referring to statistical knowledge, there's more to it than just that. Finding value, experimenting with betting strategies, and properly managing your bankroll requires a great amount of knowledge too, so don't take them for granted either!
Anger-Driven Bets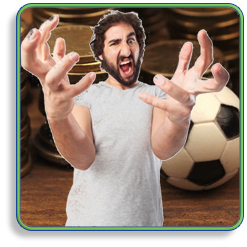 Let's face it, anger-driven bets are the quickest way to deplete your online soccer betting bankroll. But still, many people fall into the anger-driven betting trap without them even realizing. So, how can you recognize them? Or better yet, how can you avoid them?
Well, for starters, the general rule of thumb is the following – resist making bets right after you've lost a promising ticket. Your judgment will be clouded by your emotions which often results in outright stupid decisions. And we all know stupid online betting decisions lead to bankroll depletion. It's as simple as that.
In other words, only partake in MLS betting online with a clear mind! There's no room for emotions in this hobby, just pure statistical and situational knowledge. Use those two to your advantage instead of plunging deeper into the abyss of anger-driven bets.
Betting on the Favorites
Lastly, we'd like to sway you away from one of the most common online betting mistakes these days. As the title suggests, we're referring to betting on the favorites. Needless to say, online betting on the favorites is usually a big no-no across all sports, not just soccer. However, due to the fact soccer's gameplay makes huge upsets a lot more frequent than, f.e., NBA, betting on the favorites really makes no sense.
If not for that, then surely for needlessly low betting odds that are only (somewhat) viable for giant accumulator bets with high overall risk. Sure, you can always make a single bet on the favorites but you'd have to splurge half your betting bankroll if you want a good value for your money. The moral of the story is – betting on the favorites in soccer is not a good idea.
You're better off trying to find potential underdog upsets at online sportsbooks with MLS odds that make for great value bets. That's a much simpler a more effective way to boost your bankroll!
MLS Betting Online FAQ
For those of you not in the know, 2018 brought a wind of change to the USA. The Supreme Court struck down the law that prohibited sports betting on a federal level meaning more liberty for everyone in the sports betting industry. While there's still a good amount of regulative work ahead of us, the proper basis has been set and we're confident that MLS betting will become legal all over the USA in the foreseeable future.
For basically everyone else, MLS betting is as legal as it gets. There might be certain regulations governed by your country, but for the most part, partaking in MLS betting activities shouldn't get you in trouble. Unless you're living in a country with strict online betting laws.
Being in the know is one of the key factors contributing to all successful MLS betting experts. Well, effective bankroll management and being in the know, that is. While we can't teach you the latter here, we surely can give you some general rules of thumb regarding your info-searching process.
First of all, let's get one thing out of our way – all those big-time sites featuring MLS betting tips, tricks, and predictions that you find on Google won't do you any good. For the most part, at least. They're all made in a rush and bear no factual value that can help you in your quest to MLS betting success.
Instead, you should focus on smaller websites that are focusing specifically on betting. Take our website as a perfect example. Perhaps our betting tips doesn't have odds and predictions for every soccer match out there, but we do our best to get all the best values covered. We at TSG value quality over quantity, and you should too!
As far as the best sites to bet on MLS soccer are concerned, we'd like to suggest you take a second look at the soccer betting sites with MLS odds we have listed in the table at the
top of this page
.
Only the best online MLS sportsbooks can offer the feature-set you'll need if you want to stay on the green side in the grand scheme of things. That said, you can expect nothing but optimal MLS betting experience with them, as simple and intuitive as possible.
Once again, online soccer betting these days doesn't require any level of tech-savviness. Especially the best bookies out there which were built with beginners in mind. So, whether you're a beginner or a seasoned betting veteran, you can rest assured the best MLS betting sites won't let you down!
In all honesty, betting on MLS is a complex matter and it would take a much longer space than a single FAQ here in this article. As with every other league, MLS has certain caveats that require an adjustment period, not only in the sense of betting but generally speaking as well. These caveats are what makes MLS online sportsbooks special, what makes them stand out, and attract users craving for that sweet Major League Soccer betting action.
That said, in addition to the general "how to bet" info alongside MLS-specific instructions, the matter at hand is rather comprehensive. The biggest (and practically the only) advice we can give you here is – inform yourself! Systematically and statistically-wise, MLS is one of the most advanced leagues in the world, in many ways similar to the statistical depth of the NBA, MLB, NFL, and other major leagues in the USA. All info is readily available and will greatly increase your chances of winning bets.
This isn't enough information for you? No worries, we understand. However, we got you covered with our comprehensive soccer betting guide that bears a ton of useful info on how to partake in online soccer betting. It's not MLS-specific, but will still do the trick since it'll run you through some of the most crucial aspects of the hobby which ought to help you out in the long run. That said, make sure you check it out… especially if you're a newcomer.
Most MLS betting specials are pretty much identical to those of other soccer leagues out there. We're talking the usual outright league winner, top scorer, top assists, top clean sheets, least yellow cards, and those sorts of general league-related bets.
However, thanks to MLS' format-wise discrepancies, reputable MLS online sportsbooks offer conference-specific bets too. So, roll up your sleeves and arm yourself with statistical knowledge. Who knows, perhaps special MLS betting will be your cup of tea!
MLS Betting Sites Conclusion
With that last MLS Betting FAQ done and dealt with, we're afraid that's about it in terms of the best online MLS sportsbooks. As you could've seen for yourselves, there's a whole bunch of variety out there and it's up to you to put a ring on your preferred MLS online betting website.
If you still can't make the decision, don't forget we have a short list of the best real money MLS betting sites at the start of this article. They're viable for both US and non-US residents, meaning everyone can make their choice without worries.
That said, thank you all for sticking till the end and hope to see you again soon.
Cheers!