TopBet Review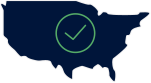 Approved
for US Customers
Cons
Low payments
Customer support gives the runaround
The Sportsbook
Our first impression of the sportsbook at TopBet was that it was very clean and seemed well organized.  The colors are easy on the eyes and there are not too many things distracting your focus.  On the left-hand side of the page, you'll find menus that will help you sort through the available sports and wagers at that time.
TopBet also allows you the ability to use the main menu located at the top of the page for navigation.  Essentially, TopBet makes it very easy for you to find what you're looking for.  We're pleased with the layout and navigation options on the page.
Once you select and event to bet on, TopBet clearly displays a bet ticket on the right-hand side of the page.  This makes it very handy for clients to analyze the available lines.  TopBet's bet ticket allows you the ability to enter the amount you are thinking to wager and see how much you'll earn if you are correct.  This is very handy for newcomers that are not fully savvy yet with relation to lines.
One of the things that we liked the most on TopBet's sportsbook was the fact that they have live betting section at the top.  In this section, it will show you any games or events going on at this time that you can bet on.  At the time of this review, we have the option of live betting on two Major League Baseball games that are currently under way.
Sports You Can Bet On
We were very pleased to find that TopBet shows off all sports regardless of if they are in season or not.  That allows us the ability to give you a full picture of everything that they cover throughout a year.  Below, we'll break it down to show you all of your options on TopBet at the time of this review:
Basketball
Baseball
Hockey
Golf
Tennis

Indy Car
International Soccer
American Football
Canadian Football
Horses
Boxing
Overall, TopBet offers a pretty good lineup of sports coverage.  We've seen other online sport books with many more options but TopBet seems to have the major stuff covered.  If definitely would not hurt TopBet to add some more sports down the line to help appeal to a broader audience.
It's also worth noting that we found some funny political prop bets offered on TopBet.  At the time of this review, TopBet has a section titled Donald Trump Props.  TopBet currently has two different prop bets related to Donald Trump.  First, you can wager if he'll be impeached during his first term.  You also can wager if he'll resign during his first term.  We got a kick out of these and it was a nice change of pace from your typical sports betting.
User Interface
TopBet's sportsbook is very well organized which makes it very easy to navigate and find whatever it is that you're looking for.  On the left side of the main sportsbook page, you'll find a menu that has things broken out by sport (tennis, basketball, etc).  You can then hit the + sign next to each sport in order to expand and see more options from that sport.
Once you have expanded on a particular sport, it will show you all of the main options for that sport.  This will typically be broken out by a particular event (Preakness) or by a league.  Simply click on whichever event or league that you are interested in wagering on and TopBet will then show you all of the lines that are available.  The lines are clearly laid out regardless of the sport or event that you select.
If the game or event that you select has multiple types of bets available, you'll find them all listed on separate tabs.  For example, you'll find tabs at the top broken out for odds, 1st half, 2nd half, 1st quarter, 2nd quarter, 3rd quarter, and 4th quarter of an NBA basketball game.  This layout makes it faster for you to find exactly what you're looking for.
When you're ready to place a bet, it is very easy.  Simply press the Bet button and then enter the amount that you want to wager.  TopBet then shows you the amount that you stand to earn if your wager is correct.  It makes it very easy for beginners to understand more of what is going on.
The site speed seemed to be sufficient for an online sportsbook.  We didn't notice any lag during our time spent working on this review of TopBet.  Pages loaded in a timely fashion and we were pleased with the performance and response of the website.
One thing that we were not a fan of was that we could not sort out how to change the layout on the style of odds.  The website shows odds in the traditional American money line fashion however we could not find a way to switch that up to fractional or decimal odds.  While Americans most likely won't have an issue with this, other gamblers from elsewhere in the world most likely will (especially Europeans).  We'd suggest that TopBet
add in this functionality sooner rather than later to help attract and keep more clients.
Overall, we're big fans of the user interface on TopBet.  With a winning combination of site speed and organization, users should not find any major snags or roadblocks.  The ease of navigation on TopBet is one of the best that we have seen.
The Casino
If you're looking for something different in-between sports bets, TopBet also offers a pretty solid online casino as well.  While it is not the best online casino that we've seen, it's pretty darn good when stacked up against others offered by primarily sportsbook operations.  The best thing about TopBet's online casino if their overall selection.
In total TopBet's online casino offers 4 types of Blackjack, 5 progressive jackpots, 22 slots, 40 3D slots, 12 table games, 4 types of video poker, and 15 fun games that include options such as Instant Keno and Texas Hold'Em Poker.  TopBet stands out in the fact that they also offer some live tournaments very frequently.   These live tournaments allow you the chance to play in real time against other players in games such as Poker, Roulette, Blackjack, and Slots.
We didn't find any branded games in the TopBet Casino.  We did, however, get a solid laugh out of some of the knock off games that they offered.  Some of our favorites included "Slotfather", "Boomanji", and "Spider Guy".  While we'd rather see the branded games, we give TopBet an E for effort in naming their knock off games.
Regarding game quality, TopBet's online casino was pretty middle of the road.  We saw lots of games that seemed under par while others were pretty good.  To be honest, they were a bit all over the place when it came to game quality.  We saw the best quality in the slots while many of the table games seemed pretty basic.  We'd like to see TopBet step it up in the quality of their graphics across all casino games.
TopBet offers a mobile-friendly version of their website.  This allows players using their phones or tablets to still be able to access the site to place bets and wager in the casino.  We tested it out on iPhone and Android and found the mobile version to be very responsive and well laid out.  If your preference is to utilize your phone or tablet to gamble at TopBet, you'll have no issues.
Overall, we'd give the online casino at TopBet a pretty good grade.  We'd like to see some improvement in the graphics quality for the non-slot games and we'd also like to see them add in some branded games as opposed to the knock offs.  Their selection of games and overall organization is a very strong positive.
Deposit and Withdrawal Options
Deposit Options
TopBet offers a handful of options to deposit funds onto their site.  At the time of this review, you can use Bitcoin, Visa, or MasterCard for deposits.  The cashier section of their website makes it very easy to add funds to your account.
Many other similar sites offer more deposit source options than TopBet does at this time.  We'd like to see TopBet add in some other popular options such as bank wire, Neteller, or Skrill in the future.  That being said, most everyone should be able to deposit thanks to the options that they do offer at this time. From our research, it does not appear that TopBet is charging any fees for deposits.  However, this is not clearly spelled out on the site.  It is not customary for sites similar to TopBet to charge a fee on deposits as it is can cause players to look elsewhere.
Withdrawal Options
At the time of this review, TopBet offers their clients two different options for withdrawing their funds from the site.  Clients may use either a bank wire or swift check to remove some or all of their funds.  TopBet is advertising at this time that each client gets one free withdrawal.  However, we could not find the terms and conditions for this promotion spelled out anywhere.
Bank wire withdrawals on TopBet are capped at a maximum of $5,000 each.  Wires over $2,500 have a fee of only $50; however, we did not find the details spelled out for fees associated with wires under $2,500.  We suggest that you confirm with customer service at TopBet what the associated fees are for any withdrawal that you consider making.  Note that at the time of this review that it does not appear that clients residing in New York or Washington State can utilize the bank wire withdrawal option.
The other withdrawal option offered by TopBet it Swift Check.  Using Swift Check will result in a physical check being mailed to you via FedEx or DHL.  From the looks of it, this option seems to be geared at people making smaller withdrawals from the site.
There is a $40 courier fee per requested check via Swift Check.  TopBet also charges a $20 admin fee for any Swift Check withdrawals under $200.  Again, our suggestion is that you confirm with customer service regarding any associated fees with your potential withdrawal.
In order to request a withdrawal, TopBet clients must call customer service to get the process started.  If you need to make a withdrawal from TopBet, simply give them a call at 1-877-528-6748 to get the ball rolling.  The customer service agents should be able to walk you through all of your options and the associated fees, etc.
We'd like to see some more withdrawal options such as Visa or MasterCard included on TopBet in the future.  Great withdrawal options provide clients with greater flexibility.  The more options and flexibility provided by a sportsbook, the better. For your convenience, we've summed up the withdrawal options in the chart below:
Bank Wire
Minimum: No Min
Maximum: $5,000
Notes: Wire fee only $50 for wires over $2,500.
Swift Check
Minimum: No Min
Maximum: $2,500
Notes: Swift Checks carry a courier fee of $40 and all withdrawals under $200 have an admin fee of $20.
Bonuses and Promotions
TopBet does not disappoint when it comes to bonuses and promotions.  At the time of this review, TopBet is offering four solid offers.  We'll break down each of them below so that you can determine which one might be best for you.
Welcome Bonus
Up first is their $1,000 first time deposit bonus.  This promotion is geared at new clients.  Here's how it works:  TopBet will match up to 100% of your first deposit to their site up to a maximum of $1,000.
In order to get the maximum 100% match, you'll need to deposit via Bitcoin or MasterCard.  Depositing using these two methods will get you the full 100% match.  For some reason, if you utilize your Visa card for your initial deposit, they will only match up to 50% of your first bonus.  Obviously, they prefer Bitcoin or MasterCard so we strongly suggest that you utilize one of those two options to maximize your bonus potential.
Reload Bonus
Next up is TopBet's current reload bonus.  Under this promotion, you can earn upwards of 20% extra when you reload your account.  This promotion is geared at clients that have used the site before.  TopBet is looking to keep these clients betting on their website.
In order to get the full 20% bonus, you'll need to deposit at least $500.  Those depositing from $500 and up to $5,000 will receive the full 20% bonus on their funds.  For example, if you were to deposit $5,000 into your account, you would receive a bonus of $1,000 via the 20% bonus program which would give you a grand total of $6,000 in your account.
Not looking to deposit at least $500? Don't worry; they still have you covered as well.  You can earn a 15% bonus if you deposit anywhere between $350 to $499.99.  If you're not looking to be that big of a spender, you can still pick up a 10% bonus on any deposit ranging between $50 to $349.99.
Special Reload Bonus
TopBet's promotion section on their site mentions that they will offer upwards of 25% reload bonuses from time to time.  TopBet will offer these special reload bonuses to "certain valued customers" from time to time.  We're not sure what it takes to join the TopBet valued customer cool club but hopefully, you'll make the cut!  If you are lucky enough to make the cut, your maximum bonus will be capped at $250.
Refer a Friend Bonus
For this promotion, it literally pays to have friends.  TopBet offers you a 25% bonus on the first deposit for any friends that you refer to their site.  This bonus is capped at $250 per friend.  For example, if you refer a friend and they deposit $1,000, you'll earn yourself $250!
What we really like about this promotion is the fact that you can refer as many friends as you like.  While you're capped at $250 per person, you're not capped on how many times you can earn that bonus.
Customer Service
TopBet does not disappoint when it comes to customer service.  Their site claims that they offer customer service 24/7.  We're always a fan of 24/7 support so that clients can get help as soon as possible when they need it.  No one likes to wait for answers.
The first thing that we noticed was that TopBet's help page has a solid lineup of frequently asked questions and answers.  These frequently asked questions and answers are broken out into the following categories:  General, Sportsbook, Casino, Technical Issues, Account Security, and lastly TopBet Mobile.  As you can see odds are they probably have your question or concern covered in one of these sections.
Do you have a question not found in the frequently asked questions, fear not!  TopBet can be contacted via phone or email.  If you're still living in the dinosaur ages, the great news is that you too can contact TopBet via fax!  We've provided the pertinent information below for your quick reference should you need to reach out to the customer service team at TopBet:
Phone support: 1-877-528-6748
Email support: support@topbet.eu
Fax support: 1-877-517-2311
The only thing that we didn't see when it came to customer service at TopBet was live chat.  We're big fans of live chat when it comes to customer support as it tends to be the fastest.  We hope that TopBet will consider adding live chat to their portfolio of customer service support at some point in the future.  Overall, we feel that you should not have any issues with reaching TopBet customer support if and when you need to do so.  Be sure to check out the frequently asked questions at http://topbet.eu/help/ first as you might find your answer there.