Blackjack has long been the world's most popular casino game. Playing this game with a smartphone is easier now than ever before. Our experts will be offering an in-depth guide to real money blackjack apps.
We'll explain exactly how these mobile blackjack platforms work and what makes them so popular. Later, we will go over some unique tips and strategies to give you the best opportunity at winning big .
Let's get into it.
What We Look for in Real Money Blackjack Apps
The online gambling industry continues to evolve at a rapid pace. A huge number of mobile blackjack platforms are now available to players around the world. Knowing how to tell a good blackjack app from a bad one is extremely important.
Our experts have come with a system to rate and review the best online casinos for real money. That primarily involves keeping an eye out for key features that only the best ones provide.
Below are the most important things we look for in the best blackjack apps.
Variety of Blackjack Games
Blackjack is the most widely played casino game in the world. As many are aware, there are a huge variety of blackjack games that exist today. The best mobile blackjack platforms will provide their members with many of these different types of blackjack options.
Some of the most popular types of blackjack games can be seen below.
Classic Blackjack
European Blackjack
Zappit Blackjack
Single Deck Blackjack
Perfect Pairs Blackjack
These are just a few of the different mobile blackjack options available today. We tend to highly recommend apps that provide their members with these unique games. Sites only providing a single blackjack game tend to be lacking in other areas, too.
Sleek Design and User Interface
Nowadays, all online casino applications should provide their members with a sleek, modern design and user interface. This is particularly important for apps providing blackjack games. This is a fast-paced game and the last thing a player wants is a slow, outdated platform to play it on.
The best blackjack apps for real money are constantly updating their designs. They make it easy to play this game from anywhere, at any time using just a smartphone. Many even prefer to play a few hands of blackjack using their phone rather than inside a casino.
We recommend that players compare the designs and interfaces of a few different mobile blackjack platforms. It shouldn't take long to realize which ones are the best. From there, choose the one that best fits your gaming preferences.
Secure Payment Options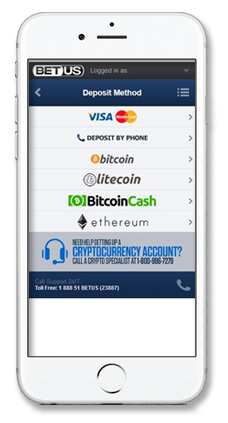 This is not exactly related to blackjack, yet it's perhaps the most important thing to look for in different blackjack applications. Making sure your money is safe should be priority number one when playing any casino games online. Our team spends a considerable amount of time researching the types of payment options provided through different online blackjack apps.
These types of payment can vary greatly from app to app. That includes traditional bank payments, crypto payments, e-wallets, and more. The main things to look for are processing times and fees.
Never join any apps offering blackjack unless you know they will always protect your funds. Keep an eye out for the ones providing safe and simple options to deposit and withdraw your money. Make sure to read what others are saying about the payment systems set in place through the apps you are interested in.
If you find a site offering each of the three features listed above, there is a great chance it is worth joining.
Allow us to highlight some of the most popular blackjack apps for real money that are operating today.
Top Real Money Blackjack Apps Available Today

Just a few years ago, only a couple of basic sites were operating that provided any types of online blackjack options. Oh, how the times have changed. A quick Google search will likely bring up a huge number of unique internet blackjack platforms.
Our experts have taken a close look at the majority of the mobile blackjack apps now up and running. Some truly stand out. Below are five of the ones that we are quick to recommend.
Each of the best blackjack apps listed above is popular among most gambling enthusiasts. They are all known for being extremely safe and providing a variety of fun blackjack options. They are all unique and it's difficult to argue which one is truly the best.
Feel free to check out each of them today. There are pros and cons to each. Spend a little time looking at their designs and the unique blackjack games provided.
How Mobile Blackjack Gambling Works
The true origins of blackjack are unknown. Some point to a Spanish game invented in the early 1600s as the birth of modern blackjack. Today, this game is found inside just about every single gambling venue across the United States.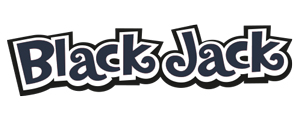 Shortly after smartphones were invented, mobile blackjack options became available. These have grown in popularity over the years. Millions of gambling fans now choose to play mobile blackjack on a regular basis.
Those just discovering mobile blackjack apps may have questions about how to play the game using a smartphone. It's much easier than some might imagine. Allow us to quickly explain how exactly real money blackjack apps work.
Making Bets
Let's assume you have already found a blackjack app and made a deposit into your account. The first way to really begin playing is to make your bet. This is done by choosing the amount of money you want to risk in hopes of beating the dealer's hand.
Most online blackjack applications make the process of placing bets extremely easy.
Oftentimes, different "tables" have their own minimum and maximum bet requirements. Make sure to choose a table that fits your budget.
The Deal
Next, your two cards will be dealt. The goal is to get to or as close to 21 as possible. Go over this number and you lose. The best blackjack apps make it easy to hit, split, double down, and stay. Choose your decision wisely and cross your fingers.
Card Values
Blackjack is an incredibly simple game. Each card has a value and players attempt to reach 21 without going over.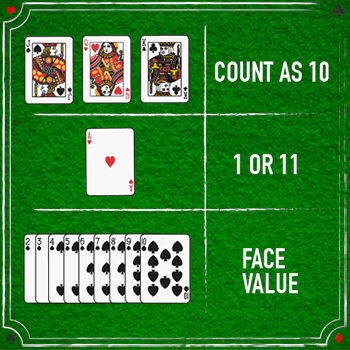 Cards 1-10 have that exact value. Face cards also have a value of 10. Aces can be played as either a one or an 11. Being dealt a 10 and an ace earns a player "blackjack," and an automatic win as long as the dealer does not have blackjack as well.
Playing Options
As we just mentioned, the best blackjack apps make it extremely easy for their players to make decisions based on their hand. Knowing when to choose the correct actions is crucial in finding success while playing blackjack.
Hit: After being dealt, a player can choose to hit. This means asking the dealer for another card. There is no limit to how many times you can hit, yet going over 21 results in an automatic loss.
Double-Down: A player can also choose to double-down after being dealt their cards. This doubles the bet the player originally made while giving just one additional card. Players cannot hit again after choosing to double down.
Split: Players dealt two of the same-value cards can split. This separates the cards into two different hands. Players are then dealt additional cards for each of their two playing hands.
Insurance: If the dealer is dealt an ace, players have the option to utilize insurance. This protects them from losing their bet, assuming the dealer reveals a blackjack. If the dealer does not have blackjack, the player loses the money they paid for this insurance.
Stay: Players always have the ability to simply hold, meaning they no longer want to hit. The goal from here is to then hope that the dealer either busts or reveals cards lower than what's in the player's hand.
Understanding these rules is very important. All online blackjack apps have the same rules set in place. Certain games may come with unique rules, yet traditional blackjack is always played the same way.
Mobile Blackjack Tips and Strategies
Knowing the rules of blackjack and knowing good blackjack strategies are two very different things. The most successful players are the ones that always utilize good strategy. Gambling based on emotion almost always results in failure.
Our team understands blackjack strategy well. We've put together a quick guide that should help even complete beginners to win. Check it out below!

Know When to Hit
Perhaps the most important thing in all of blackjack is knowing exactly when to hit and when to stay. Players often make the mistake of hitting when they should not. This can result in not only them losing, but others at the same table.
Knowing when to hit is just as important when playing through real money blackjack apps. Generally speaking, you will always want to hit when your total card value is 11 or lower. Once your card values exceed 11, the game changes.
| Your Hand | Dealer Card: 2 | Dealer Card: 3 | Dealer Card: 4 |
| --- | --- | --- | --- |
| Hard 12 | Hit | Hit | Stand |
| Hard 13 | Stand | Stand | Stand |
| Hard 14 | Stand | Stand | Stand |
From here, you need to weigh the risks of hitting based on the dealer's hand. If the dealer has a 10 showing, always assume his other card is a 10. Do your best to either match or beat that.
Understand Breaking Hands
This ties into the "knowing when to hit" strategy. Dealers will often have what is known as a breaking hand. This means they are showing a card of anywhere between 2 and 6. They are then more likely to bust than if they were showing anything above 7.
If you have a total card value above 11 and the dealer is showing a breaking hand, do not hit. Etiquette says you should simply hope the dealer busts. Oftentimes, that is exactly what happens.
Double Down When It Makes Sense
Doubling down can be a fantastic way for players to immediately double what they expected to earn. It can be tempting to attempt this move when playing through online blackjack apps, yet knowing when to double down is important.
Some fail to remember that you will only be dealt one additional card after choosing to double.
If a player is dealt an 11, it's often a good decision to double down. That's particularly true if the dealer is showing a card lower than 10.
It's usually best to avoid doubling down if the dealer has a 10 or face card showing. Understand that while you can earn double your bet, you also risk losing double it, too!
Split Your Cards Wisely
There is almost nothing more exciting than splitting your cards against the dealer. This ends up giving you two separate hands and doubles your opportunity to win. Keep in mind that it's only possible to split cards when they are the same (7-7, 9-9, etc.).
Don't make the mistake of splitting your cards at every opportunity. There is a system that will help you to win by splitting your cards. Check it out below.
Split 7s when the dealer has 7 or below.
Split 6s when the dealer has 6 or below.
Do not split 5s.
Do not split 4s.
Split 3s when the dealer shows 4-7.
Split 2s when the dealer shows 3-7.
These tips should help you to be more successful while playing through blackjack apps for real money. Experience is also a valuable commodity with blackjack. The more you play, the better your overall skills will be against the dealer.
Common Mobile Blackjack Options
As our team highlighted earlier, a huge variety of unique blackjack options exist today. Some of these are more popular than others. All of them provide players with an opportunity to win big. The number of different games varies from blackjack app to blackjack app.
Expect to see the same types of games provided by most of these mobile platforms. Below are some of the most popular ones available today.
| Type | Details |
| --- | --- |
| Classic Blackjack | Objective is to reach closer than 21 than the dealer without going over. |
| European Blackjack | Players receive two cards, both face down. Dealer only receives his second card after players finish their turn. |
| Zappit Blackjack | Players can "zap" any two-card hand totaling 15,16, or 17. That hand is then replaced with a new one. |
| Perfect Pairs Blackjack | Additional side betting options, offering players unique opportunities to win. |
| Single Deck Blackjack | Traditional blackjack played using a single deck. Easier to keep track of the cards that have been dealt. |
A huge number of other unique mobile blackjack games are provided online. More are likely to become available in the next few years. Make sure to play a few of these different games and there is a great chance that you will find one you enjoy even more than traditional blackjack.
Live Dealer Blackjack
Some will be quick to dismiss online blackjack, as it does not offer the same level of excitement that playing inside a real casino does. Some of that may be due to the fact that real money blackjack apps use computerized dealers. Live dealer blackjack games, however, make it feel as if you're really playing inside a casino!
There are now a huge number of live dealer blackjack apps operating today. The specific number of games these apps offer can vary. They all give a truly unique online gambling experience.
Real Money Live Dealer Blackjack Apps
Live dealer blackjack games are, as the name suggests, online blackjack games connected via live video stream to a real-life dealer who collects wagers and deals cards. Having the human element makes all the difference. It can truly make it feel as if you're simply playing inside a casino resort.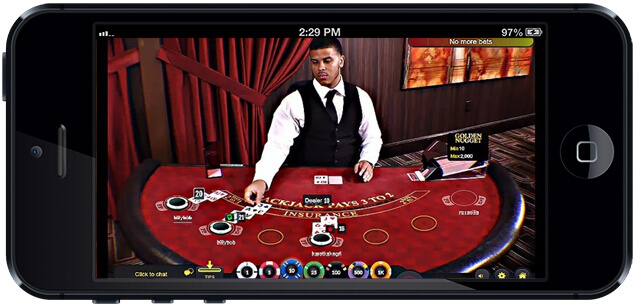 Real money live dealer blackjack apps make playing these games extremely easy. They simply require a smartphone and internet connection. With those two things, everyone can take part in this exciting form of online blackjack.
Most mobile live dealer blackjack dealer platforms are perfectly safe. Finding the best ones should be easy. Feel free to check out our full guide to live dealer casino games here to find more information on these unique gambling options.
Free Money Blackjack Apps
Online blackjack grows more popular every single year. It's the world's most-played casino game and a huge number of individuals around the world now play online regularly. Of course, not everyone is able to risk their money playing this fun casino game.
Those individuals may want to consider playing through free money blackjack apps. These are free-to-play mobile blackjack platforms that can be played anywhere.
Keep in mind that some of these apps still earn money through in-app purchases.
Most of these free mobile blackjack apps require their players to have chips to play. These can often be earned through free daily bonuses. Additional chips can be purchased for real money. This does make these platforms traditional gambling sites, as no money is being wagered.
Many experts actually recommend these apps to blackjack beginners. They can help new players develop strategies that will help them in the future. They may also give insight into how to best maximize your profits with a limited number of chips.
Free-to-play blackjack apps can be found via a quick Google search. These can also be quickly accessed through your phone's app store. Feel free to check some of them out today.
Blackjack Apps FAQ
Use attribute "a" for answer.
Specific gambling regulations vary from country to country and state to state. It's always smart to read about how your local government views gambling. Generally speaking, mobile blackjack apps are allowed and grow more popular every single year.
Promotions are offered by most of the best blackjack apps operating today. Expect to see some fantastic welcome bonuses that add money onto a player's first deposit. Reload bonuses and crypto-specific deposit promotions are common, too!
Live dealer games have grown hugely popular over the past few years. They offer the closest thing to playing blackjack inside a casino that an online platform possibly can. Most of the modern mobile blackjack applications provide these games, yet it's always smart to double-check exactly which ones do.
Blackjack is one of the most popular gambling options in the world and experienced players can often win large amounts of money on a regular basis. Head back up this page to find some of our expert blackjack tips. Following these should help to increase your odds of winning.
Most of the blackjack apps for real money operating today serve as full casino gambling platforms. That means they provide slot games, poker, and more. Spend a little time checking out the games that different apps are offering today.