Sports Betting Strategy Articles, Betting Data, and Additional Resources for Bettors
---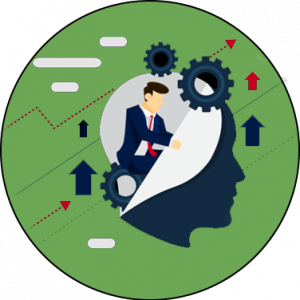 With literally hundreds of billions of dollars (with a B) bet on sports every single year, it's an exciting thing to be a part of. And whether you're here to learn about how to bet on sports, how big the sports betting market is, or you're looking for sports betting strategy resources—this is where you want to be.
When we say there are a ton of resources here, we mean a ton! And we cover the bases for those new to the sports betting scene and are not at all familiar with things as well as the seasoned veterans who are looking to up their strategic game plan! We have an online sports betting guide for beginners, statistics on the growth of the online sports betting industry in the US, and coverage of the most profitable and popular sports markets currently available. And there is much more beyond that, making this one of the best sports betting resources you will find anyone online!
It's really tough to get into real money sports betting without somewhere to bet. For that reason, we've included a list of our top picks for the best online sports betting sites. You don't have to pick out an option now, but it certainly helps to be able to "follow along" as we walk through the data, strategy, and resources of this billion-dollar industry. Buckle up for one of the most in-depth and comprehensive sports betting guides to be found anywhere in the market!
Contents of Our Online Sports Betting Guide
Beginners Online Sports Betting – How to Get Started the Right Way
Getting started with sports betting can be intimidating. Between the data, the jargon, and the speed at which things happen—it's a lot. Compound on top of that the websites that teach beginners assuming you already know everything, and you create a giant waste of time.
Often, if you ask someone to teach you about sports betting for money, you are lost 10 seconds in as soon as they start rattling off random lingo about parlays and if bets, and you learn nothing. While those people mean well, they lack one thing – the ability to teach.
That's not how we do things here. We embrace the fact that you're new to this. We understand you aren't going to know all the terms and the lingo. Most importantly, we know how you feel because we were there one day.
[ Back to Top ↑ ]
Online Sports Betting Strategy for All Levels, Sports, and Bet Types
Real money betting on sports is fun. But do you know what's infinitely more fun? Winning! Learning how to bet on sports and all the ins and outs of the industry is an important step one of the process. However, just because you know how to make a bet doesn't mean you're going to come out of the gate a winner.
The logical step two is to dig into the strategy of betting. And while you normally have to pay for quality sports betting strategy advice, that's not the case today. We're giving you 100% free access to all of our beginner, intermediate, and advanced sports betting strategy guides. No sign-up, no credit card, no giving us your firstborn—nothing.
All of the guides are broken down by skill level, the sport you want to bet on, and the type of wager you want to make. If you're ready to start winning by taking your betting game to the next level, head on over to our sports betting strategy hub now, or check out the links below:
Start Betting On Your Favorite Sports
Chances are when you're looking to bet you have a specific sport in mind and you should! No two sports should be bet exactly the same and that's why we've put together the following resources to make sure you know what you're doing when betting on your sport of choice:
The Most Popular and Profitable Online Sports Betting Markets
Ever wonder which sports are the most popularly bet on? Or, more importantly, ever wonder which sports are the most profitable to bet on? We did, and we dug into some data to get to the bottom of it. In the next few sections, we'll look at both of these topics and then take a closer look at how you can get started sports betting on the most popular and most profitable options out there.
What Sports Are Americans Betting Money On?
In 2017, Statista conducted a research survey on the most popular sports bet on by US residents aged 18-69. The study asked participants to answer yes or no on which sports they'd bet on at least once in the past. The study listed eight sports, an 'other' column, and a 'none of the above' option.
Here are the results.
| Have You Bet On? | % Yes |
| --- | --- |
| Football | 77% |
| Basketball | 24% |
| Horse racing | 20% |
| Baseball | 17% |
| Soccer | 9% |
| Boxing/MMA | 7% |
| Hockey | 6% |
| Golf | 4% |
| Other | 2% |
| None of the above | 1% |
What Professional Sports Leagues Are More Americans Betting On?
You can take the data further to see which professional sports leagues more Americans are betting real money on. A 2019 study from GlobalWebIndex looked at US sports fans aged 21-64. The study asked, "Which of the following sports might you be interested in placing a bet?" Respondents were able to answer yes to as many options as they wanted to.
Here are the results.
| Rank | Sport/League | % Yes |
| --- | --- | --- |
| 1st | NFL | 61% |
| 2nd | NBA | 58% |
| 3rd | MLB | 53% |
| 4th | Boxing | 42% |
| 5th | Horse racing | 35% |
| 6th | NHL | 32% |
| 7th | NASCAR | 28% |
| 8th | Esports | 23% |
| 9th | MLS | 21% |
| 10th | WNBA | 16% |
What Sports Are the Most Profitable to Bet On?
A question we get all the time is which sports will you make the most money betting on. It's important to note before we get into the data that the most profitable sport for you to bet on depends on where your knowledge and experience are.
If you spent a decade watching the NFL and hours researching stats, will that be more profitable for you to bet on than baseball? Probably.
That all being said, there are some wider sports betting trends we can look at for an answer. Recently, we looked at one of the largest sports betting markets in the US—Nevada. We looked at brick and mortar sports betting wins broken down by sports over a five-year period.
Below you'll find the data we found. The percentages represent the sportsbook's profit for the year for each specific sport. According to the data, baseball is the most profitable sport to bet on. Following baseball is football, then basketball, then other sports, and finally, way, way in 5th place are parlays.
| Year | Football | Basketball | Baseball | Parlay | Other | Total |
| --- | --- | --- | --- | --- | --- | --- |
| 2015 | 4.86% | 5.83% | 4.39% | 29.56% | 6.27% | 5.47% |
| 2016 | 5.39% | 4.75% | 3.08% | 17.28% | 6.07% | 4.86% |
| 2017 | 4.38% | 5.90% | 3.23% | 24.12% | 7.56% | 5.11% |
| 2018 | 5.65% | 6.60% | 4.59% | 24.08% | 5.10% | 6.01% |
| 2019 | 6.55% | 5.61% | 5.10% | 29.84% | 6.74% | 6.19% |
| Average | 5.37% | 5.74% | 4.08% | 24.98% | 6.35% | 5.53% |
The Popularity and Profitability Winners
Football – The Most Popular Sport to Bet On
Betting action is available on the NFL, NCAA (college), Canadian Football League (CFL), XFL, and more.
The most popular types of wagers made on football are moneyline wagers and spread bets.
The largest betting event in football is the Super Bowl, where over $6 billion is wagered annually, according to the American Gaming Association (AGA).
There are 130 Division I football teams in college football and 32 NFL football teams. Throughout the NFL season, 256 games are played that you can bet on, not including preseason and the playoffs.
Baseball – The Most Profitable Sport to Bet On
Real money betting action is available on the MLB, NCAA (college), international baseball leagues, and even on the Little League World Series (LLWS).
The most popular baseball bets are moneyline bets and run line bets. Series bets are also quite popular as you get into the postseason.
18% of Americans say they are 'Avid Fans' of baseball, while 36% say they are 'Casual Fans,' and 46% say they are 'Not a Fan,' according to a recent 2020 study by Morning Consult.
Basketball – A Strong Showing in Both Categories
Basketball sports betting action is available on the NBA, NCAA (college), Euro leagues, and other international leagues.
The most bet on basketball league is the NBA with 30 teams and 1,230 total NBA games during the regular season.
According to Morning Consult, 27% of Americans in 2020 said they were 'Casual Fans,' 18% said they were 'Avid Fans,' and 56% said they weren't fans at all.
[ Back to Top ↑ ]
Expert Online Sports Betting Picks in Real Time
Sometimes you just want the sweat, but you don't want to put in the hours of research to make a smart betting pick. We get that! Also, you might have your picks made and want to see how they stack up against the experts in case you missed something. We get that too!
Regardless of which of those camps you fall into, we've got a great resource you're going to love. Click below to see our real-time expert sports betting picks from our team. You'll find picks for all major sports and sometimes more obscure offerings.
Our Expert Picks
[ Back to Top ↑ ]
Sports Betting in the US Industry Report – Data, Facts, and Figures
As one of the largest gaming markets in the world, we wanted to take some time to walk you through the current state and future projections for sports betting in the United States.
Key Takeaways About Betting on Sports in the USA
Support for real money betting on sports has increased from 63% to 79% among Americans in just 12 months.

1 in 5 men say they bet on sports; only 7% of women say they actively participate in sports betting.

Football is by far the most popular sport bet on in the US, followed in order by basketball, horse racing, baseball, and soccer.

Baseball is the most profitable sport for bettors within the industry.

Parlays are the biggest winners for the sportsbooks.
Is Sports Betting Getting More Popular?
Here's the bottom line up front. Sports betting in the US is on fire. Not only are more people betting, but you've got more support for the industry and more money flowing through the industry.
Let's look at a few statistics and studies that support that statement.
According to the American Gaming Association (AGA) and a study conducted by the Mellman Group, 79% of Americans support the full legalization of sports betting in the United States (2019). Compare this with the same study from the previous year, and that figure was 63%. This shows that more Americans are getting in line to support the growth of the sports betting industry.
When you extrapolate this data, it shows that statistically, four out of every five Americans support the industry! And with an increase from 63% to 79% over the previous year, it's clear that favor is growing.
What's probably more interesting and speaks bigger volumes is that these statistics include support from people who most likely aren't bettors themselves. According to a 2020 study by Morning Consult, only 13% of US residents participate in sports betting in the US.
The Nevada Gaming Control Board reports that in 2020, $154.68 million was wagered on the Super Bowl through land-based sportsbooks. This figured represents a 33.36% increase from just five years prior ($115.99 million in 2015).
While Nevada is only one state out of 50 in the US, it generally serves as a great barometer for the rest of the industry. And while real money online sportsbooks don't make their data as readily available, trends have shown a similar pattern.
Who is Betting in the United States?
Hopefully, the first answer to this question is you! If you aren't (and want to), we've got a great list of the best online sports betting sites at the top of the page. While "becoming a statistic" is usually a bad thing, it's a good thing in this situation!
So, who exactly is betting in the United States? Besides the easy answer of a lot of people, we have some data on the demographics of people wagering in the US Here is the data from Morning Consult, a data intelligence company as well as some key takeaways.
Percentage of US Respondents Who Participate in Sports Betting in the US By Age
| Age | Yes I Bet | No, I Don't Bet |
| --- | --- | --- |
| 18 – 29 | 14% | 86% |
| 30 – 44 | 22% | 78% |
| 45 -54 | 11% | 89% |
| 55 -64 | 7% | 93% |
| 65+ | 7% | 93% |
Percentage of US Respondents Who Participate in Sports Betting in the US By Gender
| Gender | Yes I Bet | No, I Don't Bet |
| --- | --- | --- |
| Male | 20% | 80% |
| Female | 7% | 93% |
Percentage of US Respondents Who Participate in Sports Betting in the US By Ethnicity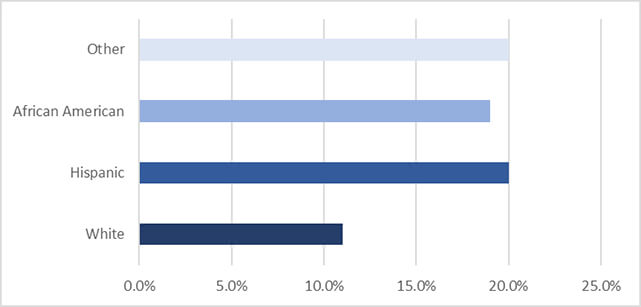 Graph: Created by TheSportsGeek.com
Key Takeaways
The largest age block of US residents who say they bet on sports is 30-44 years of age.

More 18-29 year olds bet on sports than 45-54 year old's.

1 in 5 men says they bet on sports in the US

Less than 10% of women in the US say they participate in sports betting.

Hispanic Americans have the highest percentage of participation in sports betting (20%)
[ Back to Top ↑ ]
Online Sports Betting vs. Betting In-Person
As you'll see in the next section, the online betting market is exploding all over the world. What this means is that more and more people are gaining access to the ability to bet on sports online. But does that mean it's the best option for you? Here are a few quick takeaways on the differences between betting on sports online and betting on sports in-person.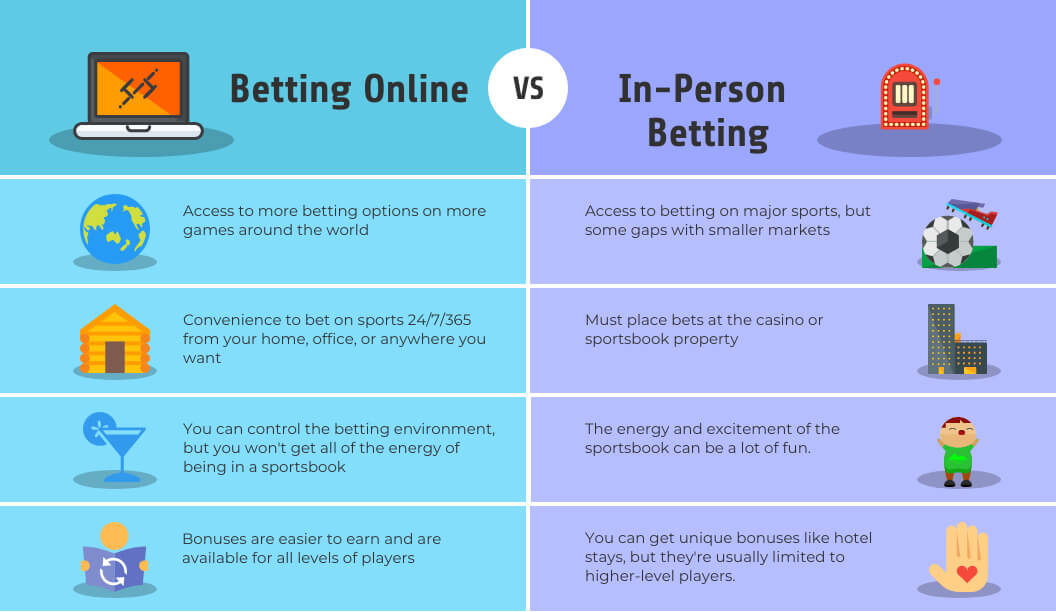 Infographic: Created by TheSportsGeek.com
[ Back to Top ↑ ]
The Growth of the Online Sports Betting Market
Here's the bottom line upfront – the online gambling market in the world is exploding rapidly.
According to The Business Research Company, the market accounted for $58.9 billion in 2019. In 2020, that number grew to $66.7 billion. And projections for 2023? That's expected to jump to $92.9 billion! Now, keep in mind that number does account for casino and poker as well as sports betting. But the takeaways from the trend are applicable across the board.
Where is all the growth occurring? All over the place. Here's a look at some of the data and key takeaways on the growth of the online gambling market by region from 2012 to 2018. The data comes from H2 Gambling Capital, James Stock & Co., and iGaming Business.
| Region | 2012 | 2015 | 2018 |
| --- | --- | --- | --- |
| Europe | $12,790,000,000 | $18,110,000,000 | $24,750,000,000 |
| Asia and Middle East | $9,250,000,000 | $11,670,000,000 | $14,120,000,000 |
| North America | $3,950,000,000 | $4,890,000,000 | $8,660,000,000 |
| Others | $2,210,000,000 | $3,220,000,000 | $4,410,000,000 |
Graph: Created by TheSportsGeek.com
Key Takeaways
Europe continues to be the largest gambling market in the world, followed by Asia and the Middle East and then North America.

The largest area of growth in online gambling from 2012-2018 has been in North America with a 119% increase. Other countries saw an increase of 100%, Europe saw a 94% increase, and Asia and the middle east increased by 53%.
[ Back to Top ↑ ]
Online Sports Betting Systems Broken Down and Tested
If you hear someone tell you they have a system to beat casino games, they're either lying, confused, or cheating. There's no way to beat the casino when it comes to table games and slots. However, where sports betting gets exciting is that you can actually beat it! There are systems out there that can help you to gain an edge on the book.
[ Back to Top ↑ ]
Betting Odds – Types, Movement, and Strategy Tips
Without overloading you with math, we want to go into a few need-to-know pieces of information about what betting odds are, how they work, and the different types you'll see when sports betting.
What are Betting Odds?
Betting odds are a way for the sportsbook to tell you how much you're going to get paid on a bet or by what margin the team or game needs to outperform for you to win your bet. Other terms you might hear it called by are 'the line' or 'the spread' or 'laying points'.
For example, here are the betting odds on a few wagers for an NFL football game.
| TEAM | SPREAD | MONEYLINE | TOTAL |
| --- | --- | --- | --- |
| Chargers | +3½ | +160 | Ov 53½ |
| Raiders | -3½ | -180 | Un 53½ |
Statements you can make from seeing this are:
The Raiders are favored to win the game by 3½ points.
The total for the game is 53½ points.
A moneyline bet on the Chargers pays out at +160.
How and Why Do Betting Odds Change?
Why do we have odds like this? It's because every game, match, or race isn't completely even. In the above example, the Raiders are expected to win the game. If the sportsbook paid out the same amount of money on a Chargers win as a Raiders win, nobody would ever bet on the Chargers. Instead, the sportsbook changes the lines to try and balance the amount of money bet on both sides of the game.
How does this affect you? Here are the key sports betting takeaways.
The balancing act is done internally – Each sportsbook tries to get the right amount of money on each side of a bet so that they can pay the winners with the loser's money and take a small percentage off the top for themselves. Because it doesn't matter what happens at other sportsbooks, you're going to see different lines at different sportsbooks on the same bet. This is something you want to look for and take advantage of (it's called line shopping).
Lines are not constant – Betting lines change all the way from the time they're released up until the betting closes. This means there's an element and an art to timing your bets appropriately to get the best lines and odds.
The Types of Betting Odds
Depending on where you live in the world and where you choose to bet, you may see betting odds represented in a different way.
American Odds – These are odds written like (-160) and (+180)
Fractional Odds – These are odds written like (5/8) and (9/5)
Decimal Odds – These are odds written like (1.625) and (2.8)
(-160) is identical to (5/8) and (1.625). It's just different ways to write the same betting odds.
Do you need to learn how to convert these odds? Absolutely not. The best online sports betting sites give you the ability to toggle between your preferred format of betting odds. But it's nice to understand the differences in case you interface with someone from a different region of the world or you go to make an in-person bet somewhere that uses a different format.
Tips for Mastering Betting Odds
Understand what the odds mean – Know what you're betting. Know what you're risking and what you stand to gain with a win. Just because you think a team is going to win a game doesn't mean that it's a profitable bet to make.

Have a plan to time your bets – Embrace the fact that betting lines can and do change. Have a plan for timing your bets to get the maximum payouts and the biggest opportunities to win.

Shop betting lines – Make sure you have a few different options set up to check for better lines. If you're only betting at one sportsbook, you're leaving money on the table. A half-point here and a few extra bucks there might not seem like a lot. However, when that gets extrapolated out over hundreds or thousands of bets—it's huge.
Different Types of Bets
Nowadays, most online sports betting sites provide their members with a wide variety of types of bets. Each one is completely unique. They all can provide bettors with some massive opportunities to win big.
Here's a quick look at the three most popular types of sports bets available in 2022.
Moneyline Betting: Moneyline betting is the most popular form of sports betting offered today. It is essentially just a bet on the outcome of a given sporting event. The teams or athletes involved are each given odds and bettors wager their money on which will win.
Point Spread Betting: Point spread betting is another popular online sports betting option provided by most betting sites. These odds will vary depending on the sport. Generally, it is a bet on the margin of victory for a particular sporting event. This gives bettors more of an incentive to place bets on underdog teams.
Total Betting: Total betting, also known as over/under betting, is typically a bet on the total number of points scored throughout a game. In combat sports, these are bets on the total number of rounds that take place during a match. These odds provide sports fans with a fun opportunity to place bets without needing to choose an event winner.
Our team of experts provides in-depth online sports betting strategies for each of the unique types of wagers below. Spend a little time researching more about these types of bets before you decide to make them yourself.
[ Back to Top ↑ ]
Additional Online Sports Betting Guides and Articles
The joy of learning about sports betting is that there is such a vast amount of knowledge that you can learn to help turn a profit. At times, though, this knowledge doesn't fit neatly into one of our above categories. That's certainly no reason for us not to share that information with you!
Below, you will find all the guides, articles, and resources that we couldn't get organized above. These articles will span all sports, all bet types, and be great for beginners and for advanced bettors. Make sure you're checking back often because there is a lot of gold being added here regularly, and you're not going to want to miss out on any of it. The more you learn about sports betting, the better your odds are going to be of success.
We hope you enjoy all of our real money sports betting articles and if you have any questions or want to suggest a new topic for us to write about you can contact us anytime.
[ Back to Top ↑ ]
FAQ About Online Sports Betting
In the USA, the most popularly bet on sport is football, and the most popularly bet on professional sports league is the NFL. Over $6 billion is wagered annually on the Super Bowl alone.
The most profitable sport for you to bet on is the sport you have the most knowledge in. However, if you're looking for industry-wide trends, sportsbooks make the least amount of money off of baseball bettors. The biggest profit generator for sportsbooks is parlays.
Yes, you can bet on sports in the United States. Depending on where you live, you may have the ability to bet on sports in-person or online.
The single best sports betting tip to make the most money is to shop your betting lines. There's no reason you should take a bet at (-6) when it's available somewhere else for (-5.5).
The amount you can make betting on sports depends on what you bet and how good you are at picking winners. Some sports bettors make a living betting on sports for money, while others break even or lose. If you're looking for a way to turn a small amount of money into a big win fast, look into parlays.
The only difference between these three types of odds is how they are represented. You won't gain any advantages by using a different odds format.
There are a ton of great betting apps and online sportsbooks that provide convenient online betting wherever you are. Click this link to learn more about the
best USA online betting sites
and what factors make the top ones stand out.
Technically yes, it could happen, and many people have made their living betting on sports. However, this does not mean it's an easy thing to do. A lot of time, effort, and knowledge is needed to make good money sports betting; let alone get rich. For most people wagering on sports should be a hobby, not a career.
When you're just starting out it can be really discouraging to take that first loss. There go your dreams of being a professional sports bettor. Right?
Wrong! In fact, even the very best of professional bettors only get about 55% of their bets right. As long as you can find what bets are and aren't worth taking there's a lot more to your career as a sports bettor than just how often you win and lose.
Still, have questions about how you can make the most money betting on sports? Maybe you're wondering where the best places to places online bets are? Or how one sports betting strategy compares to another?
Feel free to contact our staff here. We're more than happy to answer these questions and more!