VISA is one of the most popular credit cards worldwide, and especially in the United States. Below we have a list of the best online sportsbooks that allow VISA credit card deposits and US bettors. Sometimes VISA deposits will not go through, depending on the bank they are connected to, and bettors will have to use a different credit card or find a different deposit method. There are always ways around your VISA card getting declined at a sportsbook, but below I have listed the betting sites that have the best approval rate for VISA credit card deposits.
Bovada.lv – Right now Bovada has the best credit card acceptance rate.  Bovada as a company has been around for over 15 years and has never missed a payout in their sportsbook, poker room, or casino (by the way – one account gives you access to all three).  Anyways give Bovada a try as I would be extremely surprised if your Visa didn't work at their cashier.  If it doesn't work they have a lot of great alternatives anyways.  You will also be eligible for their $250 free bonus.
BetOnline.ag – Another great US facing online sportsbooks that allows VISA credit card deposits. The minimum VISA deposit for BetOnline sportsbook is $50, while the maximum is set for $2,000 per transaction. First time credit card depositors will have to go through a simple online identity verification test before they process your VISA deposit. You can get up to $900 in bonuses with every VISA sportsbook deposit at BetOnline.ag which is a nice bonus for betting at their sportsbook.
5Dimes.eu – VISA deposits are the preferred deposit methods at 5Dimes.com, one of the oldest and most trusted online sportsbooks. The VISA deposits will be processed 24 hours a day, and 5Dimes has a great processor to make sure that the majority of VISA deposits are accepted. The minimum VISA deposit is $50, while the maximum is set at $500 (which can be raised by contacting the sportsbooks support). To prevent fraud 5dimes has a credit card validation process for first time VISA deposits, which will take 45 minutes to 2 hours. 5Dimes allows prepaid VISA gift card deposits, as long as they are over the $50 minimum VISA deposit.
VISA Gift Card Sportsbook Deposits
All online sportsbooks we have listed above accept VISA gift card deposits, as long as they meet the minimum deposit requirements, but there are some cards that will get denied. You may have to test out the gift card at the sportsbook before being sure that it will work, so I would recommend starting with a $50 VISA gift card to ensure it works 100%. If the gift card doesn't work I would suggest contacting the sportsbooks support, as all three sportsbooks listed above have great customer service teams that will help you deposit your money.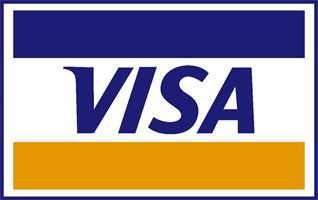 *as always check your local laws and rules at your bank.