The great state of Nebraska has long enjoyed gambling in similar ways to some of its neighboring states. Residents have a variety of legal betting options, including slots, video poker, and betting on horse racing.
When it comes to online gambling and sports betting though, Nebraska still has quite a way to go.
Today, we'll take a look at the legal landscape of gaming in Nebraska, help you to identify real money Nebraska sports betting sites, and give you the tools to get started betting today.
Best Nebraska Sports Betting Sites
Our expert team at The Sports Geek has combed through dozens of sports betting sites to bring you a list of the best Nebraska sports betting sites. Using an extensive list of criteria, we measured the merits of each to see which site provides players with the best overall online gambling experience.
Below, you'll find the list of our selections. Under the list, you'll find a small selection of the criteria we used. You can use these core criteria to evaluate all the sites on our list or any other online betting sites in Nebraska.
Criteria We Used To Evaluate Nebraska Betting Sites
Wide Range of Bets Available
The next thing we considered in our evaluation was the range of options each Nebraska sports betting site offers. Choosing to play on a website that provides variety will reward you with a more enjoyable experience. Also, doing so will provide you with avenues to learn new games or sports and develop as a player. Continued learning is the key to successful, fun betting. Each site we recommended must accommodate the needs of a sports bettor as well as someone interested in casino-style games. You'll find all of these options on the sites listed above.
Minimum and Maximum Bets
Minimum and maximum bets are crucial for all players, but more so for two groups specifically. New players want to make sure to play on a site that offers low minimum bets, so they can learn while taking minimal risk. In contrast, advanced players want to choose online sportsbooks in Nebraska that have high maximums so they can increase the size of their winning. If you're a newbie, keep in mind that you'll have plenty of time to grow into larger bets, so starting small is ok.
Excellent Odds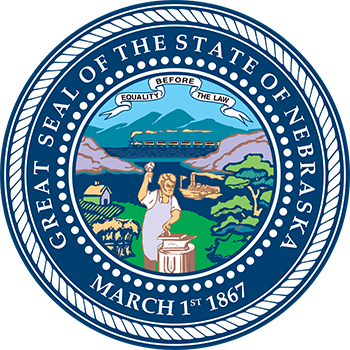 A crucial factor with any Nebraska betting sites is making sure they offer competitive sports betting odds. If you're familiar with sports betting, you'll know that "odds" are how a bookmaker expresses the payout that corresponds with a particular bet. Playing on a site with superior odds means you make more when you win. Your job as an online sports bettor is to maximize the return on the risk you take with each bet.
In addition to telling you what the payout on a bet will be, you can get another piece of information by looking at the odds. Since better payouts correspond with higher perceived risk, the scale of the payout will give you a clue to how likely the bookmaker thinks you'll win that bet. No Nebraska sportsbook will offer you 100:1 on something probable. This info can help you balance out your strategy.
If you're still on the fence about getting into online sports betting, Nebraska online sportsbooks have another advantage over their brick-and-mortar counterparts. The odds offered by Nebraska sports betting sites will almost always be better than those provided in person. Think about it. A live sportsbook has a captive audience with no competition. They have no reason to offer you overly competitive odds. Sites where you can bet on sports online in Nebraska, on the other hand, need to compete with every other Nebraska betting sites. These sites can use better odds to create a competitive advantage and attract new players. Each of the Nebraska online sportsbooks we recommend offers some of the best odds on the internet.
Cryptocurrency
A growing trend in recent years has been the usage of cryptocurrency as playable tender on real money Nebraska sports betting sites. With these new digital currencies coming into their own in the last decade, there are now hundreds of cryptocurrencies being used by millions of people. Users appreciate their added anonymity, ability to be transferred quickly, and the fact that they usually incur fewer fees. You'll be happy to learn that all of the sites we selected support crypto, and in some cases, multiple coins. Also, some online gambling websites will offer exclusive promos just for crypto players.
New Player Signup Bonuses
One of the first things you should look for when evaluating Nebraska betting sites is the list of new player signup bonuses they are offering. Signup bonuses have become a popular way for casinos of all kinds to attract new players. These perks are exclusively offered to new players as a way to lure them away from the competition.
Generally, they will come in the form of deposit matches on the players' first deposit.
Bovada
is offering a 50% match on the first $1,000 a player puts into their account. If that player adds the whole $1,000, the site will give them an extra $500.
Make sure to select online betting sites in Nebraska that offer new player bonuses, and always take advantage of them to the fullest extent you can. These freebies can be quite lucrative, and they can have a considerable impact on your account balance.
Real Money Promotions
In contrast to the new player bonuses, which are limited, promotions are open to all players. These perks are a broader category of player engagement that online gambling sites use to keep players coming back for more. Ranging from chances to win a car to tournaments with cash prizes, the variety of promos runs the gambit. If you've ever played the floor in a typical casino, you've likely seen them in action.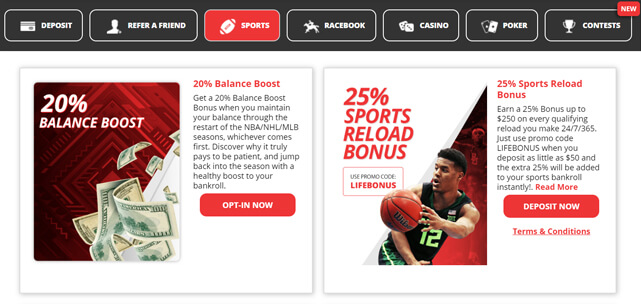 When selecting your Nebraska sportsbooks online, take a look at the promos being offered by each site. See which one appeals to you. Some promos are recurring, and others are one-time events. Regardless of which type of promo catches your eye, we've got one to match your needs. Always remember to take advantage of promos because while they may seem small, they will add up over time to make a big difference.
Payout Minimums
Closely related to payout speed is the required minimum payout. Some sports betting sites have high withdrawal minimums that make getting money out a challenge for some players. Mainly, if you're a new or small-time player, you'll want access to as much of your capital as possible. The online Nebraska sportsbooks we vetted all offer players low payout minimums that are almost always under $5.
Speedy Payouts
The ability to get fast access to winning is a crucial selling point when looking at online gambling sites. Some sites will tie up wins for an extended period while they process. You want to play on Nebraska betting sites that gets you money fast. All the sites we recommend usually get players paid out in less than 24 hours, and sometimes much quicker.
Nebraska Online Sportsbooks Security
Of paramount importance with any online gambling website is their security. You need to know that your personal and financial information will never get into the wrong hands. The sites on our list want you to be able to focus on betting, not worrying about your data. Our experts have vetted each site, and they're all verified secure. With long track records of impeccable safety, you can rest assured you will have the safest online gambling experience possible playing with any of our recommendations.
Playable Platforms
In this day and age, players have high expectations for their online gambling experience. People are busier than ever, and while they can't always have a computer in front of them, they still want to be able to bet. We think players should be offered a seamless experience across multiple platforms so they can play where they want and how they want. All our recommended sites will provide you with PC, mobile, and tablet gaming options so you can place bets anytime, anywhere.
Intuitive User Interface
In addition to having lots of places to play, we think it's critically important that players have a clear, well-thought-out website through which to place bets. High stakes sports betting is complicated enough without the added stress of a poorly designed betting interface. We focused on websites that have invested in the player experience to make their platform as clean and easy to use as possible. We also looked for sports betting sites that offered beautiful aesthetics. You want to choose a sports betting site where being on the site and playing is enjoyable.
World-Class Customer Service
Finally, any site we recommend must offer customers best-in-class customer care. We looked for real money Nebraska betting sites that provide 24/7 support, multiple channels of communication, and a long record of satisfied customers. If you've never had to deal with poor customer service, you likely don't know just how rare and valuable excellent customer service is. You can be sure that if anything goes wrong while playing on these sites, you'll get a prompt and professional resolution.
Is Sports Betting Legal in Nebraska?
The state of Nebraska offers residents multiple tribal casinos but is relatively strict on what games are allowed. Also, they are quite clear on the illegality of sports betting and online gambling. Despite the US Supreme Court overturning PASPA in 2018, Nebraska has not joined the ranks of state moving to legalize sports betting.
As a result, the only legal options for Nebraska residents are tribal casinos offering slots and video poker, the lottery, betting on horse races, and DFS. If you visit any casino in the state, you won't find many of the games you may be familiar with, such as table games. When it comes to online gambling, the only legal option is DFS (daily fantasy sports).
However, the fact that no Nebraska-based casinos can offer sports betting or online gambling doesn't mean Nebraska residents are out of options. Thankfully, their neighbors to the east (Iowa) have recently legalized sports betting, so Nebraskans can cross the state line to place legal bets. Also, residents can play on any of the Nebraska sports betting sites that made our list. Since these sites are not based in the US, they are not subject to the same laws as US-based online casinos. Keep in mind that you always want to play on well-vetted offshore sites like the ones on our list.
While not currently legal, there has been discussion of moving toward the legalization of sports betting in Nebraska. In February of 2020, Senator Justin Wayne introduced bills that would push to bring legal sports betting into the state. He and other proponents are motivated by a desire to offer residents more gaming options, but more importantly, by the loss of tax revenue to Iowa.
Supporters argue that Nebraska is losing hundreds of millions in tax revenue each year from residents driving over the border to play all the games that are illegal in Nebraska. They feel that under current law, Nebraska casinos cannot compete with their neighbors, and the state is leaving money on the table. If the bills are voted into law, the state could see a massive influx of funds to support schools, infrastructure, and other statewide needs.
Steps to Betting Online in Nebraska
1. Pick Your Nebraska Online Betting Sites
The most impactful factor in the quality of your online sports betting experience will be the site you choose to bet with. Take some time looking through all the options. Review our list criteria and see which points are most important to you. Next, visit each of the sites on your own and get a feel for which one matches your style. Not all sites will offer the same things, so taking the time to make an informed decision here will pay dividends for years to come. Once you've landed on the one for you, go ahead and get signed up.
Getting registered should be reasonably quick and straightforward. All you will need is basic personal info and payment info. If you are planning to use a bank transfer, you'll need to have banking details ready. If you plan to use any of the third-party payment systems, you'll just need login credentials. Remember that all your information is securely stored, so there's no need to worry about sensitive data getting loose.
3. Familiarize Yourself With All the Research Tools
Once you have finished signing up, you'll have full access to the entire site. This is an excellent opportunity to poke around on all the tabs and pages to get familiar with everything. Many Nebraska betting sites will provide players with analysis, historical data, and expert picks to help the players refine their selections.
If you want to be successful in sports betting online, you need to be comfortable looking at and using all this data. A more informed player will make higher quality picks. Your goal is to remove as much "luck" from your picks as possible.
It's now time to start betting some real money. Take a look through all the sports that your new Nebraska sports betting site offers and decide where you want to start. When it comes to sports betting, all sports are not created equal. Payouts and frequency will vary widely by sport. It's smart to begin by betting on a sport with which you are familiar. You can try new sports later on after you gain some experience.
We also suggest that new players always start small and work their way up to bigger bets over time. It can be easy to get excited and bet too much. Your goal at this point should be to learn, not get rich. Starting with manageable bets will enable you to learn without betting the farm.
Now that you've placed a few bets under your belt and know how things work, it's time to think long-term. Talk to any successful sports bettor and they will tell you that the key to success is to have a continually evolving strategy. From the start, you should be recording the bets you place, the reasoning behind why you placed them, and the outcomes of those bets. Being able to see patterns in your results over time will give you invaluable insight into what is and isn't working in your strategy. Use this information to improve and make yourself a better player.
Finally, once you feel like you've mastered one area, you can move into something new. Since you chose a Nebraska sports betting website that offers lots of options, you'll have many other sports to choose from. When shifting to a new sport, you always want to start by learning the basics before placing your first real money bets. After you have baseline knowledge, you should start the process all over again by going back to small stakes and meticulous recordkeeping. If you do so, you'll be much more likely to succeed.
Best Sports to Bet on in Nebraska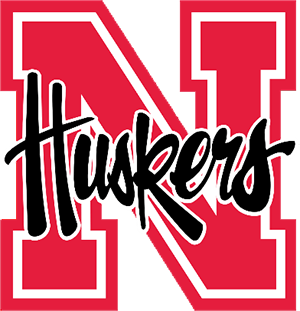 There has always been disagreement over which sports are best when it comes to sports betting. This is because different sports offer different advantages and no two bettors are the same. However, for Nebraska residents, football is the clear winner. Sports fans across the Midwest are known as some of the most loyal and passionate in all of sports. By far, the most popular team to bet on at online sportsbooks in Nebraska is the University of Nebraska Cornhuskers, and more specifically, their football team.
If you aren't a Cornhusker fan or still aren't sure where to start, here are a few pointers.
First, not all sports are created equal. Some will offer better payouts than others. Some sports are played daily, while others are much less frequent. Find a sport that aligns with your style of play and matches your goals as a bettor.
Second, remember that with higher potential payouts comes higher perceived risk. The reason the payout for a given bet looks so attractive is that the probability of that bet coming to fruition is extremely low in the eyes of the bookmaker. Your job as a sports bettor is to balance risk with reward. Look for bets that offer you an excellent balance to fit your strategy.
Finally, a reliable rule of thumb is always to bet on what you know. You're more likely to be successful betting on a sport you enjoy than on one you've never watched or played before. This advice may sound like common sense, but many new players get swept up in the excitement and find themselves with bets all over the place. You need to be thinking of your sports betting as a career, not a lottery ticket.
Conclusion on Nebraska Betting Sites
Although behind the curve of many other states, Nebraska has the potential to legalize sports betting soon. This move would bolster state tax collection and help support many government projects. With bills introduced, only time will tell if sports betting in Nebraska will become a reality. In the meantime, residents have a variety of local options as well as a plethora of reputable offshore sports betting sites on which they can play.
Hopefully, you've learned a bit more about the legal environment of real money gambling in Nebraska, feel confident picking out Nebraska betting sites for yourself, and now have the tools to start placing bets successfully. Be sure to check back on The Sports Geek for updates on sports betting legalization in Nebraska. Always gamble responsibly and never bet more than you can afford to lose. Have fun and good luck!
Real Money Nebraska Online Sportsbooks FAQ
No. Sports betting is currently illegal in Nebraska casinos, but bills have been introduced that could change that soon. Until then, residents are free to play on reputable offshore sites like the ones that made our list.
Yes. Residents are free to play on all
major DFS sites
as they are considered games of skill rather than games of chance.
The most popular team to bet on in the state of Nebraska is the University of Nebraska Cornhuskers college football team.
While there are no legal online gambling websites based in Nebraska, residents can play on high-quality offshore gambling sites. Playing with any of the
betting sites that made our list
will ensure that you have a safe and secure online gambling experience.