With options around the state for land-based gambling at a variety of tribal casinos, Kansas residents have always enjoyed gambling. Kansas law even allows some types of betting that are illegal in other parts of the country like betting on horse races and greyhound races.
In recent years the state has been pushing to keep up with the swiftly changing landscape of gambling. There has been big news in the world of Kansas gambling lately as the battle to legalize sports betting is unfolding right before our eyes.
Today, we're going to help shed some light on the world of real money Kansas sports betting, help you determine which sports betting website best meets your needs, and give you the tools to start placing your first bets.
Best Real Money Kansas Sports Betting Sites
The team at The Sports Geek has combed through dozens of different Kansas sports betting sites to bring you the best of the best. Picking the right site is one of the most important pieces in having a fun and successful online betting experience. We've taken a look at a wide range of data points to help you narrow down which sites will best fit your needs. Above are our picks for the top Kansas sports betting sites, and next, you will find a few of the extensive criteria we looked at in making our selections.
Criteria We Used to Rank These Kansas Betting Sites
Variety of Bets
Not all real money sports betting sites will offer every game or every bet. It was imperative in our selection process to focus on online Kansas sportsbooks that provide the player with a wide range of sports and events on which to bet. For example, if you play on a website like Bovada, you can bet on all the typical sports like soccer and football, but you can also bet on whether the DJIA will close up for the day or whether the Tiger King will get a presidential pardon. If you want to bet on it, chances are, there is an online sportsbook to offer odds on it. Playing on a Kansas sports betting site with lots of options also keeps things exciting and enables you to expand your horizons.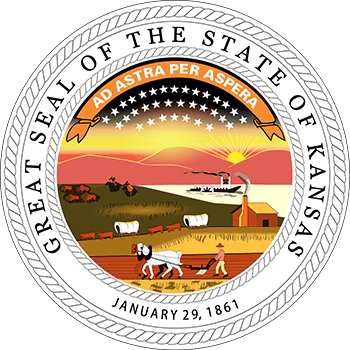 Betting Odds
Choosing a website that offers good odds is a must. We look at odds across online sports betting sites around the world and selected those offering the best odds available. In addition to having some of the best odds on the web, sports betting online also offers the advantage of generally having better odds than brick and mortar sportsbooks. Since live sportsbooks don't have as much direct competition, they don't need to offer as good of odds to get players to wager. In the world of online betting, offering competitive odds is a crucial competitive advantage to draw players from one Kansas betting site to another. Be sure to take advantage of this as a player.
Payout Speed at Kansas Sports Betting Sites
Making sure players can have quick access to winning is critical when selecting where to bet online. Imagine hitting a colossal win and needing to wait days to get paid out. This kind of situation can be incredibly nerve-wracking. Any site that made our list needs to provide speedy payouts. In most cases, all the sites on our list can have cash in your account in less than 24 hours.
Security
For most people, security is the single biggest concern when online betting in Kansas. Players want to know that their money is safe. Whether they are depositing a few hundred or a few thousand, every player's account is important. We only selected online Kansas sportsbooks that are verified secure and have an extensive track record of players' safety and satisfaction. You can rest assured that playing on any sports betting site we recommend will offer the safest possible online gambling experience.
Customer Service
Quality customer service is one of those things many players don't think about until it becomes an issue. Thankfully, we're ahead of the game and getting it on your radar now. Similar to the stress that can come with slow payouts, having technical issues or other problems on your Kansas sports betting site can have a significant impact on your experience. You want a betting website that will stand behind the player to fix issues as quickly and smoothly as possible. All our selected Kansas online sportsbooks have long track records of satisfied customers and each of these betting sites puts the player first. If ever you do have an issue, they have your back.
New Player Signup Bonuses Offered at Kansas Betting Sites
A complete gamechanger when you first start sports betting online in Kansas can be big new player signup bonuses. Almost all Kansas betting sites will offer these to new players as a way to entice them away from other websites. Thankfully for you, this can mean big bonuses to help you get started. These bonuses often come in the form of deposit matches.
Sites like
BetOnline
might offer a 50% deposit match up to $1,000. This means if you deposit $1,000 on your first deposit, they will give you an extra $500. An additional $500 bucks can be a massive boost to your real money betting bankroll.
Promotional Offers
Promotions are a casino concept with which you are likely already familiar. Promos are a common tool that both Kansas sports betting sites and land-based casinos regularly use to keep players coming back for more. These perks could be everything from getting cashback on losses to free bets. One area of sports betting you will see these regularly is in DFS. There is almost always a free contest going on, and while the odds are incredibly long, winning one can be massive. Find a sports betting site that offers you promotions that will help keep things exciting and might boost your account balance. Even the small promos can add up over time to make a big difference.
The Path to Legalization of Sports Betting in Kansas
There has been a ton of excitement in Kansas recently, with the prospect of legalizing online betting in Kansas being hotly discussed. In February 2020, the Kansas Senate pushed a Senate Bill 283 onto the House. In March, the House dropped SB283 in favor of House Bill 2671. Rather than work on the bill passed by the Senate, the House chose to start fresh and reconcile the two bills in conference. The fundamental difference between the two approaches is that the Senate wants to restrict the number of providers and minimize taxes on bets.
In contrast, the House wants to open betting to a wide range of providers and significantly increase the tax rate on bets. Big casinos support the Senate bill, which helps them maintain effective monopolies while other venues like racetracks support the House bill, which would allow for more participation. Once negotiations begin, we at The Sports Geek will keep you informed, so you know precisely how the rapidly changing Kansas sports betting environment will affect you. With a little luck, you could be placing bets in an online Kansas sportsbook in no time.
How to Start Betting Online in Kansas
1. Choose the Best Kansas Sports Betting Sites Based on Your Needs
Step one is finding the right place to bet. We've done the hard work in narrowing down the top choices. Not all online Kansas sports betting sites are created equal and determining which one will work best for you will depend on what you are looking for in your betting experience. Some Kansas online sportsbooks will offer smaller selections of games with better odds, while others may allow you to bet on many more sports but the odds may just be decent. Use the criteria we laid out above to take a look at each of the options in our list and check them out for yourself.
2. Sign up for an Account and Get It Funded
Once you've made your selection, signing up is quick and easy. You'll need basic personal information, and if you intend to fund your account with a wire transfer, you will need banking details. Again, we have verified that each of our recommended real money betting sites is secure and all your information will be safe. It's worth noting that this isn't the case with all online Kansas betting sites, so be careful and make sure to play on a popular website with lots of positive reviews and high recommendations.
When you're ready to put some cash in, remember to take a look at the new player signup bonuses for which your new account will qualify. You will want to take advantage of these perks to their fullest extent as you only get one shot at them. In some cases, this may mean depositing a bit more than you originally intended, but remember that a match from the casino is free money.
3. Familiarize Yourself With the Kansas Betting Sites Software
Before you jump in and start betting with real money, take some time to familiarize yourself with your new Kansas sports betting site. Get to know the different tools and features the site offers to help you place your bets. Some online betting sites will provide expert picks and analysis along with odds to help you make your picks.
Knowing all the available information will help you to make the best possible bets when you start putting down real money.
4. Place Your First Bets
At this point, you've chosen one our top-rated Kansas sports betting sites, gotten all set up, and are ready to roll. Decide which sport makes the most sense for you to start out then see which bets are available. Based on your experience level, this could mean drastically different things. For a beginner, starting with basic moneyline bets (pick the winner) might be a good jumping-off point. One of our top tips for beginners is to start small and work your way up. There will always be time to place bigger bets later on once you gain some experience. For now, start small, and build a strategy.
5. Refine Your Strategy
One of the most critical steps for any successful sports bettor is monitoring their strategy and making adjustments where needed. Be honest with yourself about what is and isn't working. Taking the time to have a plan and refining it is what separates the winners from the losers in the long run. If you want to learn more or don't know where to start in building a strategy, we can help. Our guide to sports betting strategy will get you up to speed.
What Sports Should I Bet on in Kansas?
You will see that your new Kansas online sportsbook offers tons of options when it comes to which sports or events you can bet on. While lots of obscure sports can be fun and provide exotic bets, not all sports are created equal in online sports betting.
You should also consider what your goals are before you bet. Keep in mind some games happen almost daily, providing lots of opportunities to gamble, while others happen less frequently. In addition, some of the mainstream sports will offer tighter odds on basic bets which could limit your upside to a degree.
That being said, here are few other guidelines.
College sports generally have higher potential return than their professional counterparts. This is due to the higher level of variability providing for odds with potentially higher payouts.
Football is often considered to be one of the most profitable sports in the sports betting world. However, don't be fooled. This potential high profitability comes at a price. Football is also one of the riskier sports as there are so few games per season. A consistent football bettor has many fewer chances to be wrong than, say, an MLB bettor.
While there are areas of sports betting that may offer a potentially higher payout, a general rule of thumb is to bet what you know. Pick the games you're most interested in and most educated about if you want to start right. Having a substantial knowledge base to build on is invaluable. Betting on a sport you know nothing about, especially if it has massive potential payoffs, is an excellent way to increase your chances of losing. As always, be responsible with your bets.
FAQ on Kansas Sports Betting Sites
While there are no state-regulated Kansas betting sites, residents are free to play on various online betting sites based overseas that can offer the same security and same odds as their US-based counterparts.
Technically, real money online gambling is still being negotiated in Kansas for things like casino-style games and sports betting. If sports betting becomes regulated by the state soon, this could accelerate further changes in how Kansas treats online gambling as a whole.
Yes. Kansas residents can play DFS on sites like DraftKings or FanDuel.
With active discussions between the House and Senate taking place in early 2020, the legalization of sports betting could happen shortly. The biggest question yet to be answered is what the legalization will look like and how it will affect local players.
Final Words About Kansas Online Sportsbooks
Kansas sports betting is rapidly changing, as lawmakers are actively negotiating how to introduce this exciting kind of betting. No matter what legal sports betting ends up looking like, any steps toward offering bettors another way to participate in the sports they love will be a good thing for both the providers and for the fans.
Hopefully, we got you up to speed on real money sports betting sites in Kansas, and now, you feel ready to pick out a Kansas sports betting site for yourself. We schooled you on how to get started online betting in Kansas, from signing up to placing bets. It's time for you to start betting and start winning. Be sure to check back as the legal landscape changes. Have fun, be responsible, and good luck!