Missouri is unique when it comes to gambling. After the glory days of riverboat casinos in the 1800s, Missouri would experience a long dry spell where the only gambling taking place was underground.
It wouldn't be until the early 1990s that voters would approve the revival of the riverboats. This revival was the first step toward modernization, but today, Missouri still lags behind other states in terms of how it handles online betting sites.
Thankfully, with the explosion of online gambling websites around the world in recent years, residents of the "Show Me" state are now able to partake in a wide variety of betting options both in-person and online.
Here's our guide to help you sift through all the options and narrow down which real money Missouri betting sites are best for you.
Our Picks for Top Missouri Betting Sites
There are a variety of options when choosing where to gamble online if you live in Missouri. We have pored over all the options to bring you sites that provide you with the best bets, best odds, and the best overall online gambling experience. Found below is our criteria for how we determine the best sites for online betting in Missouri.
What Makes a Good Missouri Online Betting Site?
While many sites offer online betting, there are a few key considerations that separate the best Missouri betting sites from the rest. If you live in MO, choosing the right website will be crucial to your experience. Here's some additional criteria we look for in a high-quality betting site in Missouri.
Variety of Events
Most online betting sites offer wagers on big sports like football or basketball, but some sites offer odds on much more obscure (and often more exciting) sports. For example, on the Bovada sportsbook, you can currently place bets on everything from video games like Counter-Strike to, believe it or not, whether the "Tiger King" will get a presidential pardon by January 20th, 2021. If you want to bet on it, chances are, there are online betting sites to offer you odds.
Betting Currencies
The payment methods available at online gambling sites used to just be regular currencies and banking institutions from different countries. The rise of cryptocurrency in the past 10 years has added a new twist.
Plenty of real money betting sites now allow players to use cryptocurrency such as Bitcoin to place bets, and a few even give extra bonuses to players using these methods. The wild volatility of these new forms of money may provide some interesting advantages for players, as virtual currencies become more prevalent in the gambling world.
Signup Bonuses
A significant benefit of betting online in Missouri is taking advantage of killer signup bonuses from specific websites. Generally, all sites will offer new players some kind of an incentive to get started, but they can vary dramatically from website to website.
Make sure to check before signing up. For most Missouri betting sites, the site will match a percentage of the amount the player deposits. In some cases, the amount the site will match is 100% or more.
Promotions for Regulars
Promotions are another tool that lots of gambling sites use to entice players to keep betting. These can be one-time events or recurring promos. Some examples include giving players an extra match bonus on deposits made on a particular day of the week or a specific tournament that may be free to play.
Just like gambling on the floor, special events and promos can both help to keep bets exciting and can have potentially big payoffs for players. These promotions are some of the most common tools top-rated Missouri betting sites will use to keep players coming back for more.
Live Games
Another fun aspect of many premier online Missouri betting sites is the ability to play live games with actual dealers. Players can select a dealer and take a seat at the virtual table just as they would in a real casino. This type of "in-person" gambling can add a fun social element to online betting and is the absolute closest you can get to betting in person without the hassle of driving there.
How to Start Betting Online in Missouri
Creating an account at any of the best Missouri betting sites is easy. Using our quick-start guide, a few simple steps will have you placing bets in no time. We've done all the hard work to make your experience as easy as possible.
1. Select Where You Want to Play
The list we've compiled for you here will make your job easy. All of the sites we recommend above will provide you with an excellent experience. For more info on selecting the best online betting site for you,
check our guide in this article
.
Once you've decided which Missouri betting site is best for you, go ahead and create an account. Signing up will require some basic personal and financial info, but it won't take long.
3. Make Your Initial Deposit
Fund your account and make sure to take advantage of any bonuses your site is offering. As with any gambling, be responsible and read over any conditions for the bonuses you're claiming.
Take some time to look through the plethora of betting options and find a comfortable place to start. We recommend starting small and working your way up as you get more familiar with how your chosen betting site works.
Types of Legal Betting in Missouri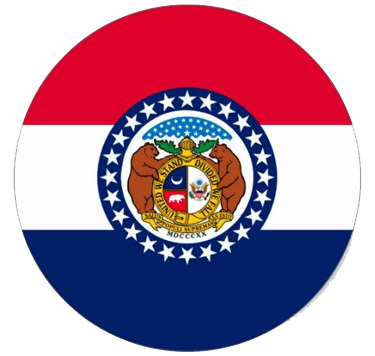 Currently, the state of Missouri is not the most online-friendly when it comes to betting regulations. While they are one of only six states to allow "riverboat" gambling, they do not permit any casino-style games to be played online for real money. However, this doesn't mean Missouri residents don't have any options.
The state defines gambling as, "Staking or risking something of value upon the outcome of a contest of chance or future contingent event." This definition makes specific reference to "chance" and does not address games that involve more than dumb luck.
Because of this, players are allowed to compete in skill-based online games that reward winners with prizes or jackpots. Games like poker or blackjack are technically not allowed, but others such as DFS (daily fantasy sports) are permitted. Below, we've outlined popular types of games and how they're treated by the Missouri Gambling Commission.
Casino-Style Games
There are currently no state-regulated online casino games you can bet on in Missouri. Games you're used to playing on the floor, such as poker, blackjack, and slot machines are limited to land-based and riverboat casinos. There is potential in the future for these games to legally be hosted by the state, but that hasn't come to fruition yet.
Horse and Greyhound Racing
Missouri is one of the few states where it's illegal to bet on either horse racing or greyhound racing online. The last horse racing track closed back in the 1990s and complicated regulations around when off-track bets could be placed effectively pushed all online horse and greyhound betting out of the picture for the whole state of Missouri. However, betting is legal in some nearby states where a resident may be able to take advantage of differing regulations.
Sports Betting
Just like in many other states, the Missouri does not regulate sports betting. As a result, you won't be able to find any Missouri online sportsbooks or even find any in land-based casinos. Luckily, in 2020, state lawmakers have expressed some interest in allowing sports betting online. Still, while there are currently no online sportsbooks in Missouri, there are plenty of other states sports betting sites that accept gamblers from Missouri.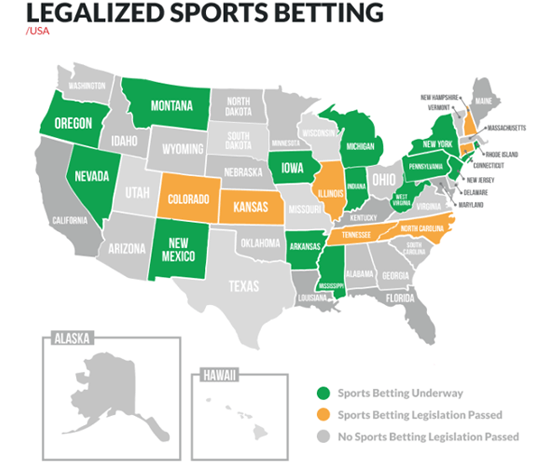 DFS (Daily Fantasy Sports)
The meteoric rise of DFS over the last few years has led to an avalanche of players competing for big prizes in a relatively new type of betting. DFS sites have been deemed "skill-based" and is therefore legal in the state of Missouri. In many cases, the odds of winning and a higher level of bettor involvement makes for a superior player experience than your typical sportsbook.
Missouri Gambling Laws
A key takeaway when looking at gambling online in Missouri is the difference between playing online from Missouri versus playing on a site based in Missouri. While that might sound a bit confusing, it's a key point of distinction that benefits players.
As we've discussed, there's no state-regulated online gambling in MO, which means that no casino based within the state can operate online for real money. However, that does not mean people in Missouri cannot play on sites based elsewhere.
If you want to be on sports online in Missouri you can still bet at a wide variety of websites based outside of the state, including all the ones featured in our list of top picks in the table above. As gaming laws quickly change across the country to meet the rapidly growing demand for online gambling, it is likely that future legislation will change the landscape, paving the way for many more Missouri betting sites to open for business.
FAQs About Betting Online in Missouri
Missouri-based companies cannot offer gambling online, but it is not unlawful for a Missouri resident to gamble on a betting website that is based elsewhere.
While there aren't any local Missouri sports betting sites available, players from Missouri can bet on websites that are based in another state or country with fewer regulations. All the sites that made our list of top picks fall into this category.
Yes. Skill-based games such as DFS (daily fantasy sports) are not considered "gambling" per the definition given by the Missouri Gambling Commission. DFS providers like
FanDuel
or DraftKings are fair game.
The determining factor in having a safe online betting experience is choosing the right betting site. We only recommend safe betting sites on our list, so any of our picks for the best Missouri betting sites will offer you a safe experience.
Wrap Up
As online gambling continues to grow, more states will likely adopt favorable laws to enable players to bet online. In the future, there may be an increase in the number of Missouri betting sites
There are currently a variety of ways residents are already able to play online, and it is in the best financial interest of the state to accommodate players in order to generate more revenue.
In the meantime, we hope we've provided you with a simple guide to betting online in Missouri. Be sure to check back with us on TheSportsGeek.com to learn about changes in regulation as well as new legislation. Until then, have fun playing and good luck!