Point spread betting is one of the most popular types of sports bets across the globe. And this is especially true when it comes to real money NFL betting online.
NFL spread betting is easy to understand. And it's a fan favorite among both new and experienced bettors. If you consider yourself an NFL expert, then you should have no problem being able to predict the outcome of a game. In fact, you can feel confident when betting on the spread for real money.
But before you dive right in and begin placing your wagers, keep reading below to learn more about NFL point spread betting, how it works, and find the best sites to place your bets.
How Does NFL Spread Betting Work?
If you're new to NFL spread betting, then you may be wondering how it works and how you can win your wagers. Luckily, it's a concept that's easy to understand and can potentially prove itself to be one of the most lucrative bet types that is offered by NFL betting sites.
Let's say we have an NFL matchup that looks like this:
| Team | Point Spread | Betting Odds |
| --- | --- | --- |
| Los Angeles Rams | -9.5 | -110 |
| New England Patriots | +9.5 | +110 |
In this scenario, we have the Los Angeles Rams taking on the New England Patriots. The Rams are the team favored to win, which is represented by the negative point spread. This means that in order to "cover the spread," the Rams need to win by 10 or more points. Half-points are added to eliminate the potential for a tie, also known as a push, resulting in bettors being refunded their original wagers.
On the other hand, we have the New England Patriots listed as the underdog. This is where you can win your wager two different ways.
The first way to win a bet on the underdog is for them to cover the spread. In this instance, the Patriots would need to win by 10 points or more, similar to the Rams.
Alternatively, you can still win your wager on the underdog even if they lose. If you were to bet on the Patriots in this scenario and they lost by 9 points or less, you would still win your wager because the Rams failed to cover the spread.
This makes betting on the underdog team more intriguing, as long as you are confident in their ability to either pull off an upset or manage to lose by only a few points.
Point Spread Payouts Explained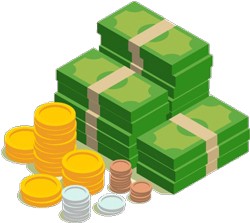 Now that you have a good idea of how point spread betting works, you should take a minute to understand how the payouts work for winning wagers. If you're already familiar with how betting odds work, then you can skip this section. If not, then you're in the right place.
If we refer to the example above, we have the Rams with betting odds of -110, and the Patriots with odds at +110. When you look at these numbers, you can think of them in terms of a $100 wager.
Since the Rams are the favorite team to win, the online sportsbook is offering odds that require a larger wager to make a larger sum of money from them. If this was not the case, then all bettors would simply bet on the team favored to win. This would put NFL betting sites out of business.
Therefore, the negative betting odds represent the amount of money you would need to wager in order to win $100. So, a $110 wager on the Rams would earn you $100 if the bet is won, making your payout $210 before the sportsbook collects their vig.
On the other hand, the positive betting odds indicate how much money you would win from a $100 bet. This means that if you placed a $100 wager on the Patriots to cover the spread, you would earn $110 when they did, making your payout $210.
Again, online sportsbooks will collect vig, also known as juice, from any wagers that they lose. This is usually a small percentage of your winnings, and it helps them stay in business after a large number of people win money from their bets.
Betting Against the Spread vs. Covering the Spread
If you are new to NFL spread betting, then you may be confused by the two phrases "betting against the spread" and "covering the spread." While the two phrases mean slightly different things, they can often be used interchangeably.
"Covering the spread" refers to when the favored team wins the game with the given point spread or when the underdog wins by more than the point spread.
"Betting against the spread," or "betting the spread," is simply when you choose to wager on the given point spread rather than just a moneyline or some other form of betting.
Some people mistakenly use one phrase in place of the other. But most of the time, when someone uses one of the phrases, they are referring to winning the bet.
How Is the Point Spread Determined for NFL Games?
The point spread for any given football game is designed to bring in an equal number of bettors for both teams. This is why you will typically see similar betting odds for both teams; it's so that the online sportsbook can essentially help pay the winners by collecting the wagers from the losers.
The point spread can vary depending on the NFL betting site you are using.
Online sportsbooks are the ones who determine the point spread and do so using statistics, trends, and other data analysis to try and accurately predict which team will win and by how many points.
If a large number of bettors seems to only be placing their wagers for one team, then the online sportsbook is likely to adjust their spread a bit to try and intrigue more bettors to wager on the other team. This helps create a balance between what will be winning and losing wagers, ensuring the sportsbook does not simply hand out large sums of cash all at once.
Factors to Consider Before Making a Spread Bet
Just like any other type of NFL bet that you are going to make, you need to stop and consider several factors before deciding which team to bet on. A few of the most important factors include:
Where the Game Is Being Played
Home field advantage never guarantees a win, but it can definitely play a huge role in the outcome of the game. This is especially true for certain stadiums that are known to get extremely loud, such as the ones in Seattle, Denver, and Buffalo.
If you are considering betting on the away team to cover the spread, take into consideration where they will be playing.
If they have to travel to a team with a stadium known for being incredibly loud and disruptive, you know their offense is going to have a more difficult time communicating plays and moving the ball down the field. Meanwhile, you will be able to hear a pin drop when the home team's offense is on the field at work.
Significant Player Injuries
Depending on the player, injuries can make a massive difference in the outcome of a game and how you place your wagers when NFL spread betting. Unfortunately, this can sometimes occur during the middle of a game after your bets have already been placed.
However, there is always an injury report released before NFL games that will show which players are sitting out or are likely to sit out. This is where you can use that knowledge to your advantage.
Let's say the online sportsbook is offering a point spread for an upcoming game that looks like this:
| Team | Point Spread | Betting Odds |
| --- | --- | --- |
| Cleveland Browns | -2.5 | -150 |
| Denver Broncos | +2.5 | +110 |
In this example, the NFL betting site is indicating that the game is considered a fairly even matchup, making the point spread extremely tight between the two. While this can be tricky to bet on, knowing player injuries can make a big difference.
If the injury report indicated that the Denver Broncos were not going to have two of their starting cornerbacks, along with a questionable starting safety, then you may be inclined to believe that the Browns have a much better chance of scoring by passing the ball, which could result in them scoring a bunch of points.
In that event, it would be safer to take the Browns covering the spread. However, if the Browns were without their starting quarterback, you would likely feel safer betting on the Broncos to cover the spread since the Browns would have difficulty scoring points.
Team Strengths and Weaknesses
When you are trying to decide whether or not you think either team will cover the spread, it helps to know a bit of info about each team, including their individual strengths and weaknesses. This type of NFL football knowledge can help you immensely with your real money spread betting.
Here are some examples of a team's strengths and weaknesses you would want to pay attention to:
Strengths
Weaknesses
• Have the highest-scoring offense in the league
• Defense ranks in the bottom 5 of the league
• Win more than half of their games played at home
• Have the highest-scoring offense in the league
• Defense ranks in the bottom 5 of the league
• Win more than half of their games played at home
By breaking down these strengths and weaknesses, you should be able to determine how you want to place your bet. For instance, since you know the team you are considering betting on has the highest-scoring offense in the league with an offensive line that gives their quarterback time to make a play, you may feel safe on trusting them to cover the spread.
On the other hand, they also have one of the worst defenses in the league, meaning it will not be too difficult for the other team to score and keep the game close. This is where your NFL knowledge will come in handy, and help give you the advantage over other bettors.
What Is the Best Place for NFL Spread Betting Online?
If you are looking for the best online sportsbook for NFL spread betting, then look no further than BetUS.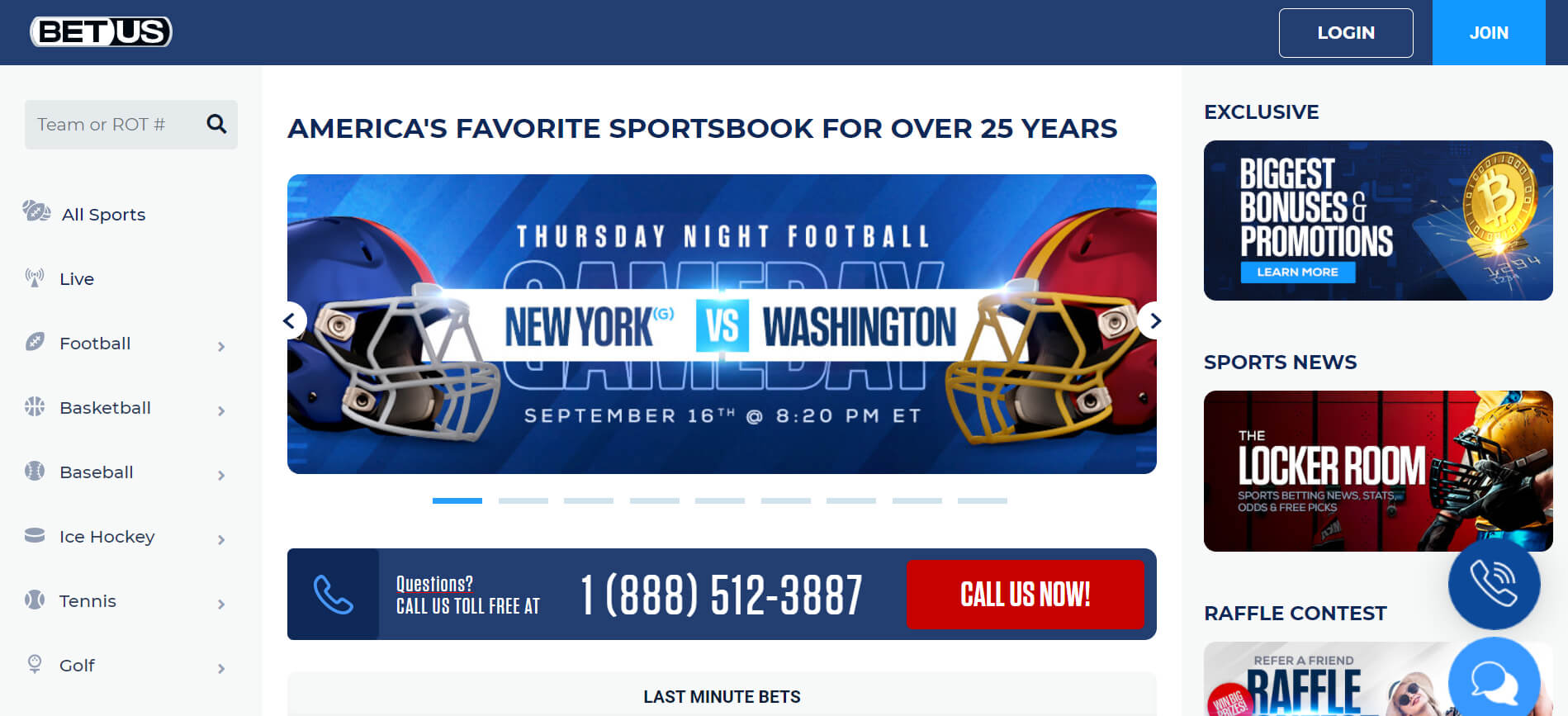 BetUS features one of the best online sportsbooks on the market. With some of the most competitive betting odds out there, they are extremely popular for betting on the NFL for real money. You can rest assured that they are a safe and trustworthy site guaranteed to provide you with an exciting NFL betting experience.

BetUS offers point spread betting for every NFL game every week of the season, meaning you can place as many wagers as you want! Just be sure to keep an eye out for shifting point spreads and place your wagers when they are set in a range that makes you feel comfortable.
NFL Spread Betting FAQ
We've done our best to try to explain NFL point spread betting, but we get you might still have some unanswered questions. If that's you right now we recommend you check out the list of FAQs below or contact our staff to get those questions answered!

NFL spread betting is a form of sports betting where you wager on whether or not you think a team will win or lose by a certain number of points. It's one of the most popular forms of real money NFL betting, and has made itself a favorite among sports bettors everywhere.
You can win your spread bet by either correctly guessing which team will cover the spread, or by betting on the underdog to lose by fewer points than the point spread given.
To answer that let's look at an example of what NFL spread betting would look like:
Dallas Cowboys (-2.5)
New York Giants (+2-5)
The negative (-) sign indicates that the Cowboys are the favorites, while the positive (+) sign indicates that the New York Giants are the underdogs. With the spread set at 2.5 points, a bet on the Cowboys would mean that they would have to win by more than 2.5 points (3 or more) in order for you to win that bet. A bet on New York would mean that the Giants would have to either lose by 2.5 or less points (2 or less) or win the game outright in order for your bet to win.
Let's look at another example to understand a positive NFL spread:
Dallas Cowboys (-3.5)
Los Angeles Rams (+3.5)
Here you can see that the Rams are +3.5, while the Cowboys are -3.5. So for this example, the Cowboys are 3.5 point favorites, while the Rams are underdogs of 3.5 points. If you were to bet on Los Angeles you would need them to lose by 3 or fewer points or just win the game outright. If you were to bet on Dallas you would need the Cowboys to win by 4 or more points.
If the Cowboys were to win by 3 points, let's say 30-27, any bets on the Rams +3.5 would win. Even though the Rams didn't win the game they covered the spread of 3.5 points
The reason this is called "spread betting" is because you are placing your wager based on whether or not you believe a team will cover the given point spread provided by the online sportsbook.
Yes, you can win real money with NFL spread betting the same way that you can with any other types of football bets. All you need to do is sign up for an online sportsbook, create an account, deposit some money, and start placing your wagers.
Vig, or juice, is a commission that online sportsbooks collect from your winning wager. This helps them stay in business and guarantees that they will earn at least a small portion of their money back.
Yes, NFL spread betting is legal so long as you live in an area that has legalized online sports betting. Be sure to check out our gambling laws page to make sure you are legally allowed to sign up for sports betting where you live.