Nothing yells freedom like betting on sports in the state nicknamed the Constitution State. Connecticut sports bettors have plenty of high-quality, safe, and trusted online sportsbooks they can use to get their wagers in. If you're ready to enjoy the conveniences only available through the best Connecticut betting sites, you've come to the right place.
Reasons These Are the Best Connecticut Betting Sites
Earning the label of one of the best Connecticut sports betting sites is not easy. With hundreds of providers to choose from, how can you really know you're getting the most bang for your buck? That's where we come in. Our teams of experts understand the real money Connecticut betting sites market and what sports bettors really want.
Armed with this knowledge, our experts work diligently to keep the list of top Connecticut sports betting sites up to date with the best choices available. Connecticut betting sites cannot buy their way onto the list or sneak in through some proverbial back door. The single way onto the list (and to stay on the list) is to offer the best service for online betting in Connecticut.
While the full analysis is much more in-depth, here are a few of the top reasons we love these particular online sportsbooks in Connecticut residents and guests.
Payouts Faster Than Traffic on the I-95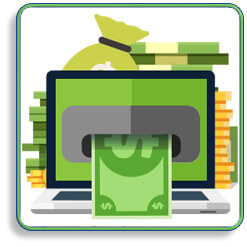 The best Connecticut betting sites pay customers fast. After your game or race finishes, the funds are put into your betting account instantly. This gives you the ability to place more bets without waiting. If you're ready to realize some of those winnings, cashouts come quickly, too. The top Connecticut betting sites pay customers in about three to seven business days on average.
Some payout methods are faster, and a few (mainly checks by courier) are a bit slower. Exact payout schedules are posted on each Connecticut online sportsbooks or available by contacting customer service.
Bet on the Teams You Love
While the Constitution State doesn't have any professional sports teams, there are some major college programs and several minor league teams. Additionally, the surrounding states have plenty of pro action in the four major sports (NFL, NBA, MLB, and NHL) to keep fans entertained. We won't recommend any real money Connecticut betting sites that don't offer extensive action on all of these teams.
Additionally, all of the online sportsbooks we recommend have action across all major leagues, minor leagues, college programs, and international sports to give you all of the options you need to bet on sports online in Connecticut. Some of the options even include more obscure offerings like
If you can bet on it somewhere in the world, these Connecticut online betting sites offer action on it.
Trusted Reputations and Track Records
Sports betting sites in Connecticut have been around for decades and offer one of the safest mediums for betting. This is a statement that is, unfortunately, only true about some Connecticut sportsbooks online. Before we recommend any real money Connecticut online sportsbooks, our team digs heavily into the history of the site, the management team, customer complaints, and the overall security measures in place.
If we are not 100% satisfied with what we see, we won't let the sportsbook within 100 miles of our recommended lists. Additionally, if anything negatively changes with a book, it's instantly removed from our listings.
You can be confident that the recommendations above for the best online betting sites in Connecticut are genuinely the best in the industry.
Gambling in the State of Connecticut
Outside of the flourishing real money online betting market, CT residents and guests to the state have several other options to get their gamble on. Here's a look at gross gaming statistics for the state over the last 10 years. You will notice that Jai Alai and greyhound racing are not included. This is because the two forms of gambling ended in the state as of 2003 and 2006, respectively.
| | | | | |
| --- | --- | --- | --- | --- |
| Fiscal Years | Total Sales | Total Lottery | Off-Track Betting | Charitable Gaming |
| 2009 | $1,237,852,526 | $991,368,669 | $205,399,292 | $41,084,565 |
| 2010 | $1,225,541,811 | $996,846,808 | $190,746,664 | $37,948,339 |
| 2011 | $1,235,929,537 | $1,016,614,013 | $183,738,951 | $35,576,573 |
| 2012 | $1,301,807,279 | $1,081,740,066 | $187,936,750 | $32,130,464 |
| 2013 | $1,332,619,279 | $1,122,122,195 | $181,666,849 | $28,830,235 |
| 2014 | $1,327,297,164 | $1,112,404,536 | $180,746,707 | $34,145,921 |
| 2015 | $1,327,543,209 | $1,122,694,950 | $172,074,015 | $32,774,244 |
| 2016 | $1,427,832,665 | $1,230,769,399 | $163,968,716 | $33,094,550 |
| 2017 | $1,401,849,799 | $1,216,087,551 | $157,273,708 | $28,488,540 |
| 2018 | $1,442,663,571 | $1,272,343,905 | $152,058,284 | $18,261,382 |
| 2019 | $1,489,496,846 | $1,338,562,874 | $141,400,090 | $9,533,882 |
The State Lottery in Connecticut
The Connecticut state lottery runs some of the most popular interstate games, as well as some CT-only games that are fan favorites. In 2019, the state sold over $1.3 billion in real money lottery tickets to residents and guests. Illustrated in the graph below from Statista, they rank the state as 20th in the nation. With most states having a state lottery and Connecticut only being the 29th largest state in the nation by population, it's clear residents and guests love to gamble.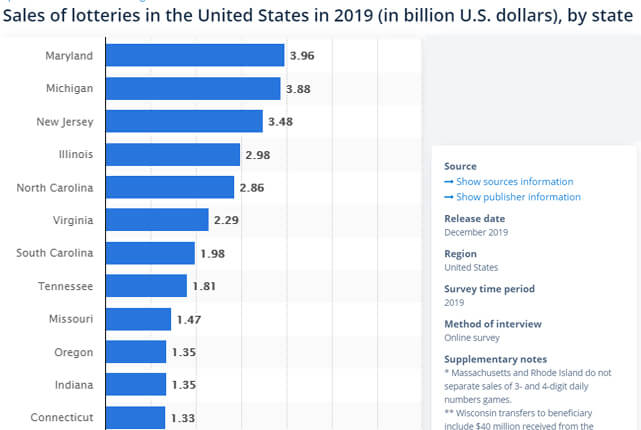 Some of the most popular games available include:
Powerball
Mega Millions
Lotto
Keno
Lucky for Life
Cash 5
Play 3
Play 4
Lucky Links
Real Money Connecticut Land-Based Gambling Properties
Residents and guests looking to bet real money in Connecticut in person do have several options available. While you are going to miss out on some of the conveniences of betting online, some people do like to use gambling as a night out or a social outing. Here's a look at casinos and gaming properties in the state by the numbers.
19 licensed casinos
977 table games
14,132 slot machines
199 poker tables
909,000 square feet of casino gaming space
The two largest and most well-known properties in the state are Foxwoods and Mohegan Sun.
Tips for Picking out the Best Connecticut Betting Sites
If you're ready to get into the real money action and make your first bet, that's exciting! But before you can do that, you need to figure out which of the best Connecticut sports betting sites we've recommended is right for you.
Ideally, any option on the list will give you an incredible experience. But if you're really taking a tailored approach to this, here are some tips to help with your search.
Often, sports bettors look to set up accounts prior to the start of the season so they can be ready for game one. For organizational purposes, some online betting sites don't list sports or leagues that don't have any current bets. This means that you might not see the specific league you're looking for on Connecticut online sportsbooks that actually covers it.
What do you do if you don't see what you want to bet on? Reach out to customer service and ask if the site offers action during the season. It will take you all of 30 seconds to get the information. Do keep in mind that this is rarely the case for the major sports, as there are generally wagers available (futures) year-round at most Connecticut betting sites.
If you find something you like at one CT online sportsbook but something else you like at another, join both online Connecticut sportsbooks. There's nothing holding you back or limiting you from joining multiple Connecticut betting sites at the same time. Many professional bettors actually do this so they can shop to get the best betting lines possible.
The best Connecticut sports betting sites are not shrouded in secrecy behind a bunch of online black curtains. You have the ability to search lobbies, look at wagers, shop lines, and even go as far as to create a betting ticket without even creating an account.
Take advantage of this. Walkthrough the process of picking out a wager and placing a bet. Test it on your computer and on your phone or tablet (however you plan on betting). If you like it and it feels smooth, you may have a winner. If it feels clunky and you're not a fan, try one of the other online betting sites in Connecticut available.
Wrap Up – Get Started Betting on Sports in Connecticut Now!
The top Connecticut sports betting sites have been operating in the area for years or decades, providing high-level service to bettors just like you. Whether you're a resident of the state or just visiting, these Connecticut online sportsbooks are ready to take your action. Just because CT doesn't have any major professional sports teams does not mean you don't deserve the ability to bet.
If you're ready to get started, head back to the top of the guide now and pick out one of the top Connecticut betting sites now to get started! You're just minutes away from placing your first real money wager without having to leave the house at all.