While Virginia technically doesn't have any professional sports teams competing on its soil, the state is still filled with sports fans and sports bettors. But the state is a stone's throw from Washington DC, giving Virginia sports bettors looking for a home team to bet on access to the Redskins, Nationals, Wizards, and Capitals. If you currently reside in VA or are a guest looking to bet on sports online in Virginia, your only options are through one of the top Virginia sports betting sites.
Why These Are the Best Virginia Sports Betting Sites
With many Virginia online sportsbooks servicing both the Virginia and Washington DC area, you have choices when it comes to picking out a mobile betting site. The best online betting sites in Virginia offer a safe, trusted, user-friendly, and overall enjoyable experience. In addition to these must-have characteristics, here are a few additional reasons we love these specific VA betting sites.
High-Quality Mobile Betting Apps
The freedom to bet on the go is a must-have when it comes to betting in Virginia. There are no brick and mortar casinos or sportsbooks, which means your only option is online. All of the sites we've recommended here have mobile apps that are easy to use, fast, regularly updated, and offer the same versatility you can get when betting at a desktop sportsbook.
Expansive Coverage of Local, National, and International Sports
Whether you're betting on your favorite DC team, a US-based professional (or collegiate) sport, or something on the international market, these states sports betting sites have you covered. There is no point in joining a sportsbook in Virginia that can't offer you extensive action across the board. All of these books offer action on professional sports, collegiate sports, racing, entertainment bets, political bets, and international games (Olympics, World Cup, etc.).
Winnings Paid out Fast
Real money Virginia betting sites are only viable options if they pay out winnings fast. The maximum waiting time we're willing to accept in today's climate is between a few hours and about a week. Anything longer than this (except for checks by courier) is unacceptable. All of the VA sportsbooks listed here will get you your money quickly, reliably, and safely.
What Other Forms of Gambling Exist in Virginia?
Online betting in Virginia is not the only way you can scratch the gambling itch. While there are no traditional casinos or sportsbooks in the state, you do have a few options.
Off-Track Betting Parlors
If you're looking to bet on horses or dogs, you will be able to do that in two ways in VA. You can bet online at some of the online betting sites we've recommended, or you can do it at one of the five off-track betting parlors in the state. While the dogs and the horses won't actually be running at these locations, you will be able to partake in the betting action in the company of other gamblers.
The five locations for off-track betting in Virginia are:
*This horse racing center recently returned in 2018
The State Lottery
Anyone that tells you Virginia residents don't like to gamble only needs to be shown the state lottery statistics for the country. Virginia ranked 14th in lottery sales in 2019, with an impressive $2.29 billion in annual sales!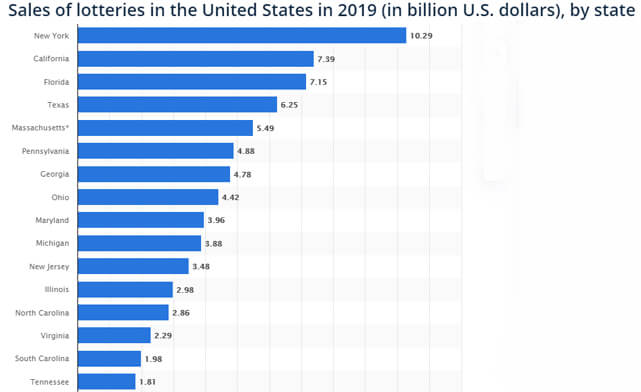 The Virginia State Lottery offers scratch-offs and state-level and interstate drawings. The most popular offerings include:
Riverboat on the Potomac
While the name might lead you to believe it's an actual boat, the Riverboat on the Potomac is actually a heno hall and OTB site situated next to the Potomac. According to the company's website, the building offers keno, OTB, and some great food and fun. Don't miss the $15 prime rib on Tuesday nights!
The Future of Gambling in Virginia
Currently, most Virginia betting sites are operating in a bit of a gray area when it comes to regulation. The state legislature has pushed several bills into the discussion to lay out full regulation for online sportsbooks in Virginia. For now, none of the bills have passed, which means your options continue to be through sportsbooks located outside of the state lines. These options have been servicing VA residents for decades and will continue to do so for years to come!
Regarding land-based casinos, the Pamunkey Tribe of Virginia is currently in the process of opening a $700 million property in the state! The tribe reached an agreement with the city of Norfolk to purchase a $10 million piece of land for the property. The 13.25-acre site in Harbor Park would be the first of its kind in the state. The tribe still needs to get the full go-ahead from the state or federal government, according to the Bureau of Indian Affairs. No timetable has been given on when this might push through the legislative red tape.
Getting Started With Virginia Sports Betting Sites Now!
If you're itching to get into the action, you're close! All of the Virginia sports betting sites recommended in this guide offer real money action and sign-up processes that take less than a few minutes. To get started, go back to the top of the guide and select the VA betting sites you want to use. Create a free account, make a real-money deposit, and that's it! Once you have your account funded (which is instant), you can start making bets on sports and races anywhere around the world.