The state of Iowa is one of the most progressive states in the Midwest when it comes to gambling regulation. In 2019, they officially legalized sports betting, which has provided a new form of gaming for both Iowa residents and residents of nearby states. Thanks to their quick action, both Iowa residents and state tax revenue should benefit for years to come.
Today, we are going to discuss the legalization of sports betting in Iowa, help you identify the best real money Iowa sports betting sites for you, and give you the tools to start placing your first sports bets today. By the end of this article, you'll be ready to start your sports betting career.
Best Iowa Sports Betting Sites
After hours and hours of combing through dozens of sites, The Sports Geek is proud to present our selections for the best real money Iowa online sportsbooks. Using an extensive list of criteria, we assessed nearly every aspect of each site to ensure it met our rigorous standards. Playing on any site on this list will provide you with an enjoyable, safe, and well-rounded online gambling experience. Under the list, you will find a few of the criteria we used in our analysis. Our criteria can provide the right framework for you to assess any online gambling site you may be considering.
Our Iowa Betting Sites Ranking Criteria
New Player Bonuses
The first thing you should look for when signing up for real money Iowa betting sites is valuable new player signup bonuses. These are perks given exclusively to new players to lure them away from the competition. Most of the time, these will come in the form of a match on your initial deposit when first funding your account. Say, for example, you can get a 50% match up to $500 on your first deposit. This means that if you deposit $1,000 or more, the casino will give you up to $500 free. Take advantage of this free money, and your bankroll will be bursting from the start.
Promotions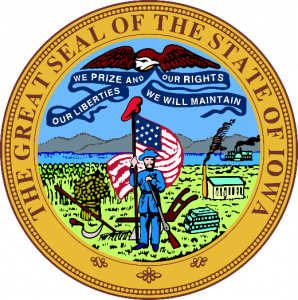 Promos are similar to new player bonuses but are less exclusive. Running the gambit from giveaways to massive tournaments, promotions are unique ways to play that keep players engaged. These promotions can vary wildly from online sportsbook to sportsbook, so take a few minutes to see what kind of promos your Iowa online betting site likes to run.
While some of these may seem to be of little value, they can add up over time to make a big difference. High-quality promotions can play a huge roll in keeping things fun.
Cryptocurrency
Since the explosion of Bitcoin on the international scene in 2017, when it skyrocketed to stratospheric valuations, cryptocurrencies have become popular among online gamblers. Players prefer these digital coins because they incur fewer fees, are easier to transfer, and offer much more anonymity than conventional payment methods. With millions of players exchanging thousands of different coins, crypto is here to stay. Each site we selected supports a variety of popular coins, and some of these Iowa sportsbooks online even offer exclusive cryptocurrency promotions for players interested in using this alternative form of scratch.
Minimum and Maximum Bets
Minimum bets are lower limits casinos enforce to ensure they make money on even the smallest bets. Maximum bets are upper limits casinos use to cap their risk on any given hand. While these two limitations help the casino stay solvent, they also work against players. You want to play on an Iowa sports betting site that offers a wide range of betting increments, so you are in control of how much risk you take. New players will want to look for low minimums, while more experienced players will want to look for high maximums. All the sites on our list offer minimums and maximums to accommodate any player.
Iowa Sportsbooks Online Security
We can't correctly evaluate any online gambling sites without discussing security. You want to play on online Iowa sportsbooks that use top-of-the-line software to ensure all player data remains secure. We had out security experts analyze each one of the sites on our list, and they are all verified secure. You can be sure that you will have the safest online gambling experience possible if you choose to play on any site we recommend.
Real Money Betting Platforms
It is also important that players have options in terms of how they play. The days of only being able to gamble online from your home computer are over. With nearly every electronic device connected to the internet these days, players want to be able to play when and where they want. Our team looked for Iowa online betting sites that provide players with platforms to place bets on the PC, on their phone, and even on a tablet. This variety puts the player back in control and gives them much more freedom.
User Experience
With multiple platforms on which to play, it becomes even more vital that the experience between these platforms is seamless. All the real money Iowa betting sites that made our list have made significant investments in developing their player experience by building clean, straightforward, and gorgeous platforms. Not only will you be able to play on all your devices, but you'll enjoy your experience no matter where you are playing.
Customer Service
Many players overlook customer service when searching for where to bet on sports online in Iowa. Although we hope you never need to use it, we think it's vital that you play on a site that offers reliable customer care just in case something goes wrong. Players with lots of experience will tell you that poor customer service can sour your online gaming experience faster than almost anything else.
The sites above all offer 24/7 support with multiple contact options, including phone, chat, and email. With tons of satisfied customers, these sites have a reputation for putting customers first.
Competitive Odds
At the core of any high-quality Iowa sports betting website is competitive odds. We searched far and wide to finds sites offering some of the best odds on the internet. Betting Odds are how an online sportsbook communicates the payout that corresponds with a given bet. You want to play on a site that offers the best possible odds, so you maximize your winning when your bet hits.
When it comes to odds, there's also a benefit to playing online rather than in a live sportsbook.
Iowa sports betting sites will almost always offer better odds than their brick and mortar counterparts. Since live sportsbooks have no direct competition, they have no reason to provide better odds. In contrast, there's tons of competition on the internet, meaning Iowa online sportsbooks can offer better odds to create a competitive advantage. You can take advantage of this by playing online on one of our recommended sites.
Payout Speed
When you hit a big win, you want to have access to your funds as soon as possible. We think an excellent Iowa sports betting site must be able to get players paid quickly. While some sites will make you wait days and days for withdrawals to process, we selected sites that usually get withdrawals in your account on the same day. Depending on which withdrawal method you are using, you might even get your money in just a few hours.
Payout Minimums
Payout minimums are thresholds that an online casino requires for a player to take out funds. These restrictions can be a pain for small stakes players as they can hinder flexibility. We think it is vital that players have access to their bankroll, no matter how large or small. You want to play on a site that offers low minimum payouts to provide you with maximum flexibility. All the sites on our list offer minimums under $5 in most cases.
Variety of Betting Options
You will want to be sure and choose real money Iowa sports betting sites that offer both a wide range of sports to bet on as well as a breadth of casino-style games. Even if you may not be interested in all these other options now, you will want to have them available should you get tired of your usual games. Also, being able to expand into new games and into betting on new sports will give you a chance to grow as a bettor. Learning new games and new sports can make you a more well-rounded player and provide you with insight into unique aspects of gambling that will improve your overall success.
Live Betting
A fun way to take your sports betting to the next level is to try live betting. Live betting involves being able to place bets on an event after it has already started. Rather than merely betting on the outcome of a game, you are betting on all kinds of smaller bits. For example, you may be able to bet on who will score the next goal in a soccer match or who will hit the next home run in a baseball game. These real-time bets add a whole new level of engagement because they make every part of the game relevant, not just the result.
Live Dealers
On the casino game side, there are also live options. The Iowa online sportsbooks we selected offer players the chance to play with live dealers virtually. In these games, players take a virtual seat at a real table where a game is dealt in real-time via webcam. By being able to interact with the dealer and with other players, this form of gaming has more of a social component than any other type of online gambling. These live dealers are as close as you can get to being on the casino floor while still being in the comfort of your own home.
How to Start Betting Online in Iowa
1. Find the Iowa Sports Betting Website That Is the Best Fit for You
The first thing you need to do is determine where to bet on sports online in Iowa. Each player will have different priorities, so take some time to narrow down yours by looking at our list of criteria. Which items on that list matter most to you? Once you have an idea, visit each of the sites for yourself and see which one best matches your priorities. Regardless of what you are looking for, we've got Iowa online sportsbooks to meet your needs.
2. Register and Add Funds
Once you have landed on a site, go ahead and get registered. All you should need is basic personal info to get started, but keep in mind that some Iowa sports betting websites will require additional identity verification later on. Just be sure to follow whatever guidelines your site provides. As part of the signup process, you'll be able to fund your account as well. Be sure to check back to see which signup bonuses are available so you can maximize them.
3. Get to Know Your Iowa Online Sportsbook
This tip is something lots of new players overlook but can be a massive help when getting started. Once you have access to the whole site, look through all the tabs and pages to find all the available resources. Some Iowa sports betting websites will provide you with expert picks, analysis, and historical data to aid in your bets. Be sure to take full advantage of all the data you can gather. Doing so will help you make better picks from the get-go and will also help your skill progress quickly.
4. Start Betting
The time has come to start betting some real money. Check out all the live bets and see if any of them make sense for you. It's unlikely that all sports will be readily available since few seasons overlap. If the sport you feel most comfortable betting is not available (i.e., it's May, and you want to bet on the NFL), then have the discipline to wait. Betting on a sport you don't know anything about is a sure way to lose. If you have to start now, then read up on the available sports so you can understand the basics before placing bets.
5. Record Your Strategy
Our next tip could likely make or break you in the long run. We suggest keeping meticulous records of the bets you place, the reasoning behind them, and the results of those bets. Doing so will give you a window into what is and isn't working within your strategy. Being able to analyze your strategy objectively is a skill that separates the newbies from the pros. Your goal should be to learn while continually refining your strategy. This is how you win at sports betting.
6. Try Betting on a New Sport
Finally, when you are ready to change things up, find a new sport. See what is available and what catches your eye. Start by doing some research to develop a baseline strategy. Once you've got an idea of how to bet, test out your theory with a few dry runs. When you are comfortable that your plan makes sense, start small, and work your way up with your real money bets. There will always be time to go bigger later. Learning how to bet a new sport in a disciplined way will make betting more enjoyable and will give you insight into a whole new aspect of sports betting.
Is Sports Betting Legal in Iowa?
Iowa has joined a handful of other states on the leading edge of legalizing sports betting. After the reversal of PASPA in 2018, many states made a push to introduce legislation legalizing sports betting as a way to generate additional tax revenue. Iowa followed suit, and as of mid-2019, when SF617 was signed into law, sports betting became legal. Residents are allowed to bet in any of the live casinos as well online, provided they visit a live casino to have their age verified first. In addition to providing residents with access, Iowa also benefits from bets placed by out-of-state folks coming from places where betting is not yet legal (such as Nebraska).
In addition to having access to sports betting in-person and online, DFS was also made legal throughout the state. On top of DFS, residents still have the option to play online with Iowa sports betting sites like the ones we have outlined above. While online gambling isn't explicitly illegal in Iowa, you won't find any online casinos based in Iowa. The sites we recommend are not based in the US and therefore are not subject to Iowa law. Despite being based outside the US, we've done the legwork to ensure they are safe and will provide you with an exceptional online gambling experience.
Best Teams and Sports to Bet on in Iowa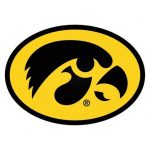 While there will always be debates around which sports and which team reign supreme when it comes to sports betting, in Iowa, there is a clear winner. By far, the most popular team to bet on in Iowa is the University of Iowa Hawkeyes football team. Although Iowa may not be at the top of your list when you think "college football," the Hawkeyes are consistently in contention for a bowl game and have fans in all corners of the state.
If you aren't a fan or are still unsure of where to start, here are a few extra tips.
First, keep in mind that no two sports are the same. Some sports offer better odds than others. Some sports are played regularly, while others are more seasonal.  Match your betting goals to the sport you decide to bet on. If you are looking for massive potential payouts, you may look for a different sport than someone who is wanting to place bets every day.
Second, always remember that your job as a sports bettor is to balance risk versus reward. With more massive potential payouts comes a higher level of risk. If your sportsbook offers you 100:1 on a bet, they are confident they will win. Don't just chase massive payouts in hopes of hitting it rich. Think of your bets as calculated wagers, not lottery tickets.
Finally, start by betting what you know. You likely already have a foundation of knowledge that will help you be more successful betting on some sport than others. Starting with your areas of strength will make for a shallower learning curve and will get you to profitability faster. When you do decide to break into a new sport, do your homework before putting down real money bets.
Iowa Betting Sites Wrap Up
Iowa has been on the leading edge of gaming regulation, outpacing many of its midwestern counterparts. With the legalization of sports betting in mid-2019, they became one of the first states in their region to welcome this new form of gaming officially. This new source of tax revenue will provide many benefits for residents as it continues to bring dollars in from across the Midwest.
Hopefully, you learned about the legal climate of gambling in Iowa, you feel ready to select the Iowa sports betting site that will best fit your needs, and feel confident in placing your first sports bets. Check back with The Sports Geek in the future to see what new types of gambling are on the horizon for Iowans. Always gamble responsibly, and never bet more than you can afford to lose. Have fun and good luck!
FAQ on Online Sportsbooks in Iowa
While online gambling isn't explicitly illegal, there are no online casinos based in Iowa. Residents are free to play on any reputable offshore sites like the ones on our list.
As of mid-2019, sports betting is legal in Iowa.
Yes. Residents can play on all major DFS sites.
By far, the most popular team to bet on in Iowa is the University of Iowa Hawkeyes football team.