Colorado has played host to some of the biggest moments in sports history over the past few decades. Millions of hardcore sports fans reside here, many of whom have recently shown an interest in betting on their favorite teams and players online. Today, our team of experts will be offering an in-depth guide to the best Colorado betting sites.
Sports betting is easier now than ever before. Before breaking down some of the best online sportsbooks in Colorado, we'll quickly explain exactly how to find the betting sites here worth joining.
Here's what you need to know.
How to Find the Best Online Sportsbooks in Colorado
Colorado's residents have now completely embraced the sports betting industry. A huge number of fantastic online sportsbooks are currently operating in this state. Those new to this form of gambling may still have questions about how to tell a good CO online sportsbook from a bad one.
Allow us to help. Our experts have come up with a unique system to determine whether or not an online sportsbook is worth joining. This can be simplified by simply keeping an eye out for some key features that only the best sports betting sites in Colorado currently offer.
Here's a look at the features you need to keep an eye out for below.
Secure Payment Options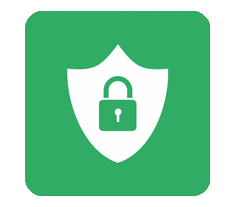 There are many important things that an online sportsbook should provide to its members. None is as important as a safe and simple payment system. Unless you know that your money is safe, it is never worth signing up to and playing through any Colorado betting sites.
Check to see exactly what banking options are provided by different online sportsbooks. Make sure that fees are low and processing times are short. Nothing is more important when looking to join any online sportsbooks.
Clean Design and User Interface
Online sports betting platforms have come a very long way over the years. Initially, the online sportsbooks in Colorado were extremely basic with poor designs and bad interfaces. Times have changed, and the best betting websites are now extremely modern designs.
Some of the less popular online sports betting websites still have sub-par designs and these are better to avoid. We only recommend playing through the ones that make them easy to navigate through. Look through many different sites, ensuring they are very easy to navigate through.
Odds on Popular Colorado Sports
Colorado is known for having some of the most passionate sports fans in the United States. This is partly due to the fact that many successful professional sports teams are based here. That includes the Denver Broncos, the Colorado Rockies, and Denver Nuggets.
Those in Colorado will likely want to make sure they join a betting site that actually provides odds on the most popular teams in the state.
Fortunately, most of the best online sportsbooks in Colorado offer odds on almost every sport. Avoid the betting websites only offering odds on a few major sports.
If you find some CO sports gambling websites with the three features above, there is a great chance it is fantastic. Not everyone has the time to look for the perfect sportsbooks. We've made things easier by narrowing down some of the top internet betting websites operating in the state.
Three Great Colorado Betting Sites Available Today
There has never been a better time to be a sports fan in Colorado. A huge number of incredible internet sportsbooks are now operating in this state. Our experts have taken a close look at all of them and narrowed down some of the top ones.
Below are three fantastic online sports betting sites in Colorado that you can join today!
BetUS: 100% Welcome Bonus Up to $1,000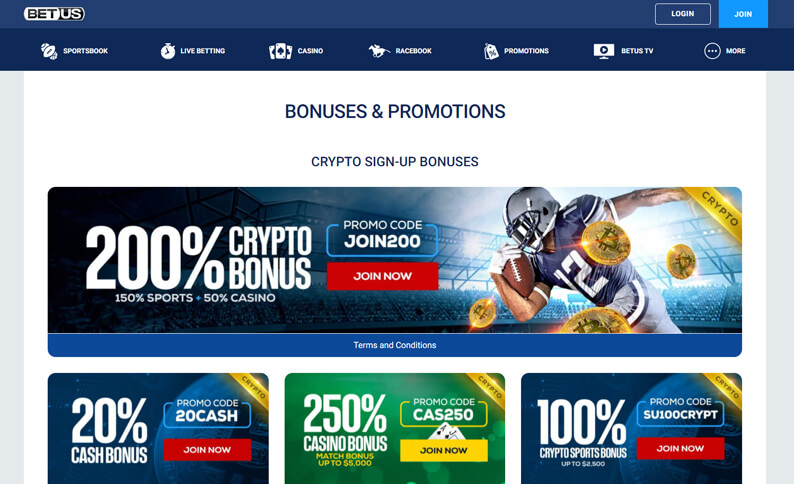 BetUS has been one of the best online sportsbooks in Colorado for years. It rose to prominence thanks to its sponsorships with several high-profile athletes. It has remained an incredibly popular online sportsbook thanks to its fantastic design and unique set of odds.
Members here will likely love the 100% welcome bonus up to $1,000, too. That is widely considered to be one of the best welcome bonuses of any Colorado betting site operating today. Check it out today to see why this site gains new users every single day.
MyBookie: 100% Welcome Bonus Up to $1,000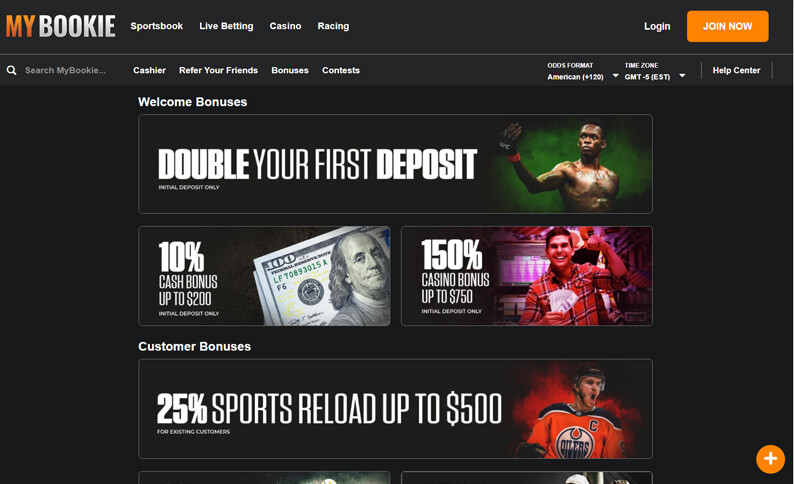 MyBookie is another one of the most popular online sportsbooks throughout the entire US. Many members here are quick to point out the unusual design of this site. It's very modern and is one of the few sports betting websites in Colorado providing live odds.
This site is a little newer than many others, yet one would likely never know. In fact, it has already surpassed many of its competitors that have been around for many years. With a 100% welcome bonus up to $1,000 and incredible designs, this is a site that just about everyone will likely enjoy.
BetOnline: 50% Welcome Bonus Up to $1,000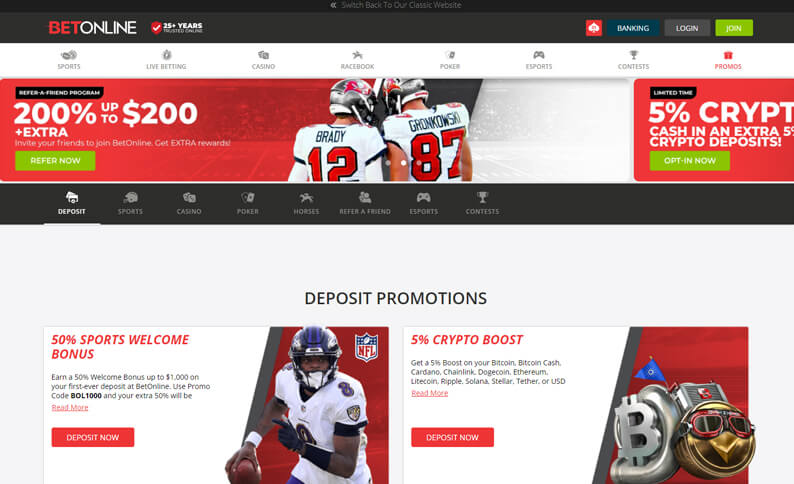 BetOnline has been operating in the United States for more than a decade. Not long ago, it went through a major design overhaul and now has a sleek, modern user interface. That, combined with the site's incredible odds and safety options, make it a great choice for Colorado sports fans.
Just about everyone loves what this site has to offer. It is offering essentially everything that bettors need for a fun and profitable betting experience. Our experts also love the classic 50% welcome bonus up to $1,000 that is being offered here.
These are just a few of the world-class online sports betting sites in Colorado. Feel free to take a look at our sportsbook review page for more in-depth breakdowns of many of the top internet sports gambling websites operating in the state.
Legality of Online Sports Betting in Colorado
In just a few short years, the US sports gambling industry has exploded in popularity. Prior to 2018, Nevada was the only state legally able to offer sports betting options. The US Supreme Court struck down PASPA in May of that year, giving every state the ability to legalize and regulate sports betting.
Colorado is one of the states that has formally made sports betting legal. Now is a great time to look back at the path to get legal sportsbooks operational here.
Colorado's Road to Sports Betting Legalization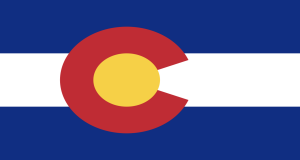 Colorado has long been a US sports hub. A huge number of professional sports teams are based here and many have been desperate to see legal sports gambling options become available. Prior to 2018, however, there was no path lawmakers could take to allow this form of gambling.
It didn't take long for lawmakers to act once PASPA was struck down. Lawmakers approved a sports gambling bill in 2019. This allows for both land-based and online sportsbooks to go live here.
The first sportsbooks launched in Colorado on May 1, 2020. Revenue from this form of gambling has been steadily increasing since that time. Many fantastic online and land-based sportsbooks are now available throughout the state.
Unregulated vs. Regulated Online Sportsbooks
There are some key differences between unregulated and regulated online sportsbooks. Both are operating throughout Colorado right now. Bettors are likely to come across both and there are some pros and cons to each.
Unregulated sports betting websites in Colorado are, as the name suggests, not regulated by the state's gaming commission. These websites are based overseas and simply offer their services to Colorado bettors. That means they are not taxed by the state.
No laws exist that completely prohibit these CO online sportsbooks from operating. With that being said, lawmakers do not look favorably at these platforms.
Regulated online betting sites in Colorado are directly regulated and taxed by the state. The companies operating these sportsbooks received licenses to do so. These are looked at more favorably by lawmakers and some feel they offer cleaner designs and betting options.
More online sportsbooks are becoming available in Colorado all the time. Spend some time looking at all of the betting sites operating here to find out which one is your favorite!
Most Popular Sports to Bet on in Colorado
Colorado has and likely always will be a massive sports state. Many professional sports teams are currently based here. That includes several teams that have won world championships in their respective leagues.
Sports betting has been growing more popular here every year. Most of the online sportsbooks in Colorado offer odds on virtually every single sport. Below is a look at some of the most popular sports that Colorado residents bet on.

Getting Started Online Betting in Colorado
If you're ready to take advantage of the conveniences that come with Colorado betting sites, you're just minutes away. The steps to get started as follows.
Pick out one or two of the best Colorado sports betting sites listed at the top of the page.
Create your free account.
Make a real money deposit through any of the many banking options offered.
Make your first real money wager!
FAQ's on Online Sports Betting Sites in Colorado
Colorado formally legalized sports betting back in 2019. The first legal sportsbooks
launched here in 2020
. Both regulated and unregulated online sportsbooks are now up and running here. Both are very popular with residents.
Betting on sports in Colorado online at Colorado betting sites is 100% legal, as is clearly outlined by the state on its website. Colorado online sports betting, unlike many other states, does not operate in a gray area. The legislation has been clear that it is in full support of citizens having the right to bet on sports.
Use attribute "a" for answer.
Use attribute "a" for answer.
Conclusion
Colorado will likely always be one of the top sporting hubs in the United States. Sports gambling has been legal here since 2019 and more individuals are choosing to bet on their favorite sports here every day. There are a plethora of fantastic internet sportsbooks in CO available. Spend the time to ensure the one you decide to join is safe and fun!