Do you like fast action and the thrill of sports betting? Then you will love betting on the horses. Unfortunately, it's not always easy to get out to the track – mainly due to silly things like work or responsibilities. It's not fair, we know.
Thankfully, your favorite tracks can now come to you from the comfort of wherever it is that you aren't allowed to leave. Horse racing betting sites are now offering horse racing action directly from your computer, phone, tablet, or smart device.
Every race and wager type – including exotic bets — are available, from the most prestigious races of the year to the standard trots taking place at hundreds of tracks around the world daily. As long as you have an internet or phone connection, you're set to bet right now!
On this page, we're going to talk you through everything you need to know to get started betting on horses online. As we know you like fast action, we won't wait any longer and will jump right into the information you came to see.
#1 Site For Betting on Horse Races Online – BetUS

Anyone who tells you it doesn't matter where you choose to bet on horses online does not know what they're talking about! The best horse racing betting sites offer an immense number of perks, flexibility, and convenience that you simply can't pass up on.
When it comes to picking out the best of the best, the answer is thankfully easy. We're talking about BetUS. Here are a few reasons we're such big fans of this site for real money horse race bettors.
Action on racetracks from North America, Australia, Hong Kong, and Dubai
Action on featured races, major events, and harness racing
Regularly updated horse racing betting news
Moneyback promotions on select days and races
» On Saturdays, if you pick a winner in a featured race who finishes in 2nd, you can get part of your bet refunded back to you! Generally, BetUS picks around 5 races per week. For example, here were the races from a random week we selected in April:

04/24 – Race 8 – Elusive Quality Stakes @ Belmont Park
04/24 – Race 9 – San Francisco Mile @ Golden Gate Fields
04/24 – Race 10 – Bachelor Stakes @ Oaklawn Park
04/24 – Race 9 – Weber City Miss Stakes @ Pimlico Race Course
04/24 – Race 8 – Santa Margarita Stakes @ Santa Anita
More Top Online Racebooks and Bonus Offers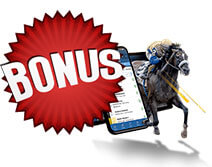 When you're looking to bet on horse races online and important factor to condsider is what bonuses are offered to racebook bettors. Looking at this will give you a good idea of whether the online racebook is a priority or an afterthought at any real money betting site.
Here are some of the best bonus offers at any horse race betting site in 2022:
It's important to note that while not all bonus offers are specifically geared towards betting on horse races online you're still more than welcome to take advantage of them if that's your intention.
To learn more about the top online sportsbook bonuses that any specific site offers check the links below:
Why We Love These Real Money Horse Betting Sites
Lucrative Horse Racing Site Bonuses
Here's something you may not know about us—we like free stuff. And if you're getting into betting on horses online, you should too! The best horse racing betting sites offer lucrative bonuses, cashback offers, and VIP perks to attract new business and maintain loyal patrons.
Coverage of Numerous Tracks and Races
The idea of betting on horses online for real money is to get access to tracks that are close to home but also around the globe. The best horse betting apps offer action on lots of tracks and lots of races. The idea is that you should be able to get action every day of the week and at all hours.
Many of the racebooks we've recommended have tracks from places like the US, Canada, Hong Kong, Australia, Asia, and more locations.
Flexibility with Bet Types
Some sportsbooks that just dabble in horse race betting only offer options on betting race winners. However, whether you're serious about making a lot of money betting on the ponies or just betting for fun, you want (or need) more options than that. The best online racebooks offer tons of bet types including things like:
Straight Bets (Win, Place, Show)
Combination Straight Bets
Exotic Single Bets (Exacta, Trifecta, Superfecta)
Exotic Multiple Bets (Pick 3, 4, 5, 6, All)
Exceptional Customer Support
Horse racing betting action happens fast. Often, there are only a few minutes between races. If you have some sort of an issue you need help with, you want to get that squared away as quickly as possible. Otherwise, it can not only be annoying, but it can cost you money.
All of the best horse race betting sites have exceptional customer service teams. Some of the things we look for include:
24/7 support (especially important if you bet international races)
Several methods of contact (including live contact options)
Fluency in English
Efficiency in solving issues
Extensive FAQ options for common issues
Best Horse Racing Betting Sites by Race
If you're interested in betting on a specific horse race, there may be a better-fitting racebook app than the ones mentioned here. Additionally, if you're targeting a specific race, the chances are high that you're looking to win! Our guides below not only showcase the best real money horse racing betting websites, but they also are chalked full of tips, picks, and resources to help you win big.
Is Horse Racing Growing in the US?
Ever wonder if the horse racing market in the United States is on the rise, falling off, or staying constant? Our data team was curious and sought to get to the bottom of it. Below, you'll find the market size of the horse racing track industry in the US from 2011 to 2021.
| Year | Market Size in Billions |
| --- | --- |
| 2011 | 5.14 |
| 2012 | 5.48 |
| 2013 | 5.38 |
| 2014 | 5.15 |
| 2015 | 5.35 |
| 2016 | 5.27 |
| 2017 | 5.36 |
| 2018 | 5.25 |
| 2019 | 4.94 |
| 2020 | 3.44 |
| 2021 | 3.52 |
Here are a few takeaways, as well as things to keep in mind.
Be aware that world events may have skewed the data in 2020 and 2021.

The percentage change from 2017 to 2018 was -2.05% (decline).

The percentage change from 2018 to 2019 was -5.90% (decline).

The percentage change from 2019 to 2021 was -30.36% (decline).

From 2011 to 2017, the size of the market remained fairly steady. Beginning in 2017, we started to see a decline that held through 2020.
Is Horse Racing Betting Growing in Great Britain?
Much like we did in the US, we wanted to see how the horse racing industry was holding up across the pond. More specifically this time, though, we wanted to look at the growth, decline, or stableness of the horse racing betting marking in GB.
| Year | Market Size in Billions |
| --- | --- |
| Apr 2008 – Mar 2009 | 843.79 |
| Apr 2009 – Mar 2010 | 768.42 |
| Apr 2010 – Mar 2011 | 704.78 |
| Apr 2011 – Mar 2012 | 675.34 |
| Apr 2012 – Mar 2013 | 696.75 |
| Apr 2013 – Mar 2014 | 679.52 |
| Apr 2014 – Mar 2015 | 641.35 |
| Apr 2015 – Mar 2016 | 600.45 |
| Apr 2016 – Mar 2017 | 583.06 |
| Apr 2017 – Mar 2018 | 550.64 |
| Apr 2018 – Mar 2019 | 513.75 |
| Apr 2019 – Mar 2020 | 508.35 |
Here are the major takeaways and things to keep in mind for data from 2008 to 2020.
Gross Gambling Yield (GGY) is the amount of money the casinos make after paying out winners.
The UK Gambling Commission presents the data in a fiscal year differently from the calendar year.
The exchange rate of GBP to USD is generally around 1 to 1.39 (1 GBP = 1.39 USD).
The percentage change from Apr 08 – Mar 09 to Apr 19 to Mar 20 is -39.10% (decline).
The casinos take from horse racing betting in Great Britain has been on a steady decline over the past decade. The reason for the decline could be a lack of interest or it could represent a shift to offshore real money horse racing betting sites that aren't represented in these numbers.
How to Pick Out the Best Horse Racing Betting App For You
Know the races or tracks you want to bet – Unless you just want to bet on random races, you probably have an idea of the tracks you like to bet on. Start your search by making a list of these tracks and races, so you can check to see if the real money horse racing betting app you're interested in can cover your action.
Test drive the betting slips – Even if you're an experienced horse bettor, things can get confusing. Take a minute or two to test out putting together a betting slip.


Are the odds in a format you like (or can be changed easily)?
Can you find the bet types you like? Do they have the bet types you like?
Does the betting process work well from your mobile phone?
Is it easy to see how much you're betting and how much you stand to win?

Test drive the organizational layout – A key characteristic of the top USA horse racing betting sites is action on races from all over the globe. But with action on so many different events, it's important that the sportsbook lays the tracks, races, and bets out in a way that's easy for you to navigate. If it takes you forever to find the events you want to bet on, it's not going to be a good fit.
Look for bonus promotions – The best horse racing betting sites offer lucrative opportunities for new and seasoned bettors to earn some extra cash. Understand the different types of horse racing bonuses available, see who has each, and pick the best fit for you.
Horse Race Betting Sites FAQ
There's really no way to exactly pinpoint the number of horse racing betting sites online. More are added daily, others get taken down. Through the process of reviewing hundreds of sites with odds on horse races we can safely say that the majority aren't reputable and don't deserve your business.
In our
online horse betting strategy
section. There you will find information on all available bet types and how to use them to make money betting on horse races online.
No! That's completely up to you. If you decide you don't like a bonus or the terms and conditions that come with it then just be sure to indicate that you want to opt-out when depositing funds at any of the top online racebooks.
It's 2022, of course you can! Any online racebook that's not offering either a mobile betting platform or a dedicated horse betting app is behind the industry and won't be recommended on this page.
The only real downside to these websites might be missing out on going to the live horse race. Thankfully due to horse betting apps you can place online wagers right from the track if you want!
Different sites have different minimum and maximum bets in place, but typically bets can be fit to your comfort level. From simply betting $1 to get your feet wet to betting thousands. We just warn you not to ever bet more than your prepared to lose.
Betting on virtual horse races is just like it sounds. Online sportsbooks have come up with a system to randomly simulate horse races that you can bet on. You bet on them exactly the same as a normal race, but they take much less time to watch and to see the results of your wagers.
This can be a fun way to mix up your online horse betting experience every now and then.