The state of Utah is arguably the strictest state when it comes to gambling. With over half of the state identifying as Mormon, religious doctrine and government policies are closely aligned.
Residents have virtually no legal gambling options in the state, but residents are still able to play on offshore sites.
Today, we will discuss the legal landscape of gambling in Utah, help you identify real money Utah betting sites for your needs, and give you the tools to get started placing bets today.
Best Utah Online Sportsbooks
We at The Sports Geek have combed through dozens of Utah sports betting sites to bring you our quintessential list of the best Utah sportsbooks online. Our team of experts used an extensive list of criteria to evaluate the merits of each site, and they have narrowed the field down to the few below.
Playing on any of these Utah online betting sites will offer the optimal balance of player experience, potential return, and customer care. Next, you'll see a list of the criteria we used. Feel free to use this list of attributes in assessing any of these Utah sports betting websites for yourself.
Criteria Used to Rank These Utah Betting Sites
Fast Payouts at Utah Sportsbooks Online
Another critical factor when selecting Utah sports betting sites is the speed of payouts. Players must be able to have access to winning as quickly as possible. While some online gambling sites can make you wait for days to get winnings deposited in your account, we only recommend real money online sportsbooks in Utah that offer expedited withdrawals. Most of the time, you can get deposits in your account in less than an hour and, in some cases, even faster.
Payout Minimums
Just as important as the speed of payouts is the minimum amount needed to make a withdrawal. Low minimum withdrawals are a vital consideration for new and small stakes players because they increase liquidity. Some UT betting sites require players to have large amounts of cash to withdraw before letting them do so. This can be problematic if you aren't placing huge bets. We looked for sports betting sites that have low minimum withdrawals so they can accommodate all levels of players. Minimums for the sites on our list are as little as $1.
Competitive Odds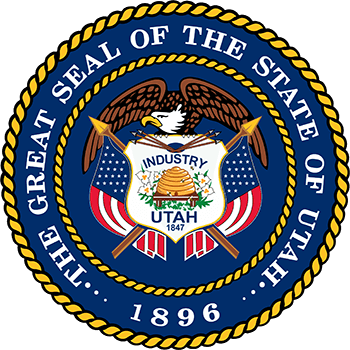 When evaluating the quality of a Utah sports betting site, one of the most important considerations should be how competitive the odds they offer are compared to competitors. Those familiar with sports betting will already know that bookmakers use odds to communicate the payout that relates to a specific bet. Since the whole goal of sports betting is to maximize the return, you want to play where you can get the best possible odds.
In addition to telling you what the payout is, looking at the odds can also provide you with other vital information. The size of the payout will always relate to the relative risk inherent in that specific bet. For example, if a bet offers a massive potential payout, it's because the bookmaker is pretty sure they'll win.
If you're still on the fence about whether online sports betting is for you, there's one significant advantage sites where you can bet on sports online in Utah have over their land-based competitors. Online sportsbooks will almost always offer better odds than brick and mortar casinos. While a live casino has a captive audience with no direct competition, players can only bet what the sportsbook offers. Because they're the only bookmaker available, there's no reason for them to give you overly competitive odds.
In contrast, Utah online sports betting sites have to compete with every other online sportsbook. Because of this fierce competition, Utah betting sites use better odds as a competitive advantage to lure players away from their competitors. This environment benefits the player because it results in superior odds for online players. Any of the sites we recommend above will offer some of the best odds on the internet.
Wide Range of Bets Available
Having lots of gaming options is a must with any Utah sports betting website. This variety will provide you with a way to stay interested in betting as well as new avenues to learn. The key to years of sports betting enjoyment is to keep learning. Once you've mastered or gotten bored with betting on a sport, you want to have the ability to move to a new area and develop new skills without finding a while new betting site. All of our selections offer a wide range of sports as well as casino-style gaming. Whether you want to bet on your favorite team or you want to play slots, we've got something to fit your needs.
Live Betting
One of the most exciting parts of sports betting is watching the sport on which you have just bet. It's exhilarating to see your wins come to fruition, and watching the events can also as a fun social aspect to betting. Some Utah sports betting sites have started to offer live betting. Live betting allows you to place bets on various things mid-game, which means you aren't stuck with making all your bets before the match.
You might be able to bet on who will score the next goal in a soccer match or how many points will be scored in the 4th quarter of a football game. Each of these bets will have odds that change as the game progresses, adding a whole new level of engagement to conventional sports betting. We focused on real money Utah betting sites that offered live betting because we think it provides a more engaging and dynamic experience for the player.
Live Dealers
In the same spirit of live gambling, many Utah sports betting sites offer live dealers as well. On the casino side of online gambling, players used to be relegated to slots, video poker, and other computerized table games. Nowadays, online casinos are offering you a way to feel like you are right at the table. Players can join a live table with a real dealer via webcam. This experience is as close as you can get to being on the floor while still being in the comfort of your home.
Minimum and Maximum Bets
Min and max bets refer to the limitations the casino puts on how little or how much a player can bet. Minimum bets are essential because they dictate the minimum financial risk a player has to take. For new players, they want small minimums so they can learn without risking too much. Maximums are upper limits for how much a player can bet. These are in place to make sure the site doesn't lose more than it can afford to pay. Advanced players will want to look for high max bets so they can increase their winnings. Each of the sites on our list offers a wide range of bet increments that will accommodate all levels of play.
Cryptocurrency
In the last 10 years, cryptocurrency has come into its own as a viable form of tender. With hundreds of different coins being used by millions of people, cryptocurrency is here to stay. As it grew, it found a natural fit into the world of online gambling. Players prefer to use crypto because they can be easily transferred, usually incur fewer fees, and offer anonymity that conventional payment methods do not. We looked for UT online sportsbooks that support digital currencies like Bitcoin, Litecoin, Ethereum, and Dogecoin. Some Utah sports betting websites will even offer special promotions and bonuses to players using crypto.
New Player Bonuses
New player signup bonuses have become extremely common across almost all Utah sports betting sites. These perks are reserved exclusively for new players and act as an incentive for a new player to pick one site over another. Many times, they will come in the form of deposit matches on the players' first deposit. For example, a sports betting site may offer a 50% match on the first $1,000 a player deposits. If the player deposits the full $1,000 amount, the casino will give the player an additional $500.
These new player bonuses can be massively valuable, and you should take advantage of them as much as possible. Keep in mind that this may mean depositing more than you originally intended. Also, keep in mind that any match they give you is free money and everyone likes free money. Getting this kind of boost right off the bat can work wonders for your bankroll.
Promos at Utah Online Sportsbooks
In contrast to new player bonuses that are exclusive, promotions are for all players. These promos serve to keep players engaged by offering new ways to play or offering opportunities to win big prizes. Ranging from a chance to win a car to slot tournaments, the variety of promos runs the gambit.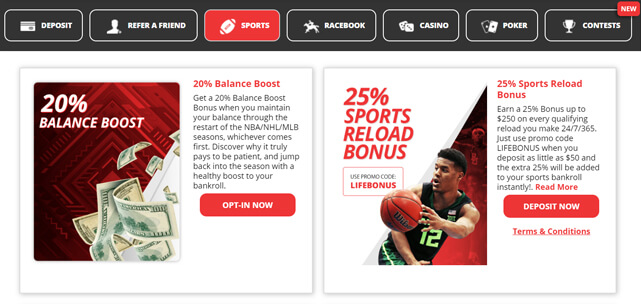 Make sure to look at the promos your new Utah sports betting website offers and make sure they appeal to you. While some will be recurring and others will be one-time events, you can get a good idea of what type of promos that site likes to run.
Site Security
One thing that should never be ignored in evaluating any real money online sports betting site is website security. Our team carefully vetted each of the sites and all of them have been verified secure. Playing on a trusted site it crucial because you want your data protected, and you want to bet with peace of mind. You can rest assured that playing on any of these Utah sports betting sites will offer you the safest possible online gambling experience.
Utah Betting Sites Platforms
In the age of technology, customer expectations are incredibly high. Players want to be able to play when they want and how they want. Because of this, we looked for Utah sports betting sites that offer a wide range of playable platforms. Regardless of whether or not you're in front of a computer, you'll still be able to place bets with any of the sites we listed above. Each one offers PC, tablet, and mobile betting.
Intuitive User Interface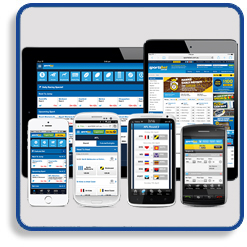 Although it's crucial to review which platforms you can play on, it's perhaps more important that the platforms you're using are clear and straightforward to use. Betting big money on sports is stressful enough without adding the complexities of a poorly designed interface. We looked for Utah betting sites that invest in perfecting the player experience. These sites have built clean and user-friendly betting tools that are aesthetically pleasing. Not only will these websites be easy to use, but you will thoroughly enjoy being on them.
World-Class Customer Service
Finally, we looked at the quality of the customer service offered by each site where you can bet on sports online in Utah. High-quality customer care is a must because it can be a significant determining factor in the player experience. Poor customer service can ruin your day faster than losing a bet. We expect quality Utah betting sites to offer 24/7 support, multiple options of interacting with support, and a long history of customer satisfaction. All our recommendations check the box for each of these. You can be sure that if you have a problem while playing on any of these websites, you'll get a prompt and professional resolution.
Is Sports Betting Legal in Utah?
Unfortunately, sports betting is explicitly illegal throughout Utah. Also, Utah has outlawed all forms of gambling, including casinos, social gambling, horse betting, and the lottery. The state's strict stance on gaming is a result of their history with the Mormon church. Since they passed the first antigambling law back in 1851, Utah has always been against gaming.
It wasn't until the 1920s that the state made its first attempt to legalize gambling by allowing pari-mutuel betting for a short time. The trial period lasted only two years and was the only legal form of gambling in the history of the state. Fast forward to 2012, and they officially banned online gambling. And they went as far as to state that even if the federal government were to legalize it, Utah would opt out. This video will give you an idea of the lengths Utah will go to when it comes to limiting gambling.
With that being said, you'll be surprised to learn that DFS are still available to Utah residents. With the explosion of DFS in recent years, there has been a flood of demand from across the country, including Utah. While not explicitly legal, the providers of DFS have assessed Utah law and determined it is safe to accept players from Utah. Since no play has ever been prosecuted for online gambling in Utah, the risk for players seems low.
Also, residents of Utah can play on any of the reputable offshore sites we recommend above. Since these sites are not based in the US, they're not subject to Utah law. We've vetted each of these online betting sites in Utah to make sure they will provide a safe and secure gambling experience. It's worth mentioning again that no player has ever been prosecuted for gambling online, and since these UT sports betting sites are not based in Utah, players do not need to worry about legality.
Best Sports to Bet on in Utah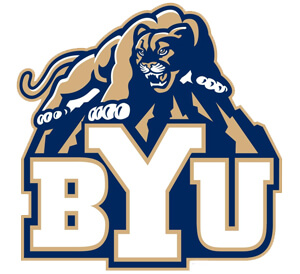 Every person prefers something a little different when it comes to picking teams and sports on which to bet. In Utah, there's a clear favorite when it comes to betting. With the majority of the state population, it will come as no surprise that Brigham Young football is the most popular team in the state. The football team from this flagship Mormon university is well-known across the country.
If you aren't a BYU fan or still aren't sure where to start, here are some pointers to get you started betting on sports online for real money in Utah.
First, not all sports are created equal, and different sports offer different advantages. While some sports happen daily, others are less frequent. More obscure sports generally provide higher payouts than mainstream sports, which tend to have much tighter odds. Look for a sport that matches your style of betting.
Second, remember that with high payouts come high risk. Pick a sport that aligns with your goals as a sports bettor. Don't just chase huge payouts. You want to think of your sports bets as calculated risks rather than lottery tickets. Your job is to balance risk and reward.
Finally, you should always bet what you know. Having a solid knowledge base about the sport you're betting is vital to success. This advice may sound like common sense, but it can be easy to get caught up in the excitement of betting and get over your skis. If you want to bet on a sport you don't know, take the time to read up on it before betting with real money.
How to Start Betting Online in Utah Today
1. Select Utah Betting Sites
The most critical factor in determining the quality of your online gambling experience will be the site in which you choose to play. Don't rush this step, and take the time to make the right selection. Start by using our list of criteria. Evaluate which attributes are most important for your gaming style, then see how those apply to each site we've recommended. You can use these criteria for looking at the sites we suggested as well as any other online sportsbooks in UT you may be considering. Once you've made up your mind, go ahead and get registered.
2. Sign up for Your Account
Getting started should be relatively quick and painless. All you need is basic personal info and payment details. If you plan to use a bank transfer, you'll need banking details. If you plan to use a third-party payment method, you'll need to have an account created there and have the credentials ready. Remember that our recommended sites are all secure, and your personal and financial info is safe. One thing to keep in mind is that some sports betting sites may require additional identity verification before you're allowed to make withdrawals, so be sure to check your website and fill out any needed info.
3. Get to Know All the Research Tools
Once you have full access to your new real money Utah betting sites, take some time to check out all the tools and data they have available. Lots of sports betting sites provide players with expert picks, historical data, and analysis to help players refine their picks. In the world of sports betting, data is king. Get comfortable with using the wealth of data your sportsbook provides, and you will be much more likely to be successful.
The time has come to place your first real money bet. Look through all the available sports and bets to see which one makes sense for you. As a general rule, you probably want to start with a sport you already know well. Also, we always recommend new players start with small bets and move up after gaining some experience. This strategy will minimize risk while enabling you to learn and get comfortable.
Now that you've placed a few bets, it's time to think strategically. Any pro will tell you that the key to success in online sports betting is having a continually evolving strategy. Starting with your first bet, keep a log of the bets you place, the reasoning behind placing them, and the outcome. Tracking this information over time will reveal patterns in your sports betting strategy. You will be able to see which parts of your strategy are working. Use this data to take a hard, objective look at your strategy, and the quality of your picks will improve rapidly.
6. Expand Your Betting Horizons
Finally, once you've gotten one sport down, try something new. All sports offer different advantages, and no two sports have identical betting strategies. Moving into a new sport can allow you to learn new strategies, make new bets, and become a more well-rounded bettor. Before jumping into a new sport, make sure to read up on the basics. Once you have a foundation of knowledge, start all over by going back to small stakes and meticulous recordkeeping.
Wrap Up on Utah Online Sportsbooks
The state of Utah has no prospects of legalizing gambling any time soon. Their history with the Mormon church and the fact that over half their citizens identify as Mormon make the chances of future legalization negligible. Even if lawmakers were to introduce legislation, it would likely not be approved by the voters. Luckily, Utah residents can still play DFS and are allowed to play on reputable offshore sites like the ones we've suggested above.
Hopefully, you now feel more knowledgeable about the state of gambling in Utah, feel comfortable picking out your own real money online betting sites in Utah, and have the tools to place your first bets with confidence. Be sure to check back on The Sports Geek as regulations change. Always gamble responsibly, and never bet more than you can afford to lose. Have fun and good luck!
Utah Betting Sites FAQ
No. Sports betting is not legal anywhere in Utah. There are no legal forms of gambling in person or online anywhere in the state.
By far, the most popular team to bet on in Utah is the Brigham Young Cougars football team.
Yes. Residents can play on all the major DFS sites for now. Utah may move to restrict DFS in the future.
While there are no legal online casinos based in Utah, residents can play on any of the reputable
Utah sports betting sites
listed above.