Whether it's the Falcons, Bulldogs, Hawks, Braves, Yellow Jackets, or another popular GA sports team, it's clear that residents of the Peach State love their sports. And with sports-loving comes the inevitable love of betting on sports. If you're here looking to get into the action, you've come to the right place. Our team of talented experts has put together a list of the current best Georgia sports betting sites servicing residents and guests of your state.
Which One of These Georgia Sports Betting Sites is Best for Me?
Using this resource to find the best Georgia sports betting sites for you is already a positive first step. By choosing any of the options listed above, you know you're getting a trusted and safe experience. But you still need to pick out the option that is best for you.
Here are a few things GA bettors should consider when selecting the right fit for their real money sports betting needs:
Ensure they cover the GA sports you're interested in betting
Check to make sure they have the types of bets you like to make
Select a betting app or site with live betting if that's important to you
Join multiple GA betting sites if you plan on line shopping
Look for an app or site that has the deposit and withdrawal methods you want to use
Realize you can always change sites in the future if you don't like your first choice
Criteria That Sports Betting Sites in Georgia Need to Meet
Safe and fast paying banking options
Quality customer support 24/7
Variety of sports to bet on
Sadly, it's a common practice on the web for reviews to be biased toward online sportsbooks. Many reviewers allow sites to buy better recommendations or they tend to recommend sites they're friends with. Not here. TheSportsGeek cares about one thing—ensuring you have the exact online sports betting experience you're looking for.
To meet this goal, we commission teams of experts to dive through every inch of an online sportsbook. Additionally, we recheck the sites we recommend regularly ensuring continuous quality.
Want a taste of what we think are the most important factors? Here are three major reasons we love these Georgia sports betting sites.
1. Extensive Banking Options That Pay Fast
Online betting is 100% about convenience. The experience loses all convenience if the banking method (making deposits and cashing out winnings) is slow or an arduous process. All of the Georgia betting sites you'll find here have user-friendly, fast banking options.
2. Quality Customer Support 24/7
When you need help with anything, you should be able to get help. None of the betting sites listed here farm out their customer service to the lowest bidder. You'll have plenty of ways to reach support that is available 24/7/365, fluent in English, and empowered to offer the help you need.
3. Incredible Betting Flexibility With GA Sports and Worldwide Options
Recreational and professional sports bettors (and aspiring professionals) want and need to have betting flexibility. Anytime you are limited on wagering choices, you run the risk of losing out on a hot tip or equity. Every one of these Georgia sports betting sites has the options needed to turn a profit and have the fun you're looking for.
Legality of Using Georgia Online Betting Sites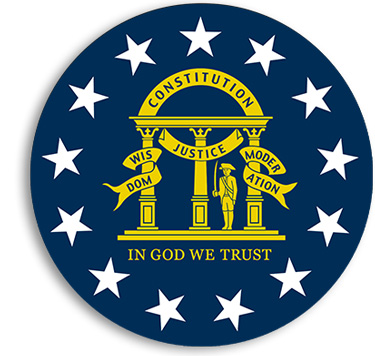 A big question that new bettors always have is whether or not gambling and online sportsbooks are legal in their state. When it comes to gambling or sports betting in person in GA, your options are limited. GA does have a massive state-run lottery system, but they do not have any brick and mortar casinos or books you can go to.
While you can't hop in your truck and head to the local sportsbook, it does not mean you're out of luck. A recent federal law was passed, paving the way for the full expansion and regulation of online sportsbooks by each state individually. While Georgia has not pressed forward with clearly laying out the particulars, you still have plenty of top GA sports betting sites to choose from for real money action.
All of the options we've recommended here for betting in Georgia have been servicing residents of the state for years or decades without any issues to players. One important thing to keep in mind is that you are still subject to paying taxes on any sizeable winnings from these books, even though they aren't based within the state.
Additionally, if you leave the state and bet online or in a brick and mortar casino (this includes Vegas), you're also still required to pay taxes on winnings. Sure, most people don't like paying taxes, but winning is a good problem to have when it comes to betting on sports.
How Quickly Will Georgia Sports Betting Sites Pay Out Winnings?
The average wait time to get paid after a payment has been processed from Georgia online betting sites is between a few hours and five business days. The only major exception to this range is if you choose payment by check, which takes a little longer to be delivered via a courier.
Payout times from Georgia online betting sites can vary based on:
The cashout method you choose
How quickly you fill out the necessary paperwork
Current cashout volume
The size of your cashout (for security purposes)
Thankfully, if you stick to the trusted online sportsbooks we recommend, you'll have zero problems getting paid quickly. Part of the fun of betting on sports is the adrenaline rush, but a bigger part of the fun is spending your winnings!
Different books will have different cashout options for you to choose from. We don't recommend any option unless they have multiple safe, high-quality, and properly implemented options to choose from. Some of the most popular cashout options you'll see when online betting in Georgia include:
Can I Bet on My Favorite Georgia Teams? What About Other Teams?
When it comes to the best sports betting sites in Georgia, flexibility is the name of the game. Not only will you be able to bet on your favorite local teams, but you'll also be able to bet on teams from all over the country and from all over the world. Yes, these GA sports betting sites cater to residents of your state, but they also serve customers in other parts of the country, which means extensive action on bigger and smaller sports and events.
Best Georgia Sports Teams to Bet on:
Atlanta Blaze
Atlanta Braves
Atlanta Dream
Atlanta Falcons
Atlanta Hawks
Atlanta United
Columbus Lions
College Park Skyhawks
Georgia Bulldogs (NCAA)
Georgia Southern Eagles (NCAA)
Georgia State Panthers (NCAA)
Georgia Tech Yellow Jackets (NCAA)
Georgia Swarm
Kennesaw State Owls (NCAA)
Mercer Bears (NCAA)
Can I Bet on Sports From My iPhone or Android in Georgia?
Yes! One of the major features we look for when selecting the top Georgia sports betting sites is whether they offer the ability to bet on the go. In the past, this used to be a bonus feature, but we now view it as a requirement for a recommendation. All of these GA sports betting sites offer either a dedicated app (that you download from the app store) or a mobile-friendly website that works on all devices without the need for a download.
Start Betting Real Money on Sports in Georgia
Getting started only takes a few clicks and a few minutes. The top Georgia sports betting sites have streamlined the sign-up process to get you into the action faster than ever. Select an option from the top of the page from your computer, phone, or tablet to get started.
Once there, you'll create a user account (it takes about five minutes). After that's done, make your first deposit and head over to the sportsbook to make your first bet! All in all, you should be making your first bet within about 10 to 15 minutes max!